Modern Outdoor Furniture With Cool And Modular Designs
Outdoor furniture is not always the most comfortable or good-looking and that made us wonder….is there really no outdoor furniture that stands out from the crowd, that looks outstanding, is practical and comfortable all at the same time? Finding the right balance between these elements in a design is not always easy but that doesn't mean the task is impossible. We think we might have found a few examples that would fit the description.
The hanging lounger from the Nestrest series by Dedon is a pretty iconic piece, being the source of inspiration for a lot of similar products. The cool thing about this lounger is its extremely comfortable and cozy interior. It's like a private little cocoon that you can climb up into and the special fiber weave makes it very breathable and also lets you see outside without making it possible for others to see inside. The only thing you need to worry about with this lounger is finding a good place to hang it. Of course, if you don't that, you can get a separate base that lets you place the cocoon wherever you want.
Lounging on the beach is supposed to be relaxing and very enjoyable and the Tibbo chaise lounge ensures that you get to have this experience. This beach chair reflects the trend of blending indoor and outdoor spaces. Its design is simple and elegant, featuring rounded edges and a wooden construction. The wheels are a great touch. They're very practical and they actually give the design a lot of extra charm.
Check out these modern dividers called Sticks. They're just what the name suggests: a bunch of sticks. These screen dividers can be used both indoor and outdoor, being strong and durable in spit of their thin and fragile appearance. Use them to create more privacy in our garden, on the terrace or inside the living room without making the area feel closed off and less airy and open.
Multifunctional outdoor furniture is spectacular in its own way. Take this piece for example. Use it as a daybed or as a lounger, depending on your mood, needs or the company you have. The Sol+Luna sunbed has an optional sunshade and a range of other cool feature, including a storage pocket and a small side table.
The Shadowy armchair designed by Tord Boontje in 2009 is one of the most majestic and theatrical-looking pieces of furniture ever. The cool thing about is that it's also quite simple and its ornamental design details are eye-catching but also meant to be practical and to increase the comfort of the user.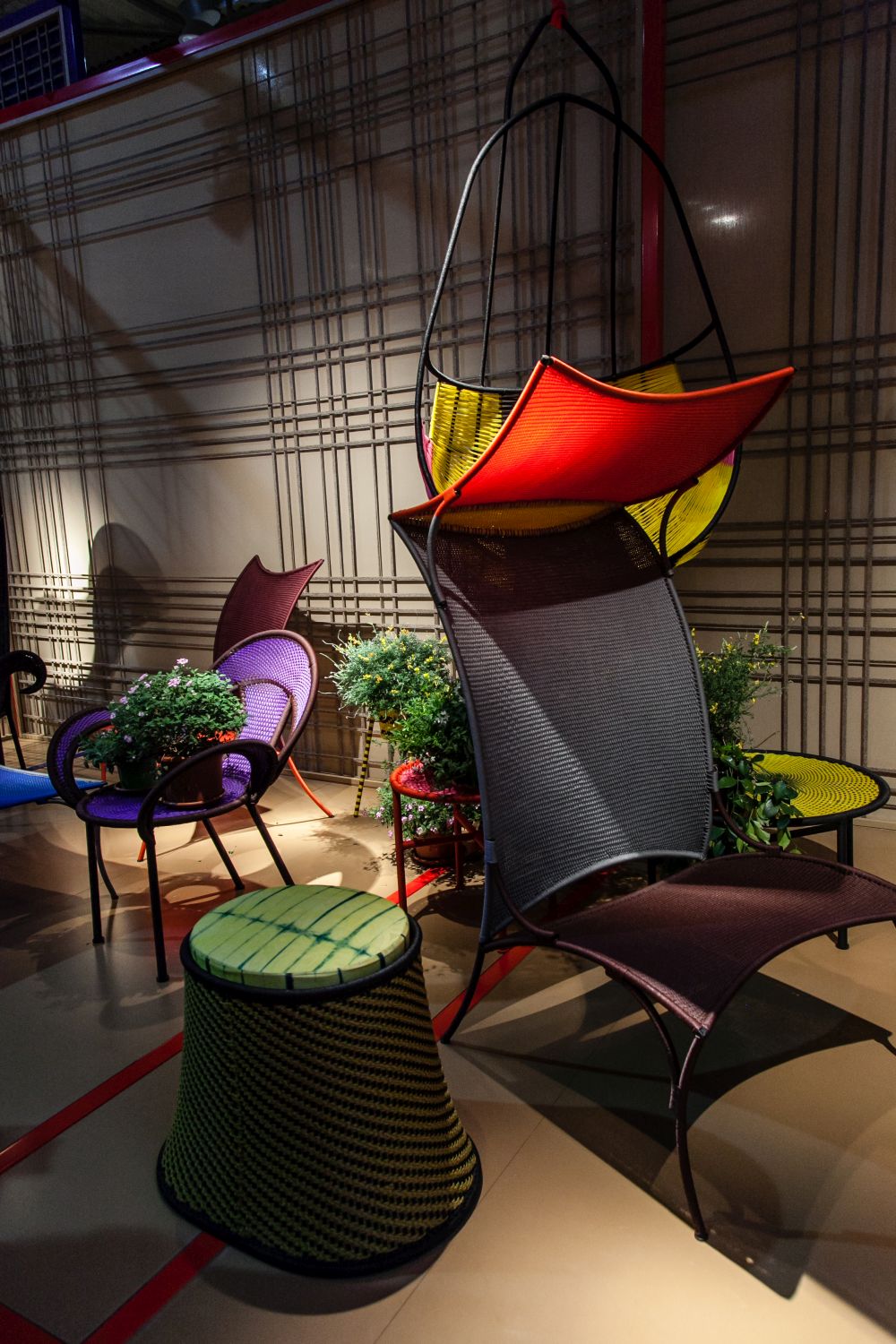 A similar but at the same time very different piece is the Arco chair designed by Martino Gamper for Poltrona in 2017. The weaving process is quite similar to the one used in the production of the Shadowy armchair. Also, both pieces have structure made of painted steel and seats and backrests hand-woven out of polyethylene threads.
Ready to see another really cool piece of outdoor furniture. This is the Tropicalia hanging chair designed by Patricia Urquiola in 2008. It has a geometric tubular steel structure and a design that's graphical,  playful and also elegant. You can find it in two versions, with polyethylene strings of several different colors or monochromatic leather strings.
Modularity characterizes a lot of furniture collections these days. When it comes to outdoor furniture, the options tend to be a bit more limited. One example is the Apsara series. It's a modular seating system with a very flexible structure. It was designed by Ludovica and Roberto Palomba in 2017.
This modular lounge system has two parts. There's a platform and there's also a series of comfy cushions of different sizes. These can be rearranged as desired to create custom seating arrangements for variable numbers of users.
You can find the base in two sizes, both with aluminum frames and wood sections. Both versions are big enough to accommodate different combinations of large seat cushions as well as back cushions. There platform is actually big enough to also store things on it and to use it as a sort of side table.
If you're taking the Apsara seating modules out in the garden or in an area that doesn't have a roof, you might need a sunshade too. Check out the Gea Parasol which has a circular base and a minimalistic design. It can rotate 360 degrees and it allows air to flow through while also offering optimal protection against the sun's rays. It's also more practical than the usual umbrella since it's less intrusive.
Woven furniture is super popular, especially outdoors. It's practical and its casual, lightweight appearance definitely helps it in many ways. In case you're thinking woven pieces are always rustic, check out these chic and modern chairs designed by Lievore Altherr Molina. They have frames made of stainless steel tubes and their seats and backrests are hand-woven using rope made of 7 mm thick polyester. They're not just stylish but also stackable.
The Twins series by Mut Design is composed of similar seating modules which only differ slightly but enough for each to have its own personality. They work great together but they're also very stylish when used separately, in which case they're almost always eye-catching accent pieces. In addition to that, the collection is suitable for both indoor and outdoor spaces. we're particularly fond of the rounded backrest….it forms a very cozy seat which molds around the user.
Bean bag chairs are among the coolest pieces of furniture ever invented. They're durable and sturdy enough to last for years and they're also very versatile and very flexible. They're always comfortable and they have a strong casual appeal. They're user-friendly and they can even be used outdoors. A great example in this sense is the My series designed by Ulla Koskinen. It's not meant to be an outdoor furniture collection but you can definitely use it as one thanks to its highly versatile design and selection of materials and finishes.