Making Your Bathroom Look Larger With Shower Curtain Ideas
In most bathrooms the ability to get ready for your day and have enough space to move around can often be a challenge. Your bathtub and shower area can often be an area that is forgotten when considering space saving, and utilizing a shower curtain can save valuable space. Shower curtains are versatile, can change with your decor and don't require a lot of space to open and close a shower door. If you have been trying to find more space and make your bathroom look larger, consider a shower curtain with these helpful ideas.
Shower curtains are fashionable again:
Remember when shower curtains weren't fashionable and they only came in a few colors and styles? What was once associated with college dorms and small apartments have now become fashionable and attractive. Depending on your bathroom decor a ruffled fabric will work nicely with your romantic-inspired bathroom or a high contrast colored variety will match the rest of your sleek and modern bathroom nicely. Shower curtains can be pulled back to add visual space to your bathroom interiors and pep up you interiors styling.
Shower curtains can increase your bathroom size:
 Who doesn't need more space in their bathroom? Shower curtains are a great option for bathrooms that don't want to install glass enclosure doors or don't have enough room for the swing of the door. Many shower curtains install on low profile tracks on the ceiling to enable the curtain to stay open while making your bathroom feel larger. Also consider adding a valance or hang a decorative fabric for a formal approach to your bathtub/shower area. These curtains can also have a liner placed behind the fabric curtain to ensure water doesn't damage the valance and decorative curtain.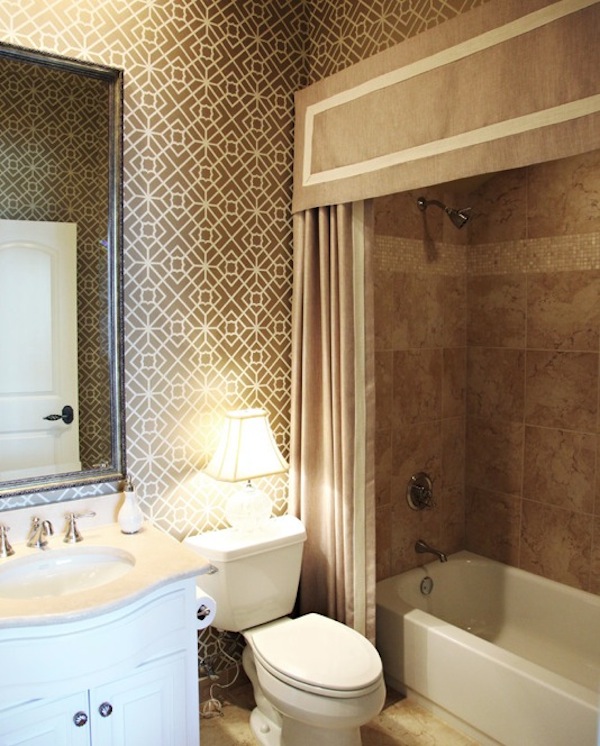 Add drama to your bathroom:
Shower curtains can also serve another purpose, adding drama and setting the scene for a gorgeous bathtub/shower wall. Consider draping fabric from the ceiling to add softness to a hard ceramic tile or boring bathtub/ shower area.  A dramatic bathroom shower curtain is perfect for a guest bathroom or even master bathroom that needs a dramatic and eye-catching focal point. Use decorative sheets, fabrics, and even window treatment material to beautify your shower area. Hang fabric from the ceiling to add visual height and make your bathroom look and feel larger. Add colorful wallpaper, and decorative bath accessories to complement your bathroom shower curtain. Think of your shower as a window wall and you will be surprised at the creative possibilities.
Shower curtains have gotten a bad reputation in the past for being utilitarian, boring and ugly. Instead of thinking of the past with shower curtain reputations, use these helpful ideas to inspire your bathroom.  Go ahead, get more space in your bathroom with these ideas and see how your bathroom will instantly look better!