How To Make A Crafting Table – Saw Horse Type
When I recently began researching craft tables for our new place, I quickly realized that there aren't a ton of clean, modern craft table options out there–especially ones with a taller height to comfortably accommodate standing while crafting. (Because let's be serious, crafting is not always a sitdown hobby!)
So I decided to take matters into my own hands and modify pre-made components to create a spacious, modern craft desk.
The 34″ height is the perfect counter stool or standing height, and I love the juxtaposition of the smooth lacquered top and the unfinished wood saw horses. Not to mention you can build it in an hour once you've gathered all your materials!
Materials you'll need to build a crafting table:
2 unfinished Home Depot Saw Horses, 33″ wide x 32″ tall
1 pre-made IKEA Linnmon tabletop, 29.5″ wide x 59″ long
four 3-1/4″ screws
hand saw
measuring tape
pencil
electric drill
How to make a crafting table – Step by Step Process
Step 1: Prepare the legs
If you use the saw horses I used from Home Depot, you'll want to cut the width down, because they're just slightly wider than the 29.5″ top (Or you could just buy a wider tabletop!). Use a hand saw to cut all the horizontal pieces of the saw horses down 6″ before following the manufacturer's instructions to assemble them.
Step 2: Measure and predrill
Measure 6″ from each end of the saw horses and predrill holes for the screws. You'll drill 4 holes total, 2 holes on each saw horse.
Step 3: Tabletop
Turn the tabletop upside down, so the underside is facing upward and find the midpoint of the short side. Measure and mark 9″ inward from the short end. This is the mark that you'll center your sawhorses on. Repeat with other end of the top.
Step 4: Parallel
Set up the saw horses parallel to one another, so the tops of the saw horses are roughly 38″ apart. Center the tabletop on them, and adjust the position of the sawhorses so they match up to the center marks on the tabletop created in step 3. Attach the saw horses to the top by drilling the screws into the saw horses' pre-drilled holes.
Pull up a stool and let the crafting begin!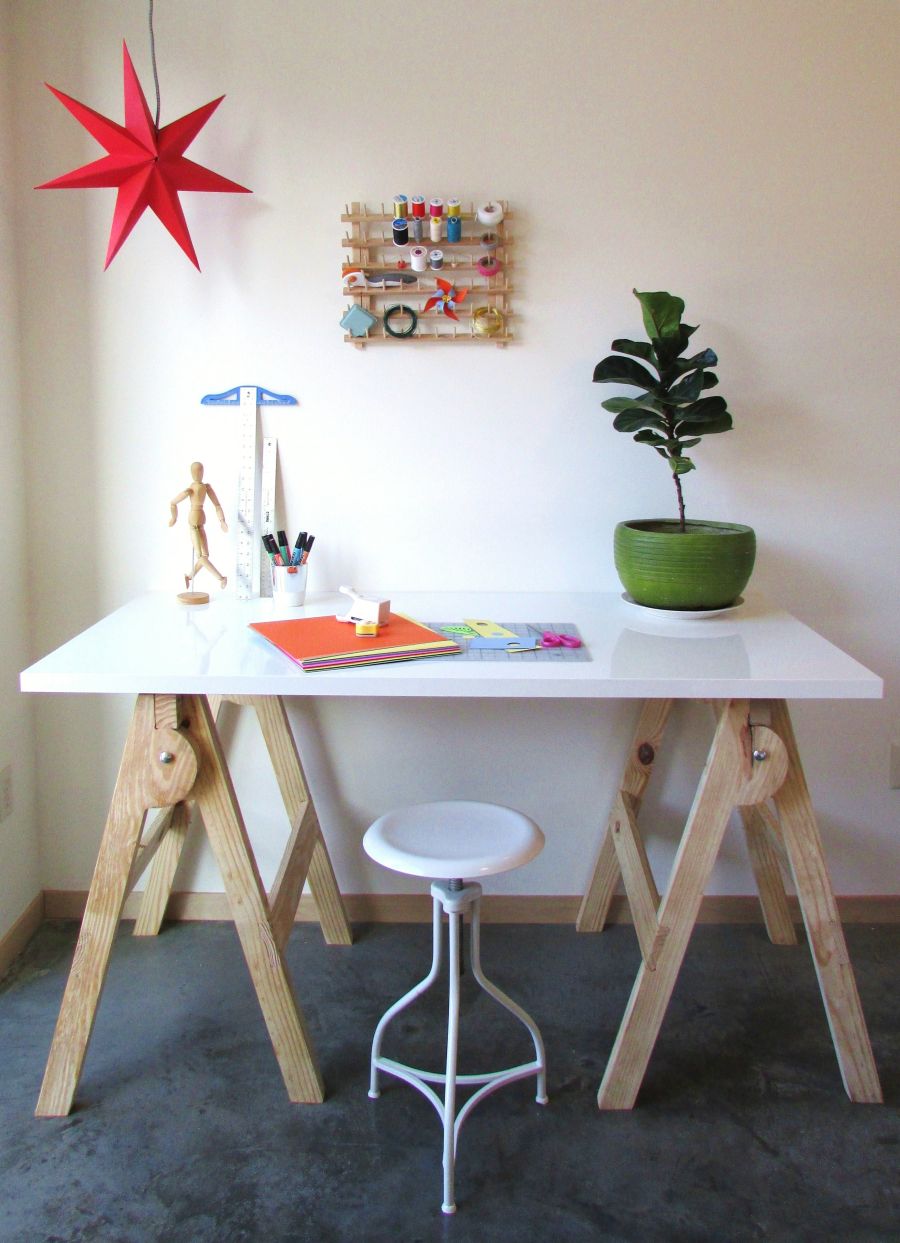 A Few More Crafting Table Ideas
If you're not really a fan of the saw horse base for a crafting table that's ok because there's so many more ideas and styles to explore. Assuming you want a crafting table so you can work on some nifty DIY projects and crafts, tackling the table itself as a potential DIY project makes perfect sense. Here's a few ideas that might inspire you:
Tall craft table made with repurposed shelves
A craft table is a bit similar to a desk but not quite. A lot of projects require you to stand and to be able to freely move around so keep that in mind when you building the craft table. The one featured on makeit-loveit was specifically created with this sort of flexibility in mind. It's made sing two repurposed cube shelves, a table top and 8 metal legs.
A custom rolling table
If you want to be able to customize your furniture to suit your needs one of the best options is to use parts and pieces from Ikea. For example, this multifunctional craft table uses two small cabinets as a sturdy base. These have caster wheels which also makes this whole table movable. A series of metal pipes raises the top a few inches above the cabinets, creating extra storage. Check out the tutorial on thenavagepatch for more details.
Minimalist wall-mounted table
When space is limited a big and chunky craft table is simply out of the question. What does however make sense in such a context is something a lot simpler and more space-efficient like a wall-mounted desk of sorts. You can learn how to make one by checking out the tutorial on thecraftedlife.
Folding craft table for small rooms
On the topic of small rooms, even more practical than a wall-mounted desk would be a folding craft table, something that can be super small and compact when you're not using it but can offer you a big surface to work on when you need it to. Check out the folding table with storage from remodelaholic for more details.
Bookcase craft table
This is as easy as it gets to make a custom craft table using components from Ikea. All you need is two small bookcases and a table top. The result is a strong and sturdy craft table with plenty of storage on the shelves. You can even make it easy to disassemble the table by not permanently attaching the top to the bookcases in case you want to quickly take it apart to save space. Head over to organizeyourstuffnow for more info.
Sturdy craft table with cubbies and drawers
You can make sure to include as much storage as possible into your craft table by making a study base for it out of repurposed shelf units. This particular one uses two Kallax units placed back to back on top of a plywood sheet. It's very much like an island with open shelves, cubbies and drawers that can be easily accessed from the sides. Check it out on abrightcorner.
Coffee table with pull-out trays
In case you enjoy the occasional DIY project but you don't really want a dedicated craft table to take up space in your home, use the coffee table as your base of operation. This one has a really clever design with a series of pull-out trays that you can slide out on the sides to create additional surfaces. Something like this would be great for board games and pretty useful when crafting things in the living room as well. Check out homemadebycarmona to see how you can make this table.
Counter-height table with storage
Some projects are easier to do while sitting at a desk while others are best done at a counter-height table. If you have a dedicated craft room then you can have both. You can make these things yourself. For the counter-height craft table you can just use a small shelving unit and a table top just like the one featured on karliebelle has.
A basic table made from scratch
Even if you don't want any of the extra features like storage shelves, drawers and pull-out trays and all you need is a basic craft table, finding one that has the right size, shape and proportions can be tricky. Also, why not build it yourself from scratch? You can find a great tutorial on makeityourswithmelissa if you'd like to give it a try.
Vinyl workstation
It's important to make sure the crafting table suits your needs and not someone else's. In other words, it should be designed to fit the type of projects that you plan on working on. If you do a lot of projects with vinyl consider a design like this one. The craft table featured on keepingitsimplecrafts might be just what you need.