When And Where Can Marble Floors Become An Elegant Design Feature
The reasons why we, in general, love marble so much, are numerous and include details such as the fact that marble is very easy to work with and can be milled, machined and tumbled which allows it to have multiple uses. Marble floors are quite common although less popular than marble counters or table tops. Of course, marble floors don't suit every type of space.
Bathrooms with marble floors
Every piece of marble is unique and different from all the others. Its look is closely related to the type of marble, the veining and the coloring as well as on the quality of the marble and its provenance.
A bathroom with a marble floor doesn't need any other marble features to look elegant although a matching counter could look chic and stylish. Make sure to emphasize the floor and avoid covering it up with lots of furniture or fixtures.
You can also highlight the beauty of your marble bathroom floor by opting for furniture in a contrasting color and material such as this rich wood tone used here. It can be complemented by a marble counter that matches the floor for cohesion.
Depending on the type of marble, its color and veining, you might want to either opt for large floor tiles or for smaller ones that together form a mosaic with a unique pattern. Large tiles are best for showcasing soft and uniform marble veins and patterns.
Even if you choose small tiles or mosaic designs for your bathroom floor, you can still use marble to create an elegant and refined look that matches other features in the room. Consider light colors if you want to make the space appear larger.
Like with every other material, there are both pros and cons linked to marble floors. For example, on one hand marble is very refined and elegant and always features unique patterns but on the other hand it's also a soft and highly absorbent material which means it stains easily and can be easily damaged by acidic substances and cleaning products.
This is a rather interesting and unusual design which features irregular-shaped marble tiled on the perimeter around the tub complemented by wood for the rest of the floor. It's a way of delineating the tub area in the case of an open space bathroom.
Living room marble floors
As mentioned before, marble is a material that stains and etches very easily and this makes it a poor choice for spaces such as the kids' bathroom or the kitchen. The living room is a problematic case as well. In here, a marble floor can be easily damaged by a lot of things so make sure you take everything into consideration before making a final decision.
Keep in mind that marble floors need to be sealed and maintained on a regular basis if you want them to look beautiful for a long time and to also last longer. The living room is not exactly a space where you can make compromises so be prepared.
If you decide to have a marble floor in your living room you should maximize it as much as possible. Avoid covering it up with rugs, carpets, robust furniture and other objects and accessories.
Kitchens and dining areas with marble floors
In a space such as the dining room a design feature such as marble flooring can turn out to be very suitable considering the room's sophisticated character. You should give up the area rug in order to expose as much of the floor as possible.
The floor can become the focal point of your dining room if, for example, you choose a type of marble with rich veining and pronounced color contrasts. To make it even more eye-catching, consider a random pattern such as displayed here.
On the other hand, marble floors with soft and delicate veins and patterns can also look highly sophisticated and elegant, even more so if the rest of the décor is just as stylish and simplistic. High-end marble is usually defined by a soft and even color palette and less pronounced veins.
Having a marble floor in the kitchen is tricky considering in how many different ways it can get damaged or stained. Remember to only clean it with mild products and to immediately clean up stains from lemons, tomatoes and acidic substances in general.
Even more care is required when working on a marble kitchen counter or when you have a marble island. However, it's worth the extra care considering how beautiful such a kitchen looks.
A nice match for a marble kitchen floor is an island and a series of cabinets made of wood or with a beautiful pale color and a smooth finish. You can also play with contrasts and add a dark-colored countertop to the mix.
Wood is definitely a lovely option for kitchen floors but some areas are better off with tiles. You can have a practical design that also looks exquisite by combining wood with marble tiles in a manner that gives them both an artistic look.
Marble entryway and hallway floors
You can definitely make a strong impression right from the start with marble flooring on the entryway. However, you should know this is not exactly a practical idea since marble gets stained easily and needs constant maintenance.
If you want to get that stylish look associated with marble without the disadvantages of the material or the high price, you can opt for porcelain tiles as an alternative. This might actually turn out to be the best solution for the entryway which is a high traffic area.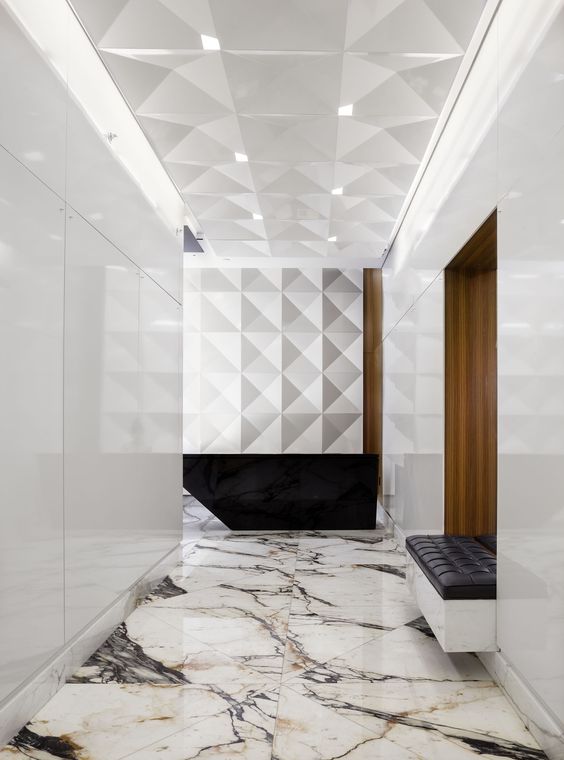 Hallways are also high traffic areas but in this case marble floors can actually be a pretty good option. Compared to bathrooms where the humidity is high, hallways don't really present damaging conditions and are a suitable environment for marble.
Because marble contains minerals, its iron content turns to rust over time, especially when exposed to high humidity so while it might not be advised to have marble flooring in bathrooms and showers, hallways are a whole different story.
Walk-in closet with marble flooring
There are several good reasons to put marble on your closet floor. First of all, it looks exquisite, In addition, it's a very versatile and easy to work with material and in some cases quite affordable as well.