16 Lawn Edging Techniques Great For DIY Landscaping
A key component of every home is the landscape that surrounds it. Lawn care is a pillar of the homeownership experience. Almost all homeowners have individual edging techniques for DIY landscaping.
If you're a new homeowner about to embark on a lawn care journey, keep reading. For seasoned landscape specialists, stick around because you might learn a few things about garden edging, among others.
Unlike a standard apartment, a house is connected to the outdoors. Almost all houses have a front lawn of some sort. And many homes have gardens, patios, pergolas, and other features. For many, yard work offers solace at the end of a busy week. Proper lawn edging and garden edging will give your lawn or garden a crisp and clean look.
History Of Lawn Care
America's love affair with yard care developed after the Industrial Revolution. Lawns were a sign of wealth as their upkeep was expensive.
It wasn't until 1935 when Leonard Goodall built the first power rotary mower that landscaping become an American obsession.
A 2021 report from the IBIS World Landscaping Services Industry revealed the US lawn care industry is worth over $105 billion
What Is The Difference Between A Lawn Edger And String Trimmer?
A lawn edger, or edge trimmer, cuts, and marks boundary lines. The tool creates divisions between a yard and sidewalks, driveways, or flowerbeds. Edgers are necessary to establish lines and prevent grass from growing over boundaries.
A trimmer relies on a vertical spinning blade to make sharp and clean borders. Motorized edgers have a guiding wheel and rotating blade, making them easy to push.
While manual edgers include hand tools like a spade. Manual edging tools are cheaper, but require more physical labor to operate.
A string trimmer, or "weed eater," is designed to cut thick weeds and unwanted grass in hard-to-reach places. String trimmers run on electricity, gasoline, or batteries.
The biggest advantage of a string trimmer is mobility. For large landscape jobs, the tool will save time and allow you to accomplish more.
How To Make Raised Flower Beds
With flower bed frames, the size is up to you. A 6-inch-high bed will give your roots room to grow.
Measure the length of the walls and cut the boards.
Measure and cut 2 x 4s to make corner posts. These will support the walls. They should be the same height as the garden bed wall.
Clamp the boards together to construct each wall. Place the corner posts on top of the wallboards. They will need to be flush with the ends of the 6-foot walls and moved back 1.5 inches from the ends of the shorter walls.
Drill pilot holes and attach the posts with screws.
Drill pilot holes and connect the sides with screws to form a box.
Make sure the posts remain on the inside of the bed.
Throw soil and mulch in your bed and start garden edging.
What Is Garden Edging?
Garden edging defines outdoor spaces. In landscaping, it's about well-defined borders between your yard and greenery. With garden edging, you can get super creative and let your outdoor DIY green thumb skills shine.
Old bricks, stones, scrap wood, floor or roof tiles, and cinder blocks are suitable materials to define garden edging spaces and establish borders.
Don't use wood treated with Chromated copper arsenate (CCA). The chemical was banned by the Environmental Protection Agency in 2003.
Is Lawn Edging Bad For Your Landscape?
Carrying out these procedures incorrectly can be harmful. The true hazard here is what is known as "scalping," which is chopping the plant too much until it reaches the soil level. This occurs when you lower the mower's blade.
Another problem is when the plants are chopped too close to the ground with a string trimmer.
Moisture and nutrients are held in leaf tissue. Too much garden edging diminishes the plant's capacity to endure drought and heat stress.
Second, it allows the ground to receive more sunshine. The soil temperature increase and subsequent drying might push the grass into hibernation or destroy it.
When mowing or garden edging, adhere to the "one-third" guideline. Do not pull more than 1/3 of the grass blade at a time. If you cut anything more than that the plant will experience undue stress.
What Are The Best 8 Edging Plants
Border plants enhance your landscape. Let's look at a few garden edging options.
1. Mop Head Hydrangea
The blooms on a Hydrangea are huge globes, whose colors range from pink to blue. Rich green foliage and fragrant blossoms allow the shrubs to divide gardens and outdoor borders. The shrubs can stand alone or in combination with another perennial layer due to their height and mounding growth habit.
2. Lavender
The lavish colors of lavender border plants will enliven your landscape and give it a natural feel. When touched, the silvery-green leaves exude a powerful smell and purple or blue blooms in the spring. Lavender plants grow between 18 and 36 inches and have a spreading pattern of growth.
3. Creeping Thyme
Thyme is an attractive herb that blooms in late spring or early summer and showcases the beautiful light purple flowers. The blooms release a fresh, fragrant aroma and are a sign of happiness and health.
4. Stonecrop
This border plant grows between 6 and 20 inches tall and can endure harsh weather conditions. Gardeners can either enjoy the bright summer blossoms of sedum or maintain it short and green.
5. Veronica Speedwell
Veronica is a low clumping perennial that thrives in sunny borders. Flowers grow in the shape of spikes found above the foliage and range in hues from deep blue to purple. Ground cover varieties reach a height of 6 inches, whereas mounding varieties reach a height of almost 1 foot.
6. Roman Chamomile
Roman chamomile is a lovely addition to any border. It is one of the first known therapeutic herbs and grows in chilly, dry climates with minimum upkeep. German chamomile has comparable yellow and white flowers.
7. Scotch Moss
Never exceeding an inch, this "moss" isn't moss. It thrives in warm, wet settings when provided with afternoon shade and rainfall. It can be used as a ground cover and works well in temperate climates or with homes facing east.
8. Dwarf Abelia
This is a favorite border plant and garden addition. It's a semi-evergreen or evergreen shrub that displays arching branches and feels delicate when. Experts advise turning to multiple cultivars when you want a plant border.
How To Choose the Right Edging Plants For Your Landscape
Climate
Growing conditions have an influence on your edging plants. For instance, hostas that make sidewalk edging if grown in dense shade, and would fail in the summer sun. In frigid winter climates where sidewalks are salted to melt ice, your choice of border plants should withstand alkaline soils.
Landscape Design
Evaluate your design. Determine whether it is rustic, strict, or comfy. Choose an edging that complements the design.
Examine the various installation styles. A low-lying brick or stone edging offers a rustic aspect, yet the same bricks or stones placed in mortar give the garden formality.
Lifestyle
Your lifestyle can impact your greenery, so if you work 60 hours a week, you don't want plants that require extra care. If you can avoid mulch, then you'd be better off not using it.
Plant Growth
Size is crucial with border plants that may require regular upkeep. It's hard to imagine the small plant you brought home from the nursery taking over your driveway or garden.
Even if pruning is a solution to control plant growth, why make things harder when you choose a plant that can fill the available space?
How to Plant Flower Beds With Edging
Hostas
Hostas thrive in moderate shade but will tolerate full shade as well. Hostas' big leaves do not tolerate severe sun. They can endure moderate droughts and minimum summer heat.
Dig a hole twice the breadth and depth of the root ball.
You have to loosen the soil in the planting location because it will aid their roots in their outward expansion.
Arrange the plants in the hole so that their crowns (bases) are flush with the surrounding soil. You want the leaf tips to be seen at the surface of the soil.
For settling the roots, dampen the soil. Also, make sure to water it until it's moist.
Lavender
Lavender edges are easy to cultivate, but they must be planted in dry soil that receives at least six hours of direct sunlight each day. It thrives in arid regions and requires little water, it will need soil drainage.
To maximize the effect and produce an edge, lay the plants 10 to 12 inches apart.
Drainage is critical because the plants thrive in dry soil.
With heavy soil, amending it with grit or sand is suggested, as it does not tolerate damp roots.
Creeping Thyme
Planting and growing creeping thyme is straightforward:
Creeping thyme prefers well-drained soils that have a light texture, but it's adaptable with multiple different ground conditions.
You have to keep the soil moist, but make sure it's not too wet because it could drown.
Put your creeping thyme whilst leaving about eight to 12 inches of space between each plant so it can grow.
Prune it during the spring to keep it under control.
Choosing The Best Lawn Edging Technique
Decorative Gravel
Shaping is not hard but requires focus. If you want a clean line and modern look, consider decorative gravel or fine slate chippings.
You'll need a bamboo cane and string, sand, half moon turf cutter, sharp border spade, and edging strip. You can find more details on farmfoodfamily.
Stone Pavers
Define an area along the exterior wall of your house and use edgers to complete the border. Check out loveoffamilyandhome for more details.
Flowers For Tree Borders
If you have trees, try a bed that surrounds and conceals their base. Rocks or stones can create a border around the flowers or garden. This idea comes from outdoorareas.
River Rocks
River rocks are wonderful borders for a garden. Check out the organic design featured on ellaclaireinspired. Rocks are an easy way to add diversity to your garden. If you're short of ideas and don't like bricks, you'll find that rocks are ideal for preventing dirt from overlapping your manicured lawn.
Bricks
If you don't like plastic edging, bricks are a popular garden option. Compared to other edging ideas, bricks might be the most accessible. They're ideal for garden edging and flower beds. You can make a border that will also impact adjacent lawns. Check out gardeenworld for more details.
Creating A Natural Lawn
If you need inexpensive garden edging ideas that are easy, look at this one from gardeners. Plastic interlocking pieces make a clean edge between your lawn and flower beds by pounding the pieces into your topsoil with a rubber mallet.
Installing Bricks Around The Lawn Edge
Lawn edging bricks offer a rustic look and complement a brick patio or garden. They word the same with garden edging. You'll need building sand, cement, a trowel, rubber mallet, and a rake. Follow the border until it's edged. You can find more tips on gardenersworld. Brick might be the most common non-plastic material used to make an edge and a good option if you don't want to use stones.
Modern Weathered Steel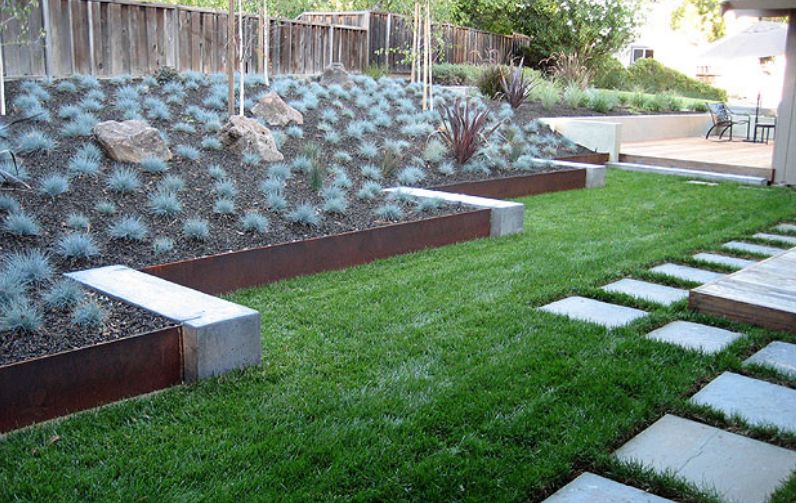 Weathered steel will give your lawn and garden bed a complete industrial vibe. Lay steel edging around your flower area to create a more modern structure in your backyard. The rusty, weathered look is sublime because of the visual connection it establishes with the natural environment.
DIY Lawn Edge with Concrete
If you need a solid border idea, concrete might be your best bet. You can fill the concrete into your desired shape for a flush border. Here's a cool edging tool from etsy.
Modern Lawn Edging Ideas
This design idea is based on a miniature version of a gabion wall. We found it on greenlandscapestoenvy. It has an organic, timeless, and charming look. There are ways you can implement this if you want divisions around your garden.
Wood Blocks
Wood edging is a natural option, like stones. You can cut wood boards and bury them halfway in the ground to create a border around your flowers. The small boards will look like a miniature fence. Make sure the wood planks overlap to prevent dirt from slipping through.
Lawn Edging Kits
Here are a few edging kits for landscaping or garden edging.
Interlocking Panels
This lawn edging kit is one of the easiest and most versatile kits. There's no need for digging because you can pound each piece into the ground with a rubber mallet. Plastic interlocking sections will give you a smooth line and together they form a 20-foot long edge. You can also bend the sections to form corner pieces or to shape your design however you want.
Edging Coil
Another great option is a landscape edging coil. It's versatile when creating clean and beautiful lines to delineate pathways or to make raised garden beds.
The faux woodgrain texture and the color look beautiful and add a natural look. With edging, it blends into the landscape. This is also a flexible edging coil that you can bend and curve to create your desired shape.
Faux Slate Edging
This edging looks like natural stacked slate. The heavy-duty plastic is flexible and can bend around corners. It offers easy installation and doesn't require extra labor. The stakes allow you to stand the pieces into the topsoil, connecting them according to your design. When every piece is combined, it creates a 20-foot long edging.
Aluminum Edging
Aluminum edging is a non-toxic frame made of recycled materials, making it an eco-friendly choice. It's also corrosion-resistant and doesn't require maintenance, unlike brick. For installation, slide the ends of the pieces together and insert the spikes into the topsoil. You can bend the pieces around the curves or create natural shapes and designs. The kit comes in black, brown, bronze, and silver.
Rustic Industrial
If you prefer metal instead of brick, a few interesting options for edging kits are available. This kit offers a galvanized finish that can help create a modern-industrial style for your home landscape.
Included in the set are five 39-inch pieces for a total of 16.25 feet of edging. The pieces are interlocked and easy to combine. Each piece is 1.6 inches thick and 4 inches long, and flexible.
Easy Lawn Edging Kit
Unlike other edging kits, this one is easy to install and doesn't require as much labor. The edging is thin and slender, and less intrusive than brick, for example.
Included in the kit is a 100-foot coil. The edging is 1.5 feet and comes with five connectors, so the pieces blend with one another. Spiral spikes are also included, which hold the pieces together.
You can place the edging around raised flowers, trees, or pathways and the only tool you'll need is a rubber mallet. Due to its easy assembly, it's one of the better deals on the market today.
Frequently Asked Questions (FAQ)
FAQ
Is Edging Good For Your Lawn?
Edging isn't crucial but it offers your property a well-manicured look that isn't achievable by any other means. In conjunction with edging and trimming your outdoor greenery and garden, it will reduce weeds and improve their health.
What Is The Best Tool For Edging?
It depends on the yard or what kind of garden edging you want to do. With the tools available on the market today, you can find specific ones tailored for your property and garden space.
How Deep Should Raised Flower Beds Be?
You don't need to dig too deep when making a flower bed. The standard depth for a DIY flower bed is eight to 12 inches. With gardens, if you're planting vegetables, the bed should be 1 to 1.5 feet deep.
What Is The Best Wood For A Raised Bed?
Like everything else related to your garden or backyard, it's up to you. Cedar and redwood are popular because of their water-resistant qualities. Should you use either material you can expect to pay more as they're both expensive.
Fir and pine will get the job done but they won't last long. Pressure-treated lumber is an option, but a controversial one. With garden edging, inexpensive doesn't mean better, it just means cheaper.
What Is The Easiest Landscape Edging To Install?
Among all landscape and garden edging ideas, no-dig edging is the easiest to install. All it requires you to do is pound stakes in your land, and you're done.
What Is The Purpose Of Lawn Edging?
You want to have a clean and sharp lawn appearance that adds curb appeal to your home. Edging creates a root barrier that prevents your yard from invading your flowerbed. And remember, garden edging is just as important.
Also, a manicured space helps your home's value, but your neighbors will benefit. Nobody wants to live next to an unkempt lawn. When a neighbor tries to sell their home, it would be easier if the neighboring yards also look nice. Moreover, edging provides opportunities to make your home look better without spending too much money.
Lawn Edging Techniques Conclusion
Among US homeowners, the yard is a reflection of those who live in the house that's connected to it. There are some who will tell you that a person's yard is a reflection of their soul.
With edging and DIY backyard design, have some fun. Before you purchase tools to help turn your outdoor space into a green art canvas, find the best deals. You want to follow your style and create a natural look that will also match your personality.