16 Lawn Edging Techniques Great For DIY Landscaping
The biggest advantage of houses compared to apartments is the fact that they're open to the outdoors and they have lawns, gardens, patios, pergolas and all sorts of cool features. All of this however comes with a whole new set of challenges and project ideas to explore. For example, lawn edging can gives you a crisp and clean look in the yard or the garden and there are lots of nice ways to define the flower beds and to make all transitions smooth and beautiful. We'll check out some of the ideas right now.
Lawn shaping is not difficult but does require plenty of time and dedication. If you want to get a clean line and a modern look, consider using decorative gravel or fine slate chippings. To get that perfect curve and the sleek appearance you'll also need some other things including bamboo cane and string, sand (or white line marker spray paint), a half moon turf cutter, a sharp border spade and lawn edging strip. You can find more details on farmfoodfamily.
A little bit of landscaping around the house goes a long way and makes a big difference, especially if you're trying to increase curb appeal. Define an area along the exterior wall of the house and delineate it from the lawn using stone edgers. This way you can have flower beds and a manicured lawn side by side, both looking clean and beautiful. Check out loveoffamilyandhome to find the details of the project.
A very lovely idea if you have trees in your yard or your garden is to have flowering plants placed around them, sort of like a garden bed that surrounds the tree and conceals its base and roots. You can use a bunch of rocks or stones to create a border around the flowers. This idea comes from outdoorareas.
River rocks are wonderful for creating a border between a planter and the lawn. We love the organic design featured on ellaclaireinspired and the undulating line which actually looks very clean. This is a nice way to add some diversity to the garden without making any big changes to the landscape and a great way of preventing the soil from overlapping the manicured lawn.
Bricks can also be a good option when it comes to lawn edging. They're actually perfect for the flower beds and they can be used to create a clean border around them which also impacts the adjacent lawn. This border right here was created using concrete pavers. Check out gardeenworld for details.
If you want a lawn edging solution that's super simple and easy to put in place, check out this great idea featured on gardeners. With these interlocking pieces you can create a clean edge between the lawn and flower beds within minutes simply by pounding each piece into the ground with a rubber mallet. There's no need to tear up soil or anything.
Lawn edging bricks can give you a nice rustic look which could go well with a brick patio for example. To pull this off you're going to need building sand, cement, a trowel, a rubber mallet and a rake, in addition to the bricks of course. Follow the line of the lawn until it's all edged. You can find more tips on gardenersworld.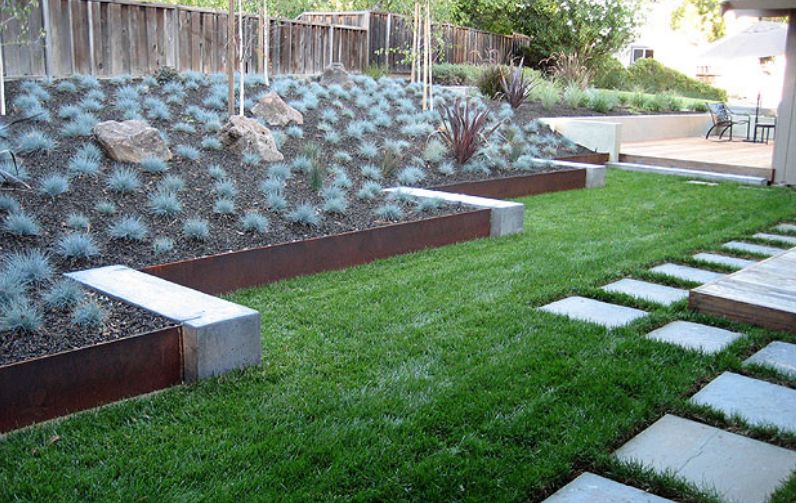 Weathered steel is another cool option. It can give your lawn and garden a contemporary look with an industrial vibe and it's also easy to work with. Install steel edging around the flower beds or to create more structure in your backyard if for example you want to define different sections. The rusty, weathered look looks great out here because of the visual connection it establishes with the earth.
Concrete is great if you want to create a solid border that has a unique shape. You can pour the concrete into whatever shape you want to create fluid, undulating lawn edging and you can make it flush with the ground if you want to. Check out this cool lawn edging tool from etsy that you could use.
This lawn edging technique is based on what seems to be a miniature version of a gabion wall. It's an idea that we found on greenlandscapestoenvy and we absolutely love it. It's such an organic look, timeless and with lots of charm and there are actually lots of different ways to use this technique if you want to create borders around your lawn or garden.
Wood lawn edging is also an option. You can cut a bunch of wood boards and insert them into the ground around the lawn or around the flower beds to create a sort or miniature fence. The boards can overlap slightly to prevent the soil from slipping through. Another idea can be to use wooden posts that look more solid.
Lawn edging kits Available on the market
Now that we covered all the different techniques and you have some ideas to be inspired by, we'll turn our attention to a few of the best products that you can choose from if you plan on doing some landscaping yourself.
This lawn edging kit is one of the easiest and most versatile ones out there. There's no need to do any digging because you can simply pound each piece into the ground with a rubber mallet. These are interlocking sections which will give you a smooth continuous line and together they form a 20 ft long edge. You can also bend the sections to form corner pieces or to shape your design however you want to.
Another great option is to use a landscape edging coil such as this one. It's very versatile and can be used to create clean and beautiful borders around the grass, to delineate pathways or to create raised garden beds among other things. The faux woodgrain texture and the color look really beautiful here and add a natural look which allows the lawn edging to more easily blend into the landscape. This is also a flexible edging coil which you can bend and curve to create the desired shape.
This lawn edging mimics the look natural stacked slate which can add a really nice touch to your garden. It's not real stone and it's actually made of heavy-duty plastic. This offers a series of unique advantages such as the fact that the edging is flexible and can bend around corners plus it's also very easy to install. There's no need to do any digging. You can use the included stakes to anchor each piece into the ground, connecting them all as you go. All the pieces put together are enough to make a 20 ft long edging and you can add more if needed.
There are a lot of eco-friendly lawn edging options to choose from and this is one of them. This aluminum landscape edging is non-toxic and made out of recycled resources. It's also corrosion-resistant which is a very useful and practical added feature and it doesn't require any sort of maintenance. To install this simply slide the ends of the pieces together and insert the spikes into the ground. You can also bend the pieces around the curves or create more organic shapes and designs. There are four different colors to choose from: black, brown, bronze and silver.
If you prefer the look of steel there are some interesting options out there when it comes to lawn edging and landscaping kits in general. This particular kit has a really beautiful galvanized finish which is perfect if you want to add a modern-industrial look to your garden, pathways or lawn. The set includes five 39'' long pieces for a total of 16.25 ft of edging. These are interlocking pieces which are easy to combine. They're 1.6'' thick and 4'' long and can be easily bent if needed.
Like all the other lawn edging kits we mentioned previously, this one is very easy to install and doesn't require any digging to be done. This edging is also extra thin and slender which makes it less intrusive. The kit includes a 100 ft coil. The edging is only 1.5'' tall and you also get 5 connectors for all the different pieces to blend together seamlessly and spiral spikes to hold everything in place. You can place the edging around raised flower beds, around trees or pathways and the only tool you need for installation is a rubber mallet. You can cut the edging with garden shears to get the size that you need.