Kitchen Cabinet Handles: Beautiful Decor For Your Cooking Space
Do not underestimate kitchen cabinet handles. When remodeling your kitchen, you'll discover the importance of cabinet hardware. Cabinet knobs or drawer pulls may be small, but they have the power to impact your kitchen space.
After you spend hours and days looking at countertops, appliances, flooring, and cabinet hardware, it's easy to overlook cabinet handles. You don't want to make this mistake, which is why we're here.
Choosing cabinet handles for your brand new kitchen might seem like a small decision because the handles aren't big. However, and just as it is with fashion, every piece or component is important for your overall look.
And here's something else to consider, a kitchen remodel isn't necessary if you want to change your cabinet hardware.
Kitchen Cabinet Handle Styles
There are two kitchen cabinet handle categories: pulls and knobs. Both categories offer hundreds of styles. So, the journey begins with choosing between a pull handle or knob handle.
1. Drawer Pulls
Drawer pulls are larger and easier to use. They require two screws to install. The cabinet handles have different features and are available in multiple styles and sizes. Bar pulls, arches, rings, and drop handle pulls come in recessed and cup varieties.
Some types require one screw, however, with ring and pendant styles, they also work as replacements. Drawer pulls are common among new cabinets in contemporary or modern kitchens. If you wanted to think outside of the box, install bar pulls of different sizes.
2. Cabinet Knobs
You already know what a doorknob is, well, a cabinet handle knob is almost the same. A cabinet knob is installed on a drawer or door with a single screw. Knob styles come in different varieties, including mushroom-shaped or square, to bars and geometric designs.
8 Cool Kitchen Cabinet Handles
Here are the eight of the coolest kitchen handle designs available today.
Bar pulls are popular because they're easy to use. This European-style look is ideal for bathrooms. For a rustic kitchen, they come in oil rubbed bronze and satin nickel, in addition to the matte black finish in this example.
Pros
Easy to install
Durable
Stylish on most cabinet designs
Cons
Quality issues
Bulk order quality isn't good
This is also a bar pull, but it has side sections that curve inward instead. Part of Liberty's Rustic Farmhouse Collection, it has the casual vibe of farmhouse décor but is also ideal for contemporary and transitional kitchens.
It comes in a bold matte black finish as well as heirloom silver and warm chestnut, which has a slightly distressed appearance. Each pull is made of die-cast zinc and gives any cabinet more of a custom feel.
Pros
Easy to install
Fit with most cabinet designs
Cons
Too small for some cabinets
For a contemporary look with a little more glamour, this bar pull has a center section of crystal lace. The scrolling metal detail is paired with a solid acrylic piece that is made from high quality zinc metal with a satin nickel finish.
Create a coordinated, upscale look in your kitchen with this pull and its matching bar knob, which is a shorter version of the same design.
Pros
Easy to install
Durable
Stylish
Cons
Style doesn't match all kitchens
This modern-looking example is just what you need for a high-tech kitchen. The center section is a flat bar made of aluminum and set into a rectangular base that features cool edges.
The base is a zinc alloy with a square embossed design, delivering an overall look that's sleek and classy. Install them horizontally or vertically as they are durable due to their weight.
Pros
Easy to install
Heavier than other handles, which means they're stronger
Durable
Cons
Only work with certain drawers and cabinets
Drop handle pulls have a luxe feeling because the handles are attached to a decorative backplate. Available in a brushed brass finish or bronze with gold highlights. The drop handle pull offers a high end accent for your cabinets.
Pros
Easy to install
Durable
Good for high traffic areas
Cons
Difficult to install on some cabinets
Cabinet hardware with mixed materials is still popular. The London bar knobs and pulls add variety and charm to a kitchen space. Available in a dozen finish combinations, each one pairs well with a pull bar design and various materials. The faceted shape adds a sophisticated style to most kitchen doors.
Pros
Durable
Looks good on most cabinets
Good for high traffic areas
Cons
When choosing knobs, it's important to remember that the options go far beyond bars, mushrooms, or squares. The innovative functional knob shapes add distinctive flair. The geometric knob looks like a rectangle but has a rounded triangular shape when viewed at different angles.
This knob can also be installed in a vertical or a horizontal position, depending on the look you want.
Pros
Cons
Steffi's ring pull handle is a luxurious option for your kitchen. The handles offer a stylish finishing touch if you looking for something other than long bar pulls. The decorative plate holds an extended square shape that you lift to pull.
Choose a polished gold finish or weathered nickel. It's a small piece of cabinet hardware that's casual or glamorous.
Pros
Looks good in high end kitchens
Small size
Cons
Hard to install on some cabinets
Kitchen Cabinet Handle Designs
When choosing a style of hardware for your kitchen, make sure you consider the style of your space. The hardware should reflect the décor.
Large cabinet handles do not need to be installed in the center of your cabinets. Here, Febal Casa shows how the bar pulls can be placed at the bottom third across the entire wall of cabinets.
---
Wood Cabinet Doors
If the cabinets are separated, one option would be to stack the bars horizontally. The placement maintains a modern space with clean lines. If you're working with hidden cabinet hinges, this style would be the preferred choice.
---
Matte Finish
Bar pulls that don't taper toward the cabinet at the end look rustic. The pulls in this example have a matte finish.
---
Wood Handles
For those whose tastes run a little more to the avant garde. bar pulls can be installed at an angle, either as a pair or as individual kitchen cabinet handles. the look is very distinctive and unexpected, helping to differentiate basic wooden kitchen cabinets. These below are from Creo Kitchens of Italy.
Choosing those angles kitchen cabinet handles in a color is a bold choice to add even more interest.
This design, from Nolte Kitchens, offers diversity. They are extra long, spanning the entire length of a cabinet. with just a small space in the middle as mainly a design element.
The orientation of the kitchen cabinet handles is entirely your preference. The horizontal handles have a small pull on the drawer above the longer handle on each cabinet.
The clean lines help create a modern industrial look. You can see how the same handle on a wooden cabinet provides a different feel.
---
Vertical Cabinet Pulls
Vertical pulls offer a different level of convenience.
This cabinet hardware can be installed at the top of a kitchen cabinet. It functions like a ledge while the cabinet hinges remain out of sight.
---
Rustic Kitchen
This example is a blend of modern and rustic kitchen design. The shape is functional and different from typical handles.
---
Clean Lines
Smaller bar pulls are good cabinet handles for a traditional kitchen. This kitchen sports understated handles made special with a jeweled center.
---
White Cabinet Doors
The same style can be had in a window sash handle style. The cabinet doors feature a cured style that offers a subtle finishing touch.
Cabinet pulls can make a statement or provide a muted and functional flair.
In this design, the cabinet hardware features glass cabinet doors with horizontal cabinet pulls at the bottom.
---
Accent Cabinet Pulls
Notice how the gold color cabinet pulls provide a subtle color accent for the white cabinet doors. This example from Officine Gullo features metal handles with hand-turned wood.
While many homes may have a mix of knobs and kitchen cabinet handles, this luxury kitchen from Gullo features only knobs to serve as cabinet handles.
---
Cabinet Knobs
Knobs offer an easy cabinet hardware solution. They're easy to install and are long lasting.
In this rustic kitchen design from La Cornue, knobs and cremone bolts prove to be ideal handles. The cabinet handles are the top choices for vintage kitchens.
In a more casual kitchen, one rustic knob can successfully be used as a kitchen cabinet handle, as in this more minimalist design.
Another kitchen cabinet handle is the cup pull, a suitable option for vintage, country, or farmhouse style kitchens.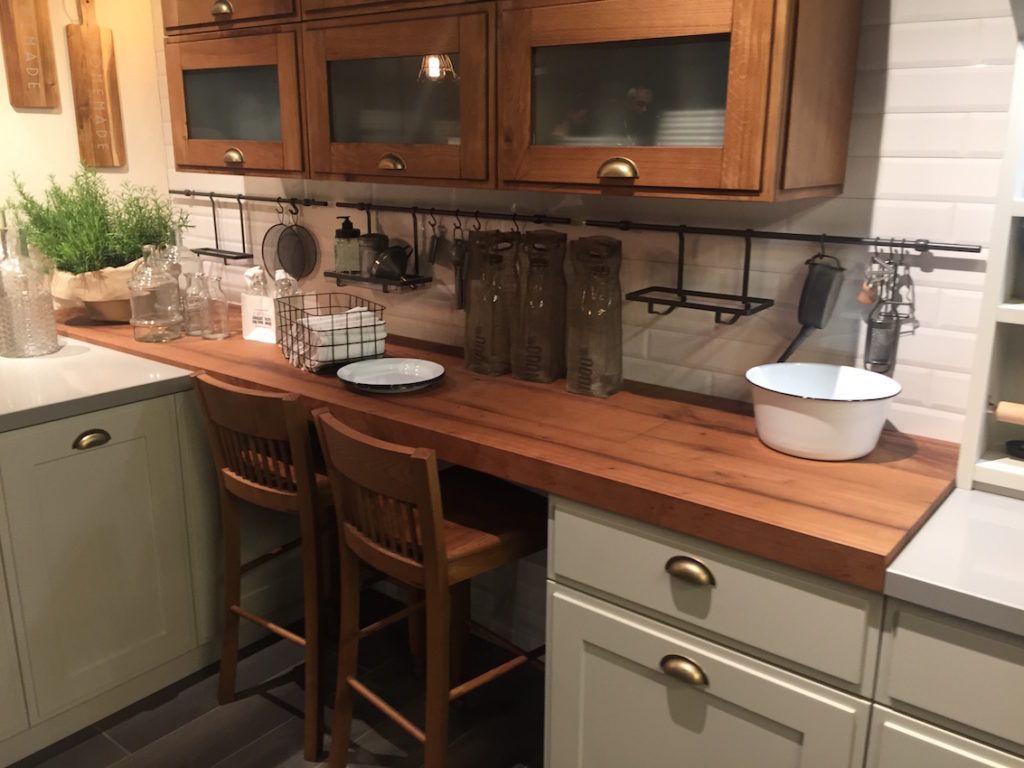 Window sash handles are often found in traditional style kitchens. This design by Stosa Cucine, offers an ornate touch. The molding and embellishments are also a good match for the small kitchen cabinet handles.
---
Victorian Kitchen Cabinet Handles
Even in a less ornate kitchen, window sash kitchen cabinet handles help maintain the tailored look of this design by Arcari. All the woodwork and doors have a conservative style, which is well suited to this type of hardware.
This rustic kitchen design with long horizontal drawer pulls is s popular style.
---
Modern Cabinet Pulls
While these square cabinet handles may look a little like a recessed handle, they are not. The handles have a low profile and a touch of metal to the kitchen's design without the prominence of a larger kitchen cabinet handle.
Recessed cabinet handles are a great choice if you like the look of a handle, but not the profile. The design below is by Arrex Le Cucine and features uniform recessed kitchen cabinet handles that go well with the contemporary farmhouse style of this kitchen.
Frequently Asked Questions (FAQ)
FAQ
How To Determine Handle Size For Kitchen Cabinets?
There isn't a set rule, but the pull length should be 1/3 of the cabinet or drawer width. Small drawers that are 12 inches or less work well with a pull that is three inches to four inches long or a knob that is 1 inch in diameter.
How To Clean Glass Cabinet Knobs?
Glass cabinet knobs are high maintenance. When cleaning glass knobs, all you need is a dry cloth and glass cleaner. If you want to try a DIY solution, use vinegar and wipe the glass knobs with a piece of newspaper. When you use old newspaper, you safeguard against leaving streak marks on the knobs.
What Is The Labor Cost To Install Kitchen Cabinet Handles?
To install basic kitchen cabinet handles, be prepared to spend upward of $65. This price is just for the installation but will depend on how many handles you install.
Should You Put Knobs Or Pulls On Kitchen Cabinets?
There are no strict rules to follow when choosing whether to select a knob or a pull or both. One preference is to use knobs for all doors and pulls for all drawers. For any large door such as a pantry and any pull-out door use a pull handle.
Can You Mix Knobs And Pulls In A Kitchen?
Feel free to mix knobs and pulls for your cabinets. There isn't a rule that says you can't. The problem when people remodel is how they think they should follow a set of rules. This mindset is unnecessary. It's your home and you should feel free to do whatever you want.  
Kitchen Cabinet Handles Conclusion
Contemporary modern kitchen cabinet handles are an inexpensive decor item that can add style to your cooking space. Handles for kitchen cabinets and drawers come in unlimited styles. The first thing you need to know is how to determine handle sizes for kitchen cabinets.
Kitchen cabinet handles are functional, but they're also important. When you find knobs that fit your kitchen design, see if you can find special offers online before checking with your local stores. Often you can find knobs at a great price if you look hard.