How You Can Incorporate Wine Racks Into Your Design Without Wasting Space
Whether you're a wine connaisseur or not, it's always nice to have a bottle or two in the house. But where do you keep them? Well obviously a wine rack would surely be helpful. Lots of people seem to think that a wine rack is just an accessory and that it takes up space that can be used for something else. But there are ways in which you can incorporate wine racks into your interior design without wasting any space.
Depending on where you want to store and display the wine bottles, you can figure out solutions. For example, if you want to have the bottles in the kitchen, then take a look around and see where you could spare some space.
For example, maybe you have some room in the corner or maybe you're not using all the space available in your kitchen island. The cabinets are also an option. Maybe there's some space there or maybe you can squeeze a vertical drawer somewhere.
Another option is to store the bottles in the dining since you'll most likely be using them there. Here things are not that simple but there are still lots of options.
You could have a wall-mounted wine rack on one of the walls. There are lots of designs which take up very little space and which also look great. If the dining room is out of the question as well, then turn your attention to other spaces. Don't overlook anything. You'll definitely find a solution so just be creative and open-minded.
Built in racks.
A built-in wine rack doesn't take up much space, especially since you can incorporate in areas which would normally remain empty. So make some room in the kitchen island, above the fridge, in a corner or even in the wall.
Inside the wall.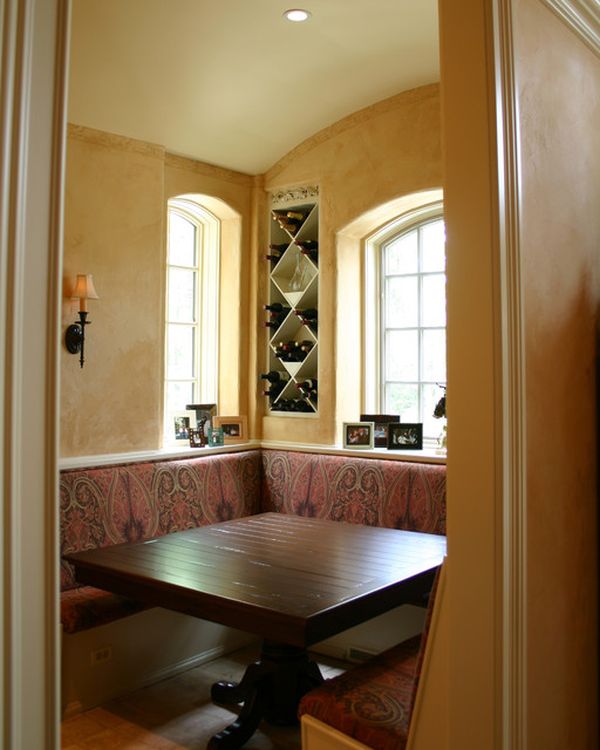 Carved-out spaces inside the walls are excellent for storage and display. So if you don't want to use counter space for the wine rack, an idea is to incorporate it into the wall. It's not that difficult to do this and it's ingenious, unusual and eye-catching.
Use the staircase wall.
The staircase wall actually presents you with an excellent storage opportunity, not just for wine bottle but for all sorts of other things. You can design shelves and storage compartments and they wouldn't take up floor space at all. It will also be an interesting display for the room.
Inside the kitchen island.
The kitchen island is a wonderful storage area. It usually comes with drawers, shelves and storage compartments. There's also the possibility of including a wine-storage system in the island. You can use the side of the kitchen island or you can simply find a space in between the drawers.
Picture sources: 1, 2, 3, 4, 5, 6, 7, 8, 9, 10, 11, 12, 13, 14, 15, 16, 17 and 18.