How To Hang A Hanging Mirror Without Accompanying Hardware
Mirrors have so many amazing properties that every home should have them. Such as the ability to open a space up, let more light in, and make a place look more magical. The most magical type of mirror is the hanging wall mirror.
While any type of mirror can be special, hanging mirrors look like they are magical hanging on the wall. Standing mirrors are wonderful and if you want to go that way, go for it. But today, we're focusing on hanging mirrors.
What Is A Hanging Wall Mirror?
There are many different types of hanging wall mirrors but they are all still mirrors that are hung on the wall. While they look simple, installing them isn't always as easy as it looks and it can be frustrating to try to figure it out.
For example, hanging a bathroom mirror is a little different than hanging a bedroom mirror. This is because the bathroom mirror usually looks like it has been set into the wall while other mirrors are less flush.
How To Hang A Mirror On The Wall
Hanging a mirror isn't all that difficult to do. In fact, framed mirrors are so easy to hang that they usually just require you to install a few nails or hooks and you are good to go. But this isn't always the case.
As long as the mirror has a frame though, it is fairly easy to hang. Most mirrors with frames will have holes that you can hook onto nails. If they don't, then consider getting a chain to hang the mirror from.
Related: 12 Bathroom Medicine Cabinet Ideas with Mirror To Keep Your Essential Toiletries
Chains are very inexpensive and they are easy to attach to a framed mirror. Just hook them on top of the back on the far sides of the mirror near the top. Then you can use this sturdy chain to hang the mirror from a hook.
Height To Hang Mirror
Most of the time, you want the middle of the mirror to be at the average eye level of those using the mirror. This means the average eye level of people in the home. For example, say you have a family of five.
The tallest has an eye-level of 6-ft. The middle three are all 5-feet and the shortest 4-feet. The eye level should be 5-feet in this case and that should be where the center of your mirror should land, regardless of size.
However, there are a few things to consider here. If figuring the exact eye level is too complicated, stick with the safe 44″ above the level floor as eye level if you have a family with kids or shorter people.
How To Hang A Frameless Mirror
Hanging a frameless mirror is very different than hanging framed mirror. Because a frameless mirror very rarely comes with anything to hang aside from a kit of clips which can be confusing to use the first time.
This simple tutorial will take you through the steps of hanging a frameless mirror regardless of whether it came with its own hardware kit or not. The process will be the same either way and shouldn't cost much.
Step 1: Measure And Mark
For this step, you'll need a measuring tape, a stud finder, and a carpenter's pencil. The first thing you do is find where you want the center of the mirror to be. So mark that spot with the measuring tape.
Then, find where the top and bottom of the mirror will be accordingly and mark it. Then, depending on the type of mount you have, you will mark studs using a stud finder. There will be one or two places to mark.
Step 2: Mount Clips
The frameless mirror you buy will probably come with clips. The weight and size of the mirror will affect the type of clips that are included. But in general, the clips are installed with finishing nails that come with the mirror.
If your mirror doesn't come with any hardware, you can buy the hardware separately. Search for mirror mounting kits and they should come with more clips than you need. Make sure to pay attention to the size of the clips.
Step 3: Hang Mirror
Now all you have to do is slide the mirror into the clips. This is the easiest step. All you do is slide the frameless mirror into the clips. If you fear this is too difficult, just mount the bottom clips then put the mirror in.
Have someone hold the mirror while you mount the top clips. Then remove the mirror and slide it in again. You should be able to move it in and out freely without it getting stuck or falling out, hanging loosely.
Amazing Hanging Mirrors You Can Buy Online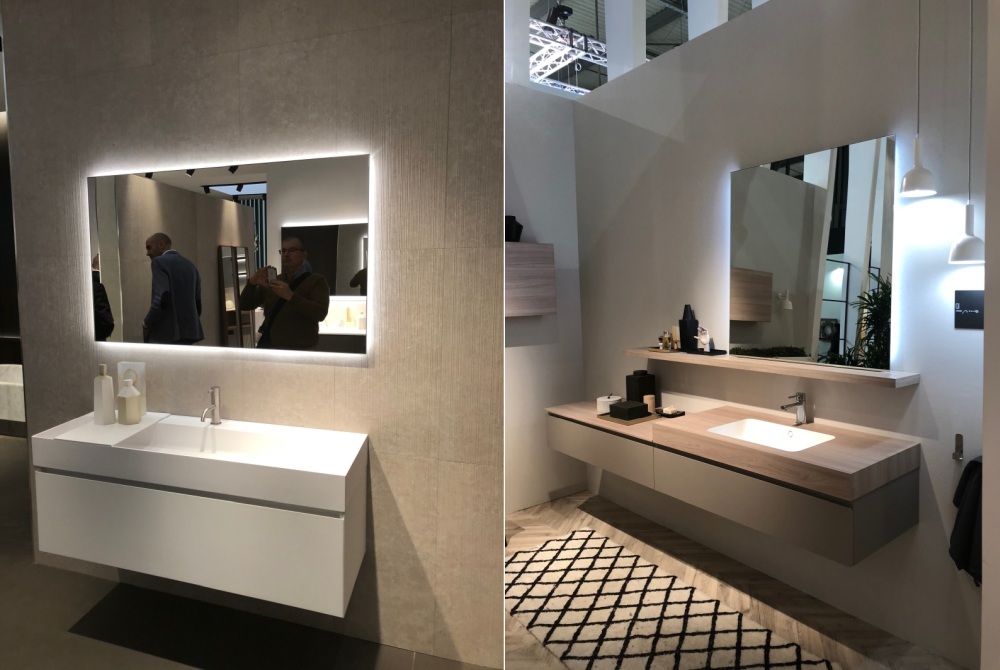 Amazon has some awesome hanging mirrors that you can buy today. We've gathered some of the best, safest, and most diverse choices just for you. Check them out to find out if one of them will work for your home.
If you're looking for a hanging mirror that is different, try out this Howard Elliot paned mirror that is sure to inspire. There are twenty tiles that all come together to create an elegant mirror that is more than just a slab of glass.
The mirror comes with two slots that you can use with hanging nails to hang this mirror. It's very simple and the mirror is light enough that you shouldn't need extra thick nails to hang it. Simple hooks should do.
If you want the simplest way to hang a mirror, get a mirror like this where all you need to do is hang a hook and you have it made. The chain makes it easy to see what you are doing and hang the mirror straight with ease.
This anti-fog mirror can be hung in the shower, over the sink, or even in the car. While it isn't as high-end as other mirrors, it's thin, portable, and super easy to hang. The hole in the mirror makes it super easy.
Keep in mind that there are two types of anti-fog mirrors. There are inexpensive anti-fog mirrors like these and the super high-end ones that will cost a fortune yet look extremely nice. This is the prior mirror.
Tired of metallic mirror frames? This wooden mirror adds a rustic spin to the mirrors we normally see in homes. It is small, wooden, and complete with a thick rope. It doesn't get any more adorable than this.
This mirror can hang on the wall or lean up against it on a shelf. The gold frame is absolutely gorgeous and the shape of the mirror is unlike any other. It also comes in three sizes so you can pick the size you need.
The large size is perfect for wall mounting and the medium is perfect for above smaller sinks. Then there's the small one which is great for bedrooms when you just need a simple mirror for getting ready or checking yourself when you wake up.
If the previous wooden-framed mirror is a bit too rustic for your taste but you still want something a little rustic, this is a good compromise. The mirror is a nice blackish wood and hangs with ease via a thin rope.
Looking for a simple full-length mirror? We've got you covered. This mirror is stunning and suits any room. There are nearly a dozen styles and colors to choose from and it hangs just as the tutorial above mentions.
This amazing mirror works perfectly for any room. While it can hang normally, it was added to the list because it also comes with over-the-door hooks so it can hang over any door that isn't too wide.
Over-the-door hanging mirrors are often underrated and brushed off as teen mirrors. But they are so versatile and can even be placed on the back of the bathroom door. Just remember never to slam the door!
Finally, the bathroom mirror you've likely been waiting for. This bathroom mirror is wonderfully stunning. It is made to go above the bathroom sink and is the perfect size for most sinks as well. No wonder it's such a big seller.
Bathroom mirrors are common and you can find them anywhere. But when it comes to finding the perfect bathroom mirror, things get more complicated. This one is a safe bet that works great in any bathroom.
Finding The Right Hanging Mirror
Finding that perfect hanging mirror is never easy. But you can accomplish your task with a few suggestions to inspire you. So get that confidence boost you need to get started in the right direction. You'll be surprised what you can do!
If you don't prefer hanging mirrors, don't be afraid to branch out and get something else. Standing mirrors are classy. They take up more room but if you have the space, they can look just as good as hanging mirrors.