Glass Doors: Interior and Exterior Doors That Let in the Sunshine  
Glass doors are an ideal way to create definition and privacy while keeping your rooms light and airy. With a glass door, the natural advantages of the material create more openness which can still maintain privacy with the use of different types of glass.
Glass doors create a bridge between the outdoors and the indoors. They provide gorgeous views and allow sunlight to flow throughout the home. According to WebMD, sunlight helps to boost a chemical in the brain called serotonin. This chemical helps to give you more energy, makes you more focused, and helps you to stay calm.
What is the Difference Between Interior and Exterior Glass Doors?
There are two broad categories of glass doors: interior glass doors and exterior glass doors. It is important that you buy the correct kind of glass door according to the location where you are using it. Manufacturers craft them in different ways and utilize different materials based on location of use.
1.
Interior Glass Doors
Glass doors connect interior rooms and create distinction between areas. An interior glass door will not create the same level of privacy or have the sound insulation of solid doors. A glass door does connect the rooms to one another in a more holistic way. Interior glass doors are versatile in style. Manufacturers create interior glass doors in diverse design styles from modern to traditional.
2.
Exterior Glass Doors
Exterior glass doors are distinct from interior glass doors. Homeowners should not use one in the place of the other. Exterior doors like glass front doors or exterior sliding glass doors are made with heavier frame materials and different types of glass.
Most exterior glass doors have insulated frames made of more weather resistant materials like fiberglass, uPVC, solid wood, or metal. The glass in exterior glass doors is often safety glass that has an extra layer for insulation. Because privacy is important, some exterior doors with glass have decorative or more opaque glass styles that allow in light but obscure the direct line of sight.
Glass Door Basics
Door manufacturers have specific terminology to define the parts of glass doors. There are two main parts of a glass door, the frame and the glass.
Glass Door Frame – The glass door frame or border refers to the part of the door that supports the door. In a glass door, the frame also supports glass panes or lites that cover part or the whole inner area of the door.
Glazing – Glazing refers to the glass inserts that are used for windows and doors. In more specific terms, door light is a term that means the glass inside doors. Manufacturers shape door lights and frames in various configurations. A singular glass pane or multiple panes may cover the entire door or just a small part of the door.
Divided Lites – The glass panes of doors are each called "lites". The glass in doors can be True Divided Lites (TDL) or Simulated Divided Lites (SDL). True divided lite doors separate individual glass panes with muntins or mullions, also known as grills. Most divided lite doors have simulated divided lites. This means a decorative grill covers a single pane of glass to create the look of distinct panes.
Popular Glass Doors Styles
Glass doors are popular in every area of the home. Most glass door styles are used as interior and exterior doors.
Glass French Doors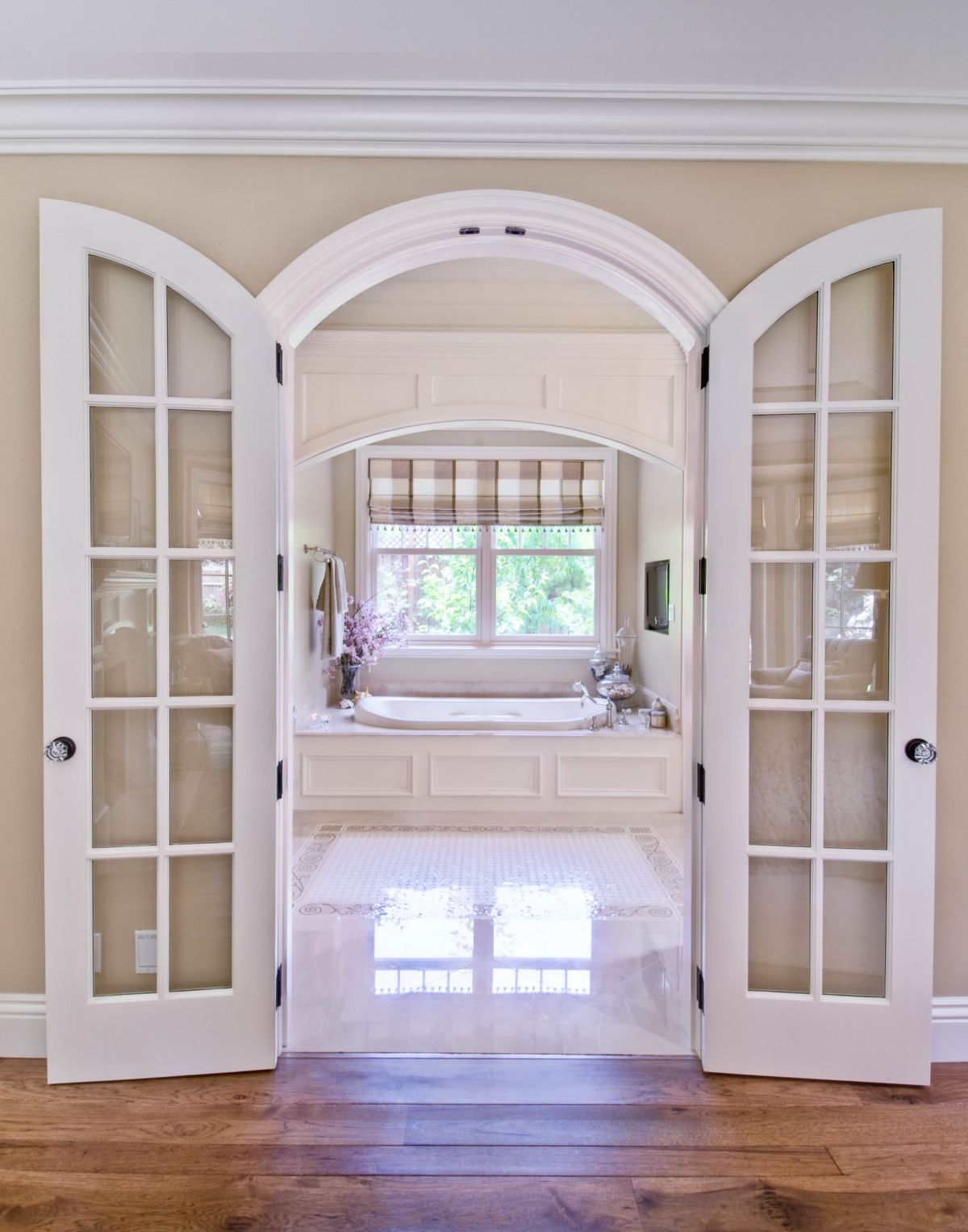 A French door refers to a set of double doors that have glass panes as a portion of their design. For most French doors, the glass panes have a divided style, though there are French doors with large single panes of glass.
The double doors of glass French doors are hinged and attached to the frame on opposite sides. They open in the middle and create a large opening that is attractive and useful for indoor and outdoor spaces.
Sliding Glass Doors
Sliding glass doors are popular patio door options. They bring in ample natural light and do not take up extra space when open like hinged doors. A sliding glass door operates on an upper or lower track.
Glass sliding doors can be used as interior doors when a large opening is needed. Glass pocket doors are a type of sliding door, but the door disappears into a recess in the wall rather than on the outside of the wall like a standard glass sliding door.
Glass Garage Doors
Glass garage doors are a way to bring light into dark rooms like garages. In the past, glass garage doors were used in exterior spaces like garages or workshops. Today, designers are using glass doors in interior spaces to allow seamless connection and separation with the outdoors and within the home.
Glass Barn Door
A glass barn door is a modern design of the rustic style barn door that has become popular in rustic and farmhouse design.
Similar to a sliding glass door, it opens with an upper track that is located on the outside of the wall. Glass barn doors are interior doors in a modern and sleek style.
Glass Front Door
Glass front doors are popular in homes of every style. This front door style brings in natural light to entries and allows you to see who is walking up to your home. When buying a front door with glass, there are multiple options for different glass designs and textures. These can obscure the view if you want light but need to maintain privacy.
Glass Storm Door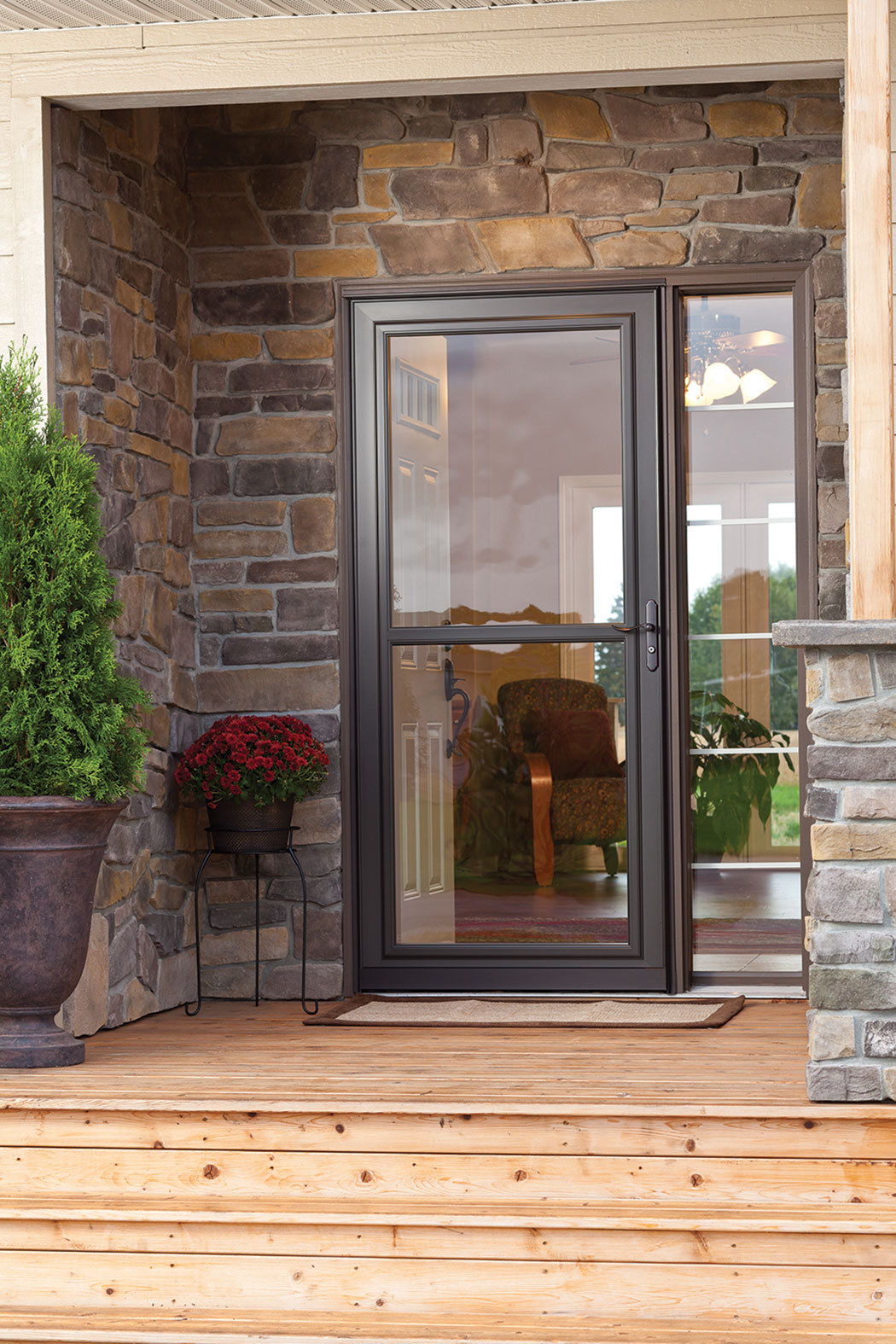 A glass storm door is a type of exterior door that is used for protection against severe weather. Rather than decorative, storm doors are functional. Some storm doors have a minimal frame that holds a large pane of insulated and tempered glass. There are also other storm doors that have more substantial frames like storm French doors. There are even storm doors that double as a glass screen door to protect your home in the summer from bugs and allow in light and fresh air.
Pros and Cons of Glass Doors
Glass doors are popular in both interior and exterior spaces. The unique properties of glass means that a glass door will not work for every space in your home.
---
Pros
Beauty – Doors with glass are among some of the most beautiful styles of available doors. They have great versatility and are used in homes with almost every design style.
Light – The use of glass doors lightens your interior spaces to make your home more cheerful. This will also reduce the need for artificial light during the day.
Visual Space – Glass doors make your home feel more open and make it look larger.
Connection with Nature – Glass doors increase the visual connection between indoor and outdoor spaces.
---
Cons
Privacy – Glass doors reduce privacy when manufacturers use clear glass. This can be mitigated with the use of textured glass.
Cost – Glass doors cost more than standard doors.
Limited Use – Homeowners cannot use glass doors for every room as some rooms like bathrooms require more coverage.
Frequently Asked Questions (FAQ)
FAQ
Where can I find glass doors for sale near me?
Look for standard glass doors at local home improvement stores like Home Depot and Lowes. Try architectural salvage and antique stores for more budget-conscious options or if you want a historic style door. Large retailers like Pella and Andersen for more options for color, size, and customization.
What are the uses of frameless glass doors?
Frameless doors are most popular as glass shower doors, but they have wider application in interior design. They are used in both home and commercial design as sleek and modern style interior doors.
Are exterior glass doors secure?
Glass is more fragile than wood, metal, or fiberglass, so an exterior glass door is less secure than solid material doors. There are various ways to bolster the security of an exterior glass door. Make sure the glass in the door is tempered, insulated, and double glazed to protect it in the event of breakages. Small separated glass panes are more protected than large single glass panes. Frosted glass still allows in light but maintains your privacy. Also, make sure you use good quality hardware to keep the door secure.
Which materials do manufacturers use to construct glass doors?
Manufacturers use metal, vinyl, wood, and fiberglass to construct the frames for glass doors.
Conclusion
Glass doors are a wonderful way to have the best of both worlds, privacy and separation but also natural light. Use prehung glass doors rather than slab doors for easy installation. This way, you can complete the installation and reduce your overall cost while improving the beauty of your home at the same time.