What Are The Best Furniture Stores In Dallas?
Dallas is more than the home of the Cowboys football team and Dealey Plaza. Join us as we find out what are the best furniture stores in Dallas. The city has many places that cater to 1.3 million residents.
The Dallas-Fort Worth (DFW) area has plenty of stores that sell Texas-themed and foreign-designed furniture.
It's easy to find a furniture store that has what you want. From high-end to discount, you can find it in DFW.
Let's look at the best furniture stores in Dallas.
Living Modern Furnishings & Design
Address: 3900 Oak Lawn Ave, Dallas, TX 75219
Evan & Norma Gerstein opened Living Modern Furnishings & Design to offer a fun shopping experience. The focus is on mid to high-end furniture, accented with a mid-century flair.
If you visit their showroom, you can pick the furniture you want and have it tailored for your needs. They go out of their way to make their customers happy and keep them coming back for more.
The family-owned business sits in the heart of Dallas.
The Arrangement Dallas
Address: 13710 Dallas Pkwy C, Dallas, TX 75240
The Arrangement is a furniture store featuring distressed, leather, and upholstered items with a sharp rustic style. The owners have a great sense of humor, giving each item a quirky flare.
You'll find furniture to match the Texan ranch home of your dreams. That's why this store is one of the best in Dallas.
Canales Furniture
Address: Multiple Dallas Locations
If you're looking for a chain across Texas, then Canales Furniture is for you. Here you'll find low-priced furniture just as good as anything at Lowe's or IKEA.
They like to engage their guests online by asking them to share their home interiors that feature Canales furniture. This is just one way the Texas chain makes its clients feel valued.
Room & Board
Address: 4524 McKinney Ave, Dallas, TX 75205
One of Room & Board's mottos is, "Don't make something unless it is both necessary and useful; but if it is necessary and useful, don't hesitate to make it beautiful." The quote fits this store.
Room & Board offers free design services. You can take a virtual tour of the store on their website. They also have a great delivery service and offer free and easy returns.
Dallas Furniture Online
Address: 3935 Main St, Dallas, TX 75226
Dallas Furniture Online is one of the cheapest furniture stores in Dallas. Their furniture is less than half the price of other stores in the city, and their quality is much better than you'd expect.
If you want cheap furniture, then Dallas Furniture Online is perfect. Shop now online or visit their store on Main Street. Just remember, the stores in Dallas enforce social distancing.
Zoe's Furniture
Address: 13329 Montfort Dr, Dallas, TX 75240
Zoe's Furniture's home store is in Richardson. They have a location in Dallas that the locals love. Here we have another store with affordable furniture with more personality.
While you can get standard furniture at Zoe's, they specialize in fun, quirky pieces. This makes them a unique furniture store. If you can't find what you're looking for anywhere else, Zoe's is your best bet.
DFW Home Furnishings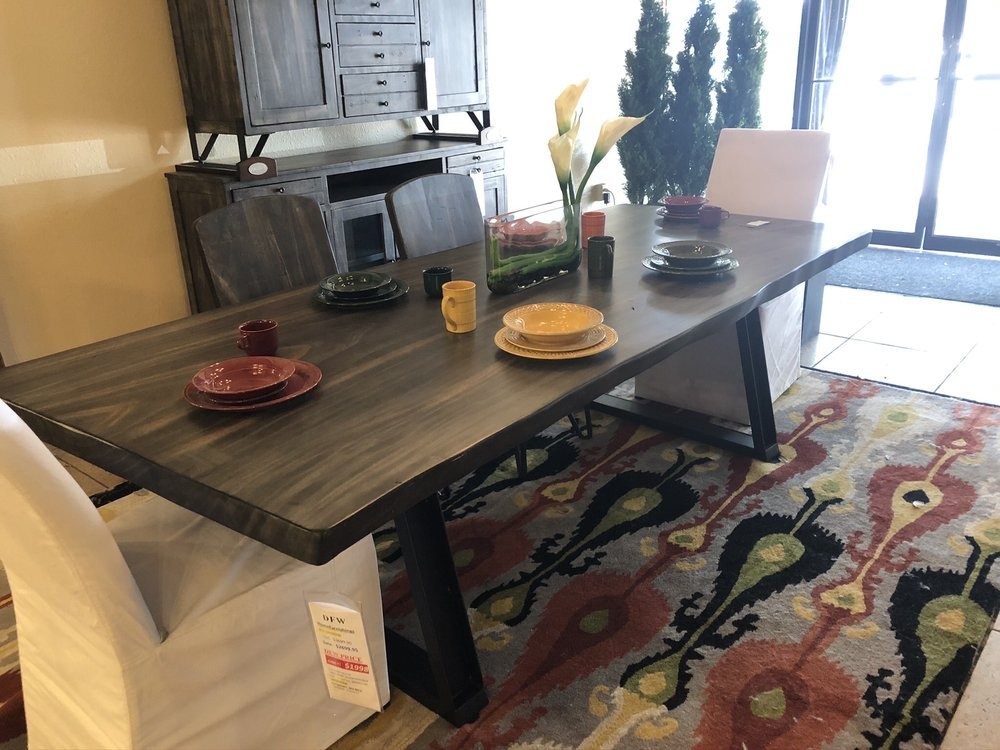 Address: 4355 Lyndon B Johnson Fwy, Farmers Branch, TX 75244
DFW Home Furnishings may be Dallas natives' favorite furniture store in Dallas. It's located north of downtown in Farmers Branch. The store opened in 2019 and quickly gained a loyal following.
The store offers great prices and has a unique selection of furniture. While they may not have something for everyone, they do have some special pieces that you can't find anywhere else. It is definitely worth the visit.
Designer Furniture 4 Less
Address: 2411 Farrington St, Dallas, TX 75207
Designer Furniture 4 Less offers modern designs for every room in your home. Here, you will be able to te or cultural furniture that you can't find at other furniture stores in Dallas.
Their prices are average but it's a store you'll want to visit if you're not feeling the Texas vibe that most of the other furniture stores in Dallas give off. Their style is much more modern and versatile than others.
Zuri Furniture
Address: 4880 Alpha Rd, Dallas, TX 75244
Zuri Furniture has one location in the heart of Dallas and two others nearby. Their slogan is "contemporary comfort," which millions of people desire.
Their furniture is a bit on the high end, but it's also high-end, which has gained attention from people worldwide. Zuri Furniture has more fans than most other stores in Dallas, and they deserve each one.
Weir's Furniture
Address: 3219 Knox St, Dallas, TX 75205
Weir's Furniture is another Dallas native favorite with four locations in the city. Fans of Weir's are diehard, many of them refusing to shop anywhere else. The styles offered are what they want.
The prices you'll find at Weir's are in the middle. They aren't affordable for everyone, but you can make it happen. Weir's offers the perfect balance of high-end furniture with a down-home atmosphere Texans enjoy.
Welch's Furniture
Address: 2760 E Trinity Mills Rd #112, Carrollton, TX 75006
Welch's Furniture is one of the friendliest furniture stores in the DFW area. The store is known for its customer service, which explains why there are no one-time customers.
Their store has a down-home feel. Their prices are also affordable, while some items are high-end. If you're in the Carrollton area, stop by their location.
Crate & Barrel
Address: 3104 Knox St, Dallas, TX 75205
Crate & Barrel has anything you need for your home at a cheap prices. Their items are mass-produced, as they are a chain furniture store, but that doesn't harm the quality.
Their Dallas location is open seven days a week from 10 am to 8 pm. There's time to shop no matter your hours. The styles range but they focus on the ranch look.
Furniture Depot
Address: 11022 Harry Hines Blvd, Dallas, TX 75229
Furniture Depot offers traditional, contemporary, and rustic furniture at fair prices. They deliver your items and also set them up upon request. It saves time and effort for you.
As for styles, they are refined. They do offer a wide array of furniture, but their Victorian and Scandinavian furniture really shine. This type of furniture isn't easy to find, especially in Texas.
James Antony Home
Address: 1113 Dragon St, Dallas, TX 75207
James Antony Home is a 30,000 square foot showroom stocked with traditional furnishings, plus mirrors, rugs, and lighting. They have one of the largest selections of furniture in Dallas.
With over 100 brands to choose, you will find what you need. Visit the store on Dragon St. or shop online, where you can search by brand, room, or price. James Antony Home is a must-visit, even if that visit is online.
There are more furniture stores in Dallas, but we picked the best of the best. Maybe you have other favorites that weren't mentioned. If you do, then we'd love to hear about them. Let us know in the comments.
Best Dallas Furniture Stores Frequently Asked Questions
Can I buy furniture online and have it delivered to my home and assembled?
The furniture stores featured in this story offer delivery and assembly. You'll have to ask the store what their rates are for delivery. With furniture, assembly is included in the price unless otherwise noted. Keep in mind that each store is different.
What should I consider before buying furniture?
The first thing you need to know is what kind of furniture do you need. Next, how big is the space? Some stores offer discounts on bulk orders. The more you buy, the cheaper it might be.
With some stores, if you spend a certain amount, they might give you a a discount or provide free delivery. You never know, so don't forget to ask.
Does a warranty cover new furniture?
When you buy a piece of new furniture, it comes with a warranty. With each store and item, warranties will vary. Make sure you check what the warranty is before you commit to buying an item.
Best Dallas Furniture Stores Conclusion
Dallas is a city that has much to offer. The homes are known for their interior decoration style. You don't want to be left out in the cold with outdated furniture in your home. You won't run out of furniture ideas as a premier design city.
The city is fun to explore. You never know what you find until you start looking. Keep an open mind, and do not be afraid to ask questions.
There is a reason why we have home furniture specialists, so do not forget to use them. Professional home decorators know better than you what will work with your home. If you want chic, ultra-modern, or ranch, let them do the work for you.
Buying furniture should be fun. When you change the design of your living space, you want to include your personality. Remember, take your time, and do plenty of research.