Ideas for Stylish and Functional Kitchen Corner Cabinets
Planning a kitchen layout is very exciting but some aspects can be vexing, particularly the best way to deal with kitchen corner cabinets. Designed poorly, these cabinets can be frustrating because they are too large and items in the back are not accessible. Skip the kitchen corner cabinet and you have wasted precious storage space. While most stock cabinet solutions simply offer some variation of lazy susan shelving, there are lots of other treatments for kitchen corner cabinets.
One option is to eliminate the issue entirely by angling the kitchen corner cabinet, as in this gorgeous neutral kitchen. The angle give you a wider opening and makes the space inside easier to organizes and access.
This design from Arrex Cucine demonstrates how mixing different heights of cupboards and shelving can solve the dilemma of a kitchen corner cabinet without sacrificing storage or style.
This stylish kitchen from Comprex uses a similar strategy to deal with kitchen corner cabinets by mixing heights along with sliding doors and drawers in addition to shelving. It's visually attractive and functionally superior to many traditional corner cabinet options.
Even the corner of the island can prove to be a challenge when it comes to designing an attractive and useful kitchen corner cabinet. Here, Febal Casa has increased the utility of the extended kitchen cabinet by inserting a slab that serves as a casual dining surface.
Counter-height dining or workspace is also an option for a corner.  With an unexpected angle on the cabinet under the counter, this light-colored kitchen corner is good looking and accessible.
Sometimes making the most of a kitchen corner cabinet means turning it into a drawer. In this Liecht kitchen, the sink sits at the corner, which can preset a challenge in making the cabinet below fit smoothly into the design. Here the designers have created a drawer with a panel that extends up to the lip of the sink for a sleek, modern look.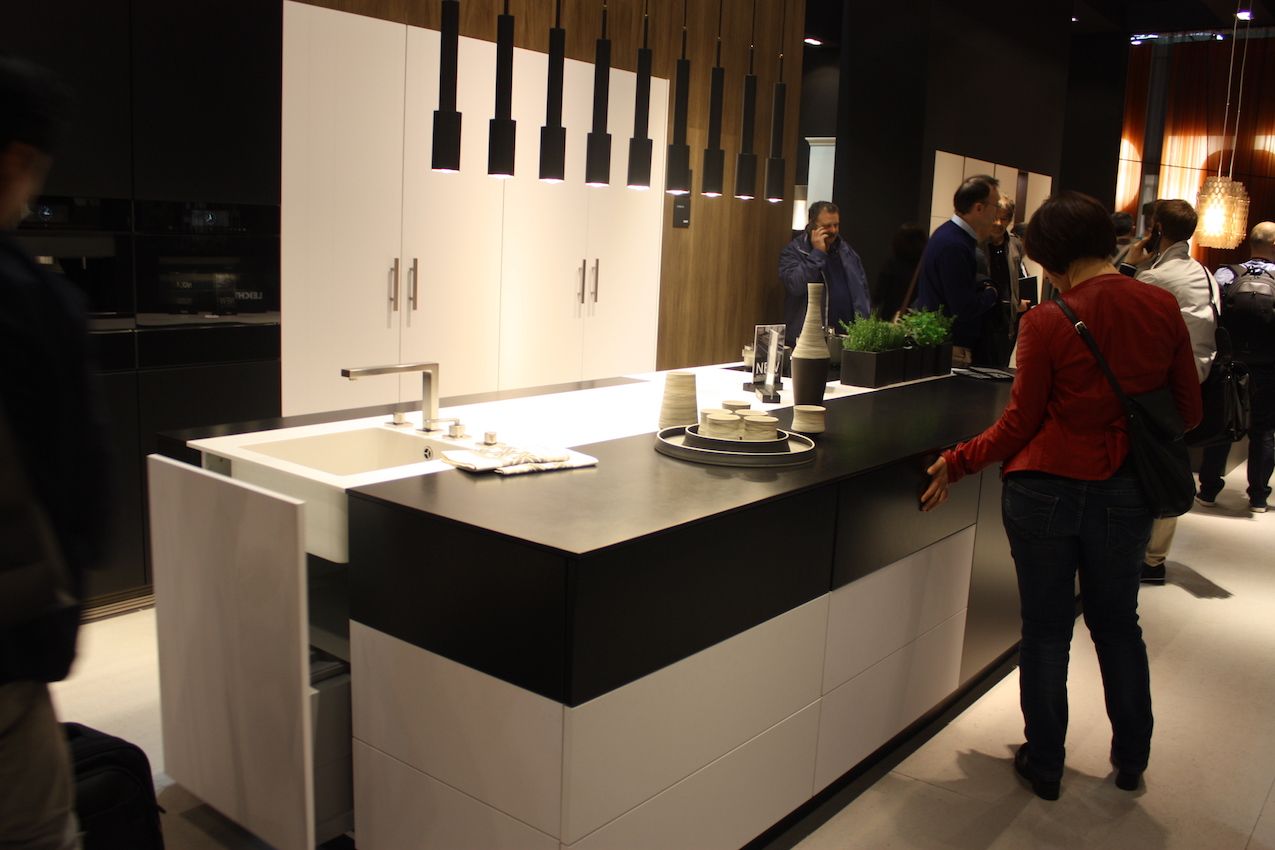 Luxury brand Gullo Officine uses different layouts for the top and bottom kitchen corner cabinets. Above, their designers opted for open shelving that offers a opportunity for displaying attractive kitchen accessories. On the bottom, they make use of a more traditional corner cupboard, highlighted by two of their bespoke knobs.
Incorporating open or glassed shelving for a kitchen corner cabinet is a more novel way to add style and function. This angled island design by Jdias features a lighted glass cabinet that is perfect for displaying special glassware. The glass cabinet is also a good transition between the counter and the lacquered cabinet on the end.
Unique display areas that highlight your art or objects are a good way to work with kitchen corner cabinets. Here, a kitchen design by Nobilia includes a dramatic shelf of contrasting color that takes the place of a traditional cabinet, providing an extra dose of chic.
Stosa Cucine has a spectacular example of how open shelving can be an artful option for kitchen corner cabinets. This layout, with its varying heights, sizes and colors goes far beyond function and makes for a statement look to say the least.
For those who might not be fans of so much open shelving, even a small piece of open shelving can serve as an accent and solve a kitchen corner cabinet predicament. This tall thin strip break up the expand of cupboards at the top and adds style to a plain cabinet corner at the bottom.
Wine rack shelving is an attractive and extremely functional option for a kitchen corner cabinet.This is especially true as it only needs to be accessible from one side. This kitchen also makes use of the corner by the skin by adding recessed storage areas instead of a traditional kitchen corner cabinet.
Febal Casa's kitchen shows different treatments for kitchen corner cabinets in one design. The open shelving on top of the counter eliminates any corners. Below, the interior corner gets a traditional treatment with cabinets of different sizes on each side of the corner.
A softly angled design and brightly colored open shelving make kitchen corner cabinets a focal point instead of a storage challenge.By incorporating different size spaces in each tower — including wine storage — it makes the space more functional.
Whether or not your island includes seating, the ends are a perfect place for unique styles of kitchen corner cabinets. Here, island cabinets are mixed with shelving at the end to display special items or serve as handy open storage. Nobilia's classic kitchen design will likely appeal to many.

For a more modern kitchen corner cabinet treatment, try unexpected uses and height combinations as this Nolte kitchen does. Mixed materials, unique lighting and a novel space for plant at the end of the island are a trendy way to style corner cabinets. The combinations and options for this type of style are endless, bounded only by your imagination — and budget.
Even a modern design can use the traditional kitchen corner cabinet style. Here, Officine Fanesi's  modern materials and beveled corner treatment are very handsome. Making the corner truly functional means including an appropriate design on the opposite side of the corner so that space is not wasted.
Some kitchen corner cabinets cannot have doors or drawers at the end because of the design. While you can add small decor pieces, it's not an area that's typically useful for storage. Spagnol shows how you can add storage to an area like this with a ladder that used for hanging bulky but necessary kitchen tools. Really cool!
For a modern kitchen you can embrace the corner and add some more. This design from Miele gives a new meaning to kitchen corner cabinets! By angling one side of the cabinet's design, it adds edginess to what would have been a plain panel of cabinets and appliances.
No matter what type of kitchen corner cabinet you choose, you might need to look at options for making the most of the interior. In addition to lazy susans and other telescoping shelving, you can add functionality and accessibility to even shallower cabinets with this type of shelving. This set is by Gatto.
Use these ideas to fuel your imagination for what your kitchen corner cabinets can be: A beautiful and functional part of your kitchen, and not just a design challenge.