Entryway Table Designs And Ideas for Wholesome Homes
Unless you have something very specific in mind for your entryway, a table is usually a perfect addition to the space and it makes it feel very welcoming and friendly without requiring special installation or lots of planning. Also, it's not just the table itself that matters but the decor around it too. With that in mind, we're prepared today a selection of entry table decor ideas that we think could catch your eye and inspire you.
This entryway table maintains an open and airy decor thanks to its simplistic design. It also sets the base for a shabby chic type of decor with delicate and feminine accents. This space is part of the Ranch House, a project completed by studio Galeazzo Design in São Paulo, Brazil.
Speaking of simple designs, check out the beautiful home that studio Alison Rose New York created. It takes full advantage of the timeless and elegant influence of the black and white combo. In one case, a floating black table stands between an oversized mirror and the geometric floor tile pattern. The other example features an elegant round table centered in a nook beneath the spiral staircase, complemented by an abstract geometric pattern on the wall.
Furnish a spacious entryway with a retro console table and complement it with a large wall-mounted mirror which maximizes the natural light and the beautiful decor surrounding it. In the case of this eclectic home decorated by studio Alexander Design, the potted plant/ tree plays a huge role in how this space is perceived as well as the ambiance it created, giving it a very authentic vibe.
Every entryway is different and as a result you must find the type of table that best suits it. In this case, designer Birgitte Pearce chose a compact entry table with a subtle vintage allure and decorated it with a selection of framed images and a single white planter.
Pattern and colors are the two main elements which guided studio Anna Burke Interiors when designing this beautiful duplex. This is immediately apparent right from the entrance which features dark floors and a glamorous console table complemented by a large mirror, a set of lamps as well as several other accent pieces arranged symmetrically.
We could also learn a thing or two from the interior design created by Studio Guilherme Torres for the PV House in Brazil. We love the fact that even though this is its own space, it looks feels as if it immediately introduces guests into the heart of the house, having a living room-like vibe. The round table takes center stage.
Glass is a great material to consider for furniture when it comes to small spaces. This entryway for example is tiny but actually manages to look fresh and airy. That's thanks to studio Bon Brise Design which chose an open plan strategy that includes the entryway and by extension this sleek table with a clear glass frame and a white top. A framed colorful poster and a cool-looking pendant lamp complete the decor.
A Scandinavian console table such as this one is perfect for a variety of entryway decors. Here it's completed by a round mirror with a sleek frame, a lightweight area rug and a set of table accessories designed to create a homely and welcoming ambiance. The result is an eclectic composition with plenty of character. Check out 204park for more details and inspiration.
We think it's important to personalize the entryway not just with items that capture your style but also details that change with the season. This way you can occasionally refresh the decor and maintain a welcoming ambiance all year round. The entry table can remain your piece of resistance. Check out 1111lightlane if you need specific ideas.
Blending looks and functionality is not easy, especially when it comes to areas such as the entryway. Favoring one or the other is quite common but we think balance is the key to a truly wholesome decor. This particular design is a wonderful source of inspiration. The console table is unique and stands out even if there's a lot going on around it. Check out architecturaldigest for more details about the project.
This type of rustic A-frame table is perfect for the modern family home, the type that manages to look refined and stylish while maintaining a highly practical and functional character. Studio House Seven Design focused here on the little details such as the two table lamps, the round mirror with a golden trim and the pair of storage baskets to make this entryway table look absolutely amazing.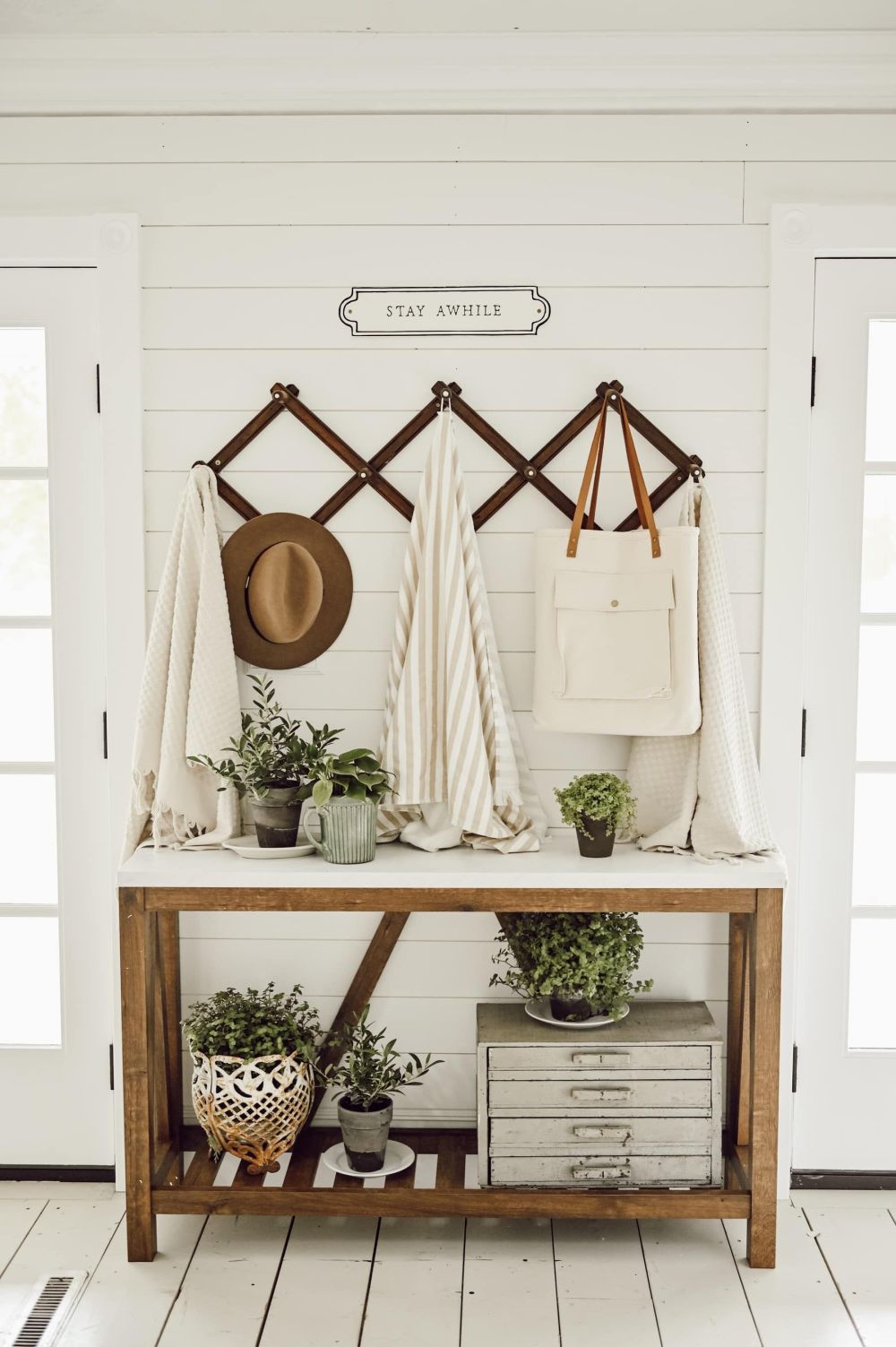 Decorating the entryway is actually very exciting because this is where you get to gather everything that defines you and reflects your unique style. The entryway is like a resume of your entire home so treat it accordingly. Find the table that best expresses your style and the type of ambiance you're aiming to create and fill its shelves, top and the space around it with items that tell a story and create a context. On lizmarieblog you can find plenty of inspiration.
Even a table that is pretty eye-catching on its own needs help to truly capture a style and to transmit your own perception of it. This is an example from cherishedbliss of an entryway table that captures the charm of winter through a series of seasonal ornaments.