50 Easy Ways To Build A DIY Couch Without Breaking The Bank
A DIY couch is definitely not the first home project that comes to mind. The couch is one of the most important pieces of furniture in any living room. Moreover, it's the focal point of the room, so we don't really dare to think of it as a potential DIY project.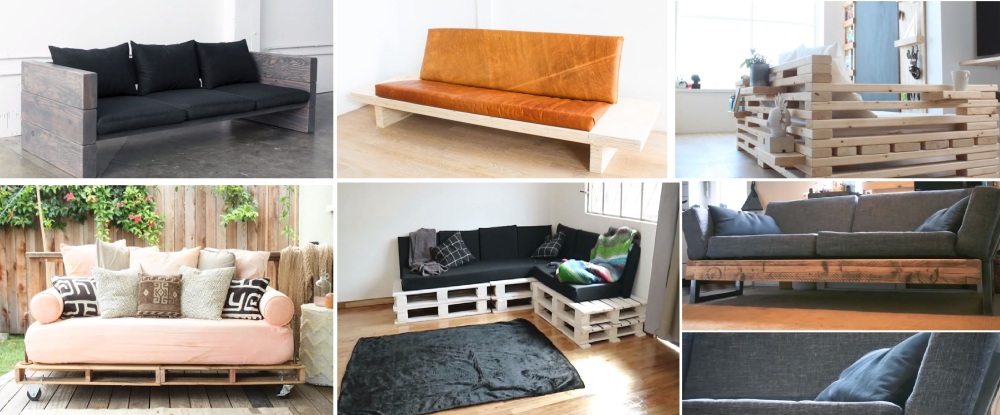 Sometimes that's a fair assessment. However, there are also plenty of cases when a self-made couch would fit perfectly into the decor. If you think that's something you might be interested in trying, check these projects we prepared for you.
How to Build a Couch – Inspirational DIY Projects
Space-saving zig zag couch
First off, check out this awesome Zig Zag couch. It's a very cool piece and it's actually more than just a simple living room couch. It's also a desk. It has a built-in counter along the back that you use as a small desk or to display things on.
The couch frame is made of plywood and the upholstery is leather. You can do everything yourself from scratch. Check out homemade-modern to see how.
Custom wooden DIY sofa
Since you're basically building your own couch from scratch you get to decide the dimensions, shape and everything else. You can start by picking your couch cushions.
Once you find a design and size you like, you can build the frame of the couch around them. Check out this simple design featured on HomeMadeModern on YouTube. Isn't it just perfect?
Slatted frame DIY sofa
How would you like a DIY couch with a more open and airy frame? This one even lets you store stuff in between the slits. That could potentially be super cool.
You could customize the design in so many interesting ways. Start by checking out this video tutorial published by HomeMadeModern on YouTube. You can adapt the design to the size you want and even change it so you can build a sectional instead.
DIY Outdoor Couch
Building a couch as opposed to buying one makes sense if it's an outdoor couch we're talking about. These things can be pretty expensive and a DIY version is a lot more affordable.
In addition to that, a couch frame is actually not that complicated. Once you have that in place, it's just a matter of adding some comfy cushions on top. Be sure to get the outdoor version with waterproof covers. You can count on HomeMadeModern to have a YouTube tutorial for this too so be sure to check it out.
Modern wood sofa
You're going to love how easy it is to build this modern plywood sofa featured on HomeMadeModern. The frame is as simple as can be. It's made out of 3/4" plywood sheets and even the cushions are handmade using foam and leather. This seems like a cool piece for a breakfast nook or entryway.
DIY cheap couch
In case you're still having doubts about the advantages of a DIY couch compared to a store-bought one, stop for a second to consider the price difference.
This comfy-looking couch featured in a tutorial from YouTube can be built for under $100. It's a pretty cool deal, especially considering how many customization options you can choose from.
Expandable DIY couch
Right now you're probably thinking DIY couches are pretty cool and affordable and all but what if you want one that expands, one that you can also use as a bed whenever needed?
Well, there's no reason to take this design feature out of the equation just because it's a DIY couch and not a professionally-built, store-bought one. You could make an expandable DIY couch or sofa yourself if you want to. Check out this YouTube tutorial to see how easy it is.
DIY sofa with industrial flair
If you don't want to build the entire frame out of wood, you also have the option of using metal pipes. This way you'll be able to create an industrial-style couch with a simple and pretty look.
You can still use wood for the base and that will add a lovely warm touch to the design. Reclaimed wood would give the couch even more character. This particular project featured on YouTube also features cushions made of recycled parts and materials.
Pallet couch
Speaking of couch projects that involve reclaimed and recycled materials, check out this DIY pallet couch tutorial from YouTube. It shows how a small budget can go a long way if you know how to make the most of cheap parts and materials. Pallets, as you know, are incredibly versatile and often used in DIY furniture projects.
So, it doesn't really come as a surprise that you can actually make a pallet couch. Anyway, check out the details and see how you too could add a new piece of furniture to your home without breaking the bank.
Bathtub couch frame
Do you know what else could be repurposed and turned into a couch? A bathtub. That sounds pretty crazy but, when you think about it, a tub actually has a lot of potential and already features a good shape and size that to work with.
Check out this awesome clawfoot bathtub couch featured on instructables. It's one of the coolest things we've seen and we've seen a lot of crazy designs.
Scandinavian style DIY couch
Here's a couch that would be perfect for small and right spaces. It has a simple design with an exposed wooden frame and that gives it a Scandinavian vibe.
The seat and the backrest are soft and padded and the fabric is secured to the wooden frame so it doesn't move around. A good tip here is to get some extra fabric if you want to also make matching pillows later on. Check out treasuresandtravelsblog for more details.
Couch with substantial armrests
Not everyone likes couches that don't have armrests. This one has a solid and sturdy frame that goes all the way around the back and the armrests are actually at the same height as the back.
They're not padded or upholstered and instead, they match the frame. That gives this loveseat a really sturdy look. A really nice detail about this particular design from rogueengineer is the fact that each board on the back and the sides are painted in a different color while the frame has a dark stain.
Upcycled headboard frame
This quirky couch was made using three headboards. Two of them became the backrest and the third was cut in half and turned into armrests. A slatted base completes the frame and two mattresses make this a super comfy couch. After painting the whole wooden frame black the whole look of the couch changed. All the details about this project along with the instructions can be found on remodelaholic.
Converted bed couch frame
This particular design uses a very interesting base. It's the Ikea Tolga single bed base and the couch was designed around it, with a low backrest and a single armrest for a modern and asymmetrical look. It definitely has a DIY sort of vibe to it which is what gives it character in the first place.
The base allows it to look lightweight and exposes the floor underneath rather than concealing like a lot of store-bought couches and sofas. Check out the full tutorial for this on designsponge.
Pipes and a pallet
A good strategy can be to recreate a couch design that you like and to add your own twist to the design. A nice example is a project featured on fishsmith3blog.
The inspiration source for it was a stylish couch with a pallet base and casters and the result ended up looking similar but at the same time quite different. A support structure for the back and armrests was added using metal pipes and fittings. That gives the couch a rustic-industrial look.
Pallet sectional couch
Speaking of old pallets and how they can be used in DIY furniture projects, here's another really cool couch design that makes use of this resource.
This is actually a sort of sectional. It's an L-shaped very casual-looking couch with a seat structure made out of wooden pallets placed on top of old tires. It's a cool way to repurpose old car tires and a nice piece of furniture for an outdoor deck or a patio. Check out yellowgirl to find out more about it.
Reupholstered seat cushion
Here it's not the actual frame or overall shape and structure of the couch that stand out but the upholstery fabric with its vibrant and colorful floral pattern.
The fact that the frame is made of metal and super sleek and slender really helps to put the emphasis on the upholstery instead. There's also a really cool little shelf underneath which can be used for storage. If you want to find out more about how you can use fabric to make your own couch look refreshingly stylish check out lanaredstudio.
DIY upholstered couch
In case you prefer a more classic couch design with a solid wood base, a back and side panels with armrests, the design featured on themerrythought might be to your liking.
It's fairly easy to put together once all the planks and pieces are cut to size. To make the seat you take a big piece of fabric and lay it on the floor. Then, center the foam or cushions on top of it and put a piece of plywood on top. Wrap the fabric tightly around the foam and the board and staple them together.
Plywood living room couch
Building your own couch or sofa from scratch makes sense when you want something small that can fit in a specific space like a room corner for example.
If you like the simplicity of Scandinavian furniture you can easily come up with a design that suits this style. Go to themerrythought for a nice example. Here you can find out how to make a beautiful daybed out of plywood, one that's both stylish and space-efficient.
Outdoor couch set
Building an outdoor sofa is fairly easy and if we're to simplify the whole process it turns out all you need for such a project is some 2×4 boards and a bunch of screws. A simple design like the one featured on ana-white makes good use of these materials and also leaves room for creativity and customization. For instance, adding cushions and pillows really helps the couch look whole and comfortable.
Classic outdoor DIY couch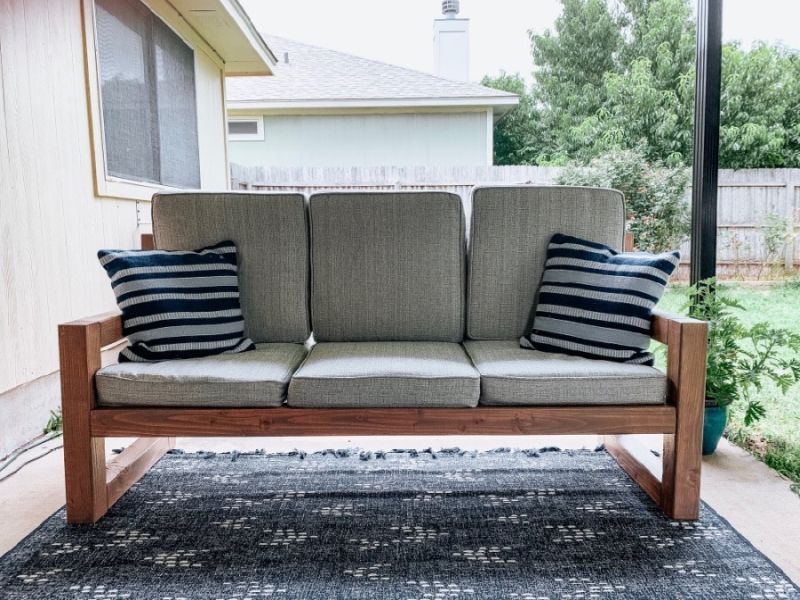 Here's another simple-looking outdoor couch quite similar in design to some of the previously mentioned ones.
This one is made from 4×4 boards and is a 3-seater piece. You could of course adjust the design and make it larger if you want to or, for more flexibility, build a couple of these couches for your outdoor seating area. Check out the tutorial for this on loveandrenovations.
Three-seater sofa
When working on a DIY project like a piece of furniture it helps to have the right tools for the job. If you're making an outdoor sofa, for example, you'll probably need a few things like a miter saw, a table saw, a sander, a drill and some clamps. That's pretty much what was used to build this stylish 3-seater couch featured on fixthisbuildthat.
Cinderblock sofa frame
It's not just the actual structural part of a couch that matters but also details like the seat cushions, the color palette, the choice of textures and finishes and so on.
These elements give you lots of opportunities to really make your design special. Now that you're aware of this, perhaps you could apply some of these ideas in a makeover project. Check out this beautiful transformation of a simple cinderblock and lumber bench featured on lenasekine if you want some inspiration.
Headboard bench
Another wonderful idea is to look for things that you can repurpose to make your DIY couch project easier and more affordable. For example, you might be able to use a headboard and/or footboard to add a few extra pieces of wood to make a stylish bench or couch. That's exactly the strategy used in this project from ruggydiy.
DIY farmhouse bench
This farmhouse bench that you can find on lifestorage is yet another wonderful DIY project that you can try for yourself. It's similar to an outdoor couch but a bit simplified in some ways. What sets it apart from other similar projects is the beautiful farmhouse-inspired design and the fact that it has space underneath the seat for storage.
DIY corner benches
Corners are notoriously difficult to furnish but that's also when custom and DIY furniture are most appreciated. With that in mind, if you have a cozy corner space on your patio, deck or somewhere else around your house, consider building one of these symmetrical benches. You can find the tutorial for this design on pinspiredtodiy. As you can see, it includes a built-in table that fills the corner perfectly.
Modular outdoor pallet couch tutorial
As mentioned a few times before, wooden pallets are super useful when building furniture so let's check out yet another wonderful pallet project.
This time you can't really see the pallets because they're been framed and hidden and that actually gives this outdoor daybed/ couch a nice and simple look that's perfect for a modern décor. If you place two pallets side by side you have enough space to also attach a table to your outdoor couch. Head over to lovelygreens for more details.
Modern outdoor couch
When building your own furniture you have the opportunity to include all sorts of little details and features into your design that you might not be able to find in store-bought pieces.
For instance, check out this modern outdoor couch from homemadebycarmona. If you look closely you'll notice there are little built-in shelves on the inside of the side panels that you can keep your phone, a drink or other small items on.
DIY with reclaimed materials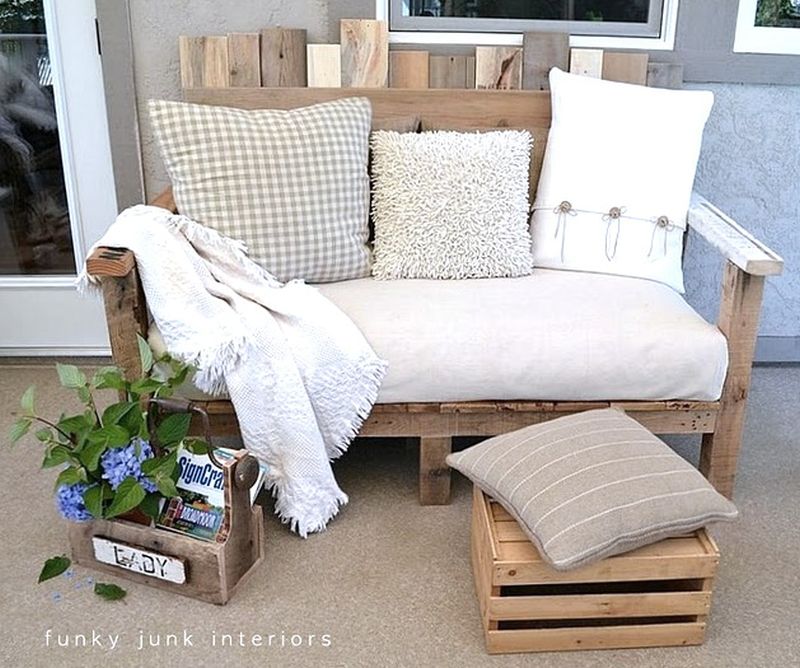 Using reclaimed materials when building your own custom furniture gives your designs more character and uniqueness. They don't need to be intricate or complicated in order to stand out. This super simple pallet sofa from funkyjunkinteriors is a perfect example. It makes a statement in its own original way.
Curved wood outdoor couch
If you want to build an outdoor couch or some custom seating around your fire pit, consider a curved design. Creating smooth curves is quite difficult but you could simplify the process a bit by going with this sort of angled geometric shape that's similar to a curved sofa but also a lot friendlier in terms of building techniques. You can find a helpful tutorial for such a piece on abeautifulmess if you're interested.
Shabby chic DIY couch
We mentioned earlier that you can repurpose an old headboard if you want to easily put together an outdoor bench or a simple couch.
That's not the only thing you can use from an old bed. Looking at this DIY entryway bench featured on mycreativedays.porch you might be able to tell that it's been made from a repurposed twin-size frame. This is a perfect project for a DIY enthusiast. Check out the full project to find out how.
Outdoor arbor bench
Outdoor benches and couches are quite easy to make as you've seen by now. If you want to take your design to the next level, however, things can get a bit more complicated. Still, it shouldn't be anything you can't handle. Check out this beautiful bench from ana-white with its lovely pergola roof and the lattices on the sides. It's well worth the effort trying to build something like this for your own garden.
Cushy bathtub couch
Surprisingly, this is not the first bathtub turned into a couch that we've seen today. It's one of the most ingenious and creative transformations when it comes to furniture and repurposing old items goes. We hope this design from onekriegerchick can inspire you to try something similar yourself.
This bathtub couch has a padded seat and also comfy cushions that make it super cozy and comfortable. What a wonderful way to put an old bathtub to good use and to get a new and unique piece of furniture for one of the other rooms in the process.
DIY platform sofa
There's nothing better than an oversized comfy couch that you can sprawl out on. While a designer version can be very pricey, you can easily make your own DIY version and save money.
The site instructables will give you all the details on how to build this. Actually, the frame is easy to build and upholstering the cushions is simple. It's a great example of chic inexpensive furniture.
DIY wood sofa with a pillow back
This is a cute little DIY wood couch that has a sturdy frame and a fun back cushioned with varied pillows. It has curved armrests that have a nordic vibe and the legs have midcentury flair. This project is a great one for those who like to do woodworking and have some power tools. You can see all the steps at instructables.
DIY outdoor sofa cushions
Outdoor cushions are super stylish, especially when they have a piping accent. You can make these classy cushions for your outdoor couch using shower curtains. You read that right: no pricey upholstery fabric. You read that right. Shower curtains are durable in a damp environment, so they're great outside or on a porch. Some foam, batting and piping and you're on the way to gorgeous cushions. You will, however, need access to a sewing machine. Here's the tutorial.
Modern reclining back couch
Low, deep and oh so comfortable, this DIY couch is perfect for the patio or deck. You can build it out of cedar, or even standard 2x lumber if you fully paint and seal it. The best feature may be th reclined seat back, which makes it great for long evenings outdoors. There's even a matching loveset you can build too. Get the step-by-step instructions from Ana White.
Minimalist wooden outdoor sofa
Classic wooden outdoor couches have a minimalist vibe that's perfect for a natural setting. They also make a great DIY project because the construction is straightforward and very sturdy. A new sofa like this one will grace the garden for years to come with minimal upkeep.
Wooden storage sofa
This awesome storage sofa is shown indoors, but it's no more difficult to make one for the outdoors too. The modern style uses lumber and pipes that have an industrial look. The cushions are super easy because they are based on crib mattresses. The drawers are a fabulous place to stash clutter!
Pallet lounger sofa
If you've ever priced a chaise lounge, you know they are expensive. So, how great is this DIY rustic chic lounger made with pallets? It hs no back, but it can still serve as a sofa too. The construction is simple and the details you add — like the stenciled cushion cover — make all the difference. Get the instructions from Funky Junk Interiors.
DIY industrial couch
This awesome DIY couch is a serious construction project. That said, it's sturdy because it has springs, a heavy duty wood frame and strong metal legs and supports. It's a roomy DIY upholstered couch perfect for lounging. The angled arms add to the comfort as well as the style. See the video and get the plans here.
Plywood platform sofa
Transform just a few sheets of plywood into this great platform sofa that has modern vibes. It uses a twin-size mattress for the couch seat, which means it fabulous for lounging and napping. The construction is straightforward but it does require power tools. The finished product has a nordic vibe that's very fresh.
Outdoor platform lounger
If you like the previous indoor platform sofa, here's a version that's ideal for the outdoors. The only lumber you need is 2x6s and 2x12s along with a plywood for the seat cushions. This outdoor couch is wide and deep, making it perfect for lounging or entertaining. You can see the the full video from HomeMadeModern.
Modern couch frame from 2x4s
You might not think that just 2x4s make a stylish modern couch, but this DIY proves you can. Modern Builds shows you how to build this couch frame that seems to float. It even has chic round leg elements cut from 2x4s. See theo whole process on Modern Builds.
Simple DIY couch
This DIY sofa is a departure from the others because it doesn't require power tools except for a drill. In fact, this DIYer built it in her living room. It's a basic construction but when you add hairpin legs to the couch, it jumps a level on the style scale! It has a thick, comfy seat and plump cushy back, making a great relaxation spot.
Convertible sofa bed
If you don't have guest room, you can DIY this great sofa that converts into a twin or double bed. Even better, this design can convert permanently if you want. Moreover, if you're looking for inexpensive furniture, search no further. The total cost of building this sofa is just about $130.
Storage sofa that converts
When you want to squeeze a lot of function out of your living space, this DIY couch with storage is a good choice. With just one movement, you can convert it from couch to a bed. The base is all storage so it's easy to put away extra pillow, bedding and other extras. Get the details here.
Super chic leather sling couch
This is one of those DIY projects that really has a designer vibe. This one combines a basic silhouette with upcycled leather for the seat. Vintage Revivals shows you how to do this and create a piece that's worthy of any stylish living room.
Upcycled futon
Nothing screams "college student" like a futon. Insead of throwing out this dated piece, turn it into a real adult living room sofa. Instructables DIY project involved disassembling the futon and then reconfiguring the pieces. Add some chic upholstery work and this is a real stylish gem!
Frequently Asked Questions (FAQ)
FAQ
How to clean fabric couch
The first thing to know about how to clean a fabric couch is that you should regularly vacuum it. Then, check the manufacturer's instructions before you try any further cleaning. Most have a tag with a code. "W" means use a water-based cleaner. "S/W" means solvents and water-based cleaners are ok to use, and "S"Solvents-based cleaners only.
If you vacuum regularly and clean up spills right away, keeping a fabric couch clean is not difficult.
How to clean leather couch
Regular maintenance is the best way to clean a either couch. Make sure you dust it every week with a microfiber cloth. You could also use the brush attachment on your vacuum for this.
About once a month, experts suggest wiping it down with a wet wipe and then using a leather conditioner. The wet wipe will provide a deeper clean and the conditioner will keep the leather looking good.
How to get the smell out of a couch
To get a stale smell out of a couch, your first go-to is baking soda. Remove the cushions and sprinkle them with baking soda. To the same for the part underneath the cushions and all over the rest of the couch. Leave it overnight and then vacuum it up.
If that doesn't work, fill a spray bottle with half water and half white vinegar and mist this all over the couch. Leave it to dry thoroughly. A slight vinegar smell may be leftover, but it will soon fade.
How to keep couch cushions from sliding
This is one problem that is easily solved and you have a number of options. The quickest fix is to put a non slip pad underneath them. You can use a piece of a rug pad, rubber sheet or any grippy material. You can also use velcro to hold them in place if you prefer. Finally, a ring and shook can be used to keep them in place but this will involve some sewing skills.
How to arrange pillows on a couch
When it comes to how to arrange pillows on a couch, some of it comes down to personal preference. Designers typically like to stick to odd numbers, but you don't necessarily have to. Generally, a symmetrical arrangement feel more formal, while a layered, non-centered arrangement is more casual.
You'll also want to mixing pillow sizes. Be sure that you include textures and patterns. Actually, the best formula for mixing patterns is to have one solid color, one botanical print and one graphic print.
How long do couches last?
In general, a sofa lasts anywhere from 7 to 15 years, depending on the amount of use and the quality of the piece. If it starts to sag, you hear creaking in the frame or the upholstery is long past it's prime, it's time to replace it. Of course, it's a good idea to get. a new one before the old couch is in bad shape.
Conclusion
It might not be among the most common DIY projects, but you can certainly make a sofa yourself. Especially when it comes to an outdoor DIY couch, it can also be a great way to save money. In fact, you can find budget-friendly directions for a DIY couch that uses almost no carpentry skills. Or, go all out and make a super-duper sofa that shows off your construction abilities. You'll definitely end up with something unique.