The Best Types of Drywall Tape For Home Remodeling
Drywall tape — while it may not have the most exciting of names, it does serve a very important purpose. Drywall tape is specially designed to cover up the seams found in drywall. Drywall tape is an important component of any type of drywall repair as it provides reinforcement and also prevents crumbling.
However, given that there are a variety of drywall types on the market, finding the correct type of drywall tape is not always easy — and choosing one at random off the hardware store's shelf is not likely to yield great results. In this article, we will go over the different types of drywall tape, as well as their common uses.
Types of Drywall Tape Sizes
Small
Small drywall tape refers to any tape that measures between 1.7 to 1.8 inches in width. This may be the most common type of drywall tape, and can easily be procured either through an online store or through your local hardware store. Although this is the smallest type of drywall tape that is available, it is usually sufficient enough to cover where two pieces of drywall would meet.
However, if you are dealing with a project of sizable magnitude, then small drywall tape may prove cumbersome. Fixing a larger hole may require the use of more than one piece of small drywall tape, and it can be hard for non-professionals to be precise in this case. Overlapping tape can result in unsightly bubbles that are hard to smooth out.
Medium
Medium drywall tape can measure anywhere between 2 inches and 2.5 inches, making it only slightly larger than small drywall tape. If you are working with a project that may be too large for small drywall strips, even slightly, you will save yourself a lot of trouble by relying on medium drywall. What can be accomplished by two strips of small drywall tape can easily be handled by just one strip of medium drywall.
Medium drywall tape is also very common and can be found at most hardware stores and in most online stores. It will come in most of the different types of materials, as listed above.
Large
Large drywall tape has a width that is above 6 inches. This size of tape is ideal for areas that are experiencing a large amount of damage and that cannot be easily covered by thinner types of tape. Some workers actually prefer to use large drywall tape for decorative means.
When using self-adhesive drywall, it is important to give great detail to its application, as it may be prone to creases.
Extra Large
Large drywall tape is not actually the widest type available. Extra large drywall tape is 36 inches wide, or more. This is an ideal size if you are looking to cover a very large section of your wall, though it is also possible to cut drywall tape of this size down. Using one extra large sheet of drywall tape makes it less likely that you will have creases, as you are not likely to need to layer one or more sheets.
9 Most Popular Types of Drywall Tape
Paper Drywall Tape
Paper drywall tape is the most traditional type of drywall tape, and is most likely what you think of when you think of drywall tape. One of the reasons why paper drywall is counted on so often is due to its strength. Despite being made of paper, paper drywall tape is very sturdy. Once dried, it resembles the likes of paper mache.
Paper drywall is known for being extremely versatile in its application. In fact, it generally comes with a factory-applied crease in its center, which makes it malleable. This means that the installer can apply it to hard-to-reach places like tight corners and sharp angles.
Mesh Drywall Tape
Mesh drywall tape comes with its own sticky backing, which allows for quick application. This makes it an ideal choice for homeowners who are not necessarily well-versed in home improvement projects, and need to work with a material that does not require a great deal of know-how in order to work properly.
Another advantage of mesh drywall tape is its mold-resistance — an advantage that paper drywall tape does not offer. This makes it a good choice for high-moisture environments like kitchens or bathrooms.
Related: How to Install or Repair Drywall for a Kitchen Backsplash
Mesh drywall tape is made from fiberglass. Fiberglass tape is a particularly good choice for projects involving textured drywall, as the tape may have more difficulty laying completely flat than its paper counterparts. Of course, if you are texturing your drywall anyway, this will not be a problem.
However, due to the elasticity of mesh tape, it is advised that care be taken throughout its installation, as the tape may be prone to breakage. In general, fiberglass mesh tape is best used for spot treatments as opposed to large projects.
Fire-Resistant Tape
Did you know that there is such a thing as fire-resistant drywall tape? This specialty drywall tape is designed to slow or even prevent house fires of any kind. While drywall itself is already quite fire-resistant, adding fire resistant tape to the wall construction goes the extra step and is generally used to create firewalls.
Fire-resistant tape is so trustworthy that building codes actually require that it be used. Fortunately, the installation of fire-resistant tape is quite simple, and just requires the dampening of the tape followed by its application with a drywall knife. After waiting 10 or 15 minutes for the tape to dry, it is then time to apply two coats of joint compound. Once this compound is sanded, the installation is done.
Mold-Resistant Tape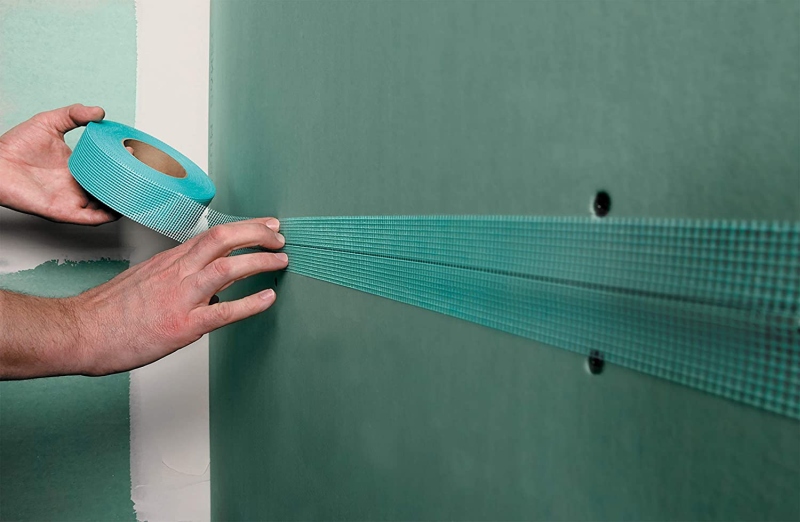 Mold is a common concern for many homeowners — especially for rooms that attract a lot of moisture, like the kitchen, laundry room, or bathroom. Mold resistant drywall tape is specially designed to provide protection against different types of moisture and mold.
Unlike paper drywall tape, which makes it possible for mold to easily grow, mold-resistant tape is made of a porous mesh material. By replacing the paper drywall that is used in your home, you are cutting off the mold's food source and making it far less likely for mold to thrive.
Moisture-Resistant Tape
If you live in a climate with high humidity, you may want to take your mold defenses even further by opting for a tape that is moisture-resistant. Moisture-resistant drywall tape is made of fiberglass and designed to block out the accumulation of moisture which in turn prevents mold and mildew.
Aside from mold, another side effect of high-humidity environments is the peeling of drywall. Not only is this unsightly, but it can also be expensive to fix. To prevent this, it is important to choose your drywall tape wisely when you are dealing with kitchens and bathrooms or any room of a home in a humid climate.
Rolled Tape
Rolled drywall tape is unique in its application style. Unlike other types of drywall tape, which may include some wrestling on the part of the installer, rolled drywall tape goes on similarly to a roll of paint. This makes it handy and ergonomic for projects that cover a large surface.
Perforated Tape
Perforated tape is another popular type of drywall tape that is available on the market. Thanks to its high-strength materials, perforated tape is a favorite for anyone working on a home improvement project that requires strong reinforcement. It is especially handy in the reinforcement of corners and sharp angles, although it can easily be applied to any section of a wall.
One of the advantages of perforation is the fact that it makes bubbles and blisters less likely. In addition, perforation also allows for maximum breathability which helps prevent mold or mildew.
Flexible
Sometimes, there are projects where the regular types of drywall tape simply won't cut it. Usually, this is when a wall includes plenty of hard-to-reach angles or when you are dealing with a section of your home that can be awkward to get at and that sees a lot of human activity, such as a doorframe.
In these use cases, you may want to consider what is known as flexible drywall tape. Flexible drywall tape will help ensure that drywall seams don't show when you are working in unconventional areas. It will also ensure that you do not wear your drywall tape out over time, as constant movement can inhibit a drywall tape's ability to function properly, since it will break and crack over time.
Self-Adhesive
Early, we mentioned that it is necessary to seal drywall tape with what is known as drywall mud. However, this isn't always the case — and it is certainly not the case when you are using self-adhesive drywall tape. As is promised in its name, self-adhesive tape comes pre-applied with a sticky residue, which negates the need to use any messy mud.
Not only does this make the process of applying drywall tape neater, but it also makes the process much faster. One word of caution when using self-adhesive drywall tape, though: make sure that you cut your strips to the appropriate length, as making them too long could cause the tape to stick to itself.