Don't Settle for Drywall –Go for These Awesome Finishes Instead
It's the standard wall surface you find in most homes, especially new ones: Drywall. While it might be the easiest type of wall for builders to install and painters to paint, it can also be rather boring. Fear not!  You don't have to settle for ordinary when there are plenty of drywall alternatives available in today's market. We've pulled together a list of the most popular ones and run down what you need to consider before installing each one.
But first, if you are installing a drywall alternative, you'll still need a wall that is in good shape. If the existing wall is damaged in some way and patching is not enough, you'll have to install new drywall, either for the entire surface or just the damaged section, depending on your situation. If you're pretty handy and the area to be replaced is not extensive, it can be a DIY project.
Wood Planks
The current popularity of farmhouse and rustic home decor style — along with wildly popular home renovation television shows — have made decorating with wood plank walls one of the hottest trends. Stylistically, wood plank walls have to match the decor, otherwise, they look out of place, but for the modern farmhouse style, they are perfect.
Shiplap is the most common type of plank used and the term actually refers to the shape, which is tongue and groove, allowing the wood to expand and contract. Using hardwood boards without the tongue and groove is also an option but might be a little more challenging when it comes to spacing the boards. Either way, installing wood planks is a fairly straightforward project if you have the tools, including a power saw, although I can be done with a manual saw. Wood planks can be left in their natural state, stained or painted in a variety of styles.
While installation might not be complicated, doing it properly is key, otherwise, the planks can warp or rot. This can be a concern in a moist or humid environment like a basement or bathroom. The only other drawback of wood plank and shiplap walls is that they can seem to attract dust. Over time, it settles in the gaps and make the wall appear to be dirty, so regular cleaning is a must.
If you like the look of a weather wood wall but are in no way handy, there are other cost-effective alternatives. Today's design market has several major makers of peel and stick wood planks that are thinner than traditional planks and install in a fraction of the time. They are easier to remove as well.
Plywood
Making the choice to use plywood walls comes down to two main reasons: Decor aesthetic or construction consideration.  First, plywood is inexpensive and sturdy, as well as easier to install than drywall. It's much more straightforward and just has to be screwed the studs, either on its own or over existing drywall. That said, it is much heavier than drywall and typically requires an extra set of hands to attach it properly. Before you plan to do this, check building codes in your area because plywood is not as safe when it comes to fire ratings and some states restrict how it can be used in a home. In addition to the standard plywood, there are different types and grades, depending on what you're looking for and what the purpose is.
While it was most often chosen for budgetary reasons, homeowners are now choosing to install plywood walls for decorative reasons. Nordic-inspired minimalist decor often uses plywood left in its unfinished state for the aesthetic value. New types are eco-friendly and are Forest Stewardship Council (FSC) certified and low VOC, perfect for those who want a healthier home. Plywood can even be used to create a "faux" shiplap wall at a fraction of the cost by cutting plywood into planks and installing them on the wall.  Especially when these are painted, they resemble true shiplap.
Overall, plywood doesn't have many drawbacks. The layers in the wood do make it porous and repeated exposure to water because of a leak, for example, will damage it. For those who are worried that this might just a trend,  designers say that most all materials ebb and flow in popularity and plywood is no more or less trendy and does have the timeless appeal of warmth.
Textured Wall Panels
Crossing over from the contract and hospitality world, three-dimensional wall coverings have burst onto the residential scene as homeowners look for new ways to jazz up their rooms. The variety of materials currently available is quite stunning and ranges from wood to tiles to panels crafted from compressed coffee grounds or pottery shards. These types of 3D wall cladding generally install fairly easily, either like tile that uses mastic, or is simply a peel and stick product. Some types can be painted to match your existing color scheme. Either way, getting a wall of texture has never been easier. These products are ideal for an accent wall or accent feature, not all four walls of a room.
Three-dimensional wall cladding has few drawbacks from a practical perspective. It provides a wall full of stylish interest with little fuss, however, depending on the specific installation, it can be difficult to remove. Also, if the panels become damaged in any way, replacing them could prove challenging. Last, but certainly not least, any cracks, crevices or deeply carved designs will trap dust, making regular cleaning a priority.
Exposed bricks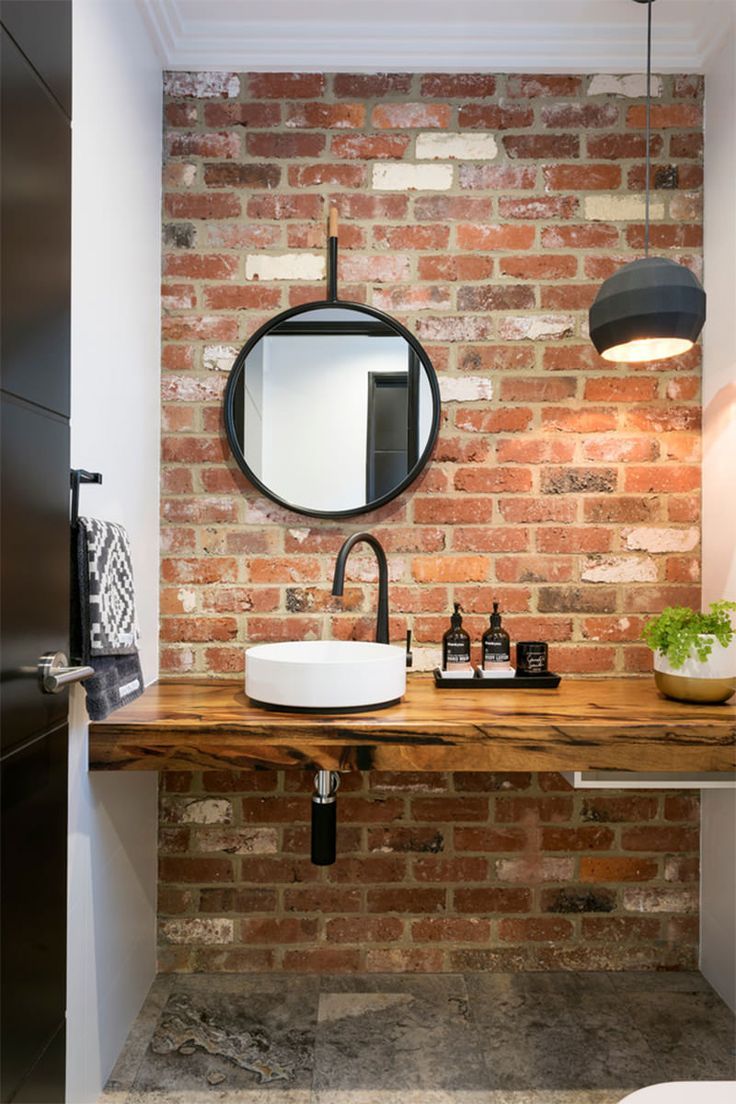 Start a renovation only to find old brick underneath the plaster and most homeowners will jump for joy because exposed brick is a very popular design element. Whether it's a small accent wall or a larger portion of main living area, the uneven character and warmth of brick provide an unmatched textural base for a room. Once it's exposed and cleaned up, you might think that's the end of it, but it does require a little prep work and maintenance.
Bricks are made from clay that is fired, so they are porous and absorb moisture — not something you want seeping into your home.  Keeping the inside dry and comfortable means sealing the exposed brick wall with a sealer that will penetrate those holes and pores. Also, most interior brick doesn't look like the pretty, rectangular units you see on the inside. This is because the backside of the pricks was typically covered with plaster and because they didn't show, they have flaws and an uneven surface.
Obviously, bricks are durable and bumping your fist into it isn't going to make a hole as it would in drywall. Because the bricks may be old and have been damp in the past, old mortar between them can crack and crumble, meaning that you might need to repair or replace some areas. In addition, an exposed brick wall has no insulation, which can have an effect on your heating bill, depending on the climate and how large the wall is. Last but not least, if you've ever tried to clean brick, it's not easy. Because it's a rough, uneven surface, it needs more than just a regular dusting to keep it clean. If you paint the brick, cleaning will be a little easier.
Unfinished Concrete
Fans of the modern minimalist or industrial look may be drawn to concrete interiors and for good reason: With the right decor, concrete walls can be a major style statement. If four walls of concrete are too much for your taste, an accent wall is still an excellent design option. Concrete walls are easy to maintain and require no special treatment once they are sealed. In addition, polishing is an option, depending on how rough a look is desired.
Texture is one of the main features of concrete and it adds an amazing amount of style and visual texture. It's something that you can touch and feel without worry. The feel that concrete exudes is special, particularly when it is combined with other elements that are more natural.  Earthy pieces in wood along with thick, dimensional textiles are ideal for concrete interiors, making them warmer and softer.  For an energy perspective, concrete homes save energy and are fire-resistant.
Veneer Plaster
Considered a high-end wall option, veneer plaster is an application system that involves applying one or two coats of thin plaster — with tint or without —  over Blueboard, which is  a special gypsum board. The board is used because it has advantages over drywall like being harder and easier to fix. Once the plaster is applied to the board, it is quite hard and can be left unpainted for a natural style of beauty.
These types of plaster walls have a number of advantages such as being a barrier against water – something that definitely cannot be said about drywall. Unlike drywall installation that involves taping and sanding for a smooth surface, no sanding is required for the finished plaster, which installs much faster as well. Best of all the surface is harder and more durable than drywall.
Even with all these advantages, there are some drawbacks or challenges to choosing veneer plaster walls. Installing this type of wall option requires a specially skilled professional and, in some regions, they can be hard to find, especially if the technique is not locally popular. In addition, once the installation starts, it must be finished without stopping. Last, but certainly not least, plaster veneer is more expensive than plain drywall by about 25 percent due to labor considerations as well as materials, because more plaster is used than tape and joint compound for drywall.