20 Adorable DIY Ideas For The Perfect Baby Shower
Planning a baby shower is such a fun and exciting activity and one of the things we love most about it is the immense array of decor ideas to choose from.
Today we're sharing with you some of our favorite baby shower decor ideas and DIY projects in the hopes that they'll spark your imagination or inspire you to create something just as lovely.
DIY and Crafts For Baby Shower
Balloons with lovely pastel accents
Balloons are popular decorations for pretty much any type of event and for the baby shower, we want to suggest a cute variation: DIY watercolor balloons. It's a very simple project for which you only need white balloons, some ribbon, a large paint brush and acrylic paint in pastel colors. Check out studiodiy for more creative ideas.
A stylish backdrop wall decorated with hanging flowers
A boho-chic decor seems like a perfect theme for a baby shower and there are a lot of nice ideas on karaspartyideas which might inspire you. For example, check out these hanging flowers on the wall. They make a nice backdrop for all the delicious sweets and treats.
Cute custom banners
This cute baby banner is super easy to make and all you need for it is some floral paper, white card stock, glue and twine. You can find the template on coastalkelder along with instructions on how to craft the banner. Feel free to replace the floral pattern with something else or to change the color scheme.
An amazing balloon arch with flowers
If you've ever put together a balloon arch you probably it's not exactly easy to do but even so, we think it's worth the effort, just seeing how amazing the results are. If you'd like some tips and ideas on how to actually make a baby shower balloon arch be sure to check out this tutorial from thehousethatlarsbuilt.
Giant toy blocks made of cardboard
Giant decorations are always and we rarely actually have the opportunity to craft and display some. That makes this giant baby blocks a super fun and enjoyable project.
To make these you're going to need letter templates, cardstock, an x-acto knife, a ruler packing tape, scotch tape, square cardboard boxes and spray paint. We suggest pastel colors because they go so well with the whole baby shower theme. Check out the tutorial on ohhappyday for more details.
An adorable floating teddy bear
Teddy bears are always cute and adorable and everyone loves them which makes them perfect decorations for a baby shower. There are lots of cool ways in which you can add them to the decor. How about a teddy bear and balloon combo? Check out Etsy for details.
Sequin letters for a bit of sparkle and glamour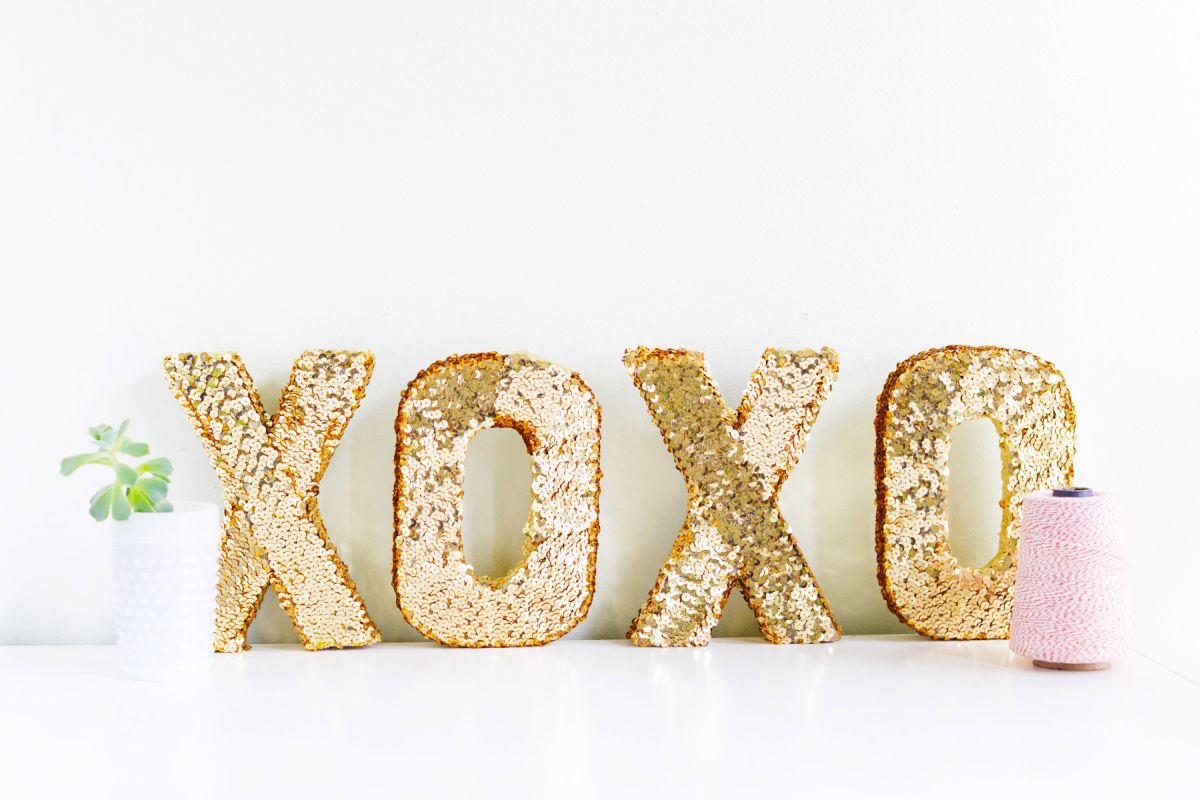 Add some spark and style to the baby shower decor with these sequin xoxo letters. They're easy to make and they'd make a great focal point. The supplies required for this DIY project include the following: medium-sized paper mache letters, gold sequin trim, a hot glue gun and scissors.
A tiered cake made of diapers
Although diapers may not generally be fun or particularly nice to look at, that doesn't apply when you're making a diaper cake.
It's a rather quirky and interesting way to use actual diapers in your baby shower decor plus this would also make a fun gift. The "cake" featured on ashadeofteal has four layers and a pair of tiny baby shoes as a cake topper.
A paper garland full of wonderful memories
A nice idea for involving the guests is to cut out cute animal shapes out of colored paper and to ask them to write down wishes for the baby.
You can display them all using some twine or ribbon and some mini clothespins. These wishes can then be gathered into a scrapbook and turned into memories. To find out more about this creative project you can check out artbarblog.
Custom tablecloth in your favorite colors
A nice thing about planning a baby shower is that pretty much anything involved in the decor and setup of the venue can somehow be customized to suit the theme.
For instance, this is a custom tablecloth specifically made for such an event. You can make something similar by following the instructions on ohhappyday. Apply the same strategy to customize other things as well.
Beautiful flower garlands
Flowers go with everything, especially when what you're trying to achieve is a charming baby shower décor using cute and delicate details. Making floral garlands is pretty easy and there's lots of different iterations that you can try.
This one uses some peonies, carnations, a few billy balls and some ranunculus flowers and it looks so nice. Check it out on lovelyindeed for more details.
A cactus-themed celebration
One of the very first things you should think about when planning a baby shower is the theme of the whole celebration. It can be something abstract like pastels and cute things but it can also be something specific like in this case cactus.
That's right, you could have a cactus-themed baby shower. You can use actual cacti as decorations and even include snacks and dishes that fit the theme. Head over to allforthememories for more related ideas.
A woodland-themed décor
Another lovely idea can be to plan a woodland-themed baby shower. You could use things like pine cones, nuts, twigs and acorns as decorations and from there you can come up with other fun and ingenious ways to customize pretty much everything.
For instance, check out this cute woodland table décor featured on craftingcheerfully. The balloons look like spotted mushrooms, the cakes have twig banners and there's berries as snacks. The more you look the more adorable details you discover.
Beautiful floral chair garlands
There's all sorts of little details and decorations that you can craft to really create a nice vibe for your guests, like decorating their chairs with these lovely flower garlands for example.
Make these out of real flowers for that little extra touch of charm. If you want to learn how to make these carnation garlands check out the tutorial on prettymyparty.
Decorate with crayon jars
Glass jars are always useful when it comes to storage and they can also be used as vases and even as decorations.
Of course, if you leave them plain there's not much to look at so decorating them is the way to go. For an event such as a baby shower or a little kid's birthday a fun idea is to decorate the jars using lots of crayons. You can find all the details on feltmagnet if you're interested.
Make a DIY cake stand
As you already know, it's the little things that make celebrations special so if you want to pull off a beautiful baby shower celebration try to look for little details that you can add a DIY touch to.
For example, you could make a custom cake stand using a candle holder as a bar and a wooden plaque. Check out the project on firstdayofhome for additional details.
Play with puns
Puns are fun and playful and in that spirit you might enjoy planning a Ready to Pop baby shower. It could be centered around things that pop like popcorn or soda pop.
Balloons would also fit the theme nicely and you could also make a banner or a custom sign to really tie the décor together. For more inspiration check out prettyprovidence.
A baby-themed BBQ celebration
You don't really need to look far to find a theme for your baby shower party. The idea has been right there in front of you the whole time: a baby-themed party.
Make it a BBQ celebration and keep it casual but slip it playful puns and little details everywhere you get a chance. You can find some really nice ideas on diyshowoff in that regard.
Make a mom-osa bar
Soon enough all the focus will be on the baby but for now the mom can stay the center of attention. Check out this mom-osa bar that you can set up as part of the baby shower party.
It's complete with a cute little sign, custom labels and everything. For more details about this project head over to crispcollective.
Fluffy clouds and raindrops
Clouds don't really sound festive but they can be when they look as cute as this. Also, when you think about it, clouds make sense when talking about a baby shower… sort of, in a punny way.
These fluffy clouds are made of paper and the baby bottles hanging from them symbolize the rain drops. You may be able to come up with all sorts of other cute decorations based on the same theme so let your creativity shine. Check out hellosplendid for more details.