A Dozen Interesting Ways To Make Your Own Custom DIY Fall Doormat
Each and every season is beautiful in its own way and living in an area where you can enjoy all four of them is definitely wonderful.
Fall is one of my personal favorites because it's so cozy and a wonderful source of inspiration for all sorts of DIY projects and crafts. This year we're bringing you a bunch of cute ideas for DIY fall doormats.
12 DIY Fall Doormat Ideas
A cute pumpkin-shaped doormat
The inspiration for this fall doormat is the humble pumpkin, one of the most popular symbols of this season. You can make this by sketching your pumpkin silhouette on the back of a rectangular doormat and then cutting off the excess pieces around the edges. Pick an orange mat to start with to make this project easier. You're also going to need some black paint for the outline. For more information head over to themerrythought.
Multicolored pumpkin doormat
As the previous project has shown, shaping and cutting a regular doormat is pretty simple and the shape of a pumpkin is an easy one to work with. What you do after that is actually the more interesting part. One idea is to paint your pumpkin doormat using multiple nuances. There's a lovely tutorial on sisterswhat that you can check out in this regard.
A simple stenciled doormat
Welcome your guests with a cute message this fall and write it on the doormat to greet them with it at the entrance. You don't necessarily need special tools or equipment to get it done. A precision cutting tool and some masking tape are enough. Use acrylic paint to get a good contrast and a clean look. The whole process is described in detail by gina-michele.
Stenciled doormat with a cute design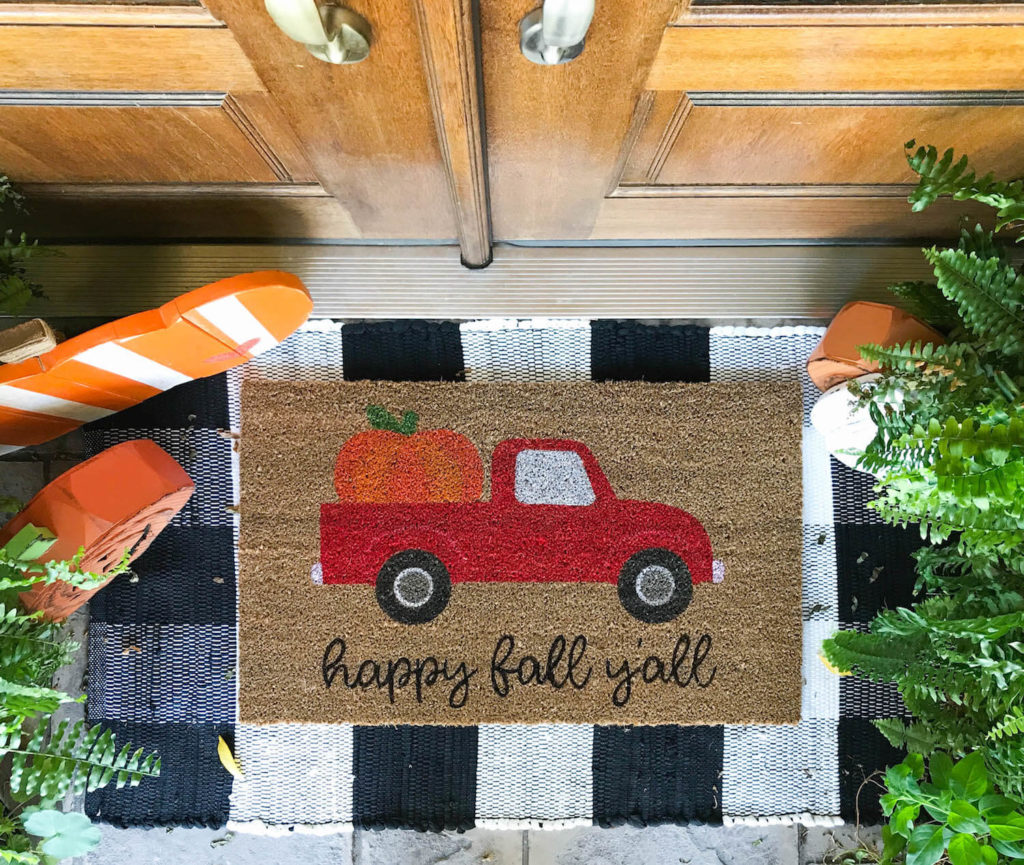 When you're personalizing a doormat using stencils you can use text, images or a combination of both. Here's a really cute example from kaylamakes featuring a little truck holding a giant pumpkin and a cheerful message underneath. It's all done using vinyl stencils and acrylic paint in a few different colors.
Spooky spiderweb doormat
Fall is the spooky season so there's plenty of Halloween-themed doormat projects that you can choose from. This one comes from deliacreates and shows you how to make a doormat that's shaped like a giant spiderweb. All you need for it is a doormat, some white fabric paint and a thin bristle brush.
Vampire-themed welcome mat
For this spooky doormat you don't even need a stencil. You can sketch the vampire teeth directly on the mat using a sharpie or perhaps some chalk. Then fill in the design with some white acrylic paint and center the "velcome" underneath. Let the paint dry and that's pretty much it. You can also give the mat a rounded shape before you start painting it. Check out the tutorial on creativelive for details.
Simple Halloween bat doormat
Bats are another popular symbol associated with Halloween and they're easy to craft and to draw as well. That makes this project from diycandy a really cool one especially because it doesn't require a lot of supplies or any special skills. You can transform any regular doormat into a Halloween-themed one just with some black and white spray paint.
Trick or treat stenciled mat
Another nice design idea for a Halloween-themed doormat, this time without any images, can be found on simplemadepretty. This one features only text so you're going to need a stencil. You can make it yourself by following the instructions and then simply use some black paint to apply the design to any plain doormat.
Spooky black crow doormat
Crows are pretty smart and interesting but they're also quite ominous which makes one of the best symbols for various Halloween projects. One of them can be found on lollyjane. It's a stylish doormat with a black crow silhouette on it, something that you can make yourself using black paint, a brush and some tape.
Custom doormat using letter stencils
Letters stencils are great if you want to personalize your doormat so it fits a certain theme. It's best to not overthink this sort of project and to just have fun with it. Something simple like a "boo" painted on the mat could actually look really nice. Check out the tutorial on ceciliamoyerblog to find how to use letter stencils to make something like this.
Funny Halloween-themed mat
There sure are plenty of funny and spooky messages that could look great on a doormat so there's no shortage of ideas in that regard. For example, check out this "witch please" mat featured on houseonlongwoodlane. You can easily make something similar for your own entrance if you wanted to.
Cricut stencil Halloween mat
Investing in a Cricut machine can prove beneficial, especially if you enjoy crafting all sorts of custom things and coming up with your own original designs. One of the things you can make with it is a Halloween doormat. First you create the vinyl stencil and this is the part where you can get really creative with your own, after which you spray paint it on the mat. Check out this design stephaniehanna for more details.