Upgrade Your Life With Cool Innovative Designs
Choosing functional items that have great style and life-enhancing features makes day-to-day tasks far more pleasant. Cool designs that you appreciate are the most fun to use and will attract the attention of friends and family, not only for their stylishness, but for the way they make life better. Watch the video bellow!
Skin Rejuvenation in a Bathtub
Nano Sens by Oceania is a revolutionary new pressurized bath that creates micro bubbles in the water. The micro bubbles are said to be small enough to penetrate the pores in your skin, bringing more oxygen into your skin. Not only does this deep clean your skin, the brand says that also stimulates cell renewal. The bubbles can do more than just make your skin baby-soft – it can alleviate the symptoms psoriasis and eczema.
An Interactive Halo of Light
Icelandic born designer Kjartan Oskarsson specializes in furniture design. His Halo Lamp is part of a series that is intended to forge a link between the fixture and the user. The lamp itself doesn't have any visible switches or dimmers. The controls are actually integrated into the lamp. All the user has to do is rotate the fixture to turn it off or on, or to change the brightness.
An expandable outdoor dining table
Outdoor entertaining for a crowd is a breeze with an easily extendable table. This model, shown by Jetty 14 is from MAMAGREEN and can seat up to 12 people. Made from teak and aluminum, the BAIA extension table also has a matching bench. The company is known for its high-end, innovative outdoor Belgian design. The company's pieces balance architectural inspiration with nature for styles that are natural, allowing relaxation for both the body and the mind. The durable pieces are comfortable and high quality. Incorporated Chicago, MAMAGREEN has its own factory in Indonesia
Slim and stylish modern wall sconces from Koncept
In a major departure from the typical lightbulb and shade, designer Peter Ng created the original Z bar lamp collection for Koncept for the desktop. Now, it has taken that same idea and applied it to the Z Bar Wall Sconce, a slim wall light that has a minimalist style. The streamlined bar contains a strip of LEDs that can be turned to provide light downward or toward the wall for a more ambient style of illumination. The new models are available in two lengths.
More Than Just a Murphy Bed
Those who try to make the most of their space will love this bed that is secreted away behind a bookcase. Resource Furniture, known for its innovative space-saving designs, offers furniture that is converted with a minimum of effort. No shelves to clear or furniture to move. The bookcase simply turns, revealing a bed that lowers down like a traditional Murphy bed. Moreover, this one has a built in bedside table that slides out from underneath when needed.
Zitta's Bluetooth-Enabled Bathtub
Music, lights and drama – all for your bathtub! With a Bluetooth-enabled tub from Zitta, it's possible to upgrade the bathing experience to new levels. Integrated speakers and lights that change color are built into the tub. These can then be controlled with an app and a smartphone. Now that's what we call setting the mood!
A Chic Chair that Converts to a Barstool
Another space-saving design that can be a life-saver for urban dwellers is this convertible chair from Frevent Design. With the flick of a metal bar, the angular bar height chair swings down into a low, angled seat that is suitable for use at a dining table. The innovative design is upholstered in leather, so it's very comfortable and extremely functional.
Cabinetry With Dramatic Geometry
Innovative silver designers from Spain's Garrido Gallery create gorgeous geometric designs of all kinds. The gallery owners have built on the studio tradition their family started and are known for their impeccable pieces. This dramatic cabinet is comprised of angles and flat surfaces that together make a piece that brings to mind crashing icebergs, shards of glass or perhaps craggy peaks.
A Playful, Changeable Light Fixture
Molo's Urchin Softlight practically begs you to play with it, shifting its sides, and changing its shape and the amount of light it emits. Made from the same flexible honeycomb geometry as Molo's expandable walls, tables and stools, the shade expands and transforms into different shapes as you change its form. When sitting on the floor, they resemble their namesake creature, the sea urchin.
Light Panels that Sync With Music
Smart lighting leader Nanoleaf created these Light Panels that fill your life with color, and with the Rhythm add-on module, melds your favorite music with the lights. Arranged in any configuration you like on a flat surface, they can be controlled with the App, which also lets you creates scenes or schedule your favorite music and color schemes. The Light Panels can also be controlled by Siri, Amazon Alexa, or Google Assistant.
A Daybed Unlike Any Other
This funky construction is a very different kind of daybed by Birnam Wood Studio. There's no mattress needed, and it can be used for sitting, lounging or snoozing. The individual columns of silicone allow air to circulate through the bed, keeping you cool. The base is made of triple bleached maple that has been oiled and waxed. Custom sizes are available.
Origami-inspired sustainable lights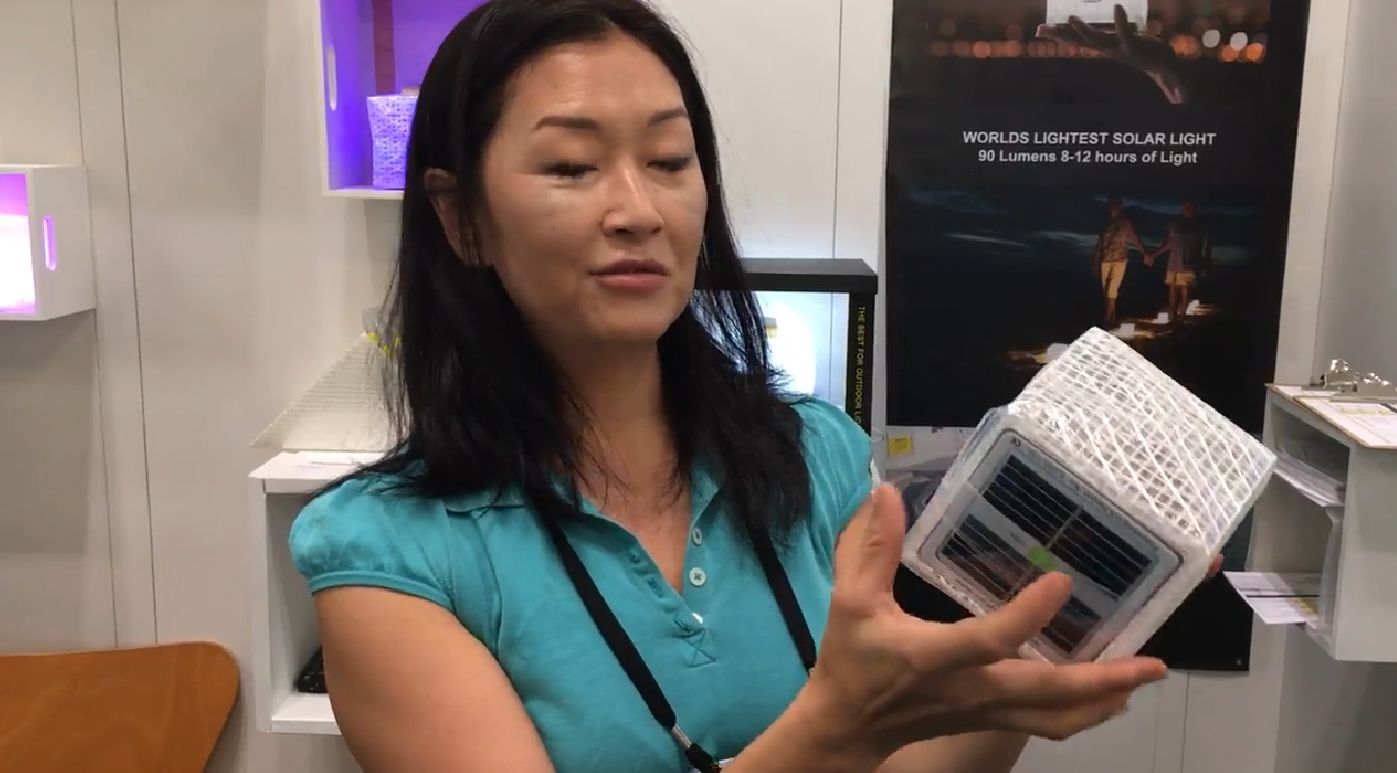 Solight Design is an amazing, inflatable solar light that is beautiful, sustainable and appeals to environmentally conscious consumers. It is also designed to affordably provide light to those who need it most, all around the world. It's super light, waterproof, floats and needs no batteries. Perfect!
Chic and Easy Backyard Shade
Get plenty of shade without the hassle with Umbrosa's Spectra umbrella. It easily unfolds horizontally instead of using the typical vertical action. The super generous size and modern flat design cast plenty of stylish shade. An added plus is the optional cordless lamp that magnetically attaches anywhere on the canopy.
Swap Your Housekeys for a Smartlock
Don't worry about losing your housekeys ever again when you have the Evolve Smartlock from Baldwin. Not only can you control the lock with your fingertip, but you can control it with your smartphone. Easily control who goes in and out of your house with your phone and keep track of what time those kids got in last night! The lock can also connect with other smarthome devices to create a full system.
A more versatile kitchen sink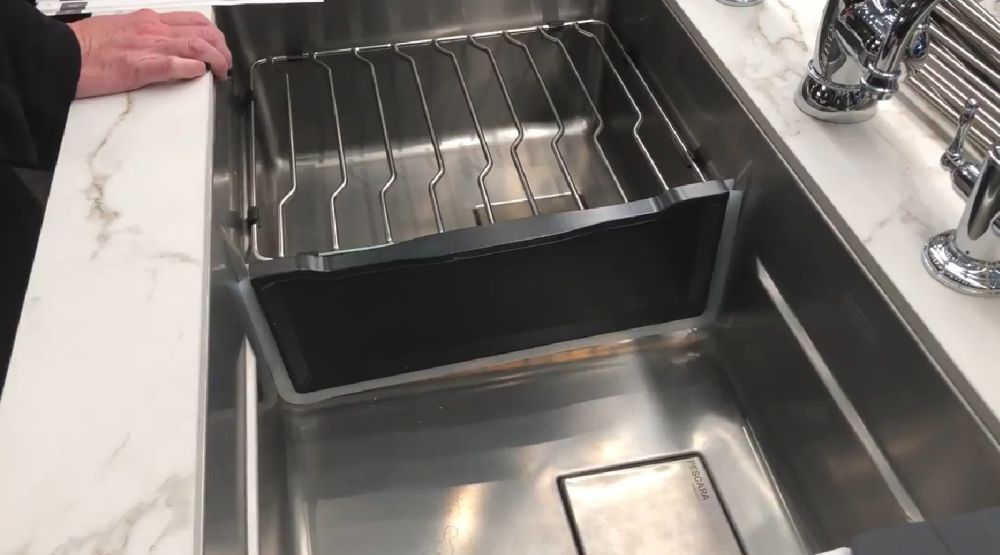 It's a big decision for the kitchen: Do you choose a large farmhouse sink or a standard two-bay sink? Franke now lets you have both with its innovative sink divider. The watertight divider can be easily inserted or removed to switch the configuration from one to two sinks. It has two drains, so no matter which way the sink is being used, there is adequate drainage. It also comes with accessories like a grid shelf for extra function.