Brutalist Architecture: A Global Revival Is Underway
There's a good chance you've seen one example of brutalist architecture. And like most, it wasn't the first time you noticed a brutalist building, you just weren't aware of how its design was classified.
When you think about it, most people aren't familiar with the term "brutalist architecture," let alone know anything about Le Corbusier or Moshe Safdie, to name a few.
You're here because you want to learn about brutalist buildings, and we're here to help you to do just that.
What Is Brutalist Architecture?
The building design style emerged in the 50s. It's a movement centered on a harsh aesthetic as it features rough, bleak surfaces, and non-traditional shapes. Institutional buildings, like Boston's City Hall, Genex Tower, or the Pirelli Tire Building, are made with concrete and have odd-shaped windows.
The architectural style is often used as a backdrop in dystopian cinema due to the utilitarian nature of the buildings. However, regardless of how you feel, it's impossible to ride the fence. You either love or hate the architectural style.
As renewed interest gains momentum, many see the style as a form of maximalist architecture due to the large framed buildings.
Here are a few characteristics that define the brutalist style and provide more info on the movement.
Exposed Concrete
Concrete is the most important component of brutalism. Other materials can be used, such as rebar, but most of the structure will consist of reinforced concrete or CMU.
When the movement first emerged, concrete was rare. The material was considered high-end and modern.
Grim Tower Blocks
Brutalism is all about geometric shapes and block designs. Blocks are dense hand heavy, rather than soft. Whereas other designs would be similar to standard Legos, brutalist designs are similar to Mega Bloks.
Most brutalist designs feature squares and rectangles, like public housing or institutional buildings.
New Brutalism
Brutalism has its artistic merits. Unlike the earliest examples, today's brutalist buildings aren't all about reinforced concrete, rebar, or rough surfaces.
Unified Whole
Overhangs
This isn't always present but it is very common for the top half of a brutalism building to be larger than the bottom half. It creates a mushroom-like shape only it is blocky like an 8-bit mushroom from a video game.
Monochromatic
Think monochromatic designs with this one. Brutalist architecture makes the lack of color cool. Like a dark and alluring dystopian landscape. Some people enjoy natural light settings and the sound of an ocean.
Small Windows
Large windows can be immaculate and draw the eye to a gorgeous structure. But small windows, often many small windows, are more popular for brutalist buildings. They put the focus on the other features.
You can add large windows to a brutalist building but it isn't ideal. It can take away from the bulkiness and dreariness of the structure. If you do, it's a good idea to add blackout curtains or something to weigh it down.
Modern Architecture From Around The World
Let's take a look at a few important works of brutalist architecture and how the style has impacted the world
New York
Although primarily a mid-century modern, brutalism is still alive today. The popularity of this style seemed to disappear during the 80s and was nearly non-existent in the 1990s and 2000s when it came to new constructions.
The name itself is enough to deter a lot of people. Brutal is not the best name for something that is to be seen as art. But the name comes from the French term for raw concrete rather than a brutal nature.
Medellin, Colombia – Comuna 13
This design makes the most of small urban spaces by using every inch of street available. This amazing design was built in Medellin, Colombia, and is known as Comuna 13, and explains exactly why attractive architecture matters.
Belgium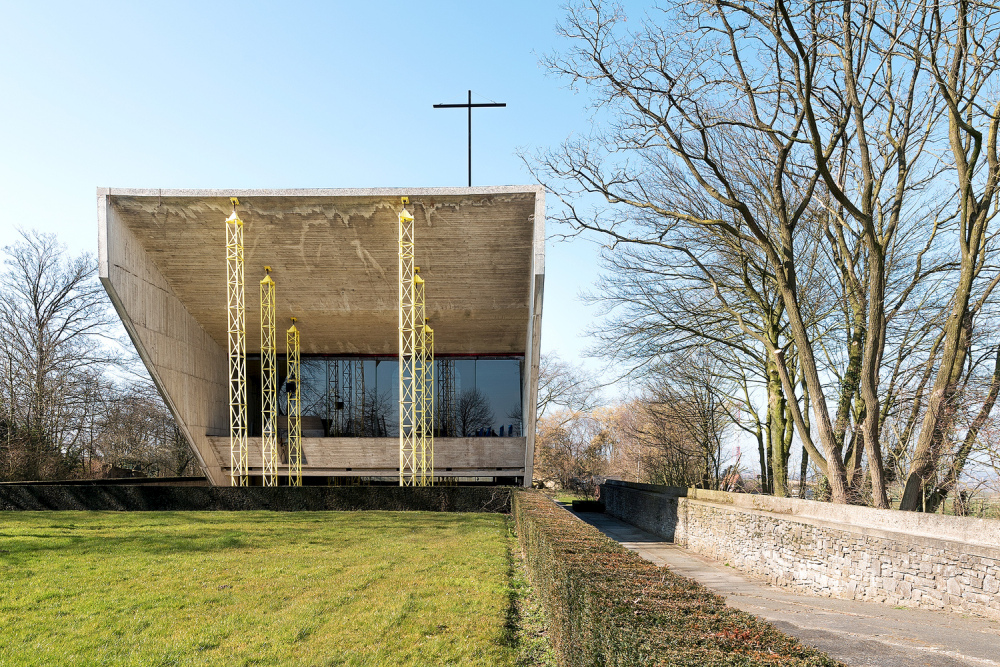 One of Belgium's greatest architects, Constatin Brodzki, was a leading figure in the brutalist movement. He began his career in the 40s and rose to prominence in Europe. Brodzki later became a respected figure in American architecture.
Uzbekistan – Union Of Artists
There are many Soviet and Central Asian architectural designs with heavy brutalist influences. In the 70s, brutalist structures were built in Uzbekistan that stands today. For example, Circus in Tashkent, adds color splashes set it apart.
North Caucasus
North Caucasus is known for its beautiful art and statues scattered across the region. Though the statues built off of the side of cliffs are amazing, a certain hotel called Hotel Amanauz is in a league of its own.
India
When you think of brutalist architecture, maybe India doesn't come to mind, but it should. In India, the buildings seem to age gracefully.
Cydney Ross Sculptures
Cydney Ross is known for her designs outside of the architecture world. Roos uses brutalism as an inspiration to create masterpiece after masterpiece. Each piece is unique with touches of cultures of all kinds sculpted into each structure. They truly are sights to behold so keep an eye out for her name.
Israel – Beersheba Divinity
Beersheba Divinity in Israel features bare concrete. It's a place where crowds gather daily at the Statue of Israel, built in 1948.
Frequently Asked Questions (FAQ)
FAQ
Which Film Features Examples Of Brutalist Architecture?
Arguably, the most popular film that uses brutalist architecture as a backdrop is the 1972 Stanley Kubrick film, "A Clockwork Orange." The film's exteriors feature Thamesmead Estate in Bexley, England. 
Thamesmead Estate was one of the city's specific functional zones. The architectural style served as a visual metaphor for a chaotic and crumbling world. 
Why Is Brutalism Called Brutalism?
In 1950, Swedish architect Hans Asplund coined the term "New Brutalism." However, it wasn't until the mid-50s that the term became commonly known thanks to British author and architectural critic, Peter Reyner Banham.
Banham referred to the architectural style simply as "brutalism." The term's origins can be traced to French architect, Le Corbusier, who favored working with "béton brut," otherwise in English known as "raw concrete."  
Is Brutalism Architecture Dead?
Brutalism died in the mid 70s. According to some, it's making a comeback. In major metropolitan cities, buildings that were once considered undesirable are now more popular than ever. It has also been reported that South Korea, for example, is experiencing a "Neo Brutalist" movement. 
Which US city Has The Most Brutalist Architecture?
Washington D.C. is home to more brutalist buildings than any city in America. The style is featured prominently because it is home to the federal government. For example, the headquarters for the Federal Bureau of Investigation (F.B.I.).
What Influenced Brutalism Architecture?
Brutalist architecture is a post World War II movement. The core tenants of the style are functionalism and monumental simplicity. Due to the high demand for urban reconstruction during the mid-way point of the 20th century, brutalism was born.  
Brutalist Architecture Conclusion
Brutalist architecture had an indelible impact on building design worldwide. Although the post-WWII movement flourished in the 50s, 60s, and 70s, it is still with us today. And although the architectural style was popular, it wasn't embraced by the general public.
Today, in some parts of the world, a "Brutalist Revival" is underway. It's been reported that South Korea, Singapore, and Hong Kong are reinvigorating brutalist architecture.
Regardless of your feelings toward brutalist architecture, it seems it's not going anywhere, ever. As city leaders and developers have discovered, brutalist buildings require more maintenance than regular buildings, and thus pose a financial on city budgets. On top of that, brutalist buildings are expensive to demolish. And as another protective layer, due to their unique designs, the buildings aren't easily remodeled.