Mix Up Your Decor With Design-Forward Antique Furniture
In today's world of modern technology, rampant decluttering and minimalist design, you might think antique furniture has been relegated to museums and manor houses. But no: Take a look around and you'll see that many homeowners and designers are creating interesting and design-forward spaces that use vintage antiques. Those who love the look but don't have the time or desire to scour the globe — or their own region — for the perfect piece can still incorporate antique furniture pieces in decor by opting for recreations of vintage pieces.
One such source of marvelous "new" antique furniture is Maggi Massimo, an Italian company that features a "Hard Country" line of works that melds traditional antique-looking pieces with modernity. The passion and craftsmanship of the company yields pieces that evoke history and warmth — a direct counterpoint to many of the cold, mass-produced furnishings sold today. In essence, that is the appeal of antique furniture and accessories: The sense of a past and the personality of a piece that has been loved by generations.
Maggi Massimo creates pieces for kitchens and family entertaining spaces that have a unique vintage look and feel. Here, a decorative hood in aluminum is given a stately and aged appearance with the crowned emblem and stained metal. The unique hood sits over a reproduction of a wood stove, finished in a painted ceramic tile. The large rotisserie makes you feel as if you're in the kitchen of an old European castle, yet it has the modern convenience of a remote control for the electric mechanism.
Here the units are displayed with other rustic and vintage items, however, this porcelain-fronted piece would be perfect to incorporate into a more contemporary country kitchen, especially with today's country chic decorating trend.
Reminiscent of an old Italian farmhouse kitchen is this arrangement covered in an aged metal finish. Each unit has two segments with storage inside the left curved panel of the hood. The juxtaposition of the vintage look with shiny copper pots and cooking accessories hits on a key trend for working with antiques in your decor:  Mixing.
Here's a full-on antique kitchen that plays on all the elements of antiques, from the brown wood to the antique hardware and accessories used in the kitchen. Any of these elements could be worked into modern decor.
Repurpose or Restyle
Antiques definitely do not have to be serious or stuffy. In fact, repurposing antiques is a great way to use pieces that might otherwise be relegated to a box in the attic. Use an antique teapot as a vase, a bowl as a catch-all, or use it to make an entirely new item. Maybe your grandfather's lumpy old chair has great vintage legs — have it reupholstered and use it.
This whimsical wine dispenser is a perfect way to incorporate an antique piece that has been repurposed. Serve friends their favorite wine from the gilded nozzle of this antique gas pump. The touch of a button releases your choice of wine. Fill 'er up!
In the same realm of whimsy is this telephone bar that dispenses the wine with the touch of a button on the phone! What's even more exciting is the accessory next to the telephone that can chill a wineglass in seconds. Besides the nifty bar details, this piece is a vintage conversation piece even when you're not serving wine.
Mix it Up
As we already mentioned, mixing it up is key. The sure way to boring decor is to use the same style throughout the space and to be too matchy-matchy.  Read a few articles about using antiques in your home's decor and you'll note that the first rule is that there are no rules when it comes to incorporating antiques. What you really want is a room that looks collected not decorated (whether or not you yourself collected all the pieces!). Set out to be a rule-breaker. If you need a bit more guidance, Provident Home Design recommends that a good rule of thumb for balancing old and new is 4:1 or 5:1. For every 4 or 5 new items that you bought from a store, include one antique or personal vintage piece.
This Maggi Massimo bar certainly looks antique, however, the columns seem a bit more contemporary. In addition, note how the formal bar-height chair is paired with the funky modern stool that looks like a giant champagne cork. By keeping most of the large pieces in a neutral, earthy palette, it allows you to more successfully mix them with pieces from other eras.
In a further example of mixing it up, this bar piece is paired with a leather-upholstered chair with an antique-looking print, atop a wine-barrel-shaped base. The glass-topped coffee table is decidedly contemporary and accessories and prints have a newer appearance.
New pieces made to look like antique furniture often feature vintage-looking hardware like this. You can do the same thing for more modern pieces you already own: Make them look like an antique restoration by swapping out new hardware for vintage metalwork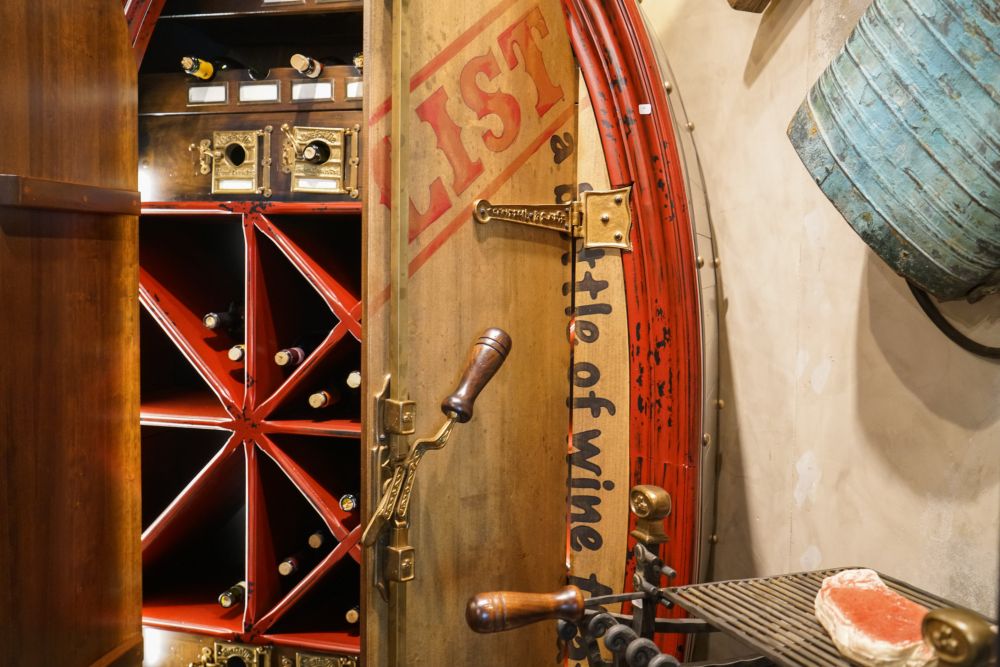 Love it and Use It
According to Susan Sully, author of "Living with Heirlooms and Antiques," the best thing to do with vintage antiques is to love them and use them."  Treating them like "stuffy museum pieces" is not the way to go. Whether it's your great-grandmother's silverware or an antique accessory or photo, bring it out and use it. In an interview with the Akron Beacon Journal, Sully said forget about everything you think you know about what goes with what and instead, approach using antiques with an open mind.
Here, is this a vintage photo in a new frame, or vice-versa?  Does it matter?  If you love the frame, add your favorite print or photo.  Love a vintage print but hate the frame?  Change it out, maybe for a modern frame.
Maggi Massimo shows how small vintage antiques add charm and interest. Of course, this little bar sign works with antique furniture but it would also be a good match for a modern bar.
Add the Unexpected
Among the suggestions that Harper's Bazaar magazine makes for using antiques is adding the unexpected. This goes hand-in-hand with mixing styles, but takes things a step further: Don't be afraid to add a totally modern piece to a mainly vintage grouping.Remember, too much of the same is boring. Well-worn leather immediately adds a vintage look to a room. This oversized, tufted armchair with nailheads is a good example of this, and the weathered leather of the briefcases immediately conjure up the term "antique."  This setting also includes another important concept when decorating with antiques: Using something unexpected in the mix.  Here, modern-day license plates in the key hangers pair well with the leather pieces.
Well-worn leather immediately adds a vintage look to a room. This oversized, tufted armchair with nailheads is a good example of this, and the weathered leather of the briefcases immediately conjure up the term "antique."  This setting also includes this important concept for decorating with antiques:  Using Something unexpected in the mix.  Here, modern-day license plates in the key hangers pair well with the leather pieces.
It's not often that you see an antique teapot turned into a lamp but it's the perfect accessory for adding antique charm to a contemporary space. The fruit prints used here also have a vintage feel, but do not match the teapot lamps too closely. This type of grouping is good for any antique accessories you have.  Creating a display of similar items, grouping them by function, color or texture, creates a thoughtful, curated display.
Most importantly, Sully notes: "You don't need a lot of things in each room — just a few great pieces that converse with each other." By adding unexpected pieces, you keep the room from tending toward a museum.  Here, the vintage machine in bright red is still the same style, but is unexpected as a companion to the barrel chairs.
Maggi Massimo offers a wide range of bar accessories that can be used to inject an element of the unexpected in a modern or contemporary bar setting. Whether you choose a chair or two, vintage antiques on the walls, or unusual antique beer or wine dispensers, don't go overboard. Sully notes that heirlooms are meant to be used:"If you mess it up, c'est la vie. But making heirlooms a part of your life adds depth and character, and makes every day more glamorous."
Maybe skipping the ubiquitous modern wine cooler is the best idea. Adding a vintage wine unit can add an antique look to your space and dispense wine in a stylish manner. The barrels, spigots and warm wood offer more visual charm than a refrigerator.
Similarly, the new kitchen trend is to add a built-in coffee machine…but who says it needs to look like a modern appliance? This is far more charming and would lend an element of the unexpected to a contemporary kitchen. Again, it has the charisma of antique furniture with all the convenience of a modern coffee maker.
The coffee machine can also be set into a larger piece of antique furniture like this one.  The dark wood and extra gilded hardware detailing give it a very rich look that would be appropriate for many of today's upscale kitchens.
The same goes for a microwave.  No one wants to give up the convenience, but the look isn't exactly stylish.  Here, this appliance gets the antique treatmentt from Maggi Massimo craftsmen and comes out looking like a wood-burning oven unit. Even the bottom storage door looks like it holds split wood.
Living in a small space or apartment doesn't mean that you can't incorporate antiques in your decorating. This self-contained bar is a good example of a compact piece that offers a big vintage punch from a smaller sized piece of antique furniture. It has storage and holds the wine and glasses for entertaining. It's also a conversation piece that will delight family and friends.
True wine connoisseurs can make a statement with an antique reproduction like this one. The curved cabinet has plenty of storage and some unique slots for special vintages you want to highlight. It can also be closed to secret away your vineyard treasures.
A casual bar area or kitchen is the right place for adding a win dispenser unit like this one. Barrel dispensers with spigots make entertaining a crowd very simple and add vintage charm to a space at the same time.
Mixing it up, adding unexpected elements and contrasts in style will keep your decor fresh and prevent it from looking like a museum — or worse a jumble shop. Using the right elements in a personal way makes it your own  Carefully editing what you put in the space, arranging it in the thoughtful and harmonious way will create a room that is comfortable and grand.  Remember — show your antique pieces some love by using them!