30 Christmas Candle Decoration Ideas for 2011
Festival is a spirit of joy. Irrespective of time, space and culture, candles are entrusted to manifest that joy. A candle gives away its entire being for the sake of light, like the lord of lords who gave away everything for the sake of love. In Christmas, candles bring that auspicious atmosphere with the passionate glow from its ardent heart.
To transform your house into a luminous domain, candles have the highest say. They can add to the beauty of fireplace, the windows, you can change your staircase into an effulgent being by putting lit candles on one or both sides  of each stair.
Down the ages, Christmas trees are being adorned by small candles hung from the tip of the branches. However, lighting them will spell trouble. Not to forget kitchen and bathroom. It will speak for an extension of the luminous domain you created for your house.
Candles are probably made to fit your unlimited imagination. Each candle is different being from other in shape, size, color and aroma. Let's start the process in an easy way. Engage the children in your house to make candles using beeswax. Even the room temperature is enough to shape it. Again they come in different colors. Now, the children can shape their own imagination.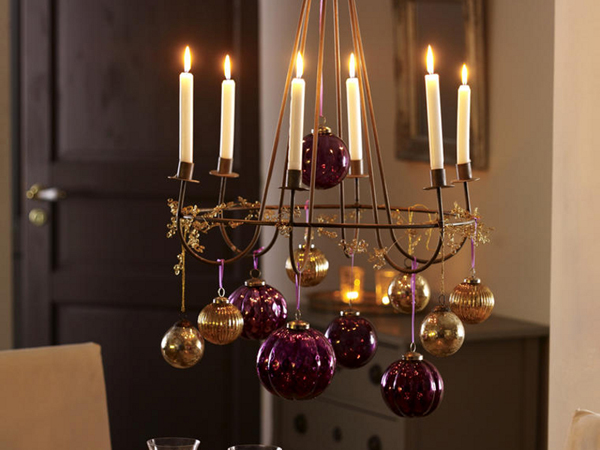 Your household objects can extend their contributions in holding candles -Chinese pot, glasses, vases and what not. By virtue of arranging your candles, you can bring different climbs in your house.  The usage of candles of different shapes and sizes on your mantle can bring an air of versatility with an indication to forms.
Homemade candles have their own appeal. They are good for usage. You can also use them as gifts for your guests. Transparent glass vases with petals of different flowers with one or two small floating candles look mesmerizing.{pics from here}