40 Stylish ways of displaying your family photos
We all have family photos that we love. These usually constitute very personal decorations that can be displayed throughout the house. They make your home feel cozier and they give it character. Let's take a look at some photo wall ideas for creative ways of taking advantage of these beautiful items.
40 Creative Ideas for Family Photo Displays
1. Neck Down Family Portrait
This one is a rather unusual and untraditional family portrait. The family members are only immortalized from their neck down. But, even though their faces remain unseen, they are very well represented by everything else.
2. Family Desk Photos
A few family photos displayed on the wall, above your desk or work area, can make this space feel more personalized. They can be made in black and white for a more artistic touch.
3. Small Tile Photo Collage
In this case, we have a bunch of small photos organized beautifully in a large frame. This method is nice in the case of travel photos. When organized like this they look like a giant negative. It's unusual and original.
4. Black and White Mixed with Color
Another interesting idea is to alternate black and white photos with color photos. Print them with the same dimensions and shape and create a symmetrical display on a wall of the living room. A wall adjacent to the windows would be great.
5. Rainbow Frames
Here's another idea: create a few identical picture frames, larger than the photos you wish to display and use a background in different colors. The effect will be a little dramatic but still playful and casual.
6. Bottle Portrait Collection
This is a very clever and original way of displaying old family photos. Find some simple glass bottles and insert the photos inside the bottles. The idea is similar to the classical ship in a bottle. They would look great on the mantel.
7. Bulletin Board Photos
Another interesting method would be to make some pin boards or bulletin boards and to use clothespins to hang the photos. It would work best with black and white photos.
8. Wire Mount Photo Bulletin
A similar idea is to use metal wires. Simply attach them to a wall and make sure they're parallel. Then use some clips to hang the photos. It's a very sleek and simple way of displaying your favorite family photos and it could also be applied to something else.
9. Pallet Photo Collection
Of course, we could never ignore the pallets. They can be used for anything, including displaying photos. Simply remove a few boards from one side of the pallet and a small shelf should be created. To complete this rustic image, add a few floral decorations as well.
10. Simple Wire Photo Mount
This is a very reduced and simplified version of the bulletin board we described earlier. The idea is to use a wire, rope, or anything similar and attach it from two screws inserted in the wall and attach the photos using clothespins.
11. Modern Photo Shelf
This is a modern photo display. Notice that the shelf is long, sleek, and simple. Also, the edges are high so that the photos can't fall down. This method works best with large photos. Try to use black frames or no frames at all.
12. Photo Wall
If you really treasure your family photos and if you have many of them, you could create a photo wall. If the wall is white then the shelves should be white as well. This way the photos are the only ones to stand out.
13. Asymmetrical Photo Display
In a living room or dining room, a few family photos would make really beautiful decorations. They would make the atmosphere more intimate and the room cozier. For a modern display, use sleek wall shelves and place them asymmetrically, at different heights.
14. Picket Fence Gallery
This is a picket fence wall gallery. The photos are attached to wooden pieces that form a fence. It's an unusual and creative idea and a way of making the room feel even cozier.
15. Dining Room Photo Display
In the dining room, a few photos displayed on the wall adjacent to the dining table would make beautiful accent decorations. They would complete the intimate atmosphere that is created when the whole family gathers to have dinner together.
16. Black and White Photo Wall
Black and white photos are very artistic. They make wonderful decorations for any room. Use different shapes and sizes and mix them to create an interesting composition. Choose a wall that you wish to turn into a focal point.
17. Colored Wall Photo Display
If you choose a vibrant color for an accent wall, then a few photos would create beautiful color contrasts. Create an organized display and use photos that share the same typology. They would look better in black and white.
18. Hallway Photo Gallery
Some photos could really change the look of a hallway. In such a narrow space, there's not much you can do to make the décor stand out. But photos take little space and the best part is that you can hang them anywhere you want.
19. Sepia Photo Display
In the dining room or in any other room for that matter, you can print your photos using special effects such as sepia if you wish to maintain the same color palette. The photos would also look vintage this way and they would blend in more easily.
20. Staircase Photo Gallery
The staircase is a classical area for displaying family photos. That's because it's a space where you can't use many other types of decorations. A large collection of family photos would look beautiful if you use the same type of frames but with different sizes.
21. Bedroom Door Frame Photos
An ingenious and inspiring idea is to decorate your bedroom's door frame with photos. Display them using tape. It should be a casual décor, not elegant or sophisticated. It's nice to see your loved one when you enter a room and it's also a way of using a space that couldn't be used for anything else.
22. Pendant Wire Photo Display
This method is similar to the one that uses metal wires and clips. The difference is that, in this case, only one wire is used. The rest of the photos are attached to the ones above them. The same backgrounds were used for the photos and this way a symmetrical look was created.
23. Workspace Wall Collage
This is a rather traditional way of displaying photos. This is a home office and it features a portion of the wall that was covered with photos of the same size, shape, and type. It's a nice way of adding a personal touch to your working space.
24. Horizontal and Vertical Photos
Picture frames of the same size and shape could be used to create an original and stylish décor. If you use rectangular photo frames you can alternate horizontal and vertical positions. It's an interesting way of adding a modern touch to a rather traditional method.
25. Snapshot Display
Snapshots are very interesting. They immortalize natural and real moments and expressions. You can use them to create large collections of photos and you can display them on a wall in areas such as the entrance, the hallway, the staircase, etc.
Picture sources:1,2,3,4,5,6,7,8,9,10,11,12,13,14,15,16,17,18,19,20,21,22,23,24 and 25}.
26. Eclectic Nature-Themed Gallery Wall
While some family photo displays look better with a consistent theme across the frames, some interior designs are better served with a more eclectic and varied look. The nature-themed gallery wall featured at Homemade Modern can be used to incorporate family photos alongside nature-themed prints or artwork to add both a cozy vibe and a natural element to your space. This type of gallery wall is easy to compose since you can mix and match frames and photos instead of having to conform to a single look.
27. Boho Macrame Picture Frames
Macrame may be considered old-fashioned by some since it first gained popularity more than fifty years ago, but this fiber craft is still going strong decade after decade. These boho macrame picture frames from A Kailo Chic Life are great for adding a fanciful and organic look to your photo display. Macrame can be used in its raw off-white form. It can also be dyed in any number of colors to match your decor.
28. DIY Rustic Photo Frame
For those who want a more frontier or rustic look for their family photos than a bohemian one, look no further than these DIY rustic photo frames from Easy Peasy Creative Ideas. Twig frames can be crafted from simple materials, with the base material of twigs being a material you can source right from your own backyard. These twig picture frames are also a good idea if you're considering a bulk craft for sale since the supplies are either free or cost next to nothing.
30. Chain Gallery Wall
This photo display is better for light picture frames since the weight of the picture puts a lot of strain on the fine gold chains used in it, but this chain gallery wall from Remington Avenue is perfect for a more sophisticated family photo display. Gold frames and chains are used in the example craft, but you could get silver, copper, or even fine black iron to match different interior designs or to create a more industrial look.
31. Family Picture Collage Coffee Table
A coffee table collage is a bit more of an intensive project than some of these other family photo displays and galleries, but the end result is worth the effort. In this project from One Mom with a Mission, a glass top on a coffee table is arranged over an eclectic group of family photographs on a coffee tabletop to form a collage. The glass top on the coffee table is an effective way of protecting the photos so that they don't become damaged over time in a shoebox or stuffed in a corner somewhere.
32. DIY Photo Ledges
Similar to floating shelves, these photo ledges help make the family photos the most visually important part of the display. While photo ledges are too short to hold many wider items, they're an interesting way of arranging a family photo display in a straight line. For a large number of family photos, consider building several DIY photo ledges one on top of the other to create a block of photos on the wall. To learn how, check out this tutorial at The Idea Room.
33. Wood Plank Photo Display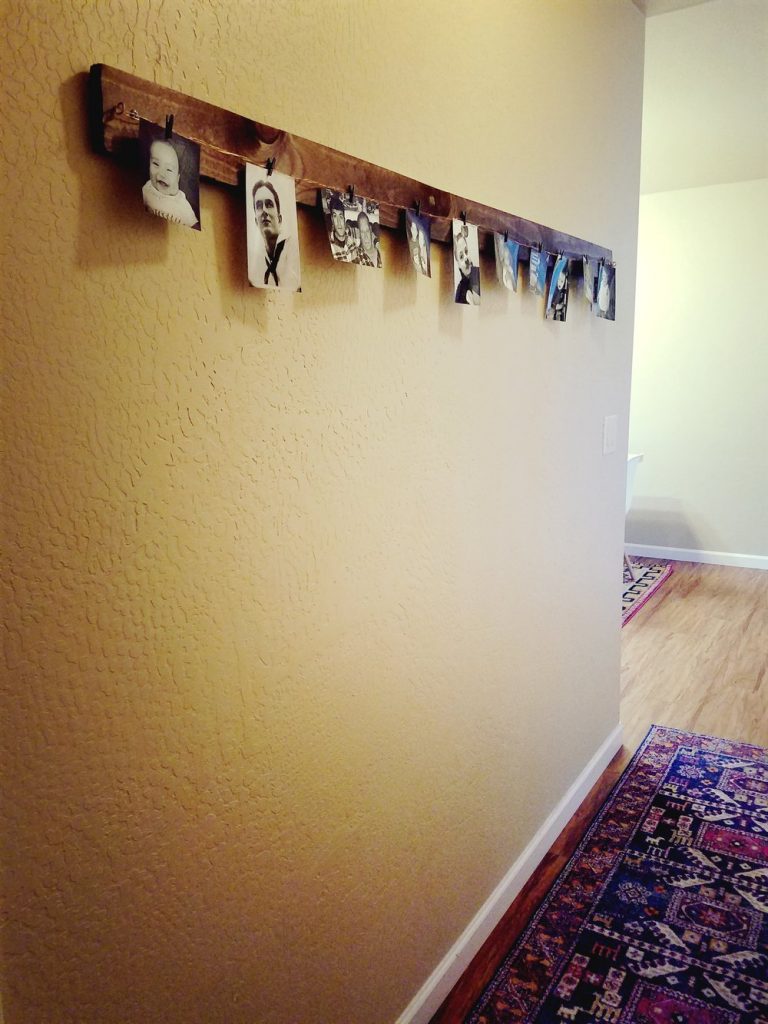 This is another family photo display that fits in better with a more rustic or Western style of interior design. A wood plank display is a good choice for long hallway photo galleries or other areas where the length of the plank can create a visible divide on the wall. Using photographs of all one type, such as all black-and-white photographs or photographs that are all the same size, can help add some visual symmetry across the entire row. Learn more about how to make your own wood plank photo display at Crunchy Casa.
34. Wire Wall Grid Photo Display
In photo displays, wood creates a more rustic and natural look, while geometric shapes and metal can create a more modern vibe. These wire wall grid photo displays from StyleCaster provide a rigid structure to arrange your family photos on. The inorganic lines of the wall grid mean that you can mount your photos a little bit more haphazardly on them without losing a sense of contemporary lines in your display.
35. Vintage Gallery Wall
For those who have more of a retro flair, setting up a vintage gallery wall and filling it full of family photos instead of artwork can help you find a home for all your photos while also putting your artistic side on full display. With an eclectic arrangement of different frames, just the display itself will qualify as art. Check out Chris Loves Julia for more tips on how to hang a gallery wall with a vintage look.
36. Washi Tape Gallery Wall
So what is washi tape exactly? Washi tape is a cheap masking tape for crafters that comes in a wide variety of colors, patterns, and sizes. This makes it a great option for jazzing up photo displays on the wall or any other wall decor. Another advantage of washi tape is that it can be easily removed from the wall when you want to move the photo display, unlike paint or other materials. Here's a tutorial for making your own DIY washi tape gallery wall over at Honestly WTF.
37. Hallway Gallery with Mismatched Frames
Mismatched frames may not be your first go-to when it comes to setting up a cohesive family photo display, but the benefit of using up these frames is that most people end up with a stack of old photo frames at one point or another with no idea how to mount them in a way that looks good. If you want to lessen the mismatched look, you can always spray all of the frames the same color to add some monochromatic symmetry across the display. However, leaving frames mismatched like this display by House Mix has its own easy charm too.
38. DIY Photo Canvas
Photo canvases can be an awesome way to display family photographs, but the downside is that printing out photos onto canvas at a print shop can be costly, depending on where you have it done. Luckily, this crafting tutorial over at Lovely Etc. teaches you how to create your own family photo canvas without having to pay a professional to do it. It's a good idea to do this type of project with photo duplicates rather than the originals in case you make a mistake.
39. Corner Gallery Walls
Have an awkward corner in your house and you're not sure what to do with it? Corner gallery walls to display your family photos are the way to go. These galleries are mounted half on one wall and half on the adjacent wall so that the display hugs the corner of the room, creating an intimate feel. If you have a corner wall that is too short to fit shelves or other mounted decor, a corner gallery wall such as this black-and-white display from House Beautiful can be the perfect option.
40. Instagram Wall
Instagram photo displays are created by taking a large number of same-shaped photographs (usually square instant photos like Polaroids) and arranging them in a grid pattern across a large rectangular or square wall display. These walls can be just as individual as the people who make them, and the look of the wall is greatly influenced by the color and composition of the photos you decide to put in it and how you order them. Check out these tips on making your own Instagram wall for family photos at A Beautiful Mess.
Family photo collections are as individual as the families who build them, and that's one of the major reasons why there are so many different types of photo display designs out there. The above photo wall ideas range in the amount of skill and effort you'll need to put them up, but there's no question that using them will help you incorporate them into your home's design and put up your photos in a more refined way at the same time. If you have some bare walls and a big stack of photos languishing on your digital camera or in storage, it's time to get cracking on the family photo display of your dreams.