20 Brilliant White Brick House Concepts That Dazzle And Inspire
The white brick house is back. New homeowners nationwide are discovering the benefits of white brick exteriors. Unlike the last time it was popular, this time it seems white brick is more than just a passing trend.
Luke Olsen with GTM Architects said, "The first thing to keep in mind when considering painting your brick is that it is very likely a permanent change. Once it is painted, it will always be painted and there is no going back. You can try to remove it with chemicals, but you likely won't be able to get it all off and you also risk damaging your brick."
Why Should I Paint My Bricks White?
Today, home living is all about creating an affordable living experience, and is this where white brick enters the picture. With white brick, your home is provided with siding that you don't have to install.
White bricks are not made of clay, unlike their red brick counterparts. The special bricks are made of quartz sand, calcined gypsum, cement, lime, water, and aluminum powder.
With a stronger brick, your home can withstand bad weather and wildfire. Because of their added safety features, white brick homes are more attractive to homebuyers.
Best White Brick Exterior Wall Ideas For 2022
As selected by our team of in-house design experts, here are the best white brick exterior ideas.
1. White Brick House With Black Trim
When you paint your bricks white, your home will take on a new meaning. With a fresh coat of white paint, your home will radiate a modern style. A white brick house with black trim offers a mid-century modern look. (The Fat Hydrangea)
2. White Splotches
Remember acid-washed jeans? Well, now you can live in an acid-washed house. By choosing more of a patchy white effect than solid white paint, you can give your house that warm cottage feel. In a neighborhood of older homes, this will help your house blend in while remaining modern. ( Flower Garden Girl)
3. Window Enhancement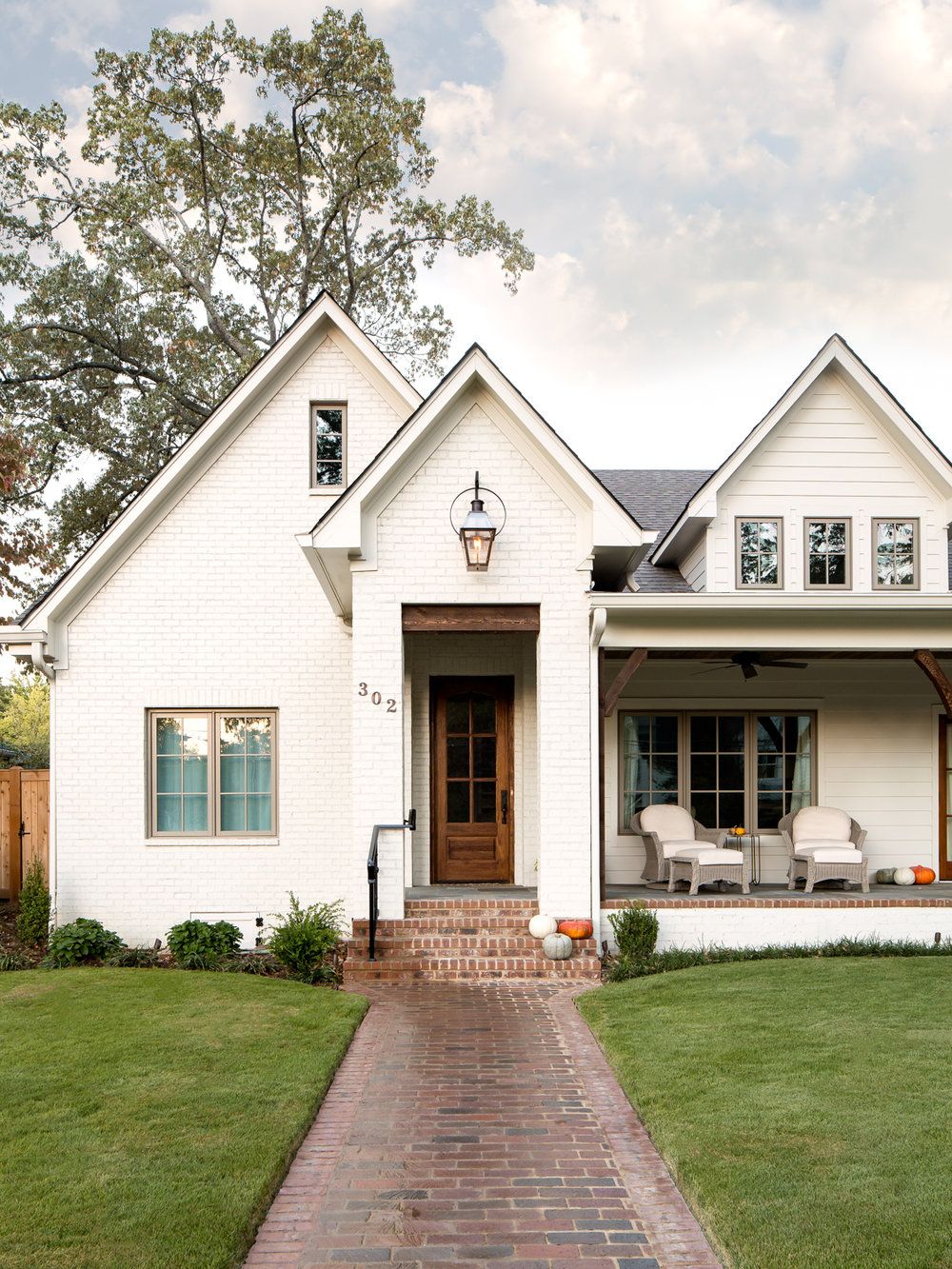 White painted brick houses impact their windows more than any paint job you'd imagine. Brick homes from the 70s have small windows. The houses from this period were disproportioned from the outside. By painting your brick white, you give your home the illusion of having larger windows without having to replace them. (Instagram)
4. Total White
A painted white brick house makes a statement. White exteriors provide a backdrop so other colors can pop. White is the ultimate backsplash. (Stylemepretty)
5. White Brick Exterior House
Some homes look unfinished until you realize that you need to add shutters. By painting your exterior brick white, you give yourself much more space to choose whatever color for your shutters that you love. (Brandoncraft)
6. Use Heavy White Coat
Houses that are tall, square, and with plain brick can't help but look imposing. Hide heavy brick with a few coats of white paint and your house will have an open arms look. (Becki Owens)
7. Off White Brick House
Don't think your beautiful house is stuck being outdated. White brick with those pretty details will give your home a whole new look that's chic and modern without making large renovation purchases. (House Beautiful)
8. White Painted Brick With Black
Pair your white brick walls with black trim and accents to keep your space updated and fresh in the simplest way possible. ( Just You Wait)
9. Whitewash Brick
Even a thin coat of white can feel updated and airy. By opting for a whitewash effect on your home's exterior, you'll update your look without losing any of that glorious brick texture. ( Ciao! Newport Beach)
10. White Brick House With Metal Accents
Rubbed bronze, shiny chrome, or vintage brass words on a clean white slate. (Sarah Berrydesign)
11. White Brick House Landscaping
Brick can let your house get lost in the busyness of texture, but a white brick home will stand out among the leaves with no trouble. (House of Turquoise)
12. White Brick Exterior With Wood Doors
If you're looking for softer accents to accompany your white brick walls, choose wood trim and doors instead of stark black. (@brandonarchitects)
13. White Siding
Maybe your home has white siding and some red brick. Don't feel bad as you paint over that brick because a white house definitely looks cleaner and fresher than dual tones.
14. Front Door Accent
A white brick exterior gives you the opportunity to have the brightest front door you can think of because anything matches white. (Look Linger Love)
15. White Brick Stone House
White also gives the eyes an opportunity to linger on the beautiful details of your home. A blank canvas will give your large windows and quaint dormers a chance to shine.
16. Creamy White Painted Brick House
While white brick makes a great canvas for trim and shutters and all those home details, it also makes a great background for landscaping. No matter what you choose, it's going to pop against the creamy bricks instead of drowning in texture. (The Potted Boxwood)
17. Lantern Accents
A white brick house with covered lanterns surrounding the exterior is a throwback to Colonial America. US home architecture couldn't be more traditional. Even with electric light, it gives such a nostalgic feel and stands out on the white exterior. (Architectural Digest)
18. White Brick Exterior Fireplace
There isn't a rule that says chimneys should be red. Exterior brick walls aren't the only brick walls you can paint white. For example, take that eyesore of an outdoor brick fireplace in your backyard. A quick coat of white paint can help revamp your outdoor space, just like it would on an indoor fireplace. (@kellynuttdesign).
19. Half And Half
If you like to think outside of the box, then try a half white brick with red brick. Who cares what your neighbors think. With this example, could paint part of your exterior wall white. This idea can update your home and make the brick that you already have pop. Look at the example in Kristen Rinn Design for ideas and inspiration.
20. Traditional White Brick
This example from the Chrissy Marie Blog left the door in its original condition. White from the farmhouse windows, to the porch railing, and the pillars on the porch, the house sports a traditional all-white look.
Frequently Asked Questions (FAQ)
FAQ
Do White Brick Homes Have Higher Resale Value?
The value of your brick home after you've painted it white will increase. How much your home will be worth depends on your neighborhood and the condition of your home. 
What Color Shutters Look Best On A White Brick House?
The most popular shutter color for white brick houses is black. If you want to try something different, soft colors like blue or gray would accent white brick. If you panted a European beach feel, you could paint your shutters in pastel colors. 
Does Brick Come In White?
Real bricks and thin brick veneer come in white. You can also use white brick mortar, which will make the color brighter. Some bricks are pure white while others come in lighter brown shades. 
Will WD40 Remove Paint From Brick?
Yes, paint can be removed from brick with WD40. All you need is a sturdy scrub brush. Spray WD40 on the painted brick and start scrubbing. 
White Brick House Conclusion
You should be in love with white brick exterior walls at this point, and if you aren't, you should probably take a second look at some of the photos in this article. You just simply can't go wrong when you decide to paint your home exterior walls white.