20 White Brick Exterior Walls to Envy
In the last several years, with the rise of open floor plans and the chase for natural light, we've seen color trends moving from all shades of brown to bright whites.
If something is too dark or heavy, paint it white. If you need a quick solution on the cheap, paint it white. If a space needs a serious update, paint it white. Take that brush to whatever it is, from furniture to wood floors to brick walls.
Yes, the general consensus is that a white brick wall looks substantially better than a red one. People have painted over brick fireplaces and brick accent walls with white paint like it's their job. And it really pulls the space into the 21st century.
So as any white lover would do, we've taken this white brick wall concept and started applying it to the exterior of our homes as well. Because it costs a lot less to paint over something that's already there and the effect is just as monumental.
Take a look at these 20 white brick exteriors and you'll get the itch to paint yours.
The Best White Brick Exterior Wall Ideas
1. Basic White For A Quick Update
Obviously, the main reason to paint brick is to give your home's exterior a quick update without replacing the brick completely. With a fresh coat of white, your house will be giving off those modern vibes you've been searching for. (via The Fat Hydrangea)
2. White Painted Brick But Leave Patches
By choosing more of a patchy white effect than solid white paint, you can give your house that warm cottage-y feel. In a neighborhood of older homes, this will definitely help your house blend in while staying current. (via Flower Garden Girl)
3. Use White Paint On Brick To Enhance The Look Of Windows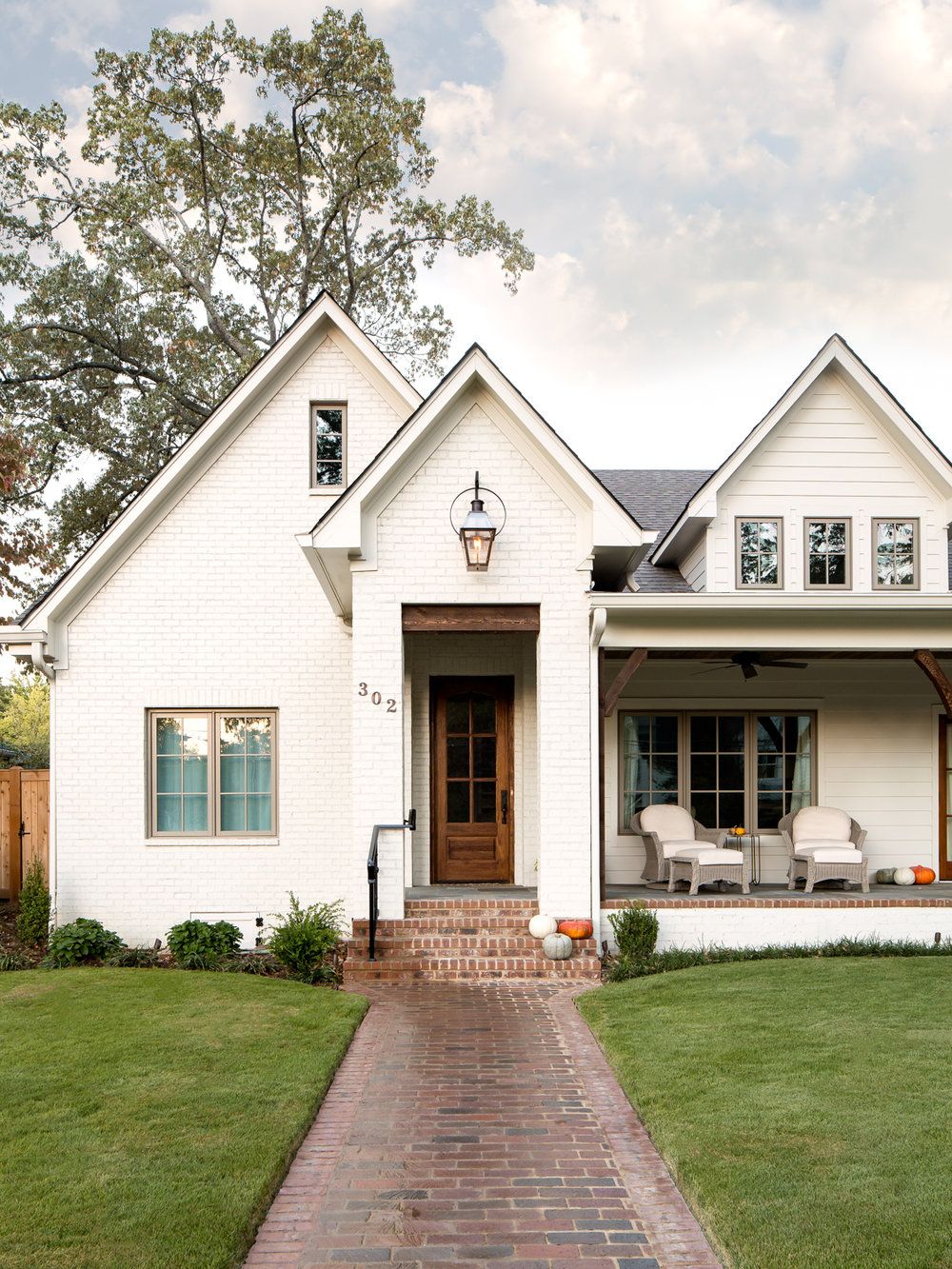 Many brick homes built in the 70s feature small windows that look so disproportioned from the outside. By painting your brick white, you give your home the illusion of having larger windows without having to replace them completely. (via instagram)
4. White Paint On Brick Can Make Other Colors Pop
Does your home feature some lovely colored trim around your doors and windows? Paint that brick exterior to make the color pop even more. Because everything pops against white. (via Stylemepretty)
5. White Brick As A Blank Slate
Some homes just look unfinished until you realize that you need to add shutters. By painting your exterior brick white, you give yourself much more space to choose whatever color for your shutters that you love. Go for the pink or the bright blue! (via Brandoncraft)
6. Use White Paint To Cover The Look Of Imposing Brick
Houses that are high, square, and plain ol' brick can't help but look a little imposing for anyone walking up and down your sidewalk. Cover up that heavy brick in a fresh clean white and suddenly your house will have an open arms look. (via Becki Owens)
7. Make A Big Change With White Painted Brick
Don't think that your architecturally beautiful house is stuck being outdated. White brick with those pretty details will give your home a whole new look that's chic and modern without making large renovation purchases. (via House Beautiful)
8. Pair White Painted Brick With Black
You just gotta love the classic black and white combination for any decorating. Pair your white brick walls with black trim and accents to keep your space updated and fresh in the simplest way possible. (via Just You Wait)
9. Use A Whitewash Technique So You Don't Have To Cover The Brick Entirely
Even a thin coat of white can feel updated and airy. By opting for a whitewash effect on your home's exterior, you'll update your look without losing any of that glorious brick texture. (via Ciao! Newport Beach)
10. White Painted Brick Perfectly Complements All Metals
One of the very best parts about white brick walls is that you don't have to change any of the metals after you paint. Rubbed bronze, shiny chrome, or vintage brass, it all works on that clean white slate. (via Sarah Berrydesign)
11. White Brick Exterior Walls Can Highlight Foliage
Is your home situated amidst a grove of trunks and leaves? Brick can let your house get lost in the busyness of texture, but a white brick home will stand out among the leaves with no trouble. (via House of Turquoise)
12. Accent White Painted Brick Exterior With Wood Doors
It's a well known fact that wood goes just as well with white as black does. So if you're looking for some softer accents to accompany your white brick walls, opt for wood trim and doors instead of the stark black. (via @brandonarchitects)
13. Paint Brick White To Match Siding
Maybe your home has white siding and some red brick. Don't feel bad as you paint over that brick because a white house definitely looks cleaner and fresher than dual tones.
14. White Painted Brick Exterior Can Make Your Front Door Pop With Color
Yes, you have permission to swoon over that lovely front door. A white brick exterior gives you the opportunity to have the brightest front door you can think of because anything matches white. (via Look Linger Love)
15. White Brick Walls Help To Accentuate The Little Details
White also gives the eyes an opportunity to linger on the beautiful details of your home instead of being distracted by the red patterns. A blank canvas will give your large windows and quaint dormers a chance to shine.
16. White Brick Can Make Your Landscape Design Pop
While white brick makes a great canvas for trim and shutters and all those home details, it also makes a great background for landscaping. No matter what you choose, it's going to pop against the creamy bricks instead of drowning in texture. (via The Potted Boxwood)
17. Hang Lanterns To Highlight White Brick Walls
Once you have a white brick home, you won't be able to resist lantern lighting. Even with electric light, it gives such a nostalgic feel and really stands out on the white exterior. You'll be looking for even more places to add outdoor lighting. (via Architectural Digest)
18. White Paint On Brick Can Enhance An Exterior Fireplace
Exterior brick walls aren't the only brick walls you can paint white. For example, take that eyesore of an outdoor brick fireplace in your backyard. A quick coat of white paint can really help revamp your outdoor space, just like it would on an indoor fireplace. (via @kellynuttdesign).
19. Only Paint Part Of Your Brick Exterior
Maybe you've thought about it and as much as you want a white brick exterior wall, you may also be attached to the brick colors or other siding you currently have. In this case, you may decide to paint just part of your exterior wall white. If used well, following the natural lines of the house, this idea can update your home and make the brick that you already have really pop. Just look at this example in Kristen Rinn Design for ideas on how you could use this idea for your home.
20. Go All Out With White
Do you absolutely love white? Then there is no reason to stop at just painting your exterior brick walls white, as you can also paint your door, window frames, and even your porch roof. This home in Chrissy Marie Blog left the door as is, but otherwise, they painted everything white from the farmhouse windows, to the porch railing, and even the pillars on the porch! This serves to make the front door pop while also giving the home a very cohesive look.
Conclusion
You should be thoroughly in love with white brick exterior walls at this point, and if you aren't, you should probably take a second look at some of the photos in this article. You just simply can't go wrong when you decide to paint your home exterior walls white.
Although people usually choose to make their houses look bright and to paint them in cheerful colors, white isn't for everyone. All colors are beautiful, and they all have a lovely side to them, even black – check out 15 Black House Facades.