What Colors Make Gold? How To Make Gold Paint For Personal Use
What colors make gold? A lot of people are afraid of using bold paint colors as they are afraid they'll be judged for their decisions. But the truth is, use what you want because you only have one life here on earth.
If you feel like painting your whole house gold, then do it! But before you do, it's important to learn all you can about gold paint because you never know when a little knowledge is all you need to bring your dreams to life.
What Colors Make Gold? History Of Gold Paint
Gold paint has a very long and interesting history. Just imagine a time in Egypt when gold wasn't a color, but a mineral used to craft the most glorious empires and was woven into creations for the royals.
It was that way for a very long time, even being called "tears of the sun" by the Incas. In fact, it wasn't until 1300 that the word "gold" was used to refer to color rather than a mineral. That's when things changed.
For centuries, the only "gold paint" was actually made of gold. The use of chemical-based gold metallic paint didn't happen until the 1900s. Less than 100 years ago, likely in the 1920s, the first metallic gold paint was used.
The Magic Of The Gold Paint Color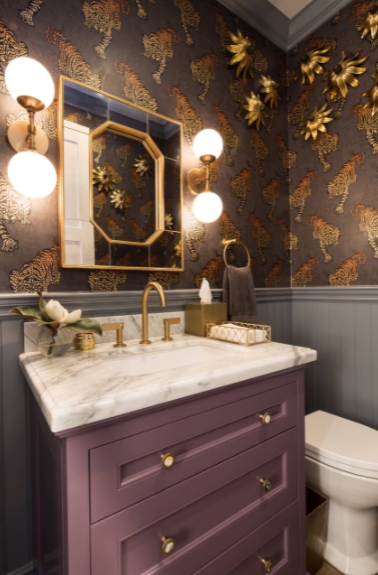 Gold paint is one of the most magical types of paints that you can buy. There truly isn't a more royal or mystical paint you can use in your home. No one will forget it, everyone will dream of recreating it.
While it does feel like a risky choice for paints, if you do it right, you'll never regret it. Just imagine every gold creation you've ever seen. Do you see a recurring theme of magic and awe in them? Of course!
That's because gold has always been a special color. In every religion it has significance. So you don't need a "reason" to get gold paint because just having gold paint can make one feel like they are a part of something bigger.
Silver Vs. Gold
Whenever you know you want metallic paint but aren't sure which metallic paint to use, you need to take a look at your end goals. Do you want something cool and peaceful? Warm and inviting? Fun and festive?
Finding out your design style and what you want to prioritize can help you pick the perfect metallic for your personality. Here are the most common types of metallic paints and what they each mean.
Silver
Silver is a very cool metallic that goes well with any other color. When designing, silver works great for modern designs and can be considered a neutral gray color with a shimmer. Gray is always in.
Gold
Gold is a bolder color than silver and is also much, much warmer. It often symbolizes wealth and prosperity. However, it is also a bolder choice and is more vintage than silver. It is hard to make silver look vintage.
Pewter
Pewter is a dark mixture of metals that is pleasing to look at. Original pewter had a high lead content, making it larger, and more toxic than silver. But today, pewter is safe to use, especially in paint that doesn't have real metals in it.
Bronze
Bronze is another warm metal that is a mix of copper and tin, making it a medium color. Most bronze is similar in color to vintage gold though it trends at different times than gold does. Choosing between the two is about preference.
Brass
Brass is a mixture of copper and zinc, often used to replace the more expensive gold because it looks so similar to classic gold. This is a very strong metal often used for pipes, tools, and hardware.
Copper
Copper is another very warm metal with an orange hue. It is a unique chemical found in nature and used for wiring. It has an industrial look and is one of the most sought-after types of metals in interior design.
What Colors Make Gold? How To Make Gold Paint
If you can't find the right gold paint for you in stores, then all you have to do is make your own. There are a few ways to do this and they are all super easy. Play around to find the shade that you like.
Note: you can usually find good gold paint already mixed. This list is for people that can't find the right gold paint or that want to get creative and make their own just for the fun of it. Become a colorist with these mixtures.
Gray And Yellow – you can either find a gray paint you like and add yellow or start with black and white, then add yellow. This is a classic way to make a muted gold that will go well with any design.
Brown And Yellow – here we have a way to make a bronzy gold color that you can completely customize. To customize, mix red, blue, and yellow to create a perfect brown. Then, mix in white and a little more yellow.
Yellow And Then Some – you can add gold sparkles to yellow paint to give it that metallic shimmer that you need. You can get the thin sparkles at craft stores or online, or even at Walmart, so check your local stores.
Yellow, Orange, And Brown – you can make another bronzy gold with a rustier look by adding orange to your yellow and brown mixture. You can even add the gold sparkles if the look isn't metallic enough.
Taking Gold Paint To The Next Level
While simply painting your walls with flat gold paint can make a big impact on your interior design, there are a few ways you can take it to the next level. This works even if you don't use metallic paint.
If you can, come up with your own ideas to make your gold-painted project like no other project you've ever seen. That's what really makes a project special. Making it your own and sharing that creativeness with the world.
Flakes
Instead of using simple metallic paint or adding sparkles, you can add gold flakes for an entirely new look. Gold flakes can look amazing in any paint, even if the paint isn't gold. Try using them in soft paint colors.
Mixing Colors
No, I don't mean mixing colors together to create a new color. What I mean is doing a sponge texture by using gold paint on top of another color. This works well if you know the exact color scheme you want to work with.
Ragging
Ragging is an old farmhouse technique that you can use to give your walls texture. It looks marble when finished and is super easy to accomplish. You just use a rag instead of a paintbrush for your finishing touches.
Underneath Texture
An easy way to add texture to your walls with gold paint is to use a drywall texture before you paint. There are many different types of drywall textures you can use, each with its own design and difficulty.
Shades Of Gold Paint
Gold isn't just gold. Just like with any color, there are many shades of gold paint too. But since there are two different types of gold paint: matte and metallic, it's hard to define each color with just one term.
Instead, you look at the different brands because each brand will have a different type of metallic paint. The matte paints are more yellow than gold, but the metallic paints are all gold, which is what we want.
So, instead of trying to find a "name" that you want, try to find a brand that you want. Search all of the paint brands and look for "metallic gold" because that is what you would be looking for. From there, check out their shades.
Most paint brands will only have two or three metallic paints, perhaps even just one. There is usually a bright gold and a goldenrod color, light, and dark gold, primarily. So, find out which shade you want after choosing a brand.
What Brands Make Gold Paint Colors
Since we're on the subject, let's talk about a few brands of paint that consistently have metallic gold paints available. These paint brands have spray paint, roll-on paint, and even wood filler to match any gold paint.
Rust-Oleum – Rust-Oleum has a lot of options in all types of paints. They also have different shades of metallics, some even with glitter already in the paint so you don't have to add your own if you choose that route.
POSCA – if you're looking for paint pens, POSCA has all of the best gold metallic paint pens. Paint pens are perfect for creating unique designs on almost any surface. They can be permanent when dried.
PPG – PPG has just about any type of paint that you can imagine. Yes, even metallic gold. They even do a wonderful job of matching colors so if you find inspiration, you can ask them to match it for you.
Frequently Asked Questions (FAQ)
FAQ
What Two Colors Make Gold?
The two colors you can mix to create gold are yellow and brown. You may add more colors to tint the gold, but these are the two primary colors that make gold.
What Colors Make Rose Gold?
Rose gold is a gorgeous color that is soft and alluring. Rose gold is created when you mix gold, silver, and red. You start with gold, then add silver to cool the gold and red to give that signature pink tint. 
What Color Do Silver And Gold Make?
Silver and gold create a variety of colors depending on the ratio of silver to gold. In nature, when silver and gold are mixed, it is called electrum. Electrum has traces of other metals that don't affect the color.
What Colors Make Gold Better?
Yellow and brown make gold. If you add more yellow, the effect is a shinier and brighter gold. If you add more brown, it dulls the gold and makes it softer. If you add a different color, it completely changes the gold.
What Colors Make Gold Look Cooler?
Yellow and brown are both warm colors. To make gold look cooler, pair it with colors like sage, tan, or charcoal. These cooler colors are neutrals that won't outshine the gold but will tone it down instead.
Is Gold Paint Right For Me?
This is a difficult question because gold paint is a very unique type of paint. It's not just about color. Gold paint is about class, spirituality, and symbolism. Not everyone understands its significance.
But then again, you don't need to connect to the color to want to use it in your house. Anyone can use gold paint and there's only one question you need to ask yourself. Do I want gold paint for my next project?