Wall-Mounted Organizers Your Modern Home Needs And Craves
We all have those things that we want to keep somewhere accessible without really cluttering our homes, things like a book we're currently reading, extra keys, a pair of scissors or a perfume bottle. These and many other things can sit nicely in a wall-mounted organizer. These organizers are usually quite small, with compartments or pockets and are used both as storage units and decorative accessories. They're useful in a lot of contexts and lots of different settings so you can mount one on the hallway, in the living room, even in the bedroom.
Imeuble CI is a storage system that also has a geometric structure and a modular design. It has a colorful 3D look featuring modules that mix and match various colors. A unit is made up of seven modules and several units can be put together to create a larger and more complex storage system if necessary. Use the shelves to store books or other small objects.
Also suitable for the storage of small objects and books and magazines, the Revere wall-mounted storage modules are designed to look like individual pockets which can be placed anywhere on the wall or on a vertical surface. They have rounded bases and come in different sizes and finish options including silver, gold or matte white. They are rectangular in shape and can be quite practical in the office or bathroom.
A similar system is the one called Aitio. This one is composed of individual box-like modules with various shapes, sizes and colors. These can be organized on the wall and combined in lots of different ways. They can be quite useful on the entrance hallway for keeping keys and other things. Also, you can use them in the bathroom to organize all the necessities or in the craft room where there are lots of things that need to be kept close at hand and in check.
The Polarity collection was designed specifically for the workplace although it's versatile enough to also be used in other settings. It was created using a system that allows 3D objects to be mounted to a wall using interlocking magnetic polarities. This basically eliminates the need for any hardware and makes this system very easy to use and very modular and versatile.
The individual Tesche Wall Pockets are a chic and simple way to organize things on a wall without depending on a large and robust furniture piece. The pockets are made of thick latigo leather and they are shaped like envelopes. Their design is simple and casual and the dimensions are 10'' x 11.25'' x 3'' which makes them a good solution for storing magazines, mail or office supplies. These pockets can be attached to the wall using two screws.
Named Pillow Wall, this is a wall-mounted storage system designed by Robert Bronwasser. It features a series of acoustic panels with rounded corners and a variety of functional accessories which can make it suitable for storing magazines, office supplies and all sorts of other things. Several different dimensions and configurations are available. Depending on your needs, this can become an interesting clothes rack, a mail organizer, a magazine rack or an unusual wall unit.
If you think you could use more than a couple or pockets to organize everything, check out the Uten. Silo, a complex wall-mounted organizer designed by Dorothee Becker. It's composed of lots of individual modules that fit together on a panel like pieces of a puzzle. They have various different shapes and sizes and can hold things like pencils, notebooks, scissors, hair brushes and lots of other items. The system is made of plastic and the containers are hanged with metal hooks.
Meet "Up The Wall", a flexible shelf system designed by Bent Hansen. It's made up of long and short shelves which can be combined to create an asymmetrical structure. Several such elements can be put together to form more complex structures. This allows each user to customize the desired configuration and to create a wall system and suits their particular needs and preferences. The shelves come in packs of two.
Not everything needs to be neatly stored. Sometimes it's nice to have things put on display. that's what the Hitch Shelf is for. It features a system with a double bracket which means that each shelf can either be mounted vertically or horizontally in order to provide storage for books and decorations. The shelves are made of powder-coated steel and they are available in white and yellow.
This is the Case Study fiberglass wall pocket. it's a wall-mounted organizer that's really great for cubicle and lots of other spaces. It has the perfect dimensions for holding magazines and you can also use it to store your mail. The pocket is available in 10 different color options which means it can be matched to an existing décor more easily. The materials used for these pockets are solid walnut and fiberglass.
Also available in a variety of different colors, the pocket wall organizer designed by Normann Copenhagen is quite the versatile accessory. The inspiration for its design comes an actual shirt pocket. It can be used to hold magazines and small objects around the house. Place it in the kitchen to hold utensils, in the office to hold documents and supplies or in the bathroom where you can use it to store makeup products.
Sometimes a simple is all you really need to keep your home nice and tidy and to have all the things right where you want them to be. In such cases, something as simple as this bent metal wall shelf can come in very handy. This one has a sleek design with a ledge and a black zinc finish which gives it a minimalist look perfect for most modern and contemporary spaces.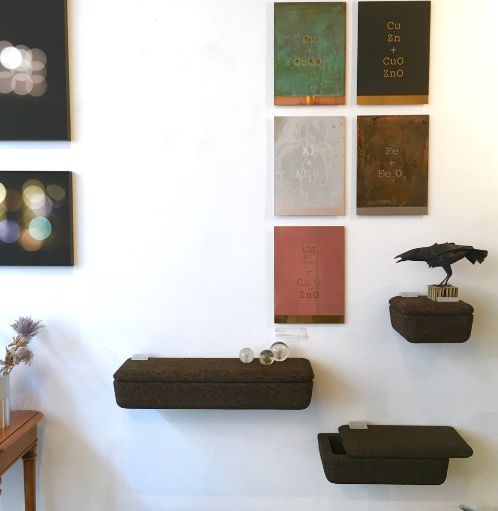 Designer Rui Pereira came up with an idea for a box shelf made of cork. It's called a Magic-box and its a shelf that looks solid and heavy when in fact is very lightweight. It has rounded edges and a simple and lovely form. Mount several of these on the wall and use them to keep small objects organized and out of sight.
Pin boards are really fun and easy to use. They're also the inspiration for a wall-mounted organizer called Pinorama. It's a board made of perforated metal with cork backing which can hold all sorts of things like notes, pictures and small things which you attach using magnets. It can also feature a variety of accessories such as shelves, mirrors or an elastic net and hooks.