Standard Desk Dimensions For Office And Home Desks
Standard desk dimensions are 20x30x30 inches. We've learned about all different types of standard sizes of furniture, bedrooms, and even entire homes in different parts of the world. But the desk is becoming more relevant.
But it isn't just the large dimensions that matter, but the small ones too. The standard desk dimensions are important for many reasons, especially if you work from home or spend a lot of time studying online.
Standard Desk Dimensions
The standard desk dimensions include the length, depth, and height of the desk. The length is the same as the width and is the part of the desk that is parallel to your body when sitting at your desk.
All of these dimensions matter for health reasons, comfort reasons, and space reasons. You want to keep a good form when sitting t the desk but you also don't want your desk taking up too much space in the bedroom or office.
Standard Desk Dimensions: Depth
The standard desk depth is around 30-inches. Though the minimum is around 18-inches. This gives just enough space for a monitor of almost any size. But it's not much room for anything else, like a keyboard.
If you have shelves or a keyboard tray on the desk, the 18-inches will usually suffice. But if you don't then you probably want something closer to 30-inches. Otherwise, you won't have deks space for anything.
Standard Desk Dimensions: Height
The standard desk height is 30-inches tall. You can't go much shorter than this unless you are a rather short person or the desk is for a child. The point of a good desk height is to keep your limbs comfortable.
You want a few inches of clearance between your knees and the desk. Ideally, a foot or a little more is perfect. But if your desk is short then you can get by with less as long as it isn't too hard on your back.
Standard Desk Dimensions: Length
The length, or width, of the desk, generally has a minimum of 20-inches to accommodate at least a monitor or a writing tablet. But the standards are 48, 60, and 72 in. This is the least crucial measurement.
Because you want to customize your length anyway. Some people prefer to have a shorter desk so that they don't have it take up as much room. Some prefer long desks to fit multiple monitors and desk decorations.
Types Of Desks
The size of the desk you get depends on the type of desk you get. Desks are usually sorted by the purpose of the desk, but there are also certain types of desks that stand out because of the way that they look.
For example, a school desk is recognizable instantly by any child or adult in the world. But it isn't recognized because it is a certain type of desk but because it serves a certain purpose. Here are some other types of desks.
Standard Desk Dimensions: Built-In Desk
Dimensions: Custom
A built-in desk is going to have the largest range of sizes. Because it is completely customizable and is usually built by those who live in the house or contractors hired to build the desk inside the home.
Built-in desks can be quite large. They can also fold up or convert into another type of furniture. Some desks are even built into a bed with the "bottom bunk" of the bed being a desk. You can buy this type of bed pre-made.
Standard Desk Dimensions: Writing Desk
Dimensions: 28″ – 30″ by 36″ – 40″
A writing desk is a type of desk made to write at with a pen and paper. They are at a comfortable height so that you can lean over the desk comfortably as you would when writing notes in a notebook.
This type of desk is very old and often has compartments for pens and paper. It is generally fairly compact, not too busy, and has drawers underneath. This is a great desk for simple decorating in any room.
Standard Desk Dimensions: Computer/Gaming Desk
Dimensions: 50-inches x 25-inches
A computer or gaming desk is different than other desks. First of all, there are two ways to make a gaming desk. There is the type with slots for the computer tower and accessories and there's the type that doesn't have any storage.
Related: How To Build A Proper Desk Setup – 20 Inspiring Tours from Popular Vloggers
It's important that the tower is ventilated so both ways work. But the desks are usually large enough for at least two monitors, which is why they are often corner desks that are twice as long as standard desks.
Standard Desk Dimensions: Credenza Desk
Dimensions: Varies, but oblong and bulky
A credenza desk is used as a place for storing and organizing papers associated with the office. It isn't often used by one particular person but by multiple people. It contains files and keeps things tidy.
In appearance, a credenza desk is usually bulky and filled with drawers. On the bottom and sometimes on top like a hutch. There is usually a lot of room in many different compartments for storing papers.
Standard Desk Dimensions: Executive Desk
Dimensions: 60×30
An executive desk is closely related to a credenza desk but it is designed for one person. The boss. Executive desks are large and bulky, and can even be L-shaped or U-shaped for those who need extra space.
It often is styled like an altar or podium, making it look sophisticated and impressive even though it is heavy. They are always located in the center with the front of the desk facing the door so those using the desk and see people enter.
Standard Desk Dimensions: Secretary Desk
Dimensions: 30-40 by 15–20 inches
A secretary desk is an old writing desk with drawers, with at least one of them empty and flat. The flat drawer can be pulled out and used as a movable writing platform. This was invented to save space.
More often than not, secretary desks have fold-down hatches of sorts to write on. They fold down like an ironing board or a bread box cover. When closed, the drawers are covered and the desk looks neat and tidy.
Standard Desk Dimensions: Davenport Desk
Dimensions: Varies, but always similar in length and depth
You may think that a Davenport is just a fancy leather couch but it is also the style of a high-end desk invented in the 1700s. The small desk has a slanted desktop with hinges that allow it to lift up and out.
Inside the desk, there is storage space! The desk is similar to a small secretary desk with a similar antique style. The desk was named after Captain Josiah Davenport who was the first to commission the design.
Desk Chairs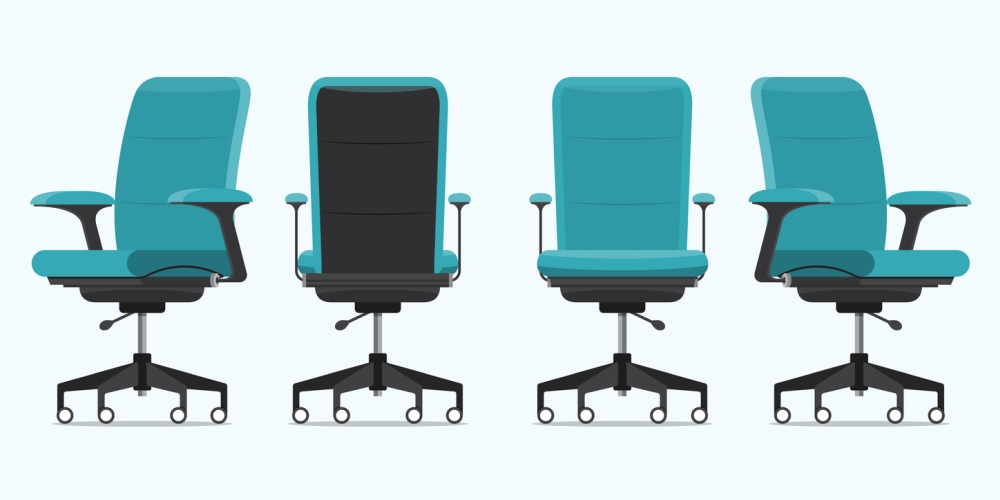 When it comes to desk chairs, the sizes of those also vary. However, most desk chairs are adjustable. The type of chair doesn't affect the size too much. Office chairs are slightly smaller than gaming chairs most of the time.
But in general, it's all about how relative your height is to the desk. That and any medical needs that may affect how comfortable you are in a standard chair. Find out what you need to focus on for your desk chair.
You may need a highly adjustable chair if you change what you're doing a lot. You might need a reclining chair if you spend a lot of time stationery and need breaks. It all depends on how you use your desk and your body.
Build Your Own Desk
Hairpin desk
One of the easiest desk DIYs we've done is with a contemporary hairpin leg desk. This amazing desk is made with nothing but a slab of wood and hairpin legs. But you can use almost any type of legs you want.
This tutorial will take you through how to make the desk in question but will also offer valuable tips on how to create a customized desk too. Use a concrete top for your desk or make the entire thing wooden.
Standing Desk Vs. Sitting Desk
We've primarily focused on sitting desks today. You can also build your own standing desk! Standing desks are wonderful if you don't like to sit down all day or if you have a kitchen island that you want to use as a desk.
A standing desk works great for people who share a desk too. You can have plenty of room and as long as you don't use your desk for hours at a time, it is actually healthier. If you do stand too long, consider a barstool for a backup!
Finding The Right Desk
Finding the right desk for you isn't all that simple. It's easy to get taken away by styles and pretty colors, but there's more to it than that. It's important that your desk fits your lifestyle and your body style.
You can't use a 24-inch desk for a seven-foot-tall person. But you can't use a Davenport desk for gaming either. So you can't simply go by looks. Shop for the type of desk you need and get the right standard desk dimensions too.
If the standard desk dimensions don't suit you then feel free to adjust them. Build your own desk or find one that almost fits the dimensions that you want and work with it. If you are on the computer much, a good desk is crucial to your quality of life.