Small Modern Houses With Clever And Inspiring Designs
When it comes to houses, the smallest ones are perhaps the most interesting. The limitations definitely pose a lot of challenges but it's very interesting to see how the architects and designers overcome them and come up with cool and original build strategies. The following projects also show that a small modern house can be just as complex and beautiful as a massive mansion. Let's see what amazing designs we can discover today.
Beautiful small modern house design ideas
Small tower house in Tokyo
This house is located in Tokyo, Japan and was designed by studio Unemori Architects. As you can see, it has a very small footprint and it's super close to its neighbors. The whole site is 34 square meters across and the house has a 4m x 4m footprint placed right at the center. To make up for this, the architects designed the house like a tower. It's 9 meters high and inside it's structured into several floors. The rooms are small and some of them have huge windows that let light into the whole house and expose key areas to the exterior.
The Hüga house
This small and modern-looking house is called Hüga. It was designed by studio Grandio and it's a prefabricated structure which has been optimized to be welcoming, practical and comfortable without having a cluttered interior. It offers 45 square meters of living space in total and it's very versatile. It can become smaller or bigger based on the needs and requirements of its inhabitants and it can be customized in many different ways. What makes it very convenient is the fact it features a very lightweight shell which, once transported on site, is reinforced with concrete. This small house can be installed in only one day and doesn't even need a foundation.
The River Side House
You don't need anyone to tell you that this is a very special house. As you can see, it's very narrow and that's due to the fact that it sits on a tiny piece of land that's shaped like a triangle. Not many would even think to build a house here but studio Mizuishi Architect Atelier managed to complete this amazing project. The house is located in Horinouchi, Japan. Inside there's obviously not a lot of space but it's been very cleverly compartmentalized. There's a lovely kitchen and dining area that have a high ceiling, a living area at the center with big windows and a balcony, a loft with skylights and a nice view towards the river and even a spare room.
A small house on the coast
Hadar's House is a project developed by studio Asante Architecture & Design. This small house is located on the coast of Stokkøya in Norway, very close to the water and right in the middle of some rugged but very beautiful terrain. A has an amazing view of the neighboring islands and it's a very peaceful little retreat. Its interior is very inviting. The entryway has a quirky colorful coat rack on the wall, space for bike storage and a tiled floor. The main living area is cozy and welcoming, with teal kitchen cabinetry, wood-lined walls and big windows. The lofted bedroom can be reached via a ladder and has a sliding barn door.
Small cottage on Vega island
Can you imagine living on this gorgeous island? The landscape is amazing, with mountains on one side and the sea on the other. It's here, on Vega island in Norway, where Kolman Boye Architects built this lovely cottage house a while ago. It's designed like a cluster of huts or cabins, a design which has been optimized for the climate and the conditions on this site. The huts shelter and protect one another and they also complement each other in a beautiful and wholesome way. The interiors are bright, stylish and modern, not really what one would expect given the traditional wood-clad exterior.
Tiny house on pillars
This house from Los Angeles occupies a plot that's merely half the size of those of its neighbors and it's not just because it's small. The design created for it by studio Anonymous Architects is a very clever one indeed. They raised the house off the ground on a set of concrete pillars. This way it has very little impact on the land, occupies a smaller plot and it also gets to look over the hillside which the other houses have as a backdrop. The interior is quite interesting as well. Rather than dividing it into many small rooms, the architects to only include three main areas: a spacious living room, a bedroom and a bathroom.
A small holiday retreat in the Alps
This is a really beautiful little house which can be found in the Swiss Alps. It's surrounded by amazing landscape and has a spectacular view over the mountains. It was built here by Hurst Song Architekten who took advantage of the terrain. They had this small house partially built into the slopes which really helps it to blend in and to feel very grounded in this beautiful landscape. The exterior is clad in black-stained timber and the slightly asymmetrical roof is made of copper which gradually changes color and gains a beautiful patina over time.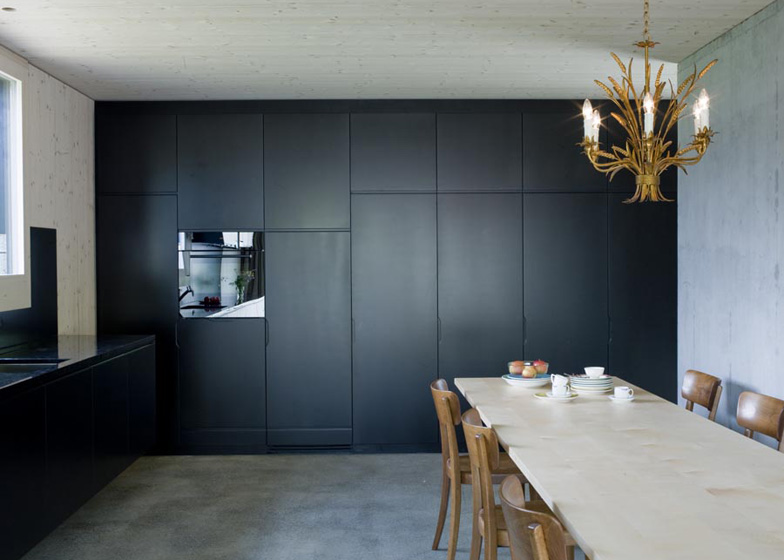 A tiny house on a sled
Something you can definitely not do when designing a big house is have it built on a sled. It sounds strange and funny but it's true. This small house designed by Crosson Clarke Carnachan can actually be towed off the beach if there's even any danger of erosion for example. It was after all built built in a designated erosion zone on the Coromandel Peninsula in New Zealand. All the buildings in the area required to be removable and this definitely meets the requirements in a really cool way. It's not just that, but the house also has an interesting and modern design with huge shutters which can be closed to completely hide the glazed facades and to turn the building into a box.
The House with Gardens
This is called House with Gardens and it's a small modern house with a cool-looking but also simple design on the outside and a very interesting interior. This was designed by architect Tetsuo Kondo and is located in Yokohama, Japan. It takes up a small plot very close to its neighbors which doesn't really leave room for outdoor spaces. However, that's where a lovely surprise comes in: every room inside the house leads to a small interior garden. It's as if the outdoors has become a part of the interior design. The house has skylights, big windows and sliding glass doors which fill it with sunlight and beauty.
A small pavilion house
This small house in a lovely town called Rye in Australia. It was recently renovated by studio SJB and the team gave it a modern, Japanese-inspired design using natural materials and taking advantage of the beautiful landscape and all the greenery that surround the house. The glazed facade opens up to a small patio and you can see straight inside, into the inviting living room which has a comfy sitting area complemented by a fireplace and a colorful rug. All the other spaces are just as quirky and welcoming and have easy access outside.
Minimod Catuçaba
This minimalist structure is a beautiful retreat located in a remote area of Brazil. It was a project by studio MAPA and it has a minimalist and contemporary design which contrasts with the natural surroundings but also takes full advantage of the views and the scenery. It's a prefabricated structure which was built in a factory new Sao Paulo and each individual modules was then transported here and installed on site. The modules are facing in different directions which allows them to capture gorgeous views and to take advantage of the sunrise and sunset.
The 12.20 House
Another quite interesting house of small proportions can be found in Campo Grande, Brazil. It was designed by architect Alex Nogueira and it has a very clean and simple geometry which emphasize its modern design. The rear facade features a huge glass door which opens it up to a deck and to the garden. The front section of the house is in comparison closed off and that's intentional for two main reasons: added privacy and protection from the sun. Concrete and metal are the two main materials used throughout this project and this gives the house a modern-industrial aesthetic which actually suits the area perfectly.
The Rolling Huts
This is not just one small house but a whole series of small houses. They were designed and built by studio Olson Kundig and they can be found in Mazama, US. They all have identical designs defined by a small footprint, a small open deck and an angled roof which sits at an angle and appears to be floating over the actual house. This effect is created using glass. Also, these cool-looking huts are raised from the ground and they have small wheels which means they can be moved around. This unusual design solution was chosen in order to allow the land to return to its natural beauty and for that to happen the houses had to have as little impact on it as possible.
The tiny KODA house
Meet KODA, a tiny house designed by studio Kodasema. It's located in Tallinn, Estonia but it is in fact designed to be movable. As you might suspect, this is a prefabricated house which means it can be installed pretty much anywhere. It's also a smart house with built-in technology which allows it to learn from its surroundings and to adapt to them. The design is a very simple one with a box-like shell and a fully-glazed facade which exposes the compact interior to the outdoors and lets in natural light. Its minimalist aesthetic allow it to be very versatile.
The Portable Home ÁPH80
There's also another really cool and small house that we'd like to show you today and it's a project created by studio Ábaton Arquitectura. The house measures 27 square meters across and it's designed to be transported to the desired location and ready to be installed just about anywhere. It has a simple design and a sturdy construction and inside there's enough space for a living room, a small kitchen, a bedroom and a bathroom. It has a gable roof which creates a nice airy feel inside and its exterior is simple and neutral which allows it to blend into most types of surroundings.