Shower Floor Ideas That Reveal The Best Materials For The Job
When designing or renovating a bathroom with a shower, some things require special consideration. The shower floor is one of them. We're referring mostly to the material it's made of. It needs to be able to withstand the constant moisture in the room, to be easy to clean and to also look good. Given these requirements, the options are limited but, even so, there are plenty of shower floor ideas to choose from.
Marble Shower Floors
Marble gives a luxurious look to any space it's used in. As a shower floor material, however, that comes with a price. Marble scratches and chips easily so it might not be the best option in this case. In addition, it's a porous material which can be easily damaged by certain substances and you need to choose your cleaning products and toiletries carefully. Then there's also the price which might discourage some, compared to other materials.
Wood floors
Because the bathroom and the shower in particular is such a humid environment, it can be quite tricky to introduce a wooden floor here. Nevertheless, it can be done and it looks extraordinary. Some types of wood and better than others.Teak wood, for instance, contains a resin that makes it naturally water-resistant. Still, you should make you have a proper draining system to avoid unnecessary damage.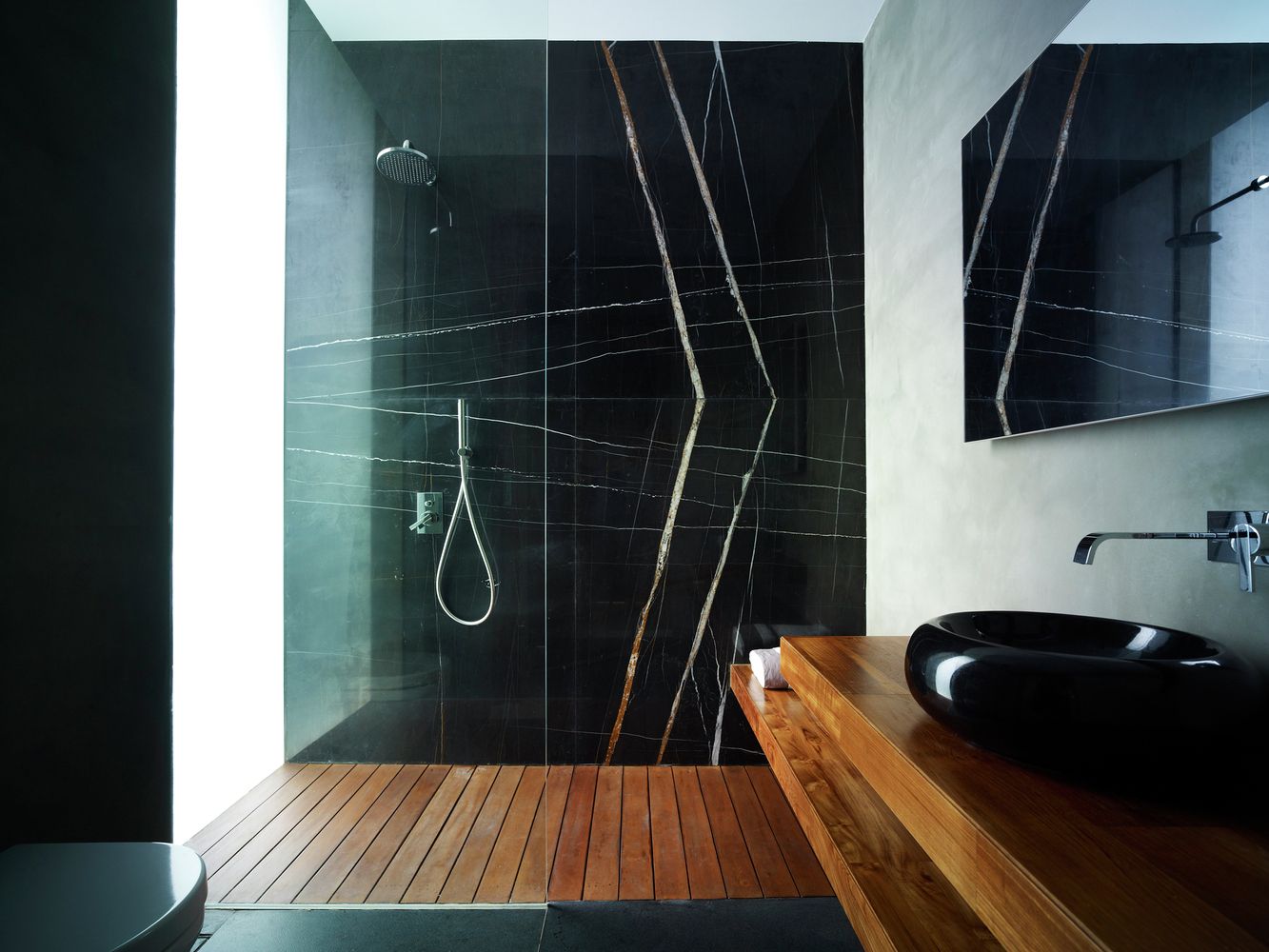 Pebbles
Just like wood, pebbles are a great option if you want to create a relaxing, spa-like atmosphere and decor in your bathroom. They're also ideal for outdoor showers and they present several other advantage, not necessarily related to their aesthetic appeal. For instance, pebbles are naturally slip-proof and they also feel very comfortable underfoot.
Porcelain
The pros definitely outweigh the cons in the case of porcelain as a material for shower floors. First of all, porcelain tiles are durable and water-proof which is already enough to make them a great choice for bathrooms. In addition, they're very versatile and they come in lots of different shapes, sizes, colors and styles. However, they can be pretty slippery if they don't have a textured surface so you should definitely keep that in mind.
Concrete
Concrete is one of the best materials when it comes to shower floors. It's a porous material and this gives it a lot of traction. However, the same thing allows it to soak up a lot of water and to avoid that you need to make sure that a concrete shower floor is properly sealed. They being said, you can't really go wrong with a sealed concrete floor. It's simple, easy to clean and very versatile. Moreover, it introduces a lovely texture and color into the decor.