Sherwin Williams Pewter Cast Makes Any Room Feel Sophisticated
Sherwin Williams Pewter Cast is a sophisticated hue that makes a room feel cool and sleek. The silvery-gray color makes a stylish addition to any room. Far more versatile than you might think, it's great for exteriors as well as interiors.
What color is Sherwin Williams Pewter Cast?
Sherwin Williams Pewter Cast (SW 7673) looks a lot like what the name suggests. It's a muted shade of gray that trends toward the cool end of the spectrum.
This gray color has a Light Reflectance Value (LRV) of 31.83. The LRV is a scale that runs from 0 to 100. The brightest white ranks at 100 and at the other end, absolute black ranks 0.
The higher the number the more light the paint reflects. This means Pewter Cast is darker and more saturated than most popular gray neutrals.
Color Undertones
Some people say that Pewter Cast is a mid-tone gray. This is true because while it is darker than average, it's not super dark.
It trends toward a true gray however it does have subtle blue undertones. In many cases, it takes on a steely look.
Ideas for Painting with SW Pewter Cast
There are some great ways to use this darker neutral gray paint color. It adds an instant air of sophistication to a room.
This is true whether you paint the walls, the cabinets or the exterior of the house.
Check out these wonderful examples.
Bathroom with a Cool Mood
With lots of white tile and just one modest window, this bathroom already has a colder vibe.
Painting the upper part of the wall with Sherwin Williams Pewter cast elevates the basic space and adds a chic feel.
…Or a Zen Vibe
You can also achieve a Zen-like vibe in a bathroom with walls painted in this darker gray.
This spa-like space is minimalist and serene thanks to the gray elements in the space. The walls. floor and cabinets make a wonderful monochrome combination.
Allover Look
Speaking of monochrome, this hallway gets it right too. The designer painted the walls, trim, doors and baseboards all in Pewter Cast.
This is a great idea if you have colorful art that you want to highlight. The paint also matches well with the modern stair railings.
Crisp Dining Room
Farmhouse colors are often lighter but this darker gray also works well. The hue elevates this dining room look.
Plenty of natural light and lots of white trim and wainscoting keep it cheery but still neutral.
Exterior Style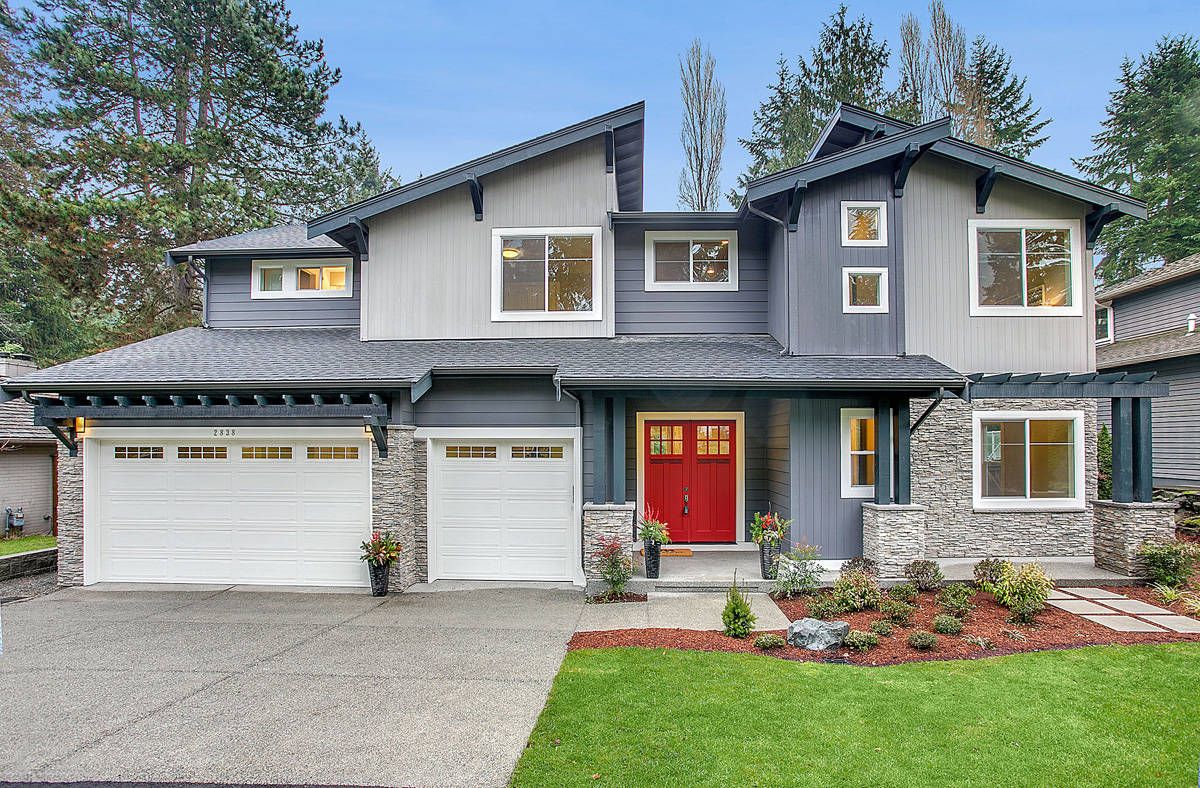 This contemporary home exterior uses multiple shades of gray, including Pewter Cast Sherwin Williams on the vertical siding.
White trim and a pop of bright red on the front door create a fabulous curb look for this house.
High Contrast Curb Appeal
This house takes advantage of the great contrast between Pewter cast and pure white trim. The black door adds a darker element without changing the vibe.
You get lots of curb appeal with an exterior that looks sharp like this combination does.
Sleek Hallways
Pewter Cast Sherwin Williams is a little dark for most people to consider t a whole house paint. However, if you have side open rooms with lots of daylight, it can work.
Look at this hallway area. The gray color is much lighter here and the darker accent wall highlights that fact. If you want a darker neutral, this could be your choice.
Stylish Stripes
Add some interest to a gray wall with stripes of different luster.
This dining room gets extra punch from the striped wall above the wainscoting. It's a classy look that's ideal in this situation. The same thing used from floor to ceiling might be a bit much.
Accented Cabinets
Make Pewter Cast an accent in a neutral living space by adding it to built-ins.
This living room has a natural, casual vibe and the gray cabinets and shelving add an accent without disturbing the mood.
Neutral Kitchen
Sherwin Williams Perter Cast also makes a great accent color for a neutral or all-white kitchen.
The island in the space adds dimension as well as a darker shade to the overall color palette.
Bedroom Beauty
This eclectic bedroom looks great with walls painted in the darker gray hue.
There's enough light to keep it from looking too dark and it pulls together all the other colors of the bedding and art. It's a perfect neutral for spaces that have varied colors and elements.
Porch Perfect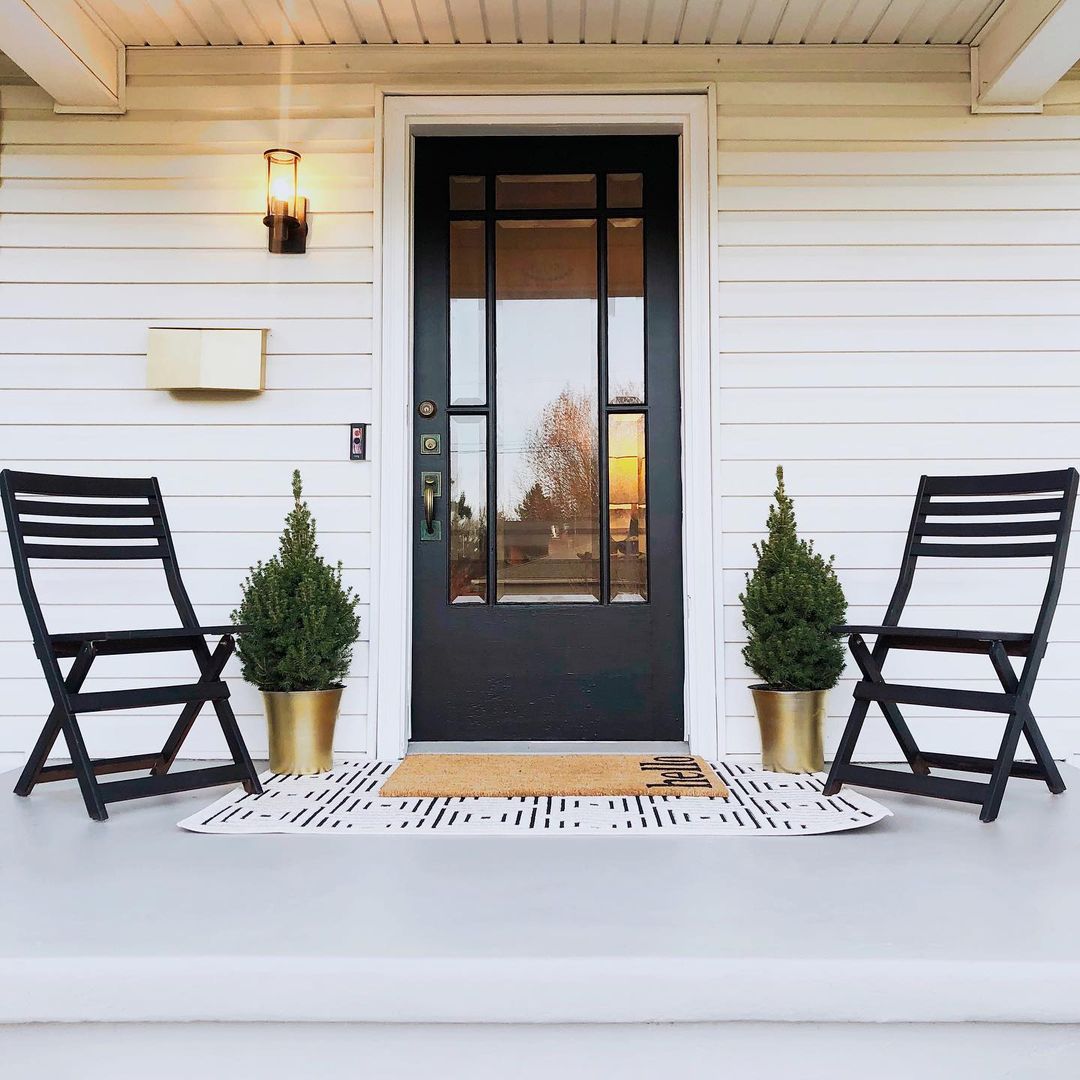 Pewter Cast adds just the right touch to this black and white front porch.
The homeowners painted the concrete and steps gray, which looks quite bright in the bright daylight. A little gray always matches a classic black and white palette.
Frequently Asked Questions (FAQ)
FAQ
What color is Sherwin Williams Pewter Cast?
This Sherwin Williams paint color is a muted, cool shade of gray. It can look quite light in bright sunshine and trends darker in dim lighting.
Is Pewter Cast a warm gray?
Pewter Cast Sherwin Williams is a true gray that trends cool. If you want a warmer gray, consider Revere Gray.
Which is darker charcoal or pewter?
In general, Pewter is a lighter color than charcoal.
What color compliments pewter?
Shades of yellow work well with pewter because it is a good contrast to the silvery hue. These accent colors also warm up a space painted in pewter.
What does pewter gray look like?
Pewter is gray but the specific look can be anywhere from gray to silver. Most pewter paints have cool undertones at are blue, or green. However, you can find some that have warm undertones of beige.
Conclusion
Sherwin Williams Pewter Cast is darker than most of today's popular shades of gray. Nonetheless, it is a versatile neutral that works in most homes. And, it could even function as a whole house paint in the right situation.