25 Kids and Teens Beds that Transform the Ordinary into the Magical
I read somewhere that childhood is inherently magical. I believe that – that the imagination, fresh outlook, and wonder of a child creates magic out of what, to us grownup types, is the everyday and ordinary. But for those who want to rocket the magical factor of their kid's childhood into orbit, there are ways, of course. And those ways may or may not begin with giving them the kids bed of their dreams.
And then there's the issue of the not-quite-grownup-but-wanting-to-be teen's bed. Here are 25 fantastic and ingenius beds for kids and teens (boys and girls alike) to aid those kids bedroom design plans.
Campout Central.
What kid doesn't love sleeping in a tent? Recreate the magic of tent-camping with a flap door and pink canvas tent-like look. This is a perfect setup for slumber parties and regular sleeping alike.
Nautical Bumpers.
For an idea to maintain a young child's safety and also the room's style, bumpers attached to the sides and top of the bed frame are ingenius. This concept would work particularly well for the young child transitioning from toddler bed to twin.
Train Lover.
Sure, anyone can go out and buy train sheets for their little train lover. There's nothing wrong with that, really. But imagine the delight of a future train conductor who gets to sleep in a bed that's shaped like the engine itself! (And I spy a small storage chest at the head of the bed, which makes a bed like this a dream come true for mom and kid alike.)
Porch Sittin'.
Crickets, rocking chairs, creaking floorboards, maybe a guitar or harmonica. These are the sounds of an ideal front porch experience. Add some rainbow lights and throw in a mattress and pillow, and this mock-up front porch "bed" is magical and neighborly. (And how perfect are those roll-down window coverings and deer statue?!)
Hot Rod Racer.
For the speed demon in your life, a red racecar bed is just the thing. I love the idea of racetrack paint on the bedroom floor and raceday motif on the walls in the form of wallpaper. Lighting would be key in a fast-paced room like this, though, as you'll want to make sure you can dim the lights when it's time to downshift into bedtime.
Desert Dreaming.
A simple platform-like bed frame allows for a variety of styling options, and this version is inspiring. A rush-colored headboard with stuffed animal pocket is creative and sweet. White bedding is easy to care for (hello, bleach industry). And a few colorful pillows can be used on the bed itself or around the room, as seats, hot lava reprieves, or any number of things.
Double Trouble.
In a bedroom that sleeps two but where bunk beds aren't the best option, this setup is a contender for the win. The beds are nearly identical in look, and their muted, soft hues work beautifully with the muted aqua wall. Built-ins give the appearance of a headboard but allow the space to be as functional as it is lovely.
Treehouse.
One strategy for infusing a theme or concept into a space without actually building that thing (such as making a bed feel like a treehouse instead of building an actual treehouse) is to use your wall space creatively. Painting a tree or attaching a decal near a raised bed, for example, makes the space feel like a magical mattress in the trees…but without the mosquitoes and chilly nights.
Royal Rest.
You don't have to address her as "Your Majesty," of course, but you can treat her like royalty with a ceiling-height curtain drapery. It doesn't take up any extra bedroom space, and it negates the need for a headboard, so this kids bed idea gets a lot of visual bang for its real estate buck.
Daybed Bunks.
Built-in bunk beds are not only a great way to maximize space in a kids' bedroom, but they are also a fun setup for the kids themselves. Children on top and bottom bunks have their own special space, including reading lamps and shelves, but they can also talk and laugh with each other, deepening bonds that will last a lifetime.
Canopy Queen.
An airy, almost ethereal mosquito netting canopy, ceiling mounted and draped over the bed, makes a young girl immediately feel like a queen. Stylistically, the canopy also provides a vertical emphasis, making the space itself feel airy and more spacious.
Space Mission.
It's amazing, really, what some paint and a few knobs or dials will do on a kid's bed, as evidenced by this particular spaceship replica. Notice the turbine-supported nightstands and the mural wall. Details like this can transform even the simplest of bed frames and even bedding into an exciting outer space experience.
Bold & Blue.
For the child who has a decided favorite color, a wooden bed frame might be the ideal way to turn that color into the bedroom's palette foundation. A raised loft bed also provides limitless possibilities for the space underneath; it can be a desk, as is seen here, or a fort, or a play room, or a book nook.
Ahoy Thar, Pirate.
You're only young once, of course, so you may as well make the most of it. That's what this authentic-looking pirate ship bed says, anyway. Keep in mind that imaginative kids' beds don't mean reality is shoved aside. Drawers are incorporated into the "hull" area, because kids will still have clothes and toys and miscellaneous. Even pirate kids.
Orange You Stylish.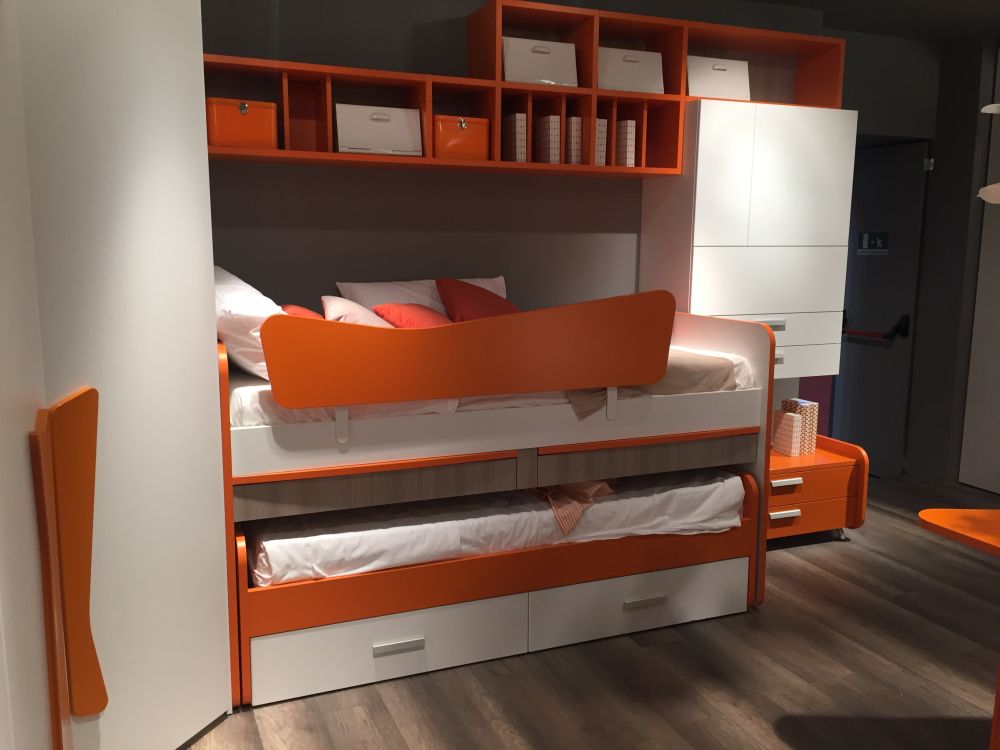 One simple way to increase the fun factor of children's beds is to make them bold and colorful. A warm orange, for example, contrasts beautifully with (and is balanced nicely by) the wall's grey and pops of white. But orange is used to highlight important design aspects of this bed and makes it a completely inviting space to hang out.
Modern Seabreeze.
You can achieve a contemporary calming, coastal effect in a kids' bedroom even without sand dollars and sea stars on the walls simply by choosing a sea-inspired duvet. This unique setup of bunk beds makes the bedroom feel individual and custom, plus a ladder makes everything awesome (unless your kids are super young; then the ladder just makes things scary).
Sweet Preteen.
Teen beds can be a little tricky, to catch the transitional life phase just right. But they can also be surprisingly simple if you don't overthink it. A ballet slipper pink accent wall gives the headboard wall a nice, albeit sweet, edginess, and oversized polka dot bedding makes this simple, slim bed design with floating nightstand an attractive bed that's neither too young nor too old.
Teenage Boy Bed.
The simplest of twin sized bed frames in some masculine colors is perfect for the teenage boy. Plus, a little mustard yellow in the bedding keeps the dark blues and greys from feeling cold. Placed against a light exposed brick-inspired wall with some surrounding floating shelves for convenience, this bed works for the boy-who-is-becoming-a-man.
Study Hall Bed.
For the teenager who needs to study, who enjoys studying, or who simply wants to look studious at some points during her evening, a raised loft bed with computer desk setup underneath is an excellent choice. This is also an efficient use of space, as multiple tasks can be completed within one real estate "footprint."
Conservative Glamour.
A scalloped upholstered headboard is a spot-on way to nod to a girl's growing up without her actually being an adult. This particular headboard wins with its white framing against a darker wall, as the silhouette is accented nicely. Colors are greyed out and muted, keeping at bay the tendency to pair glitz with glamour.
Punky Daybed.
For the young teenager whose favorite hangout spot is her bedroom, a daybed (which, essentially, is a bed that also doubles as a couch of sorts by day) is a great style solution. This contemporary version keeps clean lines for the space, and textured throw pillows add youthful color and comfortable options for those hanging out tweens.
Low Profile Bed.
For some teens whose families inhabit homes that are short on bedrooms, their bedroom must double as a guest bedroom as well. This can be tricky for the teenager who wants his/her own space but must adhere to parental approval. A queen-sized bed with a low profile is pretty versatile in its aesthetic. It looks casual and cool for the teen and can look contemporary and inviting for guests.
Hot Mess.
Anytime you can program "messy" into the design of a teen's bedroom, do it. (Because, for many teens, that's how it's going to look anyway!) This bold red bedding in the corner of the bedroom gives a great energy to this urban-feeling space. Graffiti and/or wall art mural-age near the bed itself makes the unmade bed actually look styled. This free pass has got to be magical to most any kid.
Orderly & Extraordinary.
Some teens thrive on order and organization, however, and their bed should reflect that. This bed incorporates a variety of blankets in coordinated hues, shown in rather exact stripes across the bed, to maximize visual structure. Several pillows tossed at the head of the bed can be easily straightened if desired.
Geometric Bubble.
This intriguing bed frame provides so much possibility for customization in a teen's bedroom. The curved frame can be the foundation of a fort for secret club meetings, or it can simply be a great arch in a room where most furnishings are happening at waist level or below. Either way, it's unique, and that's a win for most any teen.