White IKEA Dresser Hacks And Transformations
There's a whole bunch of reasons why we love IKEA products. Mainly it's because of their versatility and the multitude of possibilities they offer when it comes to repurposing or transforming them. White furniture is especially versatile and easy to work with. This is why today we focused on this crisp color.  Something as simple an IKEA Rast chest can offer a multitude of makeover and hack options and the same thing can be applied to a lot of other dressers, whether they're already white or have to be painted.
A very inspiring makeover is shown on Inmyownstyle where an IKEA Tarva Dresser is transformed into a very cute and very stylish desk. If you want to reproduce the look, use a set of desk lip support hinges, 4 rubber caster swivel wheels( one with brake), 16 screws and washers, 12 label pulls, some white and black polka dot cloth, white and blue paint and some brass nail head tacks. You'll get a desk that looks chic and is super practical to use.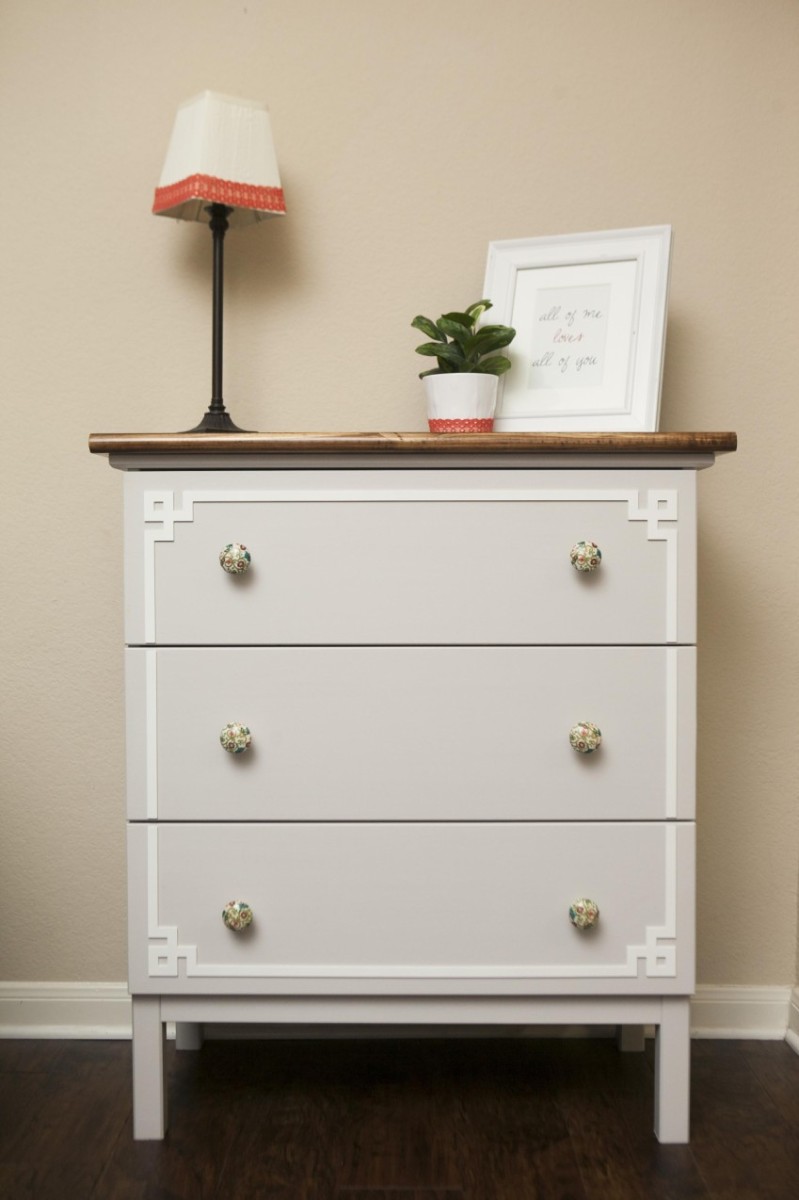 Ikeahackers also feature a stylish makeover of the same type of dresser. The first step in reaching this new look is to paint the dresser gray with a satin finish. Then decorate the drawers with overlays and add new knobs. A stained pine top completes the new look.
Jen of Cityfarmhouse shared a simple and quirky makeover of an unfinished IKEA dresser that was transformed into a bar. Casters were added to make it easy to move the bar outdoors whenever needed. The dresser was first painted and then decorated. New hardware and bar accessories were added and the final result is original and really beautiful.
An identical unfinished IKEA Tarva Dresser was also used by Christy on 11magnolialane but, in this case, the dresser didn't change function. It just became a lot more beautiful and stylish. First it was painted white and then golden Greek key overlays were added to the drawers. The knobs aren't the original ones either.
Although the style is different, the Tarva dresser we found on Thriftyandchic is just as inspiring and chic. The unfinished dresser was painted white except for the drawers. These got a grayish brown finish. Once they were dry, stencils were used to add some character to the knobs using spackle. Molding was also added to the drawers.
Here's another version of the Tarva dresser, this time ready to become a beautiful part of a bedroom's décor. We found this project while browsing Designsponge and we learned that the transformation is pretty easy if you have some time. First get a dresser, some primer and paint in satin finish, tapered legs, some plywood and Danish oil. Don't stop until you're happy with the new look.
The Tarva dresser is also available in a 6-drawer version and guess what? These are tons of ways in which you can give these ones a makeover as well. For example, we found a lovely idea on Thepintopony. Here, the white dresser was given new drawer pulls. They're brass pulls with a classy and simple design and they go really well with the dresser.
Sarah and Ben shared on their blog Sarahbenblog a really pretty makeover project featuring an unfinished 6-drawer dresser from IKEA that was transformed into a white and gold credenza. After sanding and painting the dresser white, they added overlays which they had spray painted metallic gold. What a lovely piece for the hallway.
Given the size of the Tarva 6-drawer dresser, this piece could be easily transformed into a kitchen sideboard or even into a kitchen island. Actually, this is exactly the idea shared by Dusty Rogers on Allthingsgd. The dimensions of the dresser made it an ideal candidate for the space behind the living room couch. So after painting it white and adding a dark-stained top, the dresser was ready to become a kitchen sideboard. New drawer pulls completed the look.
Here's how you can give your Rast dresser in 7 easy steps, as shown on Stylemepretty. First, fill the drawer pull holes and sand down until smooth. Then paint the front and the sides of the top and kicker with adhesive and after 10 minutes press on gold leaf. Paint the rest of the pieces white, first with primer and then with lacquer paint. Line the grass corners and secure them with screws. Then add the handles and, at the end, erase the pencil marks and assemble the dresser.
The IKEA Malm dresser is famous for its versatility and Homeyohmy shows us how it can be given an elegant makeover. It all started with a black dresser. The front and the sides were spray painted white and when it was all dry, brass corners were screwed on. They were first spray painted gold.
We also found a different type of makeover for the same dresser on Cheapcopycat. For this one, you need overlays, mirror cut the desired size and adhesive. After you flip the dresser on its back, glue the mirror pieces to the drawer fronts. Put something heavy on them and wait at least 24 hours. Then add the overlays.