How To Turn A Plain Mason Jar Into A Beautiful Frosted Glass Vase
Mason jars are super useful and versatile in a lot of different situations. One of the most common uses for them is as vases. It's so easy to just fill a glass jar with fresh water and put your beautiful bouquet of flower in it but that doesn't really look that beautiful, does it? A few little decorations can totally help with that. Today you'll learn the basics of how to make frosted glass vases. Let's get to it!
The materials you'll need to make a frosted glass vase:
mason jar
paintbrush
stencil
scissors
silk ribbon
opal gel (you can get this on amazon)
small butterfly decoration
How to craft a frosted glass vase:
Step 1: Wrap your stencil around the jar
Before you actually do this, we should mention you first need to clean the mason jar and to make sure you remove any labels or glue that might still be on its surface. Then take your stencil and wrap it around the outside of the jar.
Step 2: Start applying opal gel with your paintbrush
Keeping the stencil in place with one hand, dip the paintbrush in opal gel with your other hand and start painting the jar. We chose to create this polka dot pattern so we made sure to paint inside each little circular hole in the stencil.
Step 3: Reposition the stencil and continue
We had to reposition the stencil a few times in order to decorate the entire surface of the jar. When you're done with one section, gently remove the stencil and reposition it so you can continue with your pattern. If you can find a stencil that wraps perfectly around the jar that would be excellent but this method is pretty easy as well in any case.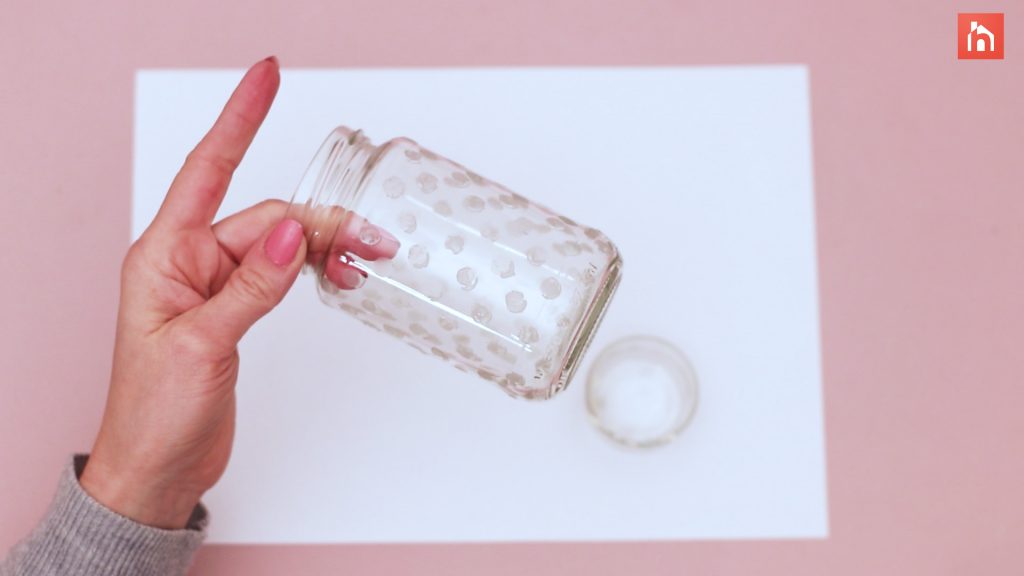 Step 4: Wrap a piece of silk ribbon around the mouth of the jar and secure it with glue
Measure and cut a piece of ribbon that you can then wrap around the mouth of the Mason jar. The ends should overlap slightly. Then apply little dots of hot glue on the glass and gently press the ribbon on top so it sticks. Try to make it look smooth and level.
Step 5: Glue the butterfly decoration onto the ribbon
The very last piece of the puzzle is the little butterfly decoration. Apply a little bit of hot glue onto the ribbon and then place the decoration on top, pressing down gently so it sticks. Now you've successfully transformed a plain and simple Mason jar into a lovely frosted glass vase.