25 Good Housewarming Gifts
When a friend or family member moves into a new house, it's customary to bring a small gift to celebrate the achievement. You can bring the gift to a housewarming party or when you visit their new home for the first time.
The average price range for a housewarming gift is between $20 and $50, although you can spend more on those you have a close relationship with. To find the perfect gift, consider the recipient's interests, needs, and lifestyle.
1. A Money Tree
View on Amazon
View on Homedepot
Houseplants are a good housewarming gift idea, and The Money Tree is a top choice. It's an easy-to-care-for plant with a unique design featuring a twisted trunk and lush leaves. The Money Tree is a common plant in Feng Shui to bring luck and prosperity.
---
2. A Ring Doorbell
View on Amazon
View on Target
Gift safety with a video camera doorbell. Ring Doorbells, or similar models, are easy to install, allowing users to see and speak to people from their connected phone app. The app also provides notifications anytime the sensor engages or someone rings the doorbell.
---
3. Dutch Oven
View on Amazon
View on WayFair
An enameled cast iron Dutch oven is a good housewarming gift for those who enjoy cooking. These pots come in several colors and price ranges. They're a high-quality gift that will last for years to come.
---
4. A Housewarming Candle
View on Amazon
Candles are a welcome gift, and this one is unique to those who've just moved into a new home. The "Good Vibes for Your New Place" candle has a stress-relieving lavender scent and 45-50 hours of burn time.
---
5. Rachel Ray Cookie Sheets
View on Amazon
View on WayFair
A set of high-quality cookie sheets like these from Rachel Ray will last for years. These pans are ideal for those who love to bake or young adults with limited kitchen supplies. The nonstick cookie sheets come in a set of three and in five different grip colors.
---
6. Acacia Serving Tray
View on Amazon
If your giftee loves hosting parties, consider a serving tray like this one made of Acacia. It's solid wood and features handles for easy transport. It also doubles as an ottoman or bedside tray.
---
7. A Set of Hand Soap
View on Amazon
Gift this Raw Sugar hand soap set to those who enjoy "green" products and like fruity scents. The four-pack includes fragrances like lemon sugar, watermelon fresh mint, coconut mango, and pineapple berry coconut.
---
8. A 2.6 qt Air Fryer
View on Amazon
View on WayFair
Anyone who doesn't have an air fryer is missing out on easy and delicious food, which is why this 2.6 qt Air Fryer is the perfect gift. It's under $50, features a digital display, and comes in fun colors like aqua, red, white, gray, and black.
---
9. Acrylic Fridge Calendar
View on Amazon
Give the gift of organization with this acrylic fridge calendar. It's magnetic, so it can stick anywhere on the fridge, and it comes with a monthly and weekly planner. It also includes six dry-erase markers, an eraser, and a storage container for the markers.
---
10. Pretty Casserole Dishes
View on Amazon
If you're going to gift cooking items, choose high-quality or fit them into the aesthetic of the giftee. These pretty casserole dishes are available in pink, dark blue, and light blue. They come in a set of three sizes, perfect for making casseroles, lasagnas, and cakes.
---
11. Modern Boho Coffee Mugs
View on Amazon
View on Official Site
These coffee mugs feature a thick ceramic that is microwaveable. The large size is perfect for cappuccino or latte lovers, and the neutral but modern design fits most home styles. The four-pack includes assorted neutral colors.
---
12. Himalayan Salt Lamp
View on Amazon
View on Etsy
Some believe Himalayan Salt Lamps purify the air, while others just like how they look. If your giftee is into natural remedies or green products, consider this Himalayan Salt Lamp Globe. It has a unique three-layer design and a 5" diameter.
---
13. Silicone Pot Holder Set
View on Amazon
View on Walmart
These silicone pot holders feature grippy silicone on one side and cotton on the other. They are heat-resistant, machine washable, and neutral enough to fit with all decor. Combine these with a baking dish, and you'll have the perfect housewarming gift idea.
---
14. Cotton Throw Blanket
View on Amazon
Give the gift of comfort with this cotton weave throw blanket. It comes in fifteen colors and is also available in sizes for queen and king beds. Even though the prewashed cotton looks expensive, this throw blanket is less than $30.
---
15. Bluetooth Speaker
View on Amazon
View on Official Site
Bluetooth speakers are great for playing music or podcasts while cleaning or baking. The Doss Soundbox Pro has stereo sound quality, built-in LED lights, and a waterproof design.
---
16. A Cake Stand
View on Amazon
View on Walmart
Cake stands have risen in popularity thanks to their multiple uses. Consider a high-quality cake stand with glass construction and a dome if there's a baker in your life.
---
17. Mason Jar Bird Feeder
View on Amazon
Sometimes, bird feeders don't make it during a move. You can gift your bird-watcher and nature-loving friends this Mason Jar Bird Feeder. It features an antique-style glass top and metal bottom for long-lasting construction.
---
18. A Crock Pot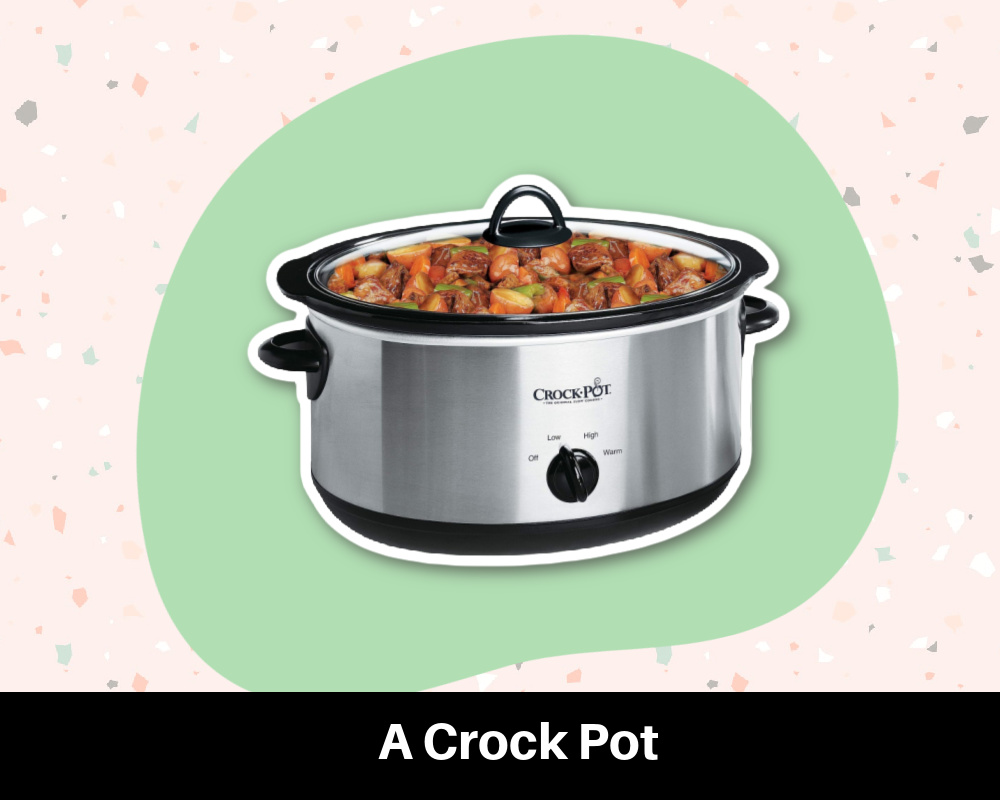 View on Amazon
View on WayFair
Help busy professionals get a meal on the table with the gift of a Crock Pot. You can find this one for less than $50. It features a low, high, and warm setting and has a 4.7 out of 5-star rating on Amazon from over 26,000 buyers.
---
19. Linen Spray and Pillow Mist
View on Amazon
View on Target
A linen spray keeps bedrooms smelling good and promotes relaxation. The Baloo Pillow Mist blends lavender, chamomile, and lemon. The formula utilizes only natural ingredients and is clean and cruelty-free.
---
20. Cocktail Shaker Set
View on Amazon
View on Walmart
Help the new homeowners create professional cocktails with this 10-piece set. It features a drink shaker, measuring jigger, cocktail mixing spoon, two liquor pours, a corkscrew, and a bamboo stand. The set is dishwasher-safe stainless steel.
---
21. Ceramic Oil Diffuser
View on Amazon
Essential oil diffusers fill the air with scents and moisture. They're a nice alternative to candles for those who prefer natural fragrances. Consider this ceramic oil diffuser with a small set of oils as the perfect housewarming gift idea.
---
22. Bamboo Cutting Board with Color-Coded Mats
View on Amazon
View on Walmart
Cut down on germs with this cutting board set featuring a sturdy bamboo base and six interchangeable plastic cutting board mats. The bamboo cutting board features mat storage, and users can toss the plastic mats in the dishwasher after use.
---
23. Blueland Clean Home Kit
View on Amazon
The Blueland Clean Home Kit comes with three reusable bottles and three tablets to make a multi-surface cleaner, bathroom cleaner, and hand soap. The natural cleaners are rated "EPA Safer Choice," making them a good housewarming gift for families with children.
---
24. Primal Palate Spice Gift Set
View on Amazon
If you know the type of food your giftee likes, consider a premium spice set like this one from Primal Palate. It features steak seasoning, seafood seasoning, and taco seasoning. Combine it with a set of wood utensils for a complete housewarming gift.
---
25. Tabletop Firepit
View on Amazon
If the new house comes with a back patio or deck, give this tabletop firepit. It features a black ceramic base and a smokeless design. It's ideal for mood lighting or roasting marshmallows in the backyard.