Use Feng Shui Earth Tones to Create Warm Approachability
Feng shui decorating, including deciding the perfect color palette for your feng shui space, can perhaps sound more daunting and intimidating than it needs to be. While there are many specific guidelines regarding the placement and position of things in your home for feng shui décor, the real challenge for the layperson in feng shui decorating is determining what, exactly, will work to create a space that is both aesthetic and functional, with plenty of opportunity for fresh, positive energy flow.
Striking this balance will often take time, perhaps a bit of trial and error, but it's ultimately rewarding. Feng shui color plays a huge role in the success of your feng shui decorating efforts. Without delving into the bagua (the energy map of your home, which plays an important role in feng shui color and placement decisions), this basic feng shui article will discuss some simple ways to use earth tones, soft tones, and other warm hues in your living room, bedroom, and bathroom décor to bring out the best of welcoming serenity.
Warm Colors in the Feng Shui Living Room
Warm colors include hues such as browns, tans, creams/ivory, and other soft neutrals. These colors are enveloping and friendly and have an immediate impact on the sense of relaxation you can feel in a space where warm colors are used. Warm colors tend to lean toward the more energetic of the neutral palette, although their neutrality keeps things relaxing at the same time.
In addition, your feng shui living room art work should be in keeping with the warm color scheme of the space as well as proportionate to the size of the wall it's hung on (e.g., smaller artwork for narrow walls, larger artwork for wider walls).
Because the living room is a social room, it tends to be a place where the family can gather to talk and simply be together. Warm colors foster a sense of camaraderie as well as welcoming. Paint the living room ceiling a lighter shade of your warm wall colors to keep the space cozy and inviting.
Vary textures and sheens, as well as the actual warm colors themselves, to keep the living room from feeling bland or boring. Remember that a good rule of thumb is that the darker the color is, the more dramatic it will feel; the lighter the warm color, the more airy and spacious your living room will look. Brighter warm colors will exude plenty of energy, so be sure to balance brights with plenty of other neutrals. This includes window treatments, throw pillows, rugs, furniture, artwork, even lighting fixtures.
Earth Tones in the Bedroom
Warm, organic colors tend to follow when feng shui strategies are used in a place. These colors include deep greens, browns, tans, taupes, creams, and warm purples. Even reading through this list is soothing, isn't it? In the bedroom, earth tones help to create an intimate, serene, and safe space, where physical AND emotional comfort is at its core.
Paint the walls, or even just one accent wall, in a rich, warm earth tone. The darker and deeper the shade, no matter what the hue, will result instantly in a more dramatic feeling in the space, so be aware of this.
Also, window treatments in earth tones help to soften the transition between bright natural light and the bedroom; luxurious, touchable textiles such as blankets and throws in similar colors will also bring out the peaceful restoration that a desirable bedroom inherently contains.
For those who look forward to the soothing, calming nature of a bedroom, soft colors in a variety of hues might be right up your alley. Particularly if earth tones don't bring you joy – don't use feng shui colors that feel wrong! Soft colors in purple, pink, green, blue, and even brown/tan can create a beautiful backdrop to a feng shui bedroom, especially a children's room.
How to Use Soft Colors in the Bedroom:
You can find a variety of fluffy, plush rugs in soft colors, as well as squeezable, velvety pillows to decorate a bedroom in soft feng shui colors. Bedding is also an obvious color choice, and textures (especially for a child's bedroom) can vary from satin to corduroy to velvet – all are touchable, and in the right soft color scheme, will work beautifully.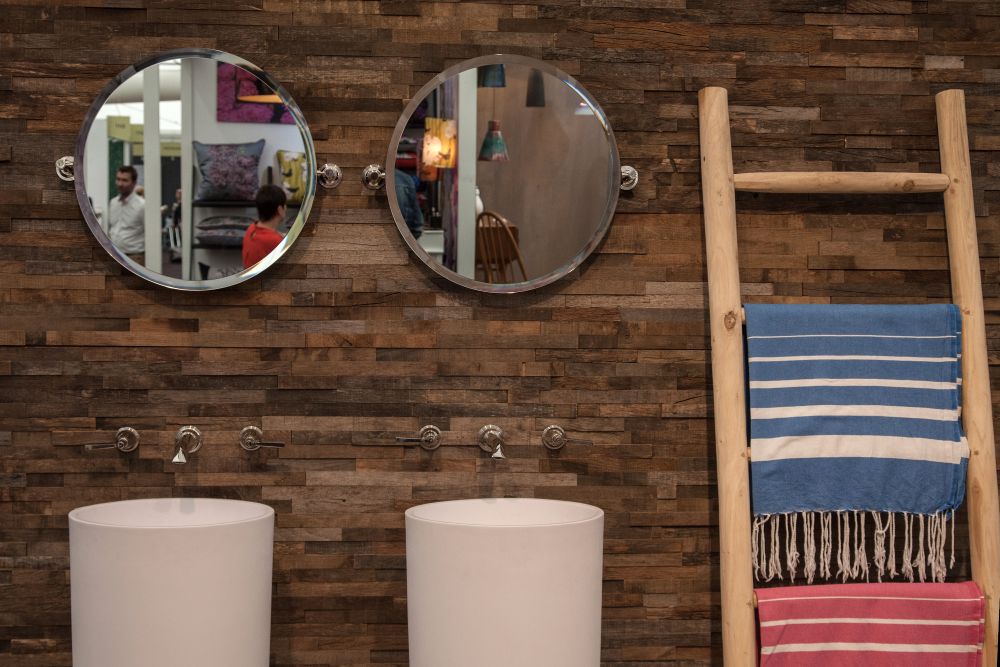 Earth Tones in the Bathroom
Due to the nature of the bathroom in general (e.g., a cold, wet place with plenty of shiny porcelain surfaces), the feng shui bathroom works well when decorated with earth tones. Many people make the mistake of using cool colors in the contemporary bathroom where blue, aqua, and white are quite common. Earth tones will help to make a bathroom feel more restorative and rejuvenating, not to mention more relaxing.
Bathrooms have plenty of opportunities to introduce any color palette via textiles, and it is here that earth tones can easily and effectively be used. Consider rugs, towels, shower curtains, and washcloths for an easy feng shui color swap. Paint, tile, and even artwork can often be changed for a greater and more restful earth tone impact.
Don't forget that earth tones can be rich, deep, and dramatic colors also. It's not only khaki and cream that qualify as "earth tones." The bathroom is often a smaller space than others and, therefore, a prime room to be adventurous with dramatic color. Even in the feng shui bathroom, rich walls in a deep green, for example, will infuse plenty of warmth and positive energy into the space.