DIY Fire Pit Ideas That Change The Landscape
There's something magical and unique about sitting around a fire pit with a group of people that you like and enjoying each other's company in a cozy environment. Wouldn't it be nice to have such a cozy setup in your own backyard? You don't even have to remodel the whole space to make that happen. You can build the fire pit yourself and this can be a nice project you can do on a weekend with some friends. As it turns out, a DIY fire pit is not such a difficult or expensive project.
If you're not yet sure where exactly you'd like your new DIY fire pit to be placed, you can built one that's easy to take down and moved to a different spot. There's a great little tutorial on instructables which shows exactly how to do that using four sections of concrete tree rings, a portable charcoal grill and a bunch of stones and pebbles.
A fire pit doesn't have to take up a lot of space and doesn't have to be circular. If you're tight on space you can still pull off a great DIY fire pit project. You just have to plan things accordingly. We suggest checking out instructables to find more details about this stone fire pit and its fireplace-like design which allows it to fit nicely in corners or against a fence.
Three rows of 12" gray pavers arranged in circles make up a perfect fire pit frame. They're also quite cheap so the project won't cost you a fortune. The number of pavers you'll need may vary depending on the size of the fire pit. In any case, putting together the pit should be easy and fun. Once that is in place you can arrange a bunch of seats around the fire pit or start planning a DIY outdoor bench project. Check out keepingitsimple for inspiration.
Instead of building your DIY fire pit above ground, perhaps you'd be more interested in an in-ground fire pit like this one. Keep in mind that the location you choose will be permanent. Start by digging a hole, then mix the concrete and start building the walls of the fire pit. Gradually it will start to take shape. You can find more tips and details about this on instructables.
You could also use cement blocks to build a simple fire pit. Start by picking the exact location and then level the ground and prep the area. Once that part is done and you have the outline of the fire pit, building the walls and finishing up the whole thing should be quick and easy. If you like this project, find out more about it on caroleknits.
There's another DIY fire pit project that might inspire you and you can find it on attachmentprone. The total cost of the materials in this case was $75. The fire put was built using 6 square cement pavers for the base and 30 cinder bricks. If you also like to build a matching bench or two around the fire pit, you might want to get some extra cinder bricks.
Isn't this fire pit super charming? What's particularly interesting about it is the fact that it used to be a small koi pond. At one point it was transformed but even as a fire pit it still has a very organic and genuine look thanks to the stones and irregular shape. Check out lucyslampshade to find out more about this inspiring transformation.
You can also old and reclaimed materials when building a DIY fire pit. For example, the used bricks here come from a landscape site. If your project will be anything like the one featured on tuffguardhose you'll need around 40 bricks (or pavers). You'll also need a shovel, landscaping stone or gravel and spray paint (to trace the outline of the pit on the ground before you start digging.
A very cool and at the same time practical idea is to use a metal fire ring like the one featured in this project from imgur. The project started with an outline of the fire pit slightly wider than required. The grass was removed and the ground was leveled, then the ring was placed in the middle. Three layers of stone was added around the fire ring. As you can see, it turned out pretty great.
Building a DIY fire pit can be a great weekend project for a group of friends and this applies to anyone. None of you has to be an expert in landscaping in order to pull this off. In fact, it's best if everyone is equally inexperienced because this way you're all just learning from each other. Anyway, here's how you can build a brick fire pit from scratch: mark the spot and start digging (not too deep, just a few cm/inches). Place the first level of bricks and make sure they're level. Add the second, third and fourth layer and at the end place some decorative stone on top. Finally, put some gravel on the bottom and you're done. Check out imgur for details.
If you want your new DIY fire pit to be not just cozy but also spectacular, there are ways to make that happen. We recently came across this cool sunburst fire pit design on imgur. It looks pretty awesome and it doesn't seem that difficult to build either. It does however require plenty of space.
A fire pit doesn't have to look perfect or to be perfectly symmetrical in order to look great and to be an awesome focal point for the backyard. Plenty of DIY fire pit projects focus on this very idea, including this one which was featured on imgur. The stone have different shapes and sizes and that gives the design a very genuine and unique look.
Of course, if you'd prefer your DIY fire pit to have a neat and clean design and to be simple and professional-looking, that's easy to achieve too. A perfect example is this project from abeautifulmess. The supplies needed here include gravel, a shovel, concrete landscaping stones, a metal ring, masonry adhesive and colored spray paint (optional but useful).
It's practical and sometimes even aesthetic to mix and match different materials when building a fire pit. Maybe this project from imgur is not the best example in this case since this look wasn't exactly intentional from the start but we really like how it turned out.
As lovely as those classic outdoor fire pits are, you can pretty much only use them when it's nice outside. What if you wanted to feel just as cozy indoors? You could make a small and portable fire pit for your living room. You can take it out on the porch too. One of the items you'll need is a glass box. Check out theartofdoingstuff for more details.
This fire pit has a metal frame made of steel stripes. There's stone in between and the overall design is a nice mix of modern, rustic and industrial. You can make your own version which you can customize according to your own needs and preferences. To learn the basics and a few tips that might help along the way, check out this video tutorial on youtube.
A concrete fire pit is yet another option. Of course, you'd have to be pretty certain about the location since you won't be able to move the fire pit once it's in place. A great advantage in this case is the fact that you can give your DIY fire pit any shape you want. Building the mold is perhaps the most difficult part. You can find out everything you need to know about the project on instructables.
If you like the idea of a metal fire pit, we suggest having a look at this tutorial featured on the-brick-house. It documents the important steps of putting together such a project and it also helps you form an informed idea of how it would all look like once you're done.
Believe it or not, this awesome-looking fire pit was made out of a recycled washing machine drum. It would be great if you already had one but you could also check used appliance stores or ask around. Apart from that, you'll also need an angle grinder, a wire brush, a sanding disc, some steel and heat-resistant black paint. Everything else that you need to know about this unique DIY fire pit project can be found on houseandfig.
Speaking of DIY projects involving recycled items, here's a cool-looking DIY fire pit made out of a tractor wheel.  The project is not complicated but you need a few specific things: a tractor rim, some stone blocks, gravel and sand. The overall size of the fire pit depends on how big the rim and how wide the stones are. You'll also have to do some digging so make sure you have a shovel. Feel free to personalize and customize the look of your fire pit in any way you want. The tutorial from handimania can be a source of inspiration.
10 inspiration fire pits available on the market
If the prospect of having to actually build the fire pit from scratch is not really exciting, you can focus on the landscaping and the area around it and purchase the actual fire pit. There are plenty of great options, like the Hartlepool fire pit. It's made of steel and has a shallow bowl-inspired design. It's a wood-burning fire pit and the wood goes at the center, adding a really charming touch to the design which is very clean and modern.
The Collegiate Series fire pit is great for casual outdoor settings and comes in a variety of different models with different logos and messages printed on them. It uses wood or charcoal as fuel and it's made of cold-rolled steel with a beauty rusty finish and a really nice patina. It has handles and comes with a spark screen cover, a poker and a BBQ grill insert. It's perfect for backyards or any size given that it only measures 16" H x 30" W x 30" D overall.
The design of the Faisal fire pit is simple and modern and has a cool and interesting geometry. The bowl is supported by a sleek frame with a zig-zag pattern that gives the fire pit a lightweight and graphical look. It's a wood-burning fire pit and it's made of stainless steel with the bowl being made of rusting steel with a weathered finish that contrasts with the base. The bowl is removable for easy cleaning.
This is the Horwich fire pit and unlike the others it's not made of steel but of stone. This gives it weight and a really beautiful and solid look. It uses propane as a fuel source and it has a clean and simple design, with a square-shaped frame around the center and a slightly narrower base with a sculptural and simple design. It comes with a box of lava rocks that you can place in the burning area at the center.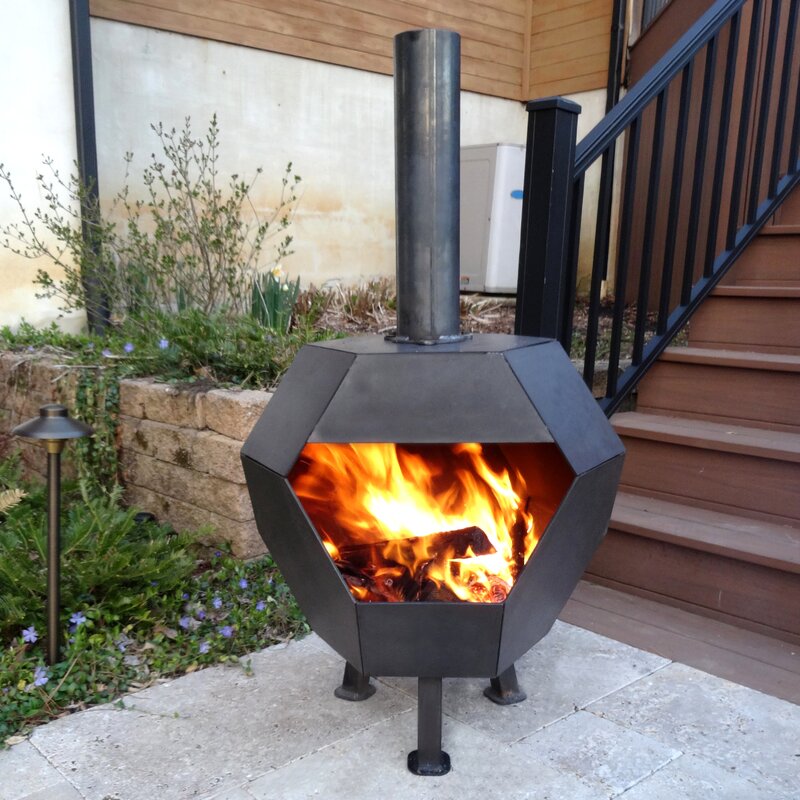 The Octo fire pit is not the open type which you can place at the center and enjoy equally from all sides. It's more similar to a fireplace and has a shape which allows it fit nicely in corners, against walls but also in open spaces. It's an outdoor-only product and it's made of steel with a beautiful and elegant black finish. It has three slender legs which elevate it off the ground and gemstone-shaped body.
Like a lot of the products mentioned here, the Vulcan fire pit makes a really nice focal point and is a great statement piece for a variety of different types of outdoor spaces. It's made of 1/4'' carbon steel and has a stylish and modern design but it's also very solid and imposing. It's meant to use wood and a fuel source and it's weather resistant which means you can leave it outside exposed without worrying about any damage.
If you want an eclectic fire pit that's both convenient and elegant, this might be it. The Stoker fire pit works with propane and natural gas fuel sources and has a very graceful design, featuring a form that starts out narrow at the bottom and gradually expands. The circular top has an opening at the center and features a geometric checker board pattern with a trim around the edge. The overall frame is made of aluminum and the burning area is made of stainless steel.
The Nathaniel fire pit is made of concrete, a material often introduced in a lot of modern and contemporary designs and appreciated for its versatility. It's very compact and space-efficient which makes a really nice choice for small backyards and other outdoor setups. It uses propane as a fuel type and the tank fits inside, out of sight, into an easily accessible compartment. The overall dimensions of this fire pit are 23.25" H x 31.75" W x 31.75" D and it weighs 90 lb.
This is also a propane-fueled fire pit which provides a storage compartment for the tank. It can be hidden inside the body of the pit and it remains easily accessible at all times. The fire pit is made of steel and comes with a lid and its design is suited for modern and contemporary spaces but can also fit into a variety of other setups. The top is circular and features a wood-like texture while the rest is made of rattan-like metal.
The Bonfire fire pit is the smallest of all the ones mentioned so far. It measures only 14" H x 19.5" W x 19.5" D and it weighs 20 lb which makes it portable and easy to move around as needed. This is a wood-burning fire pit made of stainless steel, with a very sleek and simple design. It has a cylindrical shape with perforations along the bottom and it's very durable.