Inspiring Dining Room Light Fixtures To Make Dinnertime More Fun
When it comes to choosing a dining room light fixture, so many home decorating rules have gone out the window that almost anything goes.
(Thank goodness!) This means you can choose something that fits not only the style of the room but also the level of formality that makes the household most comfortable.
Of course, there are people who prefer a more formal space that includes a dining room chandelier, but with today's more casual trend, especially when it comes to entertaining, others want a more easy-going style of dining room light fixture.
Types of Dining Room Light Fixtures
You need a functional dining room light fixture, but it also needs to create the right mood. Too bright and it'll feel like a school cafeteria. Too dark and you won't be able to see well enough to serve dinner. Mainly, just remember that you need different types of dining room light fixtures.
As in other rooms, it's all about layering the lighting. In general, you want to have all three main types of dining room light fixtures: ambient lighting bright enough so you can move around safely, enough task lighting to be functional and the right amount of accent lighting to create the kind of vibe you want. Here are some of the best dining room lighting types:
A chandelier. This is a multifunctional type of dining room light fixture that adds drama and ambient light. If it directs light downward, it's also a task light. Finally, if you have a dimmer switch, it can also work as mood lighting.
Recessed lights and a layer to ambient lighting. They're also unobtrusive.
Pendants are a dining room light fixture that can add focused light to a surface. But, they can also take the place of a chandelier when used in multiples.
Sconces are the perfect accent dining room light fixture because they can go on any wall.
Track lights are also a flexible option. You can move them around and redirect them to serve as ambient, accent or task lighting.
Cove lights are perfect to accent a tray ceiling or any other architectural recesses.
What Type of Light Bulb is Best for a Dining Room?
When considering what type of light bulb is best for a dining room, the first rule is to choose LED bulbs. These are the most energy-efficient and long-lasting bulbs that you can buy
The other major consideration for dining room light bulbs is the color. If you didn't already know, light bulbs have different color temperatures – either warm or cool. LED Bulbs are generally available in warm white, natural white and cool white, which actually looks a little blue to many people.
The color scale measures the bulb in terms of Kelvins, often marked as "K". The higher the number the cooler the color. Generally, you want your dining room to feel warm and cozy. This means that LED bulbs that fall into the 2400 – 2700 K range are the most popular.
How Bright Should a Dining Room Light Be?
If you think about it, your dining room has several purposes: When you're eating you want to see your food, but if you're working at the dining room, table, the light may need to be brighter. Finally, if you have guests lingering after a meal, you want dim light to set the right mood. Bottom line: Install a dimmer.
Determining how bright your dining room light should be may depend a bit on how many different lights you have. This is also the case if you properly layer your lighting. In fact, most people are concerned about the fixtures over the dining table.
When it comes to LED bulbs, 40-watt bulbs (470 lumens) or 60 watt-bulbs (806 lumens) are the best for eating. From there, a dimmer will adjust to suit your mood.
How Many Lumens Should a Dining Room Light have?
Until recently, we picked lighting by wattage. Now with LED bulbs, we pick by the number of lumens, which is a better measure of how much light each bulb emits.
While the number of lumens you need in a room depends on its size. In general, a dining room should have 30 to 40 lumens per square foot. (A rough equivalent is that one watt equals 12.5 lumens.)
Most designers say to err on the side of brighter light and then use a dimmer switch to fine-tune the dining room light fixture for what you are doing in the space.
The Most Popular Dining Room Lighting Picks
No matter what your décor style is, you can find the most popular dining room light fixture to complement your home. From casual styles to the most formal glam chandeliers, there's a wide range of choices:
Modern Dining Room Lighting
When it comes to modern dining room lighting, it's all about the look. Fixtures that are sleek, with clean lines are what most people want. Choose a modern dining room light fixture that enhances the space or even one that makes a big style statement.
Farmhouse Dining Room Lighting
Still super popular, farmhouse dining room light fixtures typically feature metal, natural materials, weathered elements and vintage accents. Together with a relaxed vibe, these lighting fixtures create just the right ambiance. They are perfect for a dining room in an open-plan space too.
Dining Room Ceiling Lights
Even with a standout chandelier, you need to include some ceiling lights to create layers. Here, the recessed lights add another soft lighting element that provides gentle ambient light. Use dining room ceiling lights to add illumination without distracting from the main lighting focal point.
Hanging Dining Room Lights
You're not limited to a traditional chandelier when it comes to hanging dining room lights. Pendants of all sizes and shapes can take the place of a chandelier. You can even use groupings of small pendants to create the same effect as one larger fixture. This provides even more flexibility for making a unique design.
Rustic Dining Room Lighting
Nothing gives off a casual vibe like a rustic dining room light fixture. The beauty of the wear and imperfections in these light fixtures are what appeals most. Whether it's rough-hewn wood or galvanized metal, the humble materials used make these fixtures special.
Small Dining Room Lighting Ideas
Just because a dining room is small, that doesn't mean you're stuck with a boring dining room light fixture. First, many lighting designs come in different sizes. This means you can probably find a smaller version of your favorite fixture. Second, layering your lighting is very important in a small space. Different types of lighting give it dimension and make it seem larger and more impressive.
Black Dining Room Light Fixtures
It used to be that most dining room light fixtures only came in shiny metal finishes. However these days, you can find lots of fixtures in black. From a traditional chandelier in black glass to a transitional dining room light fixture in black metal, you can find all kinds. Some have an edgier look than others but you can find different styles in glossy and matte finishes.
Bronze Light Fixtures Dining Room
As opposed to the gleam of gold or silver, people now favor the more aged look of bronze light fixtures for the dining room. Importantly, bronze is more versatile, especially for mixing metals. It fits many décor styles but is extra popular in contemporary, farmhouse and transitional interiors.
Gold Dining Room Light Fixtures
For some glitz or glam in your dining room, you can't go wrong with gold dining room light fixtures. The shine of this metal is amplified by the light and makes a real statement hanging over the table. Even for accent lighting, a gold fixture adds elegance and formality..
Industrial Dining Room Light
For an edgy décor look, an industrial dining room light fixture strikes the right note. The dark, matte finishes typical of this keep the vibe casual. While you can certainly find industrial chandeliers, pendants are often more popular. Industrial dining room lights can easily go with a rustic of basic wooden dining table too.
Flush Mount Dining Room Light
Not every dining room has a tall ceiling to accommodate a large chandelier, but that's not a problem. Instead, take a look at some of the new designs for flush-mount dining room lights. These are nothing like the ugly builders' "boob lights that come to mind. New flush mount designs can be dramatic and a great addition to dining room lighting.
Contemporary Dining Room Lighting
Actually, contemporary dining room light fixture styles vary widely. One thing is for sure: these are not your grandmother's chandelier. These contemporary lighting fixtures have clean-lines, are artful and create a focal point over the dining table.
They can range from minimalist pendants and sputnik-style sunbursts to fancy glass constructions. Almost anything goes!
LED Dining Room Lights
LED lighting is found everywhere now and the dining room is no exception. In fact, LED dining room lights are very popular because the technology allows for innovative new styles.
With incandescent lights, designs were limited for safety and for structural reasons. However now, you can have all kinds of minimalist and ethereal designs thanks to LEDs.
Dining Room Light Fixture Types
While there are dozens of different light fixtures available on the market, the most common types for a dining room are chandeliers, pendants, recessed lights, and wall lights.
Chandeliers
Chandeliers can infuse any dining space with timeless charm. They were originally used to carry candles and are now found in a variety of great mansions and private residences. While chandeliers have become increasingly rare in modern times, they can still be employed to impart an air of richness.
While they have a timeless elegance to them and they don't break the bank upon a purchase, they are more difficult to install if you are the average DIYer, and they are awkward to maintain because of the intricate design of most pieces.
Pendants
Pendant lights are an extremely fashionable kind of dining light fixtures. They are frequently hanging from the ceiling—often over the dining room table—and serve as an appealing yet reasonably priced focal point for the area. They are available in a variety of colors, materials, and styles, making them suitable for any dining area.
However, pendants are not the best choice in rooms with low ceilings (unless they have an adjustable chain) and they don't usually serve as a primary source of light.
Recessed lights
Recessed lights (alternatively referred to as downlights) are metal light fixtures that are positioned above the ceiling line. This conceals the majority of the light fixture, with the exception of a thin trim and a portion of the inner light.
These lights are very "clean", since they are installed in such a way as to not draw attention. They are a good choice for rooms with low ceilings, but you will need a lot of these lights if you want them to actually provide a decent level of illumination.
Wall lights
Wall-mounted light fixtures illuminate a specified region directly. Some are angled downward, while others are angled upward. Due to their directed nature, wall lights do not give a great deal of illumination. As a result, they make excellent secondary lights for creating a tranquil environment in your dining room.
Wall lights are very versatile and can set a very cozy ambiance, but they can also create dark spots because of the directed light that will not illuminate all areas evenly.
What Color of Light Is Best?
In general, it's best to opt for warm colors for the dining room. If you often entertain guests, it is definitely the right choice. Warm light colors are known for setting a specific mood, making people feel happier and more relaxed.
How Many Watts Should a Dining Room Light Be?
In general, multiplying the square footage of a room by 1.5 will yield the total watts required to adequately illuminate the space. Increase the multiplier to 2.5 for job lighting. Additionally, always check the fixture's maximum wattage rating, as exceeding it can be quite harmful.
To achieve the greatest results, maintain the dining room chandelier's total wattage between 200 and 400 watts, depending on the room's size. As an example, this may be two 100-watt bulbs, four 60- or 75-watt lights, or eight 50-watt bulbs.
How Many Lights Should Be on a Kitchen Island?
When determining the number of pendants to suspend over an island, adhere to the rule of three. According to this rule, equilibrium is achieved by repeating an element three times.
Three pendant lights over an island provide a more balanced space compared to using two or four lights, yet proportion is always the deciding factor when following the rule of three.
Two pendant lights would suffice in a kitchen with a small island and oversized pendant lights, while opting for three pendant lights would overwhelm the room.
Are Island Pendant Lights Going out of Style?
While certain designs, styles, and shapes will inevitably become obsolete, there is truly no limit to the number of unique designs that can be developed.
Chandeliers have existed for hundreds of years because hanging or suspended lighting is the ideal solution for some situations.
Pendants fall under the category of accent dining room light fixtures, which enhance the appearance of an area. They are not out of fashion; they simply serve a different purpose than the others.
Pendant lights hung over an island can double as task lighting by allowing you to see what you're eating.
How High Should a Light Be above a Dining Table?
The short answer is that it depends – primarily on your own particular style. We have a few guidelines that we follow while installing pendant lights and chandeliers, which we thought we would outline for you below.
To begin, you'll want to determine the overall length of your room. To accomplish this, we recommend suspending a balloon from your ceiling using a string. This will enable you to take a step back and evaluate the height from a variety of angles, as well as the visual impact.
Once you've determined the overall length of your light, you'll need to establish if the chandelier or pendants you've picked has a shade or whether you'll need to purchase one separately.
If the shade is included, please input the desired overall length on the lighting product page prior to placing your order. If the shade is not included, you can determine the length of the fixture required by subtracting the shade's height from the overall length. This will provide you with the length required to order your fixture.
How Low Should a Chandelier Hang from a 10 Foot Ceiling?
If your ceilings are ten feet or higher, hang a chandelier at the sweet spot of seven feet, six inches from the floor.
What Do You Call the Light above a Dining Table?
Generally speaking, the light fixtures that are usually chosen for installing right above the dining table are pendants or chandeliers. Since there are many different types of light fixtures on the market, it depends on which type you go with.
Dining Room Lighting Ideas
Nautical Pendants
For a seaside home, just a few nautical elements can add the right touch without being too much, and these pendants are a great example. They somewhat resemble line floats and add a bright dash to the otherwise blue dining room. The casual space, designed by Timothy Brown Studio has a clean, crisp feeling and the pendants help lighten the mood of the otherwise traditionally wainscoted walls and coffered ceiling.
Natural and Raw
Adding another layer of natural, tactile material to the dining room, this large pendant keeps the feeling casual. The spacious room, designed by Richards Stanisich, opens up to a patio and the ocean beyond, so the earthy feeling of the pale rattan dining room lighting fixture melds well. Throughout the room, the materials have distinct textural qualities, from the wood and marble in the wine storage area to the luxurious leather chairs.
Industrial Pendant
Set in the middle of Napa in California's wine country, the dining room in this home styles by Shawback Design makes you think of wine. Sure, it has a refine industrial vibe, but it looks a little like wine carafe — and the top kind of like a cork. Regardless, the relaxed look of this dining room light fixtures is a perfect match with the marble flooring and Nordic style table.
Wall Mounted Long-Armed Lamp
Since there are no more rules, who says that a dining room lighting fixture has to hang from the ceiling? A long-arm lamp mounted to the wall is a fabulous option for a room that may have a lower ceiling or the need for clear sight lines — or just more drama. This space, designed by Wesley Moon, is totally changed with the addition of this type of lighting
Loosely Hung
Loosely draped and a bit theatrical, these lights add to the eclectic flair of this dining room designed by Mexican designer Sofia Aspe. Multiple light sources hanging amid loops of cords pair well with a feature wall of round decorative mirrors.
This type of dining room light fixtures is ideal for a casual space because it follows no pattern or rigid arrangement.
Graceful Glass Chandelier
Sometimes only a chandelier will do and in this dining room, it becomes a highlight — second only to the view! A hand-blown glass fixture is a spectacular artistic addition to any room but it really shines when used as dining room lighting fixtures. When the view out the window is the real feature — as in this space by Greg Natale — it's important to choose a chandelier that doesn't hang too low.
An Artful Fixture
A glamorous dining space done in gold and pink is elevated even further with a hand-crafted, hand-blown light fixture. The asymmetrical arrangement of patterned glass on a gold framework is artful and abstract. In cases like this, it serves as art as much as lighting and forms the main focal point in the room, designed by Claude Cartier.
Topped with Candles
For a relaxing and casual dining room, there's nothing like a cascade of candles to create the right mood. Today's LED technology and battery-operated candles help create a fuss-free (and danger-free) dining room lighting fixture that makes a soft and cozy atmosphere. This outdoor space by Nicole Hollis does far more than just make the most of the gorgeous setting.
Sputnik Style Fixtures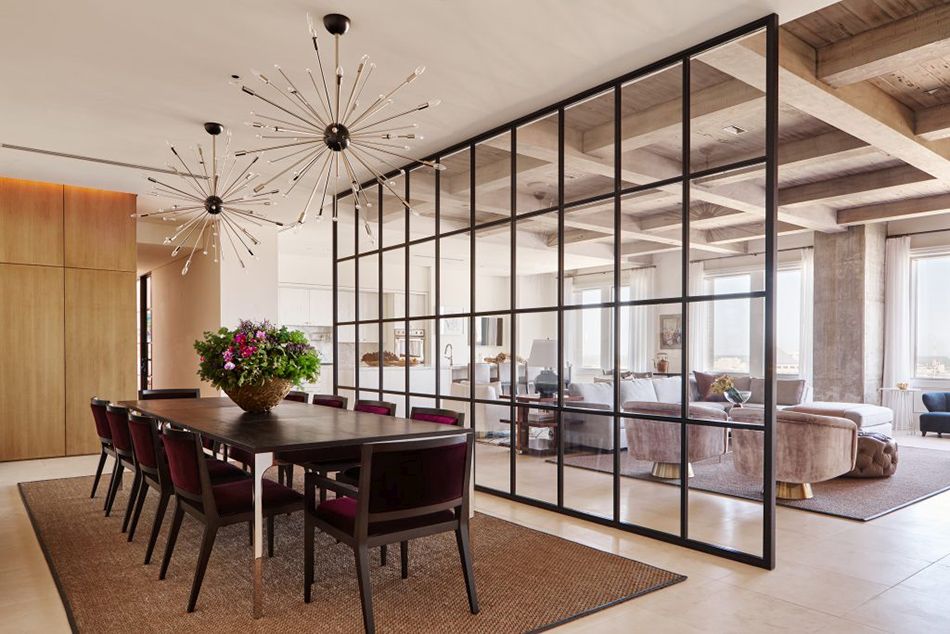 This Dallas-area home sports a marvelous architectural look that is highlighted by the sputnik-style dining room light fixtures. The touch of 1960s style adds a touch of retro to the otherwise contemporary home. Designed by R. Brandt, the dining room and other spaces blend glamour, touches of old style and modern architectural features.
Minimalist globes
Able to meld with the outdoors, the dining room of this Sydney home really blends with the foliage and the yard. The design is very focused on the exterior so a dining room light fixtures that doesn't compete is key. This minimalist pendant fixture that features three free-form globes is ideal because it resembles a natural branch.
Mid-Century Flair
Jessica Gersten's marvelously comfortable design for this dining room is punctuated by the large yet spare light fixture. Its mid-century modern flair adds a little extra artful touch to the otherwise spare space. The fixture is also a nice counterpoint to the large work of abstract art on the wall.
Traditional Chandelier
This dining room lighting fixture is decidedly traditional but the vibe of the space, designed by Atelier AM, is a little more eclectic. The massive table features sawhorse legs and a contemporary centerpiece vase, however, the bulk of the room is overwhelmingly traditional in style. All the elements come together in a very sophisticated style that exudes a carefree nature.
Vintage Industrial
Can a space be both vintage and industrial in style? This one certainly fits the description. Most elements in the space have an industrial feel, yet the dining room light fixtures are very much vintage and super charming. The combination of dark metal, some crystal and the very proper lampshades on each arm create a softer look. You would be hard pressed to define this room as belonging to a home designed by White and Kaki that has an overall Mediterranean vibe.
Contemporary Chandelier
Contemporary chandeliers come in all shapes and styles and this one has just enough glamour to be at the center of a sophisticated green garden room designed by Anne Wagoner. A black frame is a strong contrast to the space but the restrained golden elements tie in with the other elements and help create a very soothing and refined room.
Bouquet of Bulbs
This space defies categorization and so does the unique dining room lighting fixture that hangs above the table. Designed by Godrich Interiors, the room is eclectic, exuberant and highly creative.
The chandelier is actually a cluster of round globe pendants of varying sizes and materials that serve as a single fixture. The styling of the fixture is perfect for a room where there is so much going on visually.
A Lighted Mobile
With a big picture window and a priceless view of the ocean, the last thing you want is a dining room lighting fixture that competes with it. The choice of one that resembles a minimalist mobile hanging from the ceiling is fitting because its slight arms and small globes don't dominate or interfere with the view. The style also accents the refined yet casual design of the space by Studio Giancarlo Valle.
Linear Lighting
When the table is a long rectangle, a linear dining room lighting fixture is an excellent choice. This particular fixture in a New York apartment designed by Amy Lau is a collection of clear glass shades suspended from minimalist bases and cords. It blends seamlessly with all the art in the space and is stunning without being overwhelming.
Mid-Century Modern Chandelier
A mid-century modern dining space calls for a dining room lighting fixture of the same persuasion. Here. designer from THREAD, Lindsay Bentis, installed an irregularly shaped chandelier of globes that calls to mind the lighting of that era. Smoky glass is a subdued choice and works well with the moody color palette in the space.
Architectural Lighting
A room with plenty of texture but little color is the ideal location for an architectural lighting fixture that is wide-reaching by not low-hanging. JDP Interiors chose this suspension light that has structural appeal and echoes the black detail of the curtain rod. Minimalist glass globes keep the focus on the frame as well as the table below.
Unexpectedly Modern
In a prime example of how a period house does not have to stick to period decor, the Toronto Interior Design Group has done this home in a very unexpected way. A boldly colored rug and upholstered dining chairs with a 60s vibe set the stage for the mid-century style chandelier. Tinted glass globes over the bulbs add a little extra drama to the space.
Striking Single Pendants
Just as they can light up a kitchen island, pendant lights can serve as dining room lighting fixtures too. A minimalist Madrid apartment designed by Ventura Studio demonstrates how the right pendants can be an artful addition without overwhelming the room. Individual pendants can also be the right choice when artwork behind the table is a focus because they don't hang directly in the center.
Oversized Pendant
An oversized pendant can easily take the place of a chandelier as a dining room lighting fixture. It can also be a more contemporary choice thanks to the streamlined look that a single fixture can create. The ridged material adds texture to the room, designed by Poland's Ministry of Interior Affairs, without adding any metallic elements that would look very out of place in this style of decor.
Flower-Shaped Fixture
A single fixture that has the shape of an open flower is a chic addition to the dining space in this Paris apartment. Designed by Studio Wonder and Laurent Soler, the room includes a dining table of modest size and modern style. The lamp above mirrors the shape of the table and its pedestal base, creating a most a single visual unit, which helps define the area within the room.
Arts & Crafts Suspension Light
An arts and crafts space deserves an equally distinctive dining room lighting fixture, which this one most definitely is. A suspended wheel tops a plain globe in a design that is noticeable but does not detract from the feeling of the surrounding windows. It also puts the focus at the center of the table and the hand-crafted centerpiece vessel. The home was designed by 2LG Studio.
The interior redesign of a Victorian cottage near Sydney is about as far away from its original style as is possible — and it really works. The minimalist decor features a dining room lighting fixture that is modern, loose and a bit industrial. The brass arms end in clear glass bulbs but instead of concealed wiring, the looped cording is fully visible and becomes part of the design. The entire home was designed by Alexander & Co.
Fresh and Modern Dining Room Lighting Ideas
Plenty of inspiration here for different kinds of dining room light fixtures as well as the various ways it's possible to mix and match styles. Did you see some that you like? Break from the traditional choices and try something new when it's time to freshen up the dining room.
A cluster of pendants
Although a single fixture would make sense and could even be sufficient, it can sometimes pay off to hang multiple pendants instead. In a design such as this one the pendants are clustered together instead of being spread out and this creates a beautiful effect.
Expand vertically
Choosing a suiting lighting fixture for a space also has to do with the height of the ceiling. For example, in a double-height dining room or one with a pitched roof ceiling it could be cool to hang light fixtures that emphasize the height of the room. Look for cascading chandeliers or pendant lamps similar to these ones.
Warm textures
These pendant lamps add a lot of charm to the space around them. They help to make the dining area feel very warm and inviting and they also stand out at the same time. It's a wonderful example of how you can prioritize certain materials, finishes and textures when planning a room's décor.
An abstract design
Adding lighting fixtures with interesting or abstract designs can help a dining area stand out. In such a situation it would be best if the rest of the décor would be simple. Opt for simple furniture and neutral colors to allow the lighting fixtures to stand out without clashing with their surroundings.
Make a statement
A big and ornate chandelier is a great way to make a statement. You can adapt this design strategy to suit any style. A more traditional or retro décor would easily accommodate such a feature. Try not to overdecorate the space and to create a balanced aesthetic.
Low-hanging pendants
Be careful about the height at which you hang the pendants. This should be chosen in relation to the dining table and the chairs. Low-hanging pendants should not be in a way or uncomfortable to look at when sitting at the table.
Dispersed lighting
If you want the whole room to be filled with light, look for a chandelier that dispersed the light in all directions. This one right here is a great example. It has an interesting and eye-catching design which makes it stand out and puts an emphasis on the dining table but it also lights up the area around it.
Relaxed beach vibes
The lighting should suit the vibe of the room and this space looks and feels very warm and inviting but it also has a fresh and airy vibe. It's a beach-inspired design with a farmhouse twist. The lighting is subtle and quite diverse. The centerpiece is the chandelier above the table complemented by tables lamps and sconces. This is a design by studio Group3.
Light and airy with a modern twist
The chandelier displayed here has a really cool design which is modern and abstract but also has a subtle bohemian vibe. It combines clean and simple lines with a modern geometry and a layered design. It's quite easy to associate it with a cloud. This is part of an interior design project done by Florida Lifestyle Homes.
Farmhouse vibes
Farmhouse-style interiors are known for their inviting character and this dining room designed by The Lifestyles Company is no different. The round table is beautifully placed by the windows and takes advantage of the natural sunlight and the lovely view and the metal chandelier helps the space seem taller.
A traditional approach
You might be wondering what type of lighting would suit a traditional dining room. As this beautiful space designed by Hilderbrand Interiors demonstrates, an ornate crystal chandelier is a perfect choice. It doesn't need to be extra big but it should complement the proportions of the table and of the room in general. Also, symmetry suits traditional design quite well.
Subtle lighting
Rather than going for very powerful and bright lighting, it might be better suited for the dining area to have subtle and dimmed lights and to focus more on diversity and ambiance. Try combining hanging pendant lamps, wall sconces and other types and take inspiration in this design by Five Star Interiors.
A classic starburst chandelier
There's a reason some designs have become classics. In many cases they simply fit and their timeless beauty gives them lots of versatility. Starburst chandelier like the one used here are particularly great for modern dining rooms. They're simple and classic but not boring and they stand out without overpowering the room. This space is the work of Real Estate Judge.
Edison-style light bulbs
This is such a stylish and balanced dining room design. The wainscoting on the walls, the grey accents, wooden floor, bright turquoise accents and this beautiful low-hanging chandelier all go together so well. We particularly enjoy light fixtures like this one which make use of Edison bulbs. This space is the work of studio Kennedy Cole Interior Design.
Retro accents
A space like the one designed by Noble Johnson Architects has the advantage of feeling spacious and airy but also being very inviting and comfortable to be in. The vaulted ceiling makes it possible to hang eye-catching chandeliers and pendants but in this case a subdued farmhouse approach makes most sense. Retro lighting fixtures like these ones feel perfectly at home here.
An elegant statement piece
In this design Deane studio the kitchen and dining room blend together but at the same time each one stands out in a unique way. The main element in the dining area is the chandelier which focuses the attention on the table and sets this area apart. It's elegant, eye-catching and luxurious without being opulent.
Clever Dining Room Design Tips:
Lighting up a dining room may seem like a straightforward task but, as always, there's a lot more depth to it than we initially realize. There's multiple strategies that you could go for and various different design aesthetics that you could embrace. Here's a few tips to put you on the right direction.
Highlight the table area
The table is obviously the centerpiece of the dining area and the most important piece of furniture in this room. As such, placing the lighting around and above the table would be both practical and relevant. There's a variety of different ways in which you can do that. Depending on the type of table, its size and shape, you could either hang a chandelier or a series of pendants.
Play with proportions
Sometimes it's nice to break the norm and to introduce a quirky and eye-catching element in a design. For instance, if your dining area has a small table, hanging an oversize pendant lamp above it could look really cool.
Mix and match
Long and rectangular dining tables go really well with multiple pendant lamps. You can either choose a set of matching pendants and have a few of them evenly spaced out above the table or you could mix a selection of different ones. If you choose to go with unique designs try to find pendants that share something in common without necessarily looking similar. This way your design will look cohesive and will also have character.
Place the lighting strategically
Apart from actually lighting up the room, pendant lamps and chandeliers help visually define a certain area. This is helpful in an open floor plan where the dining area can easily blend in with the kitchen and the living room.
Responsive lighting
Depending on the time of day or the mood, you might want your dining area to be super bright or to feel more intimate in which case dimming down the lights could be really useful. Having this type of flexibility with your lighting ensures that you can adjust the light level to suit the ambiance that you're trying to create.
Think beyond ceiling lights
Chandeliers and pendant lamps are definitely the most common options and the first ones that come to mind. However, they're not the only options and for a space like the dining room having other types of lighting fixtures can be very useful. Table lamps or sconces can create more layers in the décor and complement different parts of the room.
FAQ
How do you determine the size of a light fixture for a room?
Scale is very important in creating a room that looks right and this includes dining room lighting. Keep in mind that the look of the dining room lighting fixture is a consideration as well as its size. Be sure to measure and plan before buying. This process work for any room:
Measure the width, length and height of your room in feet.
To determine the width of your ideal light fixture, add the width and length. That number is how many inches wide your fixture should be.
For a fixture hung over the dining room table, be sure that the fixture's width is about a foot narrower than the width of the table. And, as far as the height of the fixture is concerned, some sources recommend 3 inches of fixture height for each foot of ceiling height.
How long should a dining table light be?
When it comes to a dining room lighting fixture that is rectangular, you need to consider the length too. In general, a fixture should be somewhere between one-half and one-third the length of your dining room table.
How far above a dining table should a chandelier hang?
Basically, the lowest point of a light fixture should hang 30 to 36 inches above the tabletop. But, this assumes that you have a standard ceiling that's eight feet high. If your ceiling is taller, you'll need to measure it. In general, add three inches for every foot of ceiling height over 8 feet. That said, there are other factors to consider when deciding how high to hang a dining room light. Moreover, some designers don't believe you need to raise the chandelier for a taller ceiling:
How big is the overall room?
How much light does the fixture emit? Will it still shed enough light on the table?
Does the dining room light fixture still look good at a higher level? Consider this question from different places around the room, including when you're seated at the table. These are critical questions if the dining space is in an open plan area.
How do you pick a light for a dining room table?
Choosing a dining room light fixture can seem overwhelming because of the number of options available. Besides the general style, there are some other ways to narrow down your choices and pick the right light:
What size and shape dining room table do you have? If the table is round, stick with fixtures that are round or hexagon-shaped. For square tables, you can choose lighting that's rectangular, square or linear. When it comes to size, do the calculation but keep in mind you can also use multiple pendants over a dining room table
Do you have a great view out the window? If so, choose dining room lighting that won't interfere.
Pick something that matches the style of the room.
Be sure to layer the lighting. Include some recessed lights, sconces, table lamps or cove lighting.
Buy the right bulbs. The quality of light matters as much as the quantity.
Use a dimmer switch. This will make a world of difference.
How to light a dining room without a chandelier
Unfortunately, not every dining room is wired for lighting in the ceiling over the table. If this is the case, there are other ways to light up a dining room and create a great mood.
Use floor lamps. These come in different heights so you can arrange them as needed for your specific dining room. Use one or more of these to get the right look.
Add wall sconces. While many are hard-wired, there are also plug-in and battery-operated types. You can hang these anywhere, but remember they work best in pairs.
Install a plug–in pendant. These are super easy to install. Just insert a hook in the ceiling over the table. Then, run the pendant wire through the hook, over to the edge of the ceiling, and down the wall to the plug.
Add LED strips. While this counts more as mood lighting, it can make a huge difference in vibe and illumination. Run strips around edges, under shelves or around the edge of the ceiling. Some types have a peel and stick adhesive so installation is easy.
Use table lamps. This is an easy lighting fix. If you have a sideboard or other tables in the room, use multiple table lamps for added light.
Portable lights are helpful. Lots of USB rechargeable lights are available that work well on the tabletop as well as around the room.
Whether it's formal or casual, your dining room lighting needs to be functional and appealing. It might sound like there are many things to consider – there are! But, once you plan what size and shape you need, you'll find lots of options in your preferred style and budget range. Every dining room looks better with the right kind of lighting!