Design Accents Are the Little Things That Make a Big Difference in Your Decor
Whether your furniture comes from a local thrift shop or a high-end design shop, your room can look amazing with the addition of unique design accents. From lighting fixtures to unexpected finishes or artsy elements, picking the right elements to accent your decor can make all the difference between a nice interior and a spectacular one.
Doing this the right way often means adding a bit of drama, but within your specific decor style and tastes. Sometimes, your room's decor is actually fine, it's just missing that little something extra to push it to the next level visually. Not sure what we mean? Browse through these ideas for design accents and see if any of them would be good for elevating your own space.
Dramatic Art
This living room has two great accents going on at the same time, but the main one by far is the large and dramatic print above the sofa. Framed in both brick red and black, the focus is directed to the image and that makes it impossible to miss.
If you're going to hang art over the sofa, choose something large and dramatic — within the style that appeals to you — for the most impact. Many art arrangements that re more subtle look nice, but going for big and bold will give the room an entirely different feeling.
Unique Lamps
Unique lamps a quick and easy design accent that adds flair and fresh style. Artisans are continually coming up with new and different designs that offer up more than just a light source, so there's no excuse for a basic, boring lamp if that's not what you want.
A simple mouth-blown globe with a swirl of color is a fabulous accent for a largely neutral space like this bedroom. This is also a great example of how a fixture doesn't need to be huge to have a big impact; it looks so stylish next to the bed and accents the yellow in the pillow cases nicely.
Unexpected Details
You might not think a couple of vases will have a big impact as a decor accent but when they feature unexpected details like a laced-up leather covering, they sure do! Filled with flowers, grasses or left empty, these tall, graduated glass vessels add drama and draw the eye. Their neutral look can be added to any color scheme and any room. They are quietly distinctive with enough edge to stand out. Their novelty is a draw too.
A Standout Side Table
Most often, we choose occasional tables that are low in profile to sit by a chair as a handy place to set something down. No more! For a big dose of drama, why not use a larger, taller table with a distinctive look?
This one is as tall as the chair and just about as wide, and its soaring metallic base becomes a major design element in the room, picking up the trim on the cabinet and the golden swirl of the shade on the floor lamp. You have to admit that this is far more attention-getting than your average side table.
Eclectic Drama
Eclectic style is typically associated with a casual type of decor, but it can also be used to describe a glamorous space too. At first glance you can tell that this is a high-end living room, but also that its style nearly defies description.
The abstract patterned rug forms a colorful base and each of the furnishings in the room brings something different to the decor. Tall cabinets are clad with an unusual textured finish, the comfortable armchairs are uphlstered in a wild linear print and the fur-covered ottomans have plenty of texture to spare.
At the center of the room, a multilevel coffee table holds a collection of cases that are taller than most. This room goes to show that you can mix and match a variety of pieces at any level of formality.
An Alluring Chair
An alluring chair can make all the difference in a space, as this fancy, embellished design demonstrates. The first thing to notice is that it has a style quite different from the bed, which is certainly luxurious but more casual.
Many people would be tempted to keep the chair in the same style, but this combination of disparate levels of formality creates a kind of design tension that makes it more interesting. The details carved on the chair are more noticeable when not surrounded by pieces that feature more of the same.
The best thing about introducing a chair like this is that it's easily moved to another space if you decide you'd prefer something else.
A Statement Credenza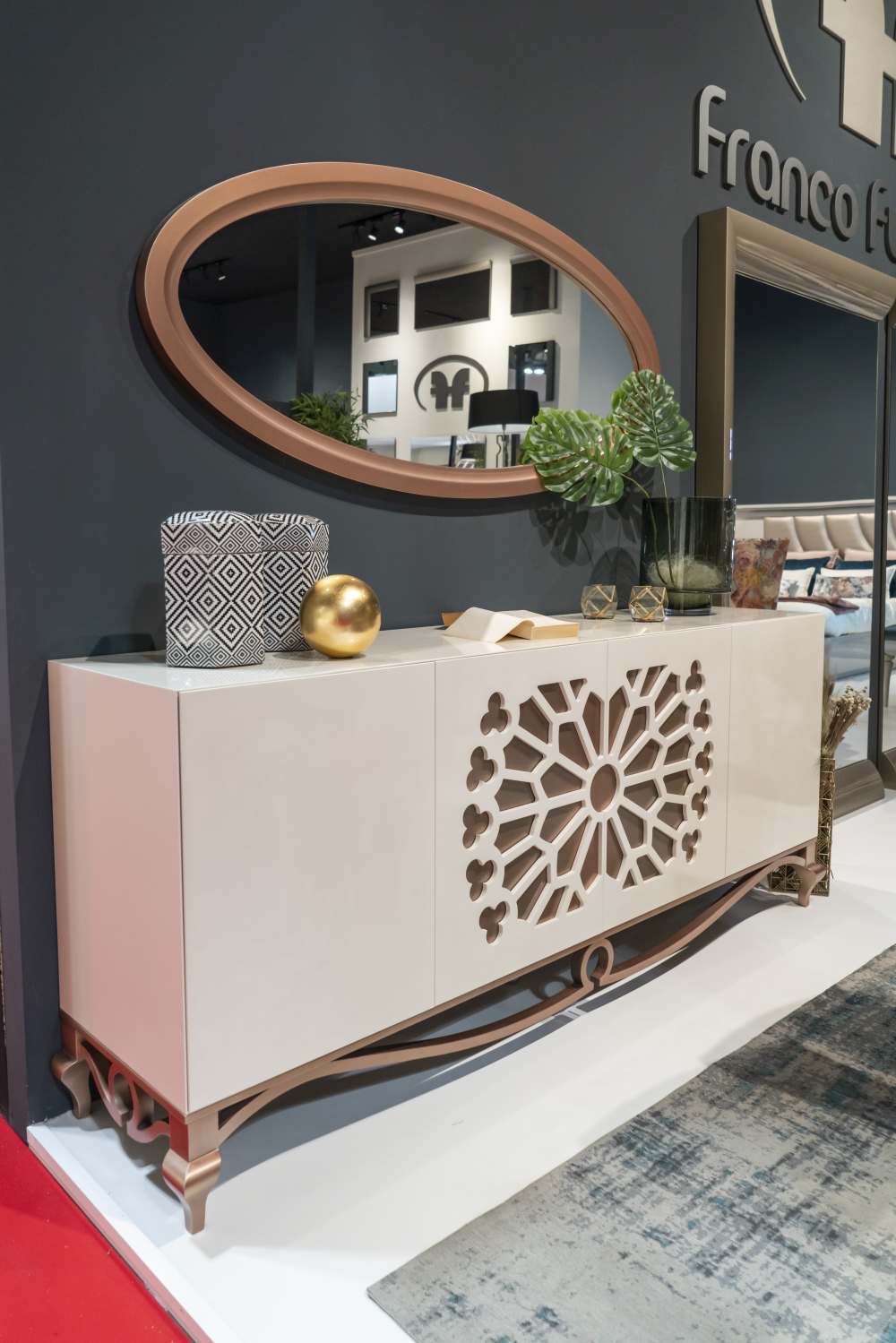 Credenzas are great for stashing just about anything out of sight, but they can also be a major design accent if you choose one that has an artful flair.
This particular credenza is also attractive because it's styled in a lovely way with well-chosen accessories, however, the cabinet itself is a standout decor accent. From the carved out pattern on the front to the elegant details on the base and the shape of the legs, there's plenty to draw the eye. It's also a versatile style that will fit with a range of decor types.
Lighted Wall Elements
Decor accents that feature lighting in some way will always take center stage in a room. These three round wall pieces, which are artistic as well, subtly draw the eye to the wall and make it linger there before moving on to the other pieces in the room.
Lighting not only attracts attention but it also gives the room a moody glow tat enhances the relaxed feeling of a space. This decor tactic can be used with any type of interior because there are so many ways to incorporate lighted elements.
Mirrors and Mirrored Surfaces
Big mirrors and mirrored surfaces are excellent design accents not only because of the way they themselves look, but because they help reflect light throughout a room. This can be helpful if a space tends to be dark and even if it's not, the reflective properties of mirrored surfaces add even more shine to the area.
Whether you choose to use only a piece of mirrored furniture such as this credenza or pair it with a mirror, you can go as simple or ornate as you desire. This spectacular mirror has an abstract but opulent look that would be a perfect design accent on its own.
A Bold Wall Covering
Thank goodness wallpaper has reimagined itself and now offers a wealth of options in bold prints and mural-like landscapes. Covering a wall in a bold, large-scale print or lavishly textured paper instantly transforms a room, whether you cover one accent wall or use multiple papers as this room does.
Either way, it adds visual depth and interest and creates a perfect backdrop for uphlstered pieces such as this silvery gray sofa. You don't need lots of other colors or prints when you have this type of a wall covering. (We love how the grouping of small mirrors on the solid wall reflects the paper's pattern, turning it into an art accent too.
A Grand Lighting Fixture
A sweeping arm of gold and a huge drum shade turn a basic floor lamp into a grand design accent. This kind of lamp is a great option for when adding a distinctive ceiling light is not a possibility. The rounded arm is like a piece of sculpture while the light hangs over the center of the space, illuminating the whole seating area.
All around, accessories and vessels in white are grouped on the tables, adding another dimension to the decor accents in the space. This idea is so versatile that it should work for a wide range of living rooms.
Eclectic Accessories
Less coordinated but infinitely moe interesting are eclectic collections of items meaningful to the homeowner because each one tells a story. This slim console table, paired with an unusual double mirror, is styled with an array of what some might call unusual items.
The large amethyst crystal is certainly the dominant piece, but the old-fashioned clock is also attention-getting. Smaller stones and a seashell round out the pieces. We love these kinds of decor accents because anyone can create their own unique arrangement with items they already own. And, it's easy to rotate pieces from your collections, giving the table a different look.
A Touch of the Weird
Whether it's part of a collection or just one-off quirky item that you like, adding a touch of something a little weird to a room is another option for decor accents. Maybe some coral is oddball enough for you, or perhaps a bird skeleton under glass would look great on your home office shelf. When it comes to these types of eclectic decor accents, there really are no rules — it just has to be something you really like. No matter what it is, you can be sure it will be a distinctive element.
Unusual Pendant Lights
Just about every kitchen has some sort of pendants hanging over the island and most of the time they are pretty basic. Of course, it doesn't have to be that way. We already noted that artsy lamps can be a great decor accent, but innovative pendants and suspension lights can be too. These lights are shaped like flower buds and are definitely not your typical pendant. The individual lights are small, so you'll need a large grouping, but that creates a spectacular design accent over the island. It's a perfect decor accent for a darker kitchen or one done in moody colors.
Unique decor accents can take many forms, from the small and modest to the big and bold. The key is finding what works best in your space to elevate the look to a whole new level. Sometimes, it's a matter of trying different things to see what you like the most. In any case, decor accents can really make a spectacular difference in how a room looks.