If Your Living Space Feels Boring Try Out These Decor Ideas
Finding new decor ideas to transform your home's interior can be a challenge because after spending a lot of time there, sometimes it's hard to envision how it could be really different. We get used to the way things are arranged, painted and furnished so thinking creatively about a familiar space takes some out-of-the-box effort. One thing that helps is browsing through different ideas for home decor ideas in lots of styles that can help spark the imagination. Maybe the room pictured as a whole isn't for you but some of the elements could be used to make your own living space feel fresh and new. Check out some of these:
Use Big Mirrors
This is one time when bigger is definitely better. Choosing huge mirrors can really create cool room decor for a variety of reasons. They not only make a space feel bigger but they can also help brighten a room that tends to feel dark because they reflect the light in the room. This living room has two large round mirrors instead of one and they are not centered over the sofa, which helps create extra design interest.
Incorporate a Statement Piece
This living room has a lot of great things going on, but the main one by far is the colorful geometric cabinet against the wall. The multitude of colors immediately draws the eye and also opens the way for adding just about any hue to the space. Moreover, this is a great example of why you should skip the urge to be matchy-matchy with your decor: the rug has a meandering random red pattern while the throw pillows have a whimsical design in another explosion of different but complementary colors. Altogether it makes for a really unique decor idea.
Create a Midcentury Homage
Midcentury decor hasn't gone out of style since it was developed but it is having another resurgence in popularity. Its clean lines and versatility in mixing with other pieces are part of the appeal. This living room grouping has sturdy, comfortable armchairs, a sleek coffee table and a sofa with a bit of a modern design twist: The unique arms of the sofa come out of the seat instead of being simply attached to the ends. Maybe just one of these pieces could transform your own living room.
Add An Industrial Touch
Hard-core industrial interiors can tend to feel a bit cold with all the requisite concrete and old metal, but adding a touch of industrial to a transitional space amps up the interest. Here, a coffee table sports a top that looks salvaged from a commercial space, which provides a bit of edge to an otherwise "safe" decor arrangement. The specific industrial piece you choose can be subtle like this one, or rougher and more dominant, depending on the look you are going for.
Try Framed Materials
The items you hang on the wall don't have to be paintings and drawings. In fact, three-dimensional framed objects and materials are super interesting decor ideas and will often draw more attention than a generic print. This is a basic gallery wall layout above the cabinet, but the subject matter is unexpected. Collages of wood slices are paired with unique fan-shaped branches in different colors. Just be sure to frame them all in the same style for a unified look.
Pick Lighted Artworks
A great way to punch up an interior is to add lighting that is more fun than functional. This wall piece is backlit, which not only highlights the design, but it adds mood lighting to the room. While the phases of the moon in this work are fabulous, there are other ways to add some mood lighting to the room. Other than simple light fixtures that provide low ambient light, incorporating underlighting and backlighting to shelving or other furnishings are other decor ideas.
Add a Bold Accent Color
Adding a pop of color to a room is certainly not a new home decor idea, but taking that pop a step further is a sure way to transform your decor. The key to success with this concept is consistency. Start with a neutral space and then stick to a single shade of a color and judiciously add it to the decor. Make sure you use a larger piece and then repeat it with some smaller items. This room comes to life with the addition of bright orange, starting with the off-kilter bookshelf and chair, and then followed up with a sprinkling of accessories.
Gussy Up the Art
For a touch of glamour without changing your furnishings, try swapping out the frames around your art for some gilded, fancier versions. Whether you have one very large piece hanging on the wall, or a multitude of smaller ones, you'll get an entirely different vibe when you put gold, embellished frames on your art. It's a quick ticket to a more opulent space, no matter what room.
Go Totally Glamorous
If you are looking for a really different decor idea and are a fan of having a more formal feel, then it's time to go glamorous. Essentially, this room starts with a neutral palette and the bold color comes from the art deco panels on the walls along with the embellished fireplace facade. Turquoise cushions on the sofa tie into the colors of the wall panels. If custom panels aren't in the realm of possibility, the wide range of new wallpaper designs and murals that are available these days give you another totally viable option to achieve the same look.
Add Major Frou-Frou
For those who love intricate details, there's nothing like a piece that's covered with rococo or baroque style elements. Go all out with a larger addition like this console table or wall decor, which definitely has a feminine edge. Or for a smaller touch, incorporate intricately embellished vases, lamps or other more modest decor elements. In any case, frilly elements that have rococo flair are decor ideas that can be incorporated in many spaces for a unique touch. Used judiciously, they can add interest without being overwhelming.
Make Your Bedroom Opulent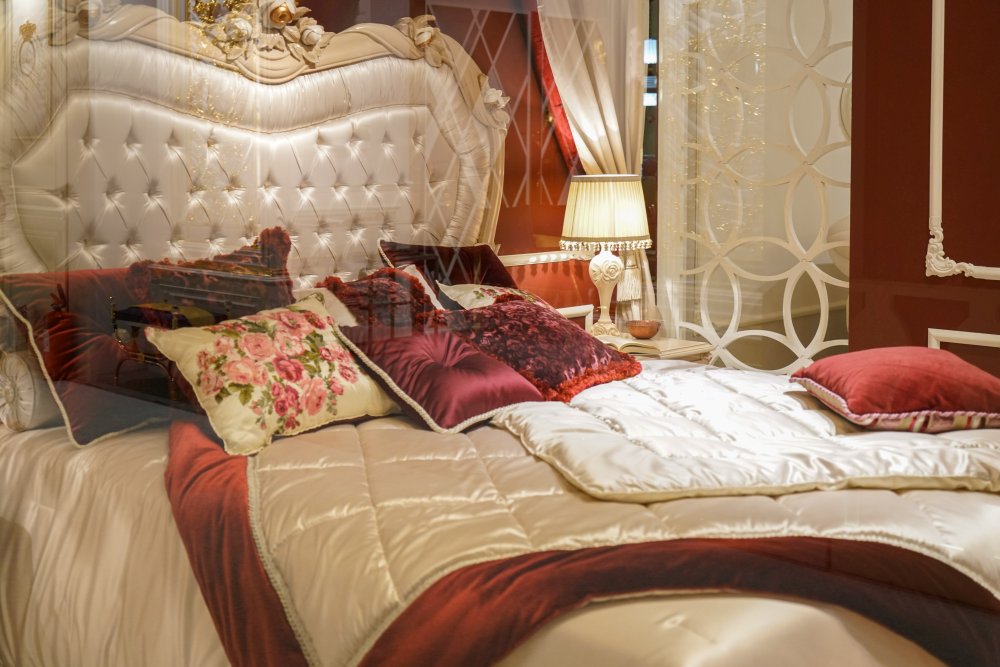 If there's any space in the home that deserves to feel luxurious it's the bedroom. You spend more time here than anywhere else in the house and it's critical to get good sleep, so making it feel comfortable and indulgent is always a good idea. For a grand sense of luxury, go for an opulent look in the bedroom by choosing a dramatic tufted headboard and swap out your bedding for cushy quilts, blankets and pillows in silks, satins and velvets. Layer up the bedding for an even more over-the-top bedtime experience.
Choose Something a Little Edgy
You don't have to have modern decor in your home to add a piece of furniture that has an edgier design. Choosing something that is subtly different, like the irregularly shaped cabinet in this room, is a great way to add interest in a more unexpected way. Of course, how edgy something feels will vary with the piece. the other elements in this space also have some unexpected features like the patterned top on the coffee table and the lounge chair that has twisted strips along the back. None of them is radically different but they add a little something extra to the decor for a very fresh look.
Aim for Mainly Monochrome
Not everyone is a fan of color, but even neutral spaces need something to add pop to the decor. It's easy to see that this living room is solidly done in brown and tan, from the rug to the walls to the upholstered pieces and shelving. That said, the room gets a visual lift from the very small metallic accessories that are used on the shelving, and accented by the very subtle gold color in the small triptych hanging to one side the shelf. Restrained use of a metallic finish is a decor idea that can add zing to a monochrome palette.
Focus on Geometry
Whatever decor style you like, there's a way to add geometric elements to a room. While these types of shapes may be more associated with midcentury design or modern design, many other styles can focus on geometrics too. This opulent living room has a bit of Asian flair reflected in the shape of the arms on the chairs and the focal point shelving, but it also features a lot of geometric shapes, from the center of the shelving to the wall covering. The luxurious coffee table also plays on the theme of geometry with its sharp angular lines, accented by the gold inlay design and ball elements highlighting each leg of the table.
Pick an Artsy Credenza
Adding a credenza to a room is always a smart move because who doesn't need more storage space? Instead of going with a basic option, choose one that becomes a focal point thanks to its artful facade. So many different types are available that feature a unique front in any decor style that it's not hard to find one to freshen up your particular space. From painted fronts to unique wood grains or stone inlays, the possibilities are endless.
Hopefully, these home decor ideas have helped spark some ideas for ways that you can give a fresh look to your living space. If you're stuck in a rut when it comes to redecorating, pick an element from these ideas that appeals to you and start thinking about how you could incorporate it into the room. You never know what you might come up with!