A Selection Of Unique Coffee Tables For Revamped Living Rooms
The coffee table is the last piece of the puzzle, the last element you add to a living room before it can finally be complete. There's a reason why the coffee table is usually the last piece to be added to a living room. It's because it's very difficult to pick one when there are so many great options, so many wonderful styles and so many innovative designs that would look exquisite in that space. Perhaps one of these models would be a nice fit for your home.
Selecting the right coffee table for the right living room is not easy and there are many things to consider before making a decision. Start with the budget. Figure out how much you want to spend on this furniture piece. Coffee tables range from very accessible to really expensive so figure out your priorities and think of all the other things you have to buy before spending everything on a luxurious table.
Think of the style. Do you want the decor to be formal, casual, to look vintage, modern or rustic? It's important to decide on a style for the whole room. This way you can look around at the pieces you already have and find the adequate characteristics for a suitable coffee table.
The seating arrangement in the room is also important. For example, if you have two sofas, a sofa and several armchairs or a large sectional, you can't just put a tiny coffee table in the center and expect it to look good. Such an arrangement requires either a large coffee table or more than one.
Coffee table sets are an interesting option. You have several options in this case. One of them is to mix and match several individual tables to form a set. Another is to look for a coffee table that's composed of several modules such as this one here.
The shape of the coffee table is another aspect to take into consideration before going shopping. In order to be able to pick a shape you should look at everything else in the room. The size of the room is important and so are the other furniture pieces. For example, you can use a round coffee table as an accessory for a pair of square armchairs.
The shape of the table can also be chosen in relation to the sofa. A sofa or couch with delicate, undulating lines and an organic shape overall could stand out more if complemented by a matching coffee table that features similar design characteristics.
You can highlight the shape of a coffee table by carefully selecting the objects to be displayed on it. Highlight a round top with round vases or decorations. A square coffee table could use some geometric decorations and accessories or can have a round ornament on it that softens its look.
Consider using more than one coffee table if the room is large enough for two or for a set. Small groupings like this one can make the room feel more inviting and cozy. In this case two matching tables with different dimensions were put together but other options include mixing and matching different designs, styles, shapes and colors for a more interesting look.
Size is important, particularly the height of the coffee table. It's best to choose the table after you have the sofa and seating elements in the room. This way you can measure their height and figure out how tall the coffee table should be. The standard coffee table height is between 16 and 18 inches and the table shouldn't be lower than 1-2" from the seat of the sofa or couch.
Another element to take into consideration before buying a coffee table is the material. This also has to do with the style you've chosen for the room. A modern coffee table offers a lot of freedom in this sense. Other styles are a bit more particular. Wood coffee tables are very versatile. Oak and maple are considered more casual while walnut and cherry are more formal.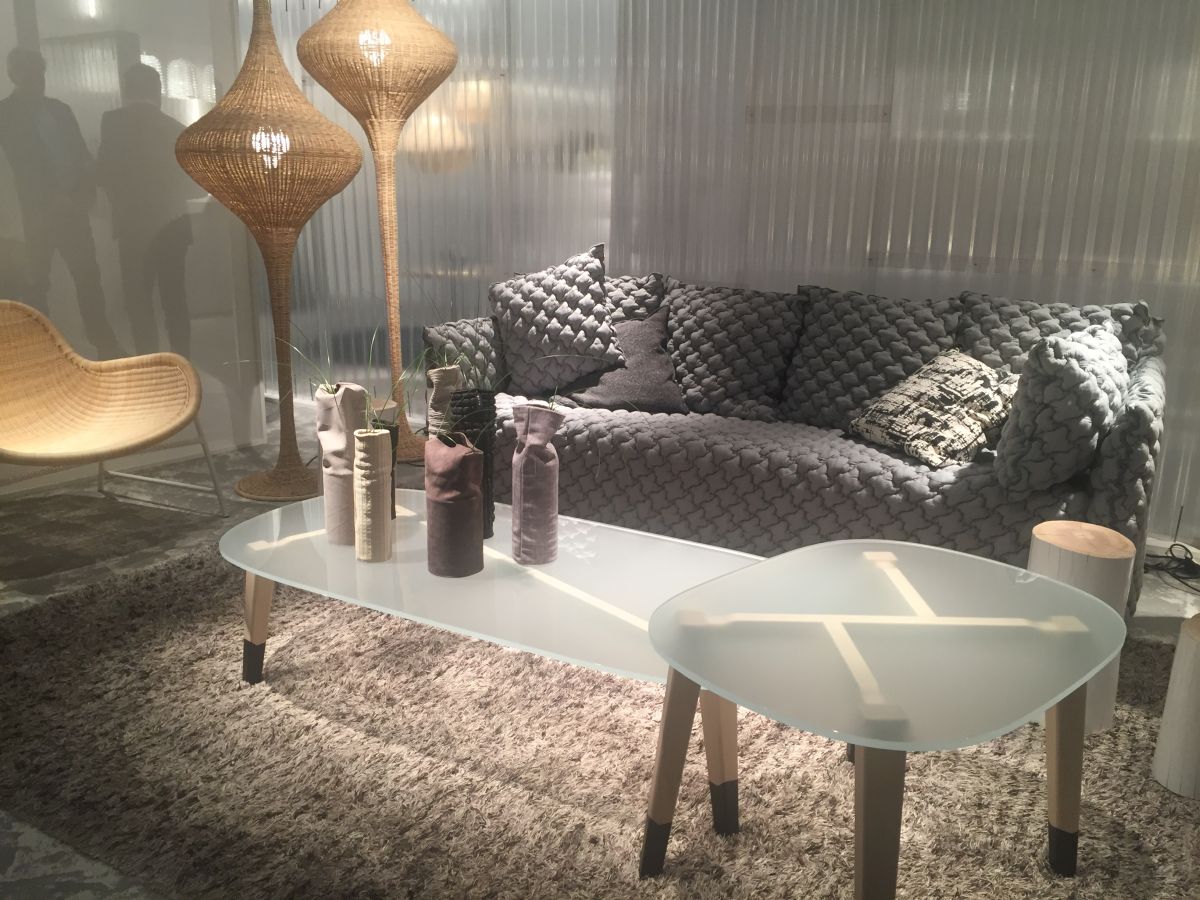 Combinations of materials are common when dealing with sophisticated designs. A table with wooden legs and a glass top can look very stylish in a modern setting but can also add elegance to a more traditional living room. Of course, this also depends on all the other elements discussed so far.
You also have to think of the functionality of the table or table set. Try to figure out what the primary use will be for this furniture piece. If you want it to serve as a decorative pieces you should look for a sculptural design with an interesting base. If you want to use the table for snacks and drinks then a large piece or a set of small ones could be your best option.
There's also another question you need to ask yourself before buying a coffee table: do you want it to stand out and be a focal point for the room or rather to blend in and disappear into the carpet? The answer will help you narrow down the options and will also help you select a color or a material more easily.
Marble coffee tables are particularly interesting. They can suit a lot of different styles. In a modern setting, a table with a thin marbled top and a sleek metal base can look just right. A design that's a bit more solid can be an interesting choice for a more traditional setting or for an outdoor space.
The scale of the table needs to be adequate for the space you want to put it in. This has a lot to do with its visual weight. So look around at the other pieces found in the vicinity of the table. If they're all delicate and lightweight then you should look fora dainty table.
You can play with various different designs, shapes, colors and heights when creating a coffee table set. For example, you can combine a round coffee table with one that has a square top or with an oval table. Also, you can match black coffee tables with others that have a marbled top or a contrasting color.
You can also play with sets of tables that have matching designs and shapes and only slightly differ in some way such as in terms of color or size. Find the best way to arrange them in the room so they don't overwhelm the space.
It's often interesting to treat the coffee table as a focal point, in which case a set would be more efficient in some cases. If you're using more than one coffee table, think of interesting ways to integrate them each into the decor. One could match the sofa, another one could borrow elements from the carpet and so on.
When selecting and positioning a coffee table in a room you need to look at the space. In other words, make sure you leave some distance between the sofa and the table and, if there are multiple seats in the room, make sure the table is easy to reach in each case. The ideal distance between a sofa and a coffee table is 18 inches.
Whether you have a sofa, a section or just lots of individual seats in the room, it doesn't really matter. What matters, however, is that you leave enough room between the coffee table and everything else in the room such a the media unit or the TV. This would ensure a comfortable passageway making the space feel comfortable and welcoming.
There needs to be a balance between the sofa and the coffee table. This means that their styles should match or complement each other in a harmonious way. This includes details such as the color, shape, material and everything else.
Round and oval coffee tables are a good option if you have kids or pets. They're better than tables with square tops because they have smooth edges that prevent bumps and other accidents. This is one of the details you need to consider if you want to make the room kid-friendly.
If you've decided that the coffee table or table set should be the focal point of your living room, look for ways to make these stand out. You can do that by choosing an interesting color or finish that contrasts with the rest of the room or with the carpet.
If you want to opt for a set instead of a single coffee table you also need to decide whether you'll be moving these a lot. For example, if the room is large and has multiple seating options, it's possible to want to distribute the tables when guests arrive. It would be practical in this case to have tables on wheels on casters.
A coffee table with a metal base and a glass top will make the room feel open and airy. Consider this design option is the living room is small and you want to make it look spacious without compromising on accent pieces or other elements.
In terms of functionality, decide whether you want to be able to use the coffee table for storage or not. If the answer is positive then look for designs that include shelves or drawers. This will allow you to store thinks like magazines, remote controls and other objects there so you can easily find and use them when needed.
A coffee table with a lip edge or a tray top is excellent if you're usually serving drinks on it or if you have kids. The edge will prevent spills and will keep your carpet clean. This design is also practical if you want to keep planters on the table or if you have pets (cats especially) that enjoy watching things fall off the furniture.
There are a lot of cool coffee tables to choose from with designs that impress and stand out in fun, playful, elegant and sophisticated ways. It's important to not overdo it and let yourself get carried away by features and details you don't actually need or like.
When selecting the color, take into consideration all the other elements in the room such as the rug, sofa, wall color, artwork and everything else. This will help you decide whether you need a touch of color in the room and thus pick a bold coffee table or if a neutral design and color would be a more suitable choice.
Coffee tables with glass tops are particularly interesting because they emphasize the design of the base. Sometimes a sculptural base is best highlighted by a clear top. In addition, glass gives the table a lightweight look, keeping the room airy and spacious. An acrylic coffee table can be even more successful in this case.
For a playful look, create an interesting set by combining coffee table with tops of different shapes. A round top, an oval one and one that's square or has an irregular shape can make a very interesting set. Keep the color neutral in order to emphasize the shapes.
Simplicity is sometimes the best option if you want to create a sophisticated look for your living room. So instead or trying to find a coffee table with a complex and sculptural design, consider instead something minimalist. A chic table with a sleek metal base and a glossy round top can look wonderful, whether it's a singular piece or used in a set.
For an industrial look, look for coffee tables made of metal. The design options are quite variate. Some are entirely made of metal while other combine it with glass or wood in order to give the table a more balanced and versatile look.
The decorations or items you decide to display on your coffee table also matter. You need to think of the whole picture. For example, if you want to have a terrarium displayed on the table, consider a very simple design, perhaps a black top. If you want the table itself to stand out, perhaps a marble top would work.
We've already decided that coffee tables can be used in sets. You can apply the same idea when selecting the decorations for the table. Consider sets of vases for example. They can feature different shapes and colors and not all of them have to be filled with flowers.
There are also alternatives to choose from if you think a coffee table is too mainstream or if it simply doesn't look good in your living room. Alternatives include things like ottomans, poufs, side tables, garden stools and other similar pieces. A vintage trunk could also be an interesting option.
Before buying a coffee table, mark its footprint with tape so you can picture how it would look in your living room. This way you can decide if the shape and size are right and look for a different design if the answer is negative. You can also do this for any other furniture piece you have your eye on.
Not all coffee tables are expensive. There's a great range of cheap coffee tables that look very chic and elegant. Moreover, you can even build a coffee table yourself. You could use wooden pallets, wine crates, repurposed trunks and lots of other things.