Black Diamond Ultimate Grout Cleaner Review (with Before and After Pictures)
Black Diamond Ultimate Grout Cleaner promises to be quick, easy to use, and safe for all grout and most tile. After testing it, we can report that it lives up to the hype.
In our Black Diamond Ultimate Grout Cleaner review, we tested the product on light and dark grout with excellent results. It worked better than all the other products we tried. Here's how we used it with before and after pictures showing the results.
Black Diamond Ultimate Grout Cleaner Overview
Black Diamond Ultimate Grout Cleaner is acid-free and comes in an easy-to-use spray bottle. The application is quick, and it's easy to rinse off the floor after cleaning.
Black Diamond Grout Cleaner Directions: Spray the cleaner on the grout, allow it to sit for one to three minutes, agitate with a brush and rinse off with water. Avoid using it on painted surfaces.
How We Tested Black Diamond Ultimate Grout Cleaner
About a year ago, I did my first solo tile job. And while the tiling process went well, I got lazy at the end and never sealed the grout.
Because grout is porous, it absorbed dirt, turning my light grout lines into a dirty brown. I didn't have high hopes that any cleaner would restore the color, but I was impressed with how well this one worked.
---
Here's what the grout looked like before I used Black Diamond Grout Cleaner: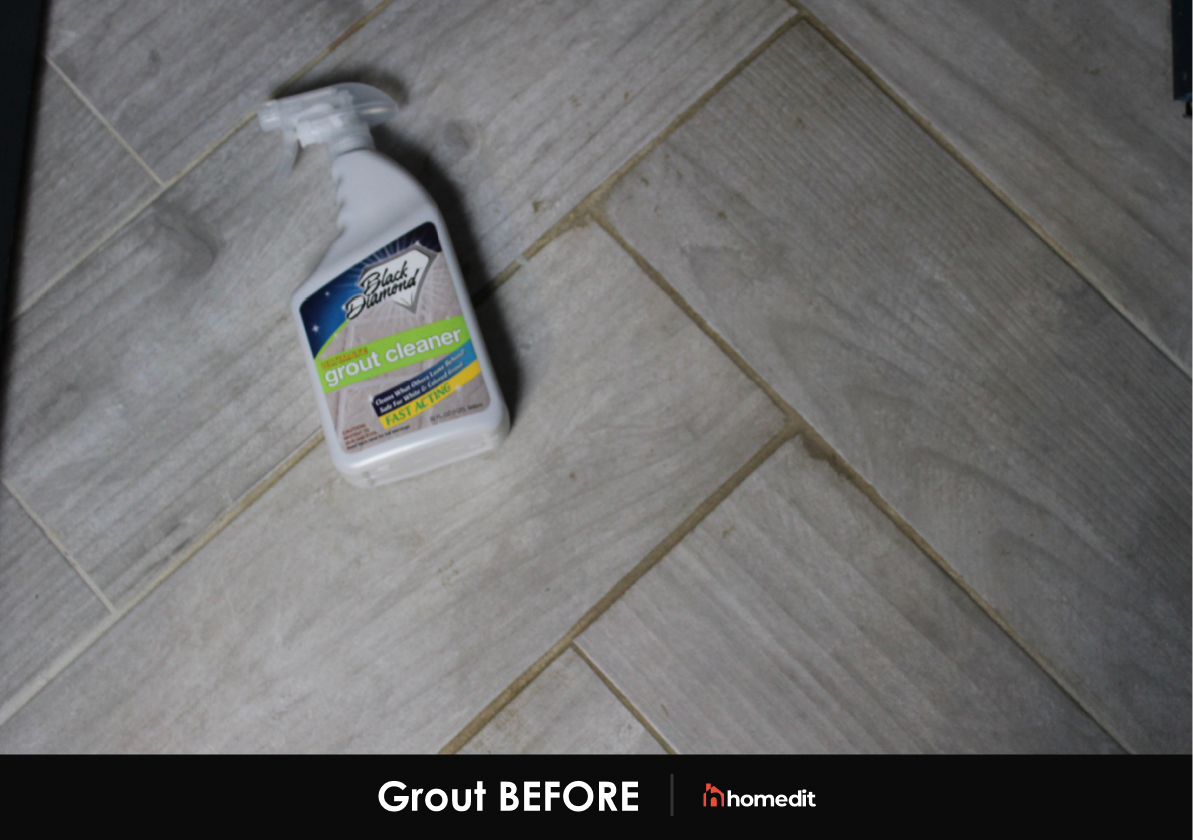 I used the product according to its directions. First, I sprayed a liberal amount of the cleaner onto the grout and let it sit for three minutes. I then gave it a light scrub with a heavy-duty scrub brush. As I scrubbed, the dirt came off. I then rinsed the floor with water and wiped it dry.
---
Here are the results:
The cleaner lifted most of the dirt. One small section didn't come all the way clean, but I'm hopeful the rest of the dirt will come out with a second cleaning.
Since I was testing multiple grout cleaners, I only used the product once so I could compare all the cleaners in a fair manner. I intend to retreat my whole floor with this product.

Read Full Review: Goo Gone Grout and Pink Stuff Paste
---
Are There Any Drawbacks to this Product?
Overall this product was unmatched, but there are three potential drawbacks: Black Diamond Ultimate Grout Cleaner doesn't kill mold, clean hard water deposits, and you can't use it on painted tile. So, if you need to clean shower tiles, this might not be your best bet.
Also, don't use this if you've stenciled your tiles or painted them.
Frequently Asked Questions (FAQ)
FAQ
Where can you buy Black Diamond Grout Cleaner?
You can purchase Black Diamond Grout Cleaner at Amazon, Lowes, and Walmart.
Can you use Black Diamond Grout Cleaner on Marble?
You can use Black Diamond Grout Cleaner on marble tiles. Since it's acid-free, it won't etch natural stone. To be safe, try a spot test in an inconspicuous area.
Does Black Diamond Grout Cleaner Come with a Scrub Brush?
You can buy Black Diamond Ultimate Grout Cleaner with or without a grout brush. The packages that include a grout brush are more expensive.
Final Thoughts
Black Diamond Grout Cleaner is a good choice if you are looking for a near-effortless way to clean your grout. It's easy to use and requires minimal scrubbing – even if your grout is super dirty like mine was. But, depending on the dirtiness and how light your grout is, it may take two applications.
I recommend this product if you've put off cleaning your grout because you think it will be too time or labor-intensive. It was quick, required light scrubbing, and was easy to rinse.