Hand-Crafted Furniture and Accessories at BKLYN Designs
New York City's month-long celebration of art and design includes the borough of Brooklyn, which held BKLYN Designs on the inaugural weekend of NYCXDESIGN.  Having become a hub for craftspeople and artisans, Brooklyn is a fitting site for a show of creativity and innovative design in furniture and home decor. Homedit perused the fair and founds lots of wood, imaginative reuse and a touch of new technology.
CAUV Design
The first grouping of gorgeous wood pieces was by CAUV design. Artisan Joe Cauvel creates custom designs for his clients using mainly sustainable hardwoods that he sources. Even better, for every piece he sells, he makes a donation to an organization that plants trees in forests that have been damaged. This is his beautiful "Cave" Credenza made of Shou sugi ban white oak, topography black walnut and blackened steel.
Cauvel has also begun creating art pieces from the materials he uses, such as this piece that includes wood, metal and concrete.
Christopher White Designs
Belgian-born and trained designer Christopher White is a classically trained woodworker who derives inspiration from natural beauty. His pieces exhibit a skill that allows the wood's beauty to take center stage. White's dining chair is made from several types of wood and traditional mortise and tenon joints.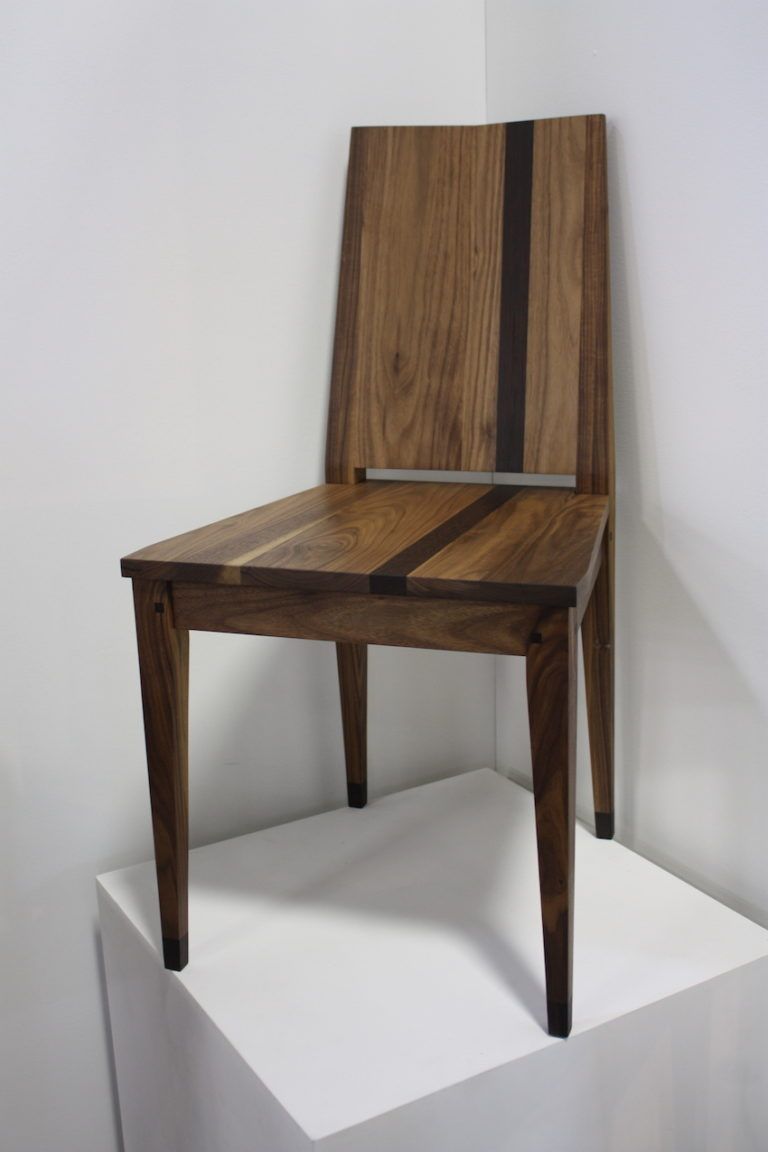 Called a laptop desk, but a perfect desk for smaller spaces no matter how you use it, it features three different types of wood: walnut, birds eye maple, and zebra wood.
Live edge furniture is always cool, but White's Tree Slice Coffee table is extra special thanks to the joinery. The sections of the salvaged slice are held together with threaded steel rods, which provide an industrial contrast to the natural wood piece.
Enitan Vintage
These grand pieces by Enitan Vintage are refashioned vintage pieces upholstered in vibrant African textiles. All the pieces the company produces are inspired by founder Gbenga Akinnagbe's heritage and travels across the globe. In the Yoruba culture of Nigeria, where his family comes from, the word Enitan means "person of story." In fact, the company's website says, "Sit on a Story." He has found his passion combining the vintage frames of furniture with these unexpected fabrics.
Akinnagbe's name will be familiar to fans of the HBO series, "The Wire," in which he played the murderous bodyguard of a drug dealer.
Frederick Tang Architecture
Light-hearted furnishings from a serious architectural firm: These fun pieces were created by Frederick Tang Architecture, which debuted the pieces at BKLYN Designs. Furniture design and production is a new venture for the firm, which is looking to produce more original custom furniture.
Avandi Studio
These great side tables are stylish triangles made of concrete. The legs of Avandi's AdapTable can be purchased in different lengths and different colors. Designer Ariane van Dievoet's signature piece, the table can be used individually or in a grouping as a coffee table. Avandi focuses on creating items for the home and jewelry that are durable and are a fusion of craft and technology.
Keep Furniture
Keep Furniture is Steven Bennett's studio that creates custom gallery-quality wood furniture and "centerpieces" which are made from wooden spirals. Bennet makes the curled showpieces and turns them into lamps, vases and flowerpot holders.
Refoundry
Usually, the term repurposed means taking a discarded or no longer useful item and giving it a new life. In this case, however, it has a greater meaning. Refoundry is a non-profit that teaches formerly incarcerated people how to upcycle wood and other materials into furniture and accessories. It also teaches them how to turn this new skill into a business. Based on a model developed in Los Angeles, the group's motto is that "Every Story Has Value" and all its efforts center around collaboration, self-reliance and entrepreneurship. Among the pieces that Refoundry displayed were upcycled tables and stools as well as complex inlaid wood pieces.
Stefan Hepner Studio
Polish-born Stefan Hepner uses modern materials to create unique pieces, often using traditional processes combined with current technologies. From furniture to objects, Hepner's creativity and skill yield design-forward pieces that are as functional as they are interesting. A great example is his La Piscine table, a play on the french word for swimming pool. The expanse of blue is highlighted by the chasm that extends into the base and the other leg was designed to resemble a pool ladder.
The Atoll Table features a faceted base that sports a top of epoxy paint so shiny and lustrous, it really looks like a pool of colored water into which you could dip your hand. It gives the illusion of secret depths within the table.
Made from fiber reinforced concrete, Hepner's Exedra Shelf is meant to be more than just a wall shelf. He says it was inspired by the niche that is often found in classical architecture and the texture of crumpled paper. It's meant to highlight your special objects, putting them on full display.
A far cry from the typical cuckoo clock, this "Cucoo" clock is a modern, pendulum timepiece that evokes nostalgia but smartly skips the hourly noises and campy little bird.
A slim and modern shelf is great for any room. Called the Double File cabinet, it's perfect for books and magazines and has a small compartment behind the faceted door.
Still Alive Lights
A bug draw at BKLYN Designs was the Still Alive booth, which featured a 3D printer that was creating one of the company's novel bear lights. All of the fixtures are manufactured one at a time on the 3D printer, from the animal-shaped wall and table lamps to the tubular creations they make. The company currently has a solar flower light on Kickstarter that will charge from the sun coming through the window. Some of their other pieces can be turned on in unique ways, like kissing the bear on the nose.
Think Fabricate
Since 2009, Think Fabricate has been creating bath cabinetry, media furniture and other furniture designs, which they call solutions for better living. Not only are all of their works highly functional, but each is beautiful and well designed. In fact, Think Fabricate won Best in Show for its products.
Wat Started as a thin wall cabinet has now evolved into a concept bar cabinet for smaller spaces. The mix of a cabinet with some shelving lends itself to this type of use and the designers say the next iteration will include a door that opens downward, providing additional space for bar service.
This table in particular shows off the marvelous wood grain in the top. It is paired with the Classic Wood Stool, a smaller version of the is metal French Marais-style café stool.
Known for its custom bath cabinetry, think Fabricate showed its latest model, the A-Loft Bath Credenza. More like a workbench or a table than a typical bathroom vanity, the top is Corian and features a thoroughly modern rectangular sink that sits on top. Because the pieces are custom, it can also be made for a recessed bathroom sink. The slatted shelf at the bottom is particularly stylish.
Perfect for a more compact city apartment, the River Rock vanity makes the Corian the focal point bu wrapping it around the wood-fronted drawers. The sleek gray (or white) makes the beautiful burled wood stand out even more. The short, leggy wood base is a different treatment that the usual vanity.
Voytek Orent
Homedit fell for the designs by Voytek Orent at last year's show. Orent uses only reclaimed and recycled wood slabs, along with metal and concrete. This is his Dark Stones sofa, a new spin on last year's model. He explains that it uses thick and plusher padding in the "stones" that comprise the upholstery on the bench.
Orent's coffee table is a contrast in materials. Basic concrete is fashioned into a tabletop that features a metallic swirl with a jewel centerpiece. Grand gold metal in a textured pattern surrounds the top and forms the leg accents, which look like a chunk was bitten out, revealing a golden interior.
The base and feet of this bistro table and stools would be the stars of any kitchen or entertainment space. The unique style almost feels alien, or at least like a sticky-footed tree frog. To top it off, the wood is polished to a mirror-like finish on the seats and on the wood pieces that cap off each piece of the base.
Mark Jupiter
Mark Jupiter's award-winning Brooklyn Studio makes gorgeous wood furniture…period. From the expert wood craftsmanship to the artistic designs, the furniture all focuses on beautiful wood grain and pleasing lines. A fourth-generation designer and builder, Jupiter creates custom pieces from wood mainly sourced from places like abandoned factories and from trees damaged in storms.
The wood in this bench was transformed using the ancient Japanese technique of charring wood called Shou Sugi Ban. The process involves charring the wood, letting it cool, cleaning it and applying an oil. The result is a unique finish that adds far more than just a dark color. It highlights the texture of the wood.
The Single Slab wood table sits atop a solid brushed brass base that is accented by the rivets that hold it together.
Just outside the Expo Center, the Ernest Cabin showed off the concept of a customizable tiny house built on a shipping platform. The small structure is perfect for a weekend getaway, retreat space or even full-time living space because it can be customized.
This unique piece of furniture is both a desk with chair and an expansive armchair. Great for a smaller space, it's also a versatile item for any room, especially because you can sit in it a variety of ways.
This is patio, or deck of the small house, which can also be enclosed for a larger indoor living space. Large doors open out, making the most of the outdoor space.
The BKLYN Designs show is evidence of how strong the small maker community is. Small production and one-of-a-kind, finely crafted pieces are highly sought after. Thankfully, consumers want custom furniture and accessories, so specialty makers have a good outlet. The designs we see here for furniture and home decor are always inspiring.