Board and Batten Siding: A Simple Design With a Significant Impact
Board and batten siding is a beautiful paneling style that has yet to lose its luster. A European design popularized in North America in the late 1800s, its origin was out of necessity.
It was used on barns to create an airtight, strong seal which is why it's often referred to as "barn siding". Though it's not used today for the same reasons, it's still a common choice based more on the design element than anything.
If you're looking for a way to take your builder grade exterior to dream home status, stay tuned and see how board and batten siding can make it happen.
What is board and batten siding?
Board and batten siding is a type of siding consisting of large, wider boards as a base layer with vertical, narrow wood pieces called "battens". These smaller pieces are spaced, leaving room between each vertical piece to create a layered look against the base pieces.
It used to be that these thin battens were used to cover the seams of the wide boards behind it. Today, base layers can be cut into large enough boards that seams aren't an issue. Further driving home the point that board and batten siding is an altogether aesthetic choice nowadays.
Pros of Board and Batten Siding
The board and batten style is just one of a multitude of siding options, so why choose it?
Several Styles: Board and batten siding fits several personal styles. While it's most common in farmhouse and country designs, it's being seen more in modern styles and traditional homes as of late. In regard to style, it's also versatile in that you can use it to create different patterns. For example, a mixture of horizontal and vertical siding, a mixture of textiles and board, distinct end and trim pieces etc.
Durability: Overall, board and batten siding is a long-lasting choice. It comes in several materials, all of which have their own set of protective properties. With proper maintenance such as up kept paint, appropriate sealing and caulking and treatment to fight against pests, your siding can last upwards of 25 years.
Overall Attractiveness: Board and batten siding gives any home a hefty dose of curb appeal. The gorgeous, clean lines coupled with layered textures are an undeniable design success. Its unique design also provides your home's exterior with a custom appearance you won't get with a builder grade finish.
Cons of Board and Batten Siding
As with any design element, it's important to weigh the disadvantages. While board and batten siding doesn't have a lot, there's still a few to keep in mind when selecting new siding.
Expense: The cost of board and batten siding falls into the cons category, but not for the reason you may think. After all, many of the material options are just as affordable as more traditional sidings. Even so, the labor is what causes the cost of board and batten siding to skyrocket. Installing the base layer along with a multitude of vertical boards will take a lot of man power.
Lengthy Installation: Unlike other siding options, board and batten siding installation is far more time consuming. Not only will a base layer need installing, but each individual batten too. Seeing as each batten is a max of two feet apart, more often even closer, that makes for far more material to install, thus more time.
Board and Batten Material Options
Wood Siding
The go-to choice for board and batten siding, wood is a classic material that adds rustic charm. It can be painted any color you'd like which gives you endless style options. Regardless, the fact that it can face issues with rot, insect damage and re-painting is not something that can go overlooked.
Engineered Wood Siding
A combination of wood and resin that creates a sturdy siding option. A treated material, it's resistant to moisture damage and insects. It's also cheaper than traditional wood siding. Nonetheless, it's not a great choice when it comes to being eco-friendly as chemicals used in both the wood and manufacturing process are harmful.
One of the cheaper materials available, vinyl siding is a heavy-duty option that comes in several textures. While it is a lower maintenance material, you'll need to consider the risks. Vinyl can be prone to melting and cracking depending on your climate.
The strengthening cement component of this option coupled with the affordability makes it a common choice. It can also be manufactured to look like real wood without the cost. The main downfall of fiber cement though is that it's not one that's simple to install yourself. You'll need to hire a professional for installation.
Steel Siding
For easy installation, hefty amount of durability and plenty of color options, steel is the way to go. It tends to be low maintenance and is sure to stand the test of time. You will need to consider the cost though, as it's higher than other options.
Board and Batten Siding Cost
Onto one of the most important project considerations, the cost. While the total board and batten siding cost will come down to the material selected, you're still able to get a ballpark estimate based on the size of your home. HomeAdvisor provides some reliable figures as a reference for batten siding installation:
The average total cost ranges from $4,000 to $14,000 with an average cost of $9,000.
Materials alone cost between $1.00 and $10.00 per square foot.
Materials with labor range from $2.50 to $12.50 per square foot.
Material averages per square foot: Wood is $3.00 to 10.00$, engineered wood is $2.00 to $5.50, vinyl is $3.00 to $12.00, fiber cement is $0.75 to $6.00 and steel is $4.00 to $8.00.
Examples of Board and Batten Siding
---
Traditional Vertical Board and Batten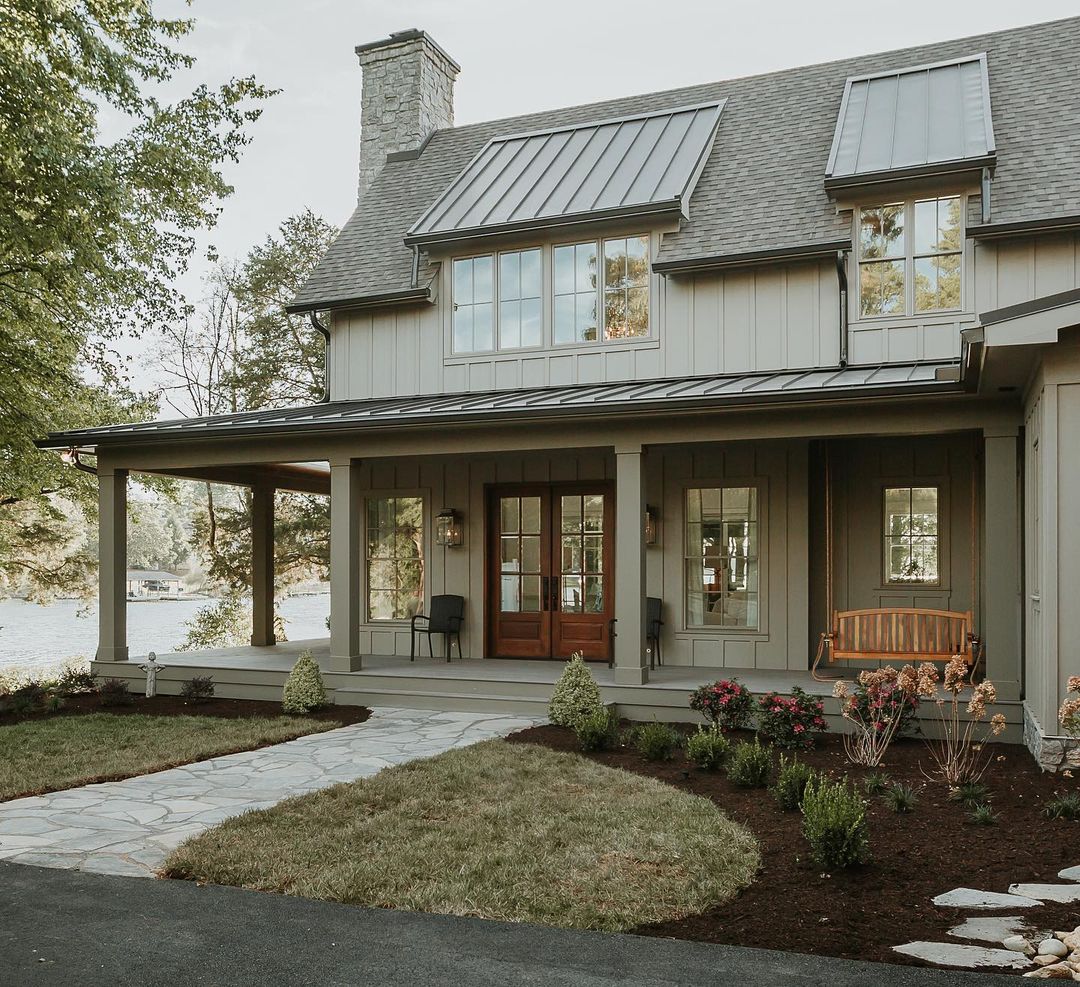 With a traditional board and batten look, this house displays the timeless design in a muted green for an earthy touch.
---
Board and Batten With Mixed Materials
Mixed materials complete this board and batten siding with splashes of stonework, steel roofing and several different wood designs.
---
Board and Batten With Shiplap
A country home with wood exterior composed of both board and batten siding alongside shiplap for an eye-catching combination.
---
Board and Batten With Lap Siding
Bold black exterior adorns this craftsman-style house with board and batten siding forming the upper half and lap siding installed on the lower end. Natural wood tinges round out the depth of the black.
---
White Board and Batten With Stucco
A custom chateau house with endless charm, this white home exterior blends board and batten siding with stucco for a smooth and polished finish.
---
Farmhouse Board and Batten Siding With Stone
A farmhouse with mixed siding, the combination of board and batten siding and natural stone give the exterior an unmatched rustic look.
Frequently Asked Questions (FAQ)
FAQ
How far apart should each batten board be?
Much of this is based on personal preference, but if you're looking for some general guidelines, here's a few rules to stick to. Space your battens somewhere between 12 and 24 inches. Keep in mind, for your board and batten siding to hold strong you'll want to try and nail the battens directly into a stud. Depending on your home's design, studs may fall every 16 inches or 24 inches. You can make it easy by basing your spacing on these metrics.
Does board and batten siding require a lot of maintenance?
Board and batten siding can require a good amount of maintenance based upon which material you choose to make the look. A traditional option like wood siding will need more attention as it'll require repainting and occasional fixing if boards become damaged or warped. Options such as steel or fiber cement are much less maintenance overall.
Are board and batten siding and Hardie Board the same?
When it comes to board and batten siding, you'll often hear the term Hardie Board tossed around. While it can be used to create the board and batten look, it's not confined to board and batten, it's a material in itself. A type of fiber cement siding, it gets its name from the company who manufactures it and has gained popularity in recent years.
Conclusion
Board and batten siding may serve a different purpose now than it was first intended but there are clear reasons it has stuck around. Its capacity to offer style options, durability and an eye-catching custom feel make it an easy choice.
Though labor and installation cost might sway you, its ability to offer a strong selection of materials makes up for it. Picking the texture and color also gives your exterior those extra personal touches homeowners hope for.
With a board and batten siding exterior, your home is sure to be the showstopper on the block with unrivaled curb appeal.