Fun In The Sun: Outdoor Daybed Ideas For Your Backyard Space
An outdoor daybed offers an added layer of comfort to your backyard space. The right outdoor patio furniture piece can turn unused space into an enjoyable destination. If you're considering an outdoor patio daybed, do some research before making a decision.
Outdoor furniture options have increased and offer sophisticated styles and fashionable appeal. Due to the patio furniture's improved durability and comfort, demand has remained steady and is expected to grow.
Recently, manufacturers have been developing smart mattresses and outdoor dining tables with built-in TVs and stereo components, to name a few.
Our purpose here is to help you make an informed decision. With multiple outdoor daybed options, finding a style that's right for you might be overwhelming.
Choosing An Outdoor Patio Daybed
Due to market demand and advanced technology, there are a few important things to consider when shopping for outdoor daybeds.
---
Size
The size of your patio daybed is the first thing to consider. If your outdoor space is limited, decide how much of that space you want to use. And more importantly, accommodation will need to be determined.
---
Materials
The cornerstone of outdoor furniture design is durability. This will depend on the type of materials used to make your patio furniture. Outdoor patio daybeds with strong construction last longer.
---
Weight Capacity
Figure out how much weight you your outdoor daybed will need to hold. Most outdoor furniture pieces will support about 240 pounds per person.
---
Canopy
While canopies vary among manufacturers, there are features that you can't compromise. First, the ace-in-the-hole for a canopy is if its weather-resistant. If the fabric of the canopy is going to let water through its fibers at the first sign of the rain, that means it hasn't been treated and it's something you want to avoid.
---
Seating
A selling-point with outdoor daybeds is the number of people it can seat. How big is your family and how often do you invite guests to your home? These are two selling points that need to be addressed before you buy an outdoor daybed.
---
Best Outdoor Daybeds For Your Backyard
Our team of professionals handpicked the best outdoor daybeds to make your search easier.
Daydream Leisure's Jason Condon said,
"Salt, UV and rain are harsh on any furnishings, and most accommodations have these elements in spades. Therefore, my advice is don't buy bottom shelf, instead, buy from a company with a commercial focus and experience and have a cleaning program in place."
The Greening Outdoor Daybed includes an ottoman and cushions. The ottoman is flexible and provides additional seating for multiple guests.
The ottoman and the daybed itself both have cushions, and the purchase also includes seven throw pillows for added comfort. Due to its hefty construction and thick cushions, the Greening daybed is heavier, weighing 111 pounds.
Pros:
Includes ottoman and cushions
Made from long-lasting wicker and rattan
Comes with a 1-year warranty
Cons:
Heavy piece of furniture to move around
Cushions need to be covered in the event of weather
The Venice Patio Day Bed includes the typical architectural and design beauty expected of the Venice brand. This daybed has clean lines, high-end finishes, and an overall elegant appearance that upgrades any patio design.
The round design is amenable to seating several people for up to 500 pounds of weight capacity, and yet, the product is lightweight at only 79 pounds.
Pros:
Clean lines, modern design
Aluminum base is sturdy and secure
Can sit several people at once
Cons:
Lack of rails can make sitting uncomfortable
Back support on one side only
The Keiran Day Bed is a luxurious piece of furniture with quality construction for long lasting durability. Rounded arms provide a modern look, and the canopy keeps you shaded and cooler on sunny days so you can relax without concern of exposure.
Some assembly is required, but the da bed will seat multiple guests, rated up to 800 pounds for capacity.The Keiran weighs 155 pounds and comes with a 1-year warranty.
Pros:
Luxurious design
Rounded arms and canopy for shade
Can be separated
Cons:
Assembly is required
Heavy
The Summerton Teak Patio Day Bed is built from luxurious, grainy teak wood, which ages beautifully in the elements without compromising strength and durability. With a great classic design, this day bed is a great place to lounge on a beautiful day, with plush cushions that are 6.25 inches thick and plenty of cozy pillows.
Some assembly is necessary upon purchase, but it's worth it for the absolute beauty of the product, which will hold up to 750 pounds. Enjoy a limited 1-year warranty to assure that your product is free from manufacturer design flaws.
Pros:
Made from teak wood
Natural weather resistance
Plush cushions
Cons:
The Aaron Patio Day Bed has a stainless-steel frame for timeless contemporary appearance and sturdy, long lasting durability. The daybed can hold up to 600 pounds. Meanwhile, assembly is required upon ordering, and tools may be needed. There's a canopy included for extra shading and cooling on hot, sunny days. The Aaron daybed also has a 1-year warranty.
This is perhaps the heftiest day bed on this list, weighing 200 pounds, so it's not something you want to move around. But the grey and green aesthetic are worth the trouble, making your patio look like a deluxe habitat for relaxation.
Pros:
Stainless steel frame
Similar design to a patio swing
Cushions are covered with waterproof material
Cons:
Tools are needed for assembly
Weighs 200 lbs
The Freeport Patio Day Bed offers commercial-grade construction in residential furnishing at prices you can afford without having to break the bank for the top quality. The piece is pre-assembled featuring hand-woven all-weather high-density polyethylene over a rust-resistant, powder-coated aluminum frame.
With multiple pieces, you can entertain more people. The day bed is heavier than other designs. Enjoy a 1-year limited warranty against manufacturer defects for added assurance.
Pros:
Fully assembled
Multiple pieces included
Easy to clean
Cons:
Heavier than most daybeds
The Lammers Patio Day Bed is both attractive and durable, with a classic sofa design that doubles as a great lounger for sleeping or relaxing outdoors under the sun or beneath the stars. The canopy helps protect you from the sun's rays and heat, so you don't have to worry about sunburn or excess heat on the hottest and brightest.
Seat cushions and a cushioned ottoman are included. The piece features a wicker frame, making it more durable for outside weather conditions.
Pros:
Classic sofa design
Canopy included for shade
Cons:
The SND-A Outdoor Rattan Wicker Sun Loungers resembles a bird's nest, making it a stylish addition to any backyard space. It also has plenty of seating and shading for multiple guests.
Made with a powder-coated aluminum frame, this patio canopy sectional daybed also features a stylish espresso brown synthetic rattan weave.
Unlike other daybeds, it's collapsible, so you can take it down and transport it to a different location.
Pros:
Durable upholstery
Fade resistant
Collapsible
Cons:
Some have said that it's a bit pricey
The Island Gale Luxury Outdoor Patio Hanging Wicker Swing Chair is the ideal seat for two people. It features an ultra-durable powder coated steel frame. Also, the swinging chair is made with commercial grade hand woven weather-resistant PE rattan wicker.
Included are seat cushions are filled with soft cotton. This easy to assemble chair sits atop a durable steel frame that can hold over 500 pounds.
Pros:
Resin wicker chair
Easy assembly
Sturdy frame
Cons:
Some have said the bolts rust too fast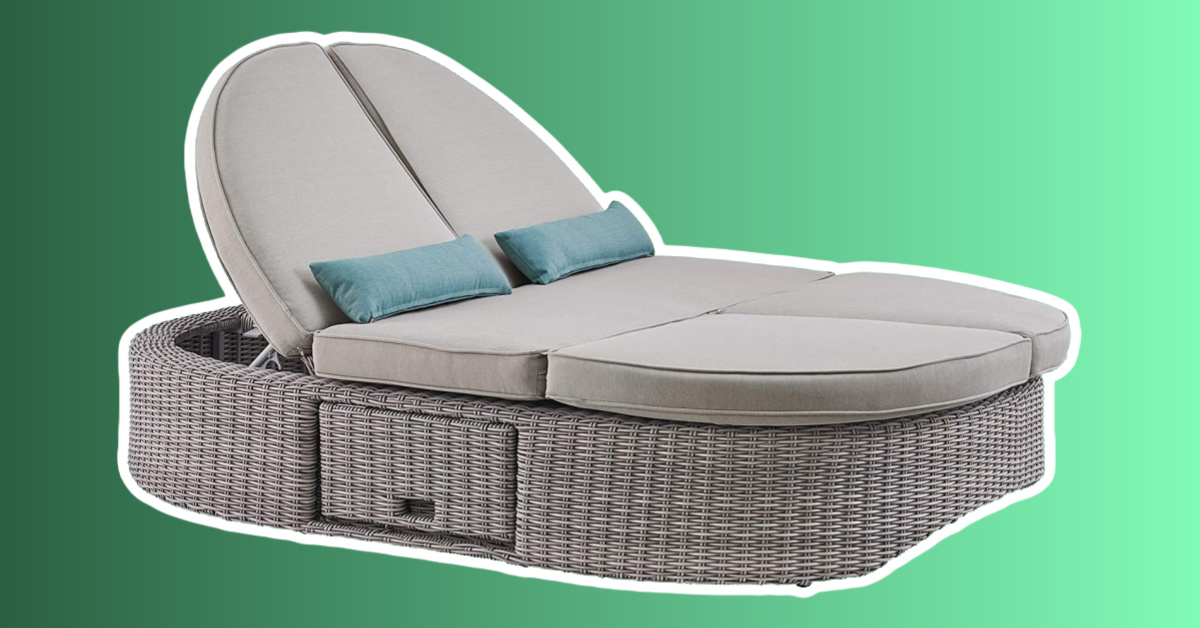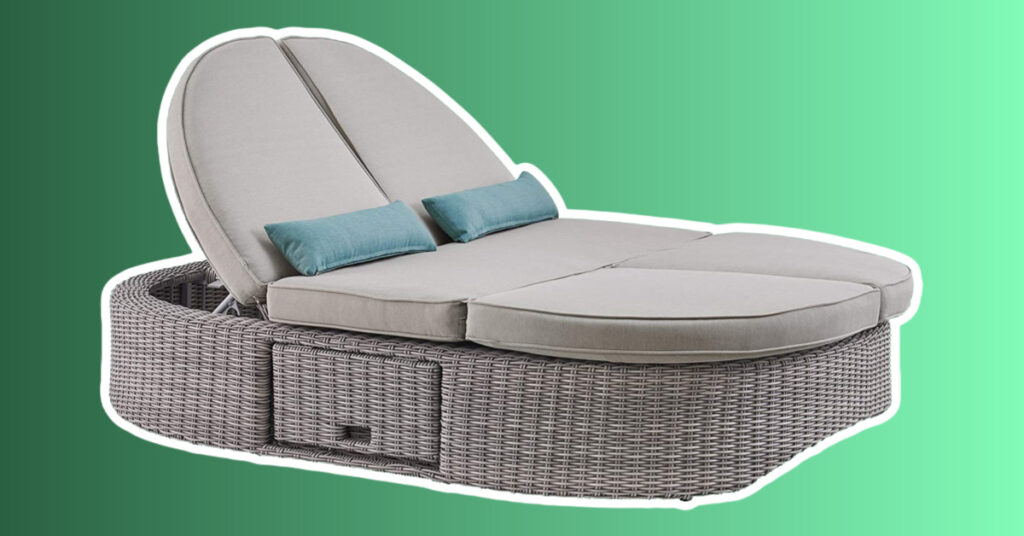 The Ove Decors Sandra Retractable Patio Sofa is a backyard lounging spectacle to behold. The outdoor furniture piece is a 360-degree swivel patio daybed. Its design features a rust-resistant and UV-protection aluminum frame.
Made with half-round wicker, the daybed offers cozy seat cushions with removable Olefin zippered covers. The cushions and mattress are covered with stain-resistant material that also protects them from harsh weather conditions and fading.
Four independent multi-position backrests offer seating options for bigger parties. And two lumbar pillows and folding side tables provide optimum relaxation for large families.
Pros:
Ideal for big families
Protective covers
Cons:
Heavier than most options
How To Clean Outdoor Patio Furniture
Cleaning your outdoor daybed is easy. After heavy usage, the cushions and mattress will need to be free of germs.
Here are a few cleaning tips to help keep your daybed clean.
Remove covers, sheets, and blankets from the daybed to get to the mattress itself. Launder the covers and sheets for a true deep-clean.
Vacuum the top of the mattress to remove loose dust, debris, and other buildups.
Use an organic, natural, or toxin-free fabric cleaner on stains then use a fabric brush to remove them.
Invest in a mattress protector that can be washed or dry-cleaned.
Sprinkle baking soda over the cleaned mattress to remove existing odors and prevent new ones from forming.
Frequently Asked Questions (FAQ)
FAQ
Will A Regular Bed Mattress Fit On A Patio Daybed? 
A patio daybed comes with a special weather resistant mattress. The mattress is treated with chemicals, making it suitable for outdoor use. Traditional bed mattresses won't fit on outdoor daybeds. 
Can I Sleep On A Patio Daybed Like A Regular Bed?
A patio daybed is good for short, afternoon naps. Unlike a traditional bed, it's not made for extended sleep periods. A patio daybed does not offer the same support or comfort as a traditional bed. 
How Can I Make An Outdoor Patio Daybed More Comfortable?
To make your patio daybed more comfortable, you can add throw pillows and blankets. If you don't have enough shade, you can attach an umbrella to your patio bed to protect yourself from the sun. 
Do I Need A Canopy For My Daybed?
If you need protection from UV rays, then a canopy would be necessary. When you buy a canopy, make sure it's safety certified and can be attached to your daybed.
Is Resin Durable For Outdoor Furniture?
Resin wicker outdoor patio furniture is popular due to its low-maintenance features a lightweight design. The material lasts longer and can withstand harsh weather conditions.
Outdoor Daybed Conclusion
An outdoor patio daybed is designed for comfort, first and foremost. You want your backyard to be an outdoor oasis, and patio furniture can help. The differences between outdoor patio beds is a matter of apples and oranges, however, be sure not to throw caution to the wind.
When selecting an outdoor patio daybed, check its specifications. For example, UL-certified patio furniture offers greater protection and safety. You'll want to make sure your furniture has a solid frame and plenty of mattress support.
At the end of the day, you want something safe and secure. After all, an ounce of prevention is worth a pound of cure.