The Best Mattresses for Insomnia: Get a Better Sleep Now!
If you're an insomnia sufferer, like I am, then you know firsthand how frustrating it an be. The constant struggle of having to lay there and think about not sleeping but wishing you could be enough to drive anyone crazy. That mixed with the incessant tossing and turning can just about ruin a whole week if you let this carry on without trying to find a concrete resolution.
You can try the natural supplements and herbal teas, but did you know that there are actually quite a few mattresses out in the market that can help with insomnia? There are mattresses that are targeted toward insomnia suffers that not only help cushion your body to help it relax but can actually help your blood flow and breathing processes just by the way the mattress is constructed.
Why Does Insomnia Matter?
If you have insomnia, or have a loved one with insomnia, you know exactly how important it is to be able to have a restful night sleep. With help from a mattress, you could potentially fall asleep faster and more comfortably, creating a sleep space that won't cause you anxiety, but will be a safe harbor for you to fall into blissful sleep without worry or constraint. Once you become accustomed to your new mattress and allowing it to work for you, the entire process of falling asleep will become much easier. Once you are able to relax and sleep in a new bed, you'll definitely feel the difference the next day and understand why this matters so much to your overall health.
How to Choose the Right Mattress for You
When searching for a mattress to aid in insomnia relief, keep a careful eye on the following:
Medium firm mattress, maybe with pillowtop option
Copper wiring or gel-infused for cooling properties
Adjustable options are nice if you need to have your head or legs elevated
Excellent motion transfer especially if you sleep with a partner
Superior edge support for getting in and out of bed
Some of the worst things to look for in a mattress for insomnia sufferers:
Super soft plush mattresses
No edge supports
Distracting off gassing smells
Non-support foam
Too firm
While it may seem like these bullet points are too specific, once you delve into the world of mattresses for insomnia sleepers, you'll see that these are common trends within this construct.
Where to Look for a New Mattress
While some customers prefer to get their mattresses in a shopping mall or furnishings store, or maybe even an actual mattress store, you can also find thousands of mattresses online that are easily tailored toward your needs. When looking for a mattress to help with insomnia, for example, there are literally hundreds of sites that tout they have the best mattress just for this issue.
What's great about online stores is that you can easily look up hundreds of mattresses without having to wonder about customer reviews, as so many websites offer plenty of them online. This is a huge benefit to the online shopper, as you can see it right there in front of you what other fellow insomnia suffers feel about the mattress you may end up purchasing.
Helpful Hints
When you do decide to scout all these wonderful mattress companies for the perfect mattress for insomnia, make sure to check out the warranty and sleep trial policy. Many mattress brands want to make sure you absolutely love your new mattress, so there are sleep trials that will allow you to purchase the mattress but return it within a certain time frame if it's just not working out for you. This is ideal if you're already on the fence about a mattress and aren't sure if you're going to want it for the long run or not. Warranties are also important as you need to know how long you can keep the mattress before, if any, issues come about, and you'd have to return it. Since mattresses are an investment, it's always good to get these basic ground rules covered.
So Many Options
While there are so many options out there for you to look at, remind yourself not to become overwhelmed. Take your time in your search, read reviews, and even reach out to customer service with any questions or concerns you might have. That's what customer service is there for, and they definitely want to help you along your mattress searching journey, as well. They would more than likely even be able to tell you if their mattresses are suitable for insomnia sleepers and how many customers have purchased these mattresses just for insomnia relief alone. Worth a shot, at least.
Top 5 Best Mattresses for Insomnia
The following mattresses have made the cut of our top five best mattresses for insomnia relief. These mattresses will help lull you to sleep, all while supporting the body and providing a fresh morning each day. If you need proof for yourself, try these mattress brands out! You definitely won't be sorry with any of these amazing choices.
The Avocado brand introduces a high-quality organic mattress perfect for insomnia sufferers. With so much organic material that is pumped into this mattress, you'll wonder how you ever slept on an inorganic mattress in years past. This is made up of 100 percent certified organic and chemical free materials which is great for insomnia suffers as there are no distracting chemical smells. If you're an insomnia suffer, smell has a lot to do with distraction, so this mattress will come as a welcomed relief.
This mattress is comprised of hybrid latex that will move and bend with your body without constricting it or making you feel as if you're sinking. It provides perfect alignment for your body and will keep your spine and shoulders straight, which is perfect for insomnia sleepers. This mattress also comes with over 1,000 innersprings arranged specifically to target pressure relief zones, so this will help you fall asleep fast and stay asleep, guaranteed.
Who should buy an Avocado mattress?
Anyone who suffers from insomnia and has mild to severe back or body pain should definitely try out the Avocado mattress. This mattress is perfect for pressure relief, and with so much spine support, you will fall asleep faster and wake up more rested.
organic mattress
Pros:
Perfect for spin alignment
Innerspring system for support
Organic and chemical free
Joint and back support
Cons:
May be a bit too pricey for some
May run a bit hot due to hybrid foam
May have slight issues with off gassing
Edge support not superior, but satisfactory
Nectar Bed may sound like a brand for hummingbirds, but these mattresses are prominent in the mattress market for good reason. These mattresses are built to last and they are easily tailored toward insomnia sufferers due to all this fantastic cooling gel foam. This is ideal for keeping the body cool at night, as so many insomnia sufferers find it difficult to fall asleep if you're too warm. It's natural for the body to heat up as we drift into deep sleep, but this is a factor that can especially be annoying to insomnia sufferers as we wake up so easily.
Read Our Full Review: Our 2019 Review of the Nectar Mattress
These mattresses are comprised of gel memory foam, so take that along with a Tencel memory cooling mattress cover, and you have the coolest sleep of your life. The memory foam also aids with that wonderful floating feeling that will help lull you to sleep with no worries at all.
Who should buy a Nectar Bed mattress?
Any insomnia sufferer who prefers the feel of memory foam, as it helps with joint pain, but needs a cooling mattress to sleep on should try out Nectar Bed mattresses. These are perfect for both insomnia and joint pain, making this an ideal mattress for insomnia sufferers.
keeping sufferers cool
Pros:
Comes with 365-night sleep trial
Cooling gel cover
Has great edge support
Extra support for joints and back
Cons:
May be a bit too pricey for some
May be too plush or soft for some
May have slight issues with off gassing
Dream Cloud mattresses are perfect in balance and support issues. If you're an insomnia sleeper, you know how important good support is and it will help you take pressure off your joints and fall asleep peacefully. This is also a great mattress for insomnia sufferers who sleep with partners, as the motion transfer on these mattresses are fantastic. There is so much bounce to these mattresses that you'll wake up with some pep and feel the different from a good night's rest immediately.
Read Our Full Review: The DreamCloud Sleep Mattress: Does It Live Up to the Hype?
Theirs is also so much air flow in these mattresses that you won't have to worry about feeling too hot in the night. Air moves throughout and into this mattress easily, keeping you cool and comfortable.
Who should buy a Dream cloud Sleep mattress?
Insomnia sufferers who need a little extra bounce and springiness to their mattresses will find these the perfect mattress to use. They will keep sleepers cool throughout the night and are perfect for sleeping with a partner as there is good motion transfer.
$200 Off & 2 FREE Premium Pillows
Pros:
Comes with 365-night sleep trial
Hybrid cooling mattress
Has great edge support
Lifetime warranty
Cons:
Financing may be difficult
May be too plush
May off gas
May run too hot for some
You may have heard of the Layla mattress brand before. This mattress is so popular because it comes with two different sides so you can choose which side you prefer. One side of the Layla is firmer, while the other side of the mattress is a bit softer. This is perfect if you find yourself, as an insomnia sufferer, between preferring firmer or plusher mattresses. Since insomnia sufferers need extra support, but still need the cushiony feel, the firmer side of this mattress is ideal for spine alignment and deeper sleep.
Read Our Full Review: A Layla Mattress Review: The Benefits of Copper Infusion
The reason for all this great versatility lies within the memory foam of these mattresses. The memory foam is buoyant and has excellence bounce. This is great for insomnia sleepers, as you don't want to feel as if your mattress is swallowing you up. These mattresses also come with copper infused foam, so this is a great way to keep the mattress cool and keep the mattress free from bacteria.
Who should buy the Layla mattress?
Any insomnia suffers who would like the option of a firmer or softer mattress should check out the Layla brand. These mattresses are also highly sought after for their copper infused memory foam which promotes coolness and a deeper sleep.
two-sided
Pros:
Comes with lifetime warranty
Copper infusion ideal for stomach sleepers
Has great edge support
Reduces inflammation
Cons:
May be a bit too pricey for some
May be too cumbersome to move from hard to soft
May be too firm
Hyphen Sleep brings so much to the table for insomnia sufferers. This is the best mattress of the five for spine and muscle support. These mattresses will help you keep everything in line, and you won't have to worry about the mattress being too firm or too soft, it's just right. This mattress can contour, cradle and align all within one night of peaceful sleep. You'll wake up refreshed and ready for the day.
Read Our Full Review: The Hyphen Sleep Mattress: Why You Should Consider It
These intuitive mattresses also come with temperature control, so it can pretty much detect when your body is heating up and move air throughout the mattress to keep you cool. It can help insomnia sufferers decrease stress levels, improve concentration throughout the day and keep you energized, all from a fantastic nights' rest that Hyphen Sleep can bring.
Who Should Purchase a Hyphen Sleep Mattress?
Insomnia sufferers who suffer from spine issues or joint pain, and who need a cooler mattress, should definitely check out Hyphen Sleep products. With free shipping and free returns, you don't have anything to lose trying out these mattresses.
best overall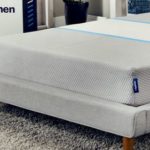 Pros:
Comes with cooling control
Excellent back support
Provides rest to insomnia sufferers
Free shipping
Cons:
Comes in a box so needs time to get to correct shape
May be some off gassing
May be a bit pricier for those on a budget
The Bottom Line
As you can see, there are so many fabulous mattresses you can try to help you with your insomnia. Whether that wonderful copper infused mattress piques your interest, or you want to feel as if you're floating on a cloud and being lulled to sleep, there are so many great, modern facets all of these mattresses can provide. The bottom line is to be able to fall asleep quickly and stay asleep, which is a really hard thing for most insomnia sufferers to do. If you are interested in a mattress, but just aren't sure about it, take the plunge and at least try it out for the sleep trial. If you don't like it, you can always just ship it back! Super easy and this fact alone will help you feel more at ease with your decision.