Benjamin Moore Kendall Charcoal Gives Interiors a Coveted Fresh Look
Benjamin Moore Kendall Charcoal is a dark gray that's surprisingly a versatile neutral. In fact, this rich color is the perfect shade to pair up with many other colors. From the bedroom to the bathroom or home office, this sophisticated color will upgrade any space.
Low Light Reflectance Value
It's obvious that Kendall Charcoal is a dark gray color. So, it also follows that its Light Reflectance Value (LRV) is quite low at 14.61. The LRV number indicates the percentage of light a paint color reflects. The brighter and more reflective the color, the higher the number.
Kendall Charcoal Varied Undertones
Mention "charcoal" and many people think of a paint color that is absolutely black, or just a touch lighter. That conjures up a rather cold image. However, Kendall Charcoal Benjamin Moore is not black and it is not a cold gray.
Part of the Historical Colors collection, Benjamin Moore's Kendall Charcoal has gray and green cool undertones. Kendall Charcoal also has a warmer vibe than other grays.
You can bring out one tone more than another by choosing specific colors for your decor. The more greens you incorporate, the more the green undertone will show. Skip the greens and it will look grayer.
The changeable nature of this Benjamin Moore gray paint color means that it looks great in many interiors.
If the room is bright with natural light from southern exposure, the green undertone will be evident. If the room is darker and faces north, the paint color is a deep slate gray.
Rooms Painted with Benjamin Moore's Kendall Charcoal.
If you've never done an interior with a dark color, you might be hesitant to use Benjamin Moore Kendall Charcoal. Look at these fabulous rooms that feature this gray paint color and you'll see how fabulous it is.
Accent Kitchen Island
Give a neutral greige kitchen a design boost by adding Kendall Charcoal into the mix. Thie island in this kitchen is a real standout thanks to the Benjamin Moore gray paint color.
It adds depth and drama without being too dark at all.
Elegant Dining Room
The detailing and molding in this dining room are elegant on their own, but the Kendall Charcoal brings them to a new level.
Darker paint colors like this Benjamin Moore color make the crisp white room accents pop. Here, the gray trends to the warm end of the spectrum and sometimes even appears brown.
Stepped Up Shiplap
Shiplap is almost always painted white and screams "farmhouse." By painting it a great color like Benjamin Moore Kendall Charcoal, it changes the look.
This shiplap wall looks more sophisticated and modern than you might expect. The warm gray paired with the wooden furniture is fabulous.
Dark Kitchen Cabinets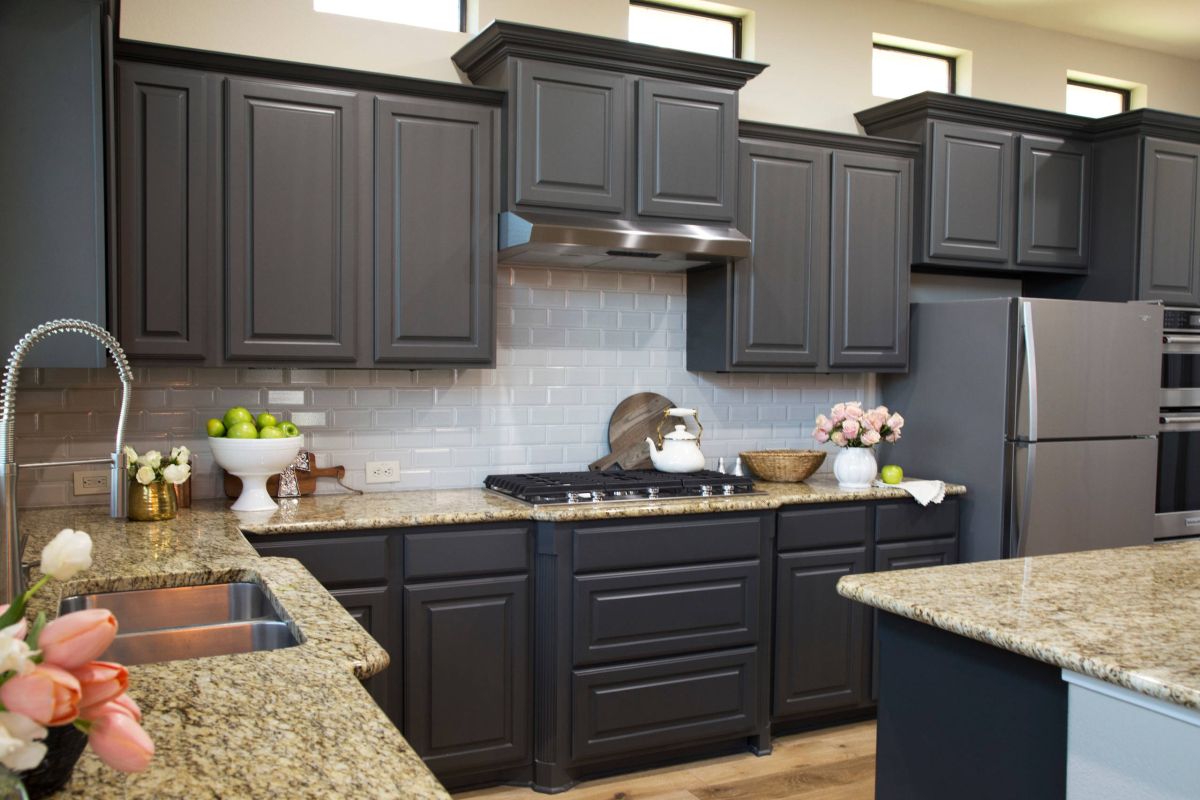 These kitchen cabinets show you the dark side of Kendall Charcoal. Unlike the island shown above that looks lighter, this is about as dark as this Bejamin Moore shade gets.
When the cabinets are this dark, it's best to pair Kendall Charcoal with a lighter backsplash and countertops.
Office-Appropriate
Kendall Charcoal is the perfect color for a home office. This space has plentiful natural daylight and poured white trim, which contrasts well.
The modern space is minimalist in style and ideal for this shade of gray.
Home Office Style
Of course, the office doesn't have to be modern for it to use Kendall Charcoal. The office in this Tudor style house has built-ins and walls painted in this color and the result is fabulous.
With so much detail in the millwork, it's best to keep the entire space monochrome. Trying to icorporate contrasting trim would look too busy.
Bedroom Beauty
If you prefere a bedroom that cocoons instead of feeling bright and breezy, try out Kendall Charcoal paint.
Darker shades like this on the walls make the space cozier and create a restful bibe.
Modern Transitional Dining Room
Modern decor in a traditional shell works better when you use dramatic grays like Kendall Charcoal.
Pure white wainscoting and the double window are quite a traditional look. However, the addition of modern chairs and art, along with the gray wall color, creates a fresh look.
Accent Wall Drama
If going all gray isn't for you, then use Kendall Charcoal from Benjamin Moore as an accent instead.
This Nordic-inspired space features a swath of Kendall Charcoal paint but all the other walls are white.
Paint the Ceiling
Paintrd ceilings have been trending in recent years and you can really make a statement by doing it with Kendall Charcoal.
More than other paint colors, this dark shade looks like a true gray in the entry hall. It pulls together the floor pattern and the other elements int the space.
Exterior Walls
Kendall Charcoal for home exterior projects is a great way to create a distinctive house.
This gray is a great paint color paired with black trim or doors. Here, the double entry elevates the exterior entrance.
Painted Doors
Painting doors is another great way to add this cool color to a house.
These large barn doors give the space a lot of character and you can see just a bit of the undertones of green in the paint.
Fine Furniture Finish
Benjamin Moore Kendall Charcoal is also a great for refreshing favorite pieces.
Much like kitchen cabinetry, it can look deep or light, depending on the daylight in the room. Here, the bright space lightens the look and brings out some of the green undertones.
Mud Room
This fun mudroom shows how great Benjamin Moore Kendall Charcoal looks in a small space.
In fact, here it looks a bit warm with a touch of brown, which the warm brown woodwork emphasizes.
Frequently Asked Questions (FAQ)
FAQ
What undertone is Kendall Charcoal?
Kendall Charcoal is a dark gray that has subtle green undertones.
Is Kendall charcoal a warm or cool color?
Kendall Charcoal has very subtle green undertones that are sightly warm. Because it is not a charcoal that feels hard and cold, it is one of the more versatile charcoal paint colors.
What white goes well with Kendall Charcoal?
Many lighter colors pair well with Kendall Charcoal because they add contrast. If you want a warm feel, go for a softer choice like Swiss Coffee by Benjamin Moore. Otherwise, crisp, white trim is always a classic choice.
What color goes well with Kendall Charcoal?
Most neutrals go well with Kendall Charcoal. Neutral white paint and shades of beige, greige and taupe are good picks. For serious color contrast, you can pickfrom many bright hues. Magenta, a bright mustard or even deep aqua can add a pop of brightness.
Is Kendall charcoal too dark?
The LRV for Kendall Charcoal is 14 so it's not a light color, However, it has a bit of warmth and is not too dark for any room.
Kendall Charcoal: Conclusion
Kendall Charcoal is such a sophisticated color that our final thoughts on this Benjamin Moore paint is that you can't go wrong.
Small vestibule or wide-open living space, this shade is the right choice.