These Designs Will Make You Think Differently About Modern Apartment Buildings
When you think about a modern apartment building, it is likely that a sleek, angular design comes to mind, featuring plenty of metal, concrete and glass. New apartment building designs are far more varied, use unexpected materials and have all sorts of elements that you might not automatically associate with the stereotypical block-style modern apartment building.
Here is a selection of some innovative designs that will make you think differently about what a modern apartment building can look like.
Modern Apartment Building Design Ideas
Modern Leaf-like Building Tiers Maximize Views and Comfort
With a shape that looks like it's sprouting toward the sky, the One Hundred Residential Tower in St. Louis offers more than great views of the famous Gateway Arch to the east. The design, created by Studio Gang, is an apartment building tower that soars 380 feet over Forest Park and includes retail shops, residence amenities and parking for the apartments.
The unique angled leaf-like profile consists of stacked tiers — each one four stories tall — that create roomy outdoor living spaces on the top level of each section. This innovative design gives one-fourth of all the residences a terrace, in addition to the fully shared outdoor green space on the very top of the building. In addition to creating appealing living space, this modern apartment building also takes advantage of its site and orientation to reduce the overall energy load of the structure.
Eye-Popping Pink Balconies Highlight Micro-Apartment Building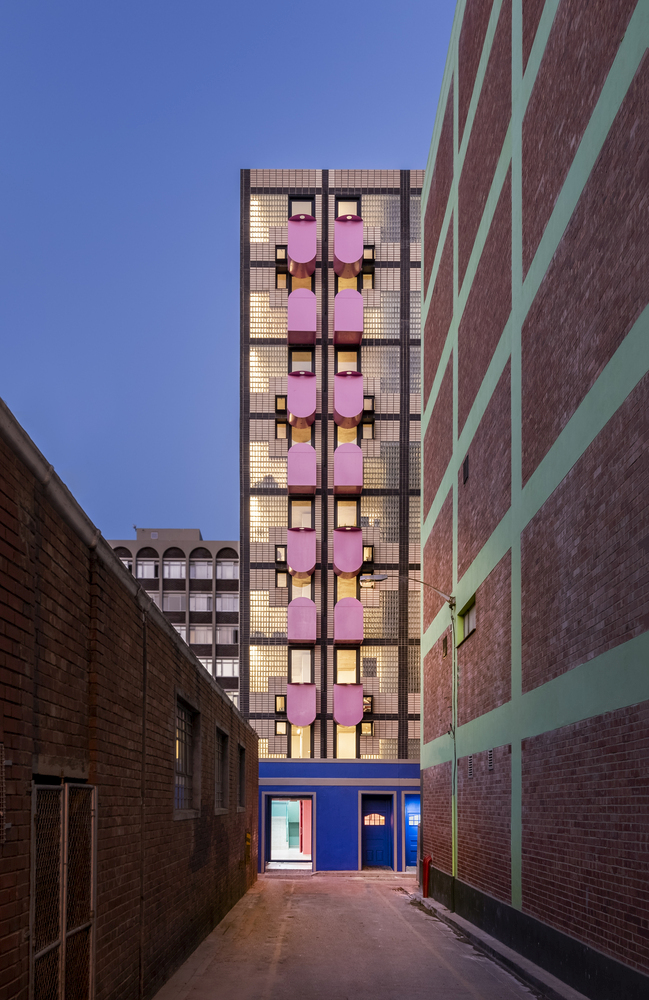 Uxolo Apartments in Cape Town, South Africa are the city's first apartment building that is not only modern but micro-sized. What started out as a project to create short-stay accommodations was transformed by the COVID-19 pandemic into a building that's more responsive to the South African housing market. What's more, it has 35 residential units comprising 24-square-meter micro-studios and 40-square-meter loft units on a footprint of just 195.5 square meters.
The pink balcony-studded design by Two Five Five Architects puts four studio units on each of the eight floors and a loft unit on every second floor. Small tweaks made a big difference in the design, from using glass blocks for the facade to let in more natural light to an interior that simultaneously accommodates a fully outfitted kitchen, built-in cupboard, a desk that slides out, plenty of concealed storage and space-saving a murphy bed that stows away, leaving a sofa in its place for the lounge.
Boxes of Light and Space Form Building Focused on Flexibility
An innovative, fluid layout and an unexpected exterior make this modern apartment building in Minato City, Japan unlike any other. The entire shape and design were conceived to be an adaptable owner-occupied rental apartment building with several rental units. Instead of creating a residence for the whole family to live together, IHRMK proposed a unique floorplan for every unit that can be part of a rental unit an individual room.
The resulting building is a modern apartment building that is a transition between the large-scale residential buildings along a major road and an adjacent area of low-rise wooden houses. The design centers around a "Meguri-doma" that connects all levels. The enclosed parts of the building are interspersed with open terraces, inner terraces, and various living spaces that make the interior, as well as the exterior, an open and airy construction that melds the indoors with the outdoors.
Modern Tropical Apartment Building Respects Its Surroundings
Reddish cement stucco and bamboo come together with steel, aluminum and tempered glass, in a modern apartment building that respects its location. The Querido Tulum Residential Complex in Tulum, Mexico was designed by reyes rios + larraín + Gabriel Konzevik to preserve as much of the native flora as possible yet create a private and energy-conscious residential complex. At the same time, the building's use of disparate materials creates an innovative design with a character all its own.
The collection of 38 apartments across four narrow blocks of different sizes are centered around a large central open space. Widely spaced at about 16 meters apart, the visual distance is appealing and allows for a central area 55 meters long, which is home to the long, narrow swimming pool. The configuration and resulting feeling of the space contribute to how the structure blends with the surrounding natural landscape.
New Façade, Modern Cladding Transform Industrial Silo
A tall, slender abandoned silo in Copenhagen's North Harbour has been transformed into a modern, faceted architectural jewel. Danish firm Cobe devised the renovation in a way that turned the former grain silo and the largest industrial building in the area into a sleek, 17-story residential building with public space on the ground floor.
Galvanized steel covers the faceted exterior, which works as a shield against the climate. Inside, space was preserved as raw and untouched as possible for an authentic industrial vibe that reflects the rough beauty of the harbor district. The 38 unique apartments are both single and multi-level units with floor heights of up to 7 meters. All of them offer panoramic, floor-to-ceiling windows and balconies, and several have been preserved in raw concrete. The window frames are hidden on the outside of the existing concrete walls, preserving the sweeping views of the city skyline and the Oresund coast.
All Layouts Are Unique in This Modern Vertical Apartment Building
Constrained by its narrow profile and inspired by the need for each unit to be unique, this modern apartment building takes Iranian lattice bricks to the next level. Ma Studioo designed this four-story residence to have one unit per floor and uses cubes as the terraces to create an eye-catching design.
The white brick lattice is 20 centimeters from the main facade, which promotes airflow between the two, helping regulate the temperature and eliminating the need for constant use of air-conditioning. This design also brings nature into the mix by creating planter boxes that also pump out the windows, which also creates a covered space for the entrance to the building.
Modern Beachside Complex Is All About the Curves
Punta Majahua demonstrates how modern apartment buildings don't have to be towering behemoths or made of steel and glass. This six-building complex on a peninsula, north of Troncones, in the state of Guerrero, Mexico, holds 39 luxurious beachfront units. Developed by Zozaya Arquitectos, the fluid, organic style of the buildings foregoes angles and corners in favor of undulating curves and soft, rounded edges.
The natural terrain at the building site led the architects to situate the apartment buildings as close to the ocean as possible. This not only provides spectacular ocean views and privacy but also orients the units to the north, helping to reduce energy consumption. These dynamic volumes use traditional Zihuantanejo coastal style materials, including masonry walls, bamboo, dry palm branches for the gazebos and palapas, and river stones for the ornamentation inside, along with bush-hammered marble floors and bamboo carpentry. The property is in tune with the surroundings and is a regenerative landscape, with low water consumption and resistance to the effects of the sea nearby.
Taiwanese Apartment Building's Design Offsets Carbon Footprint
A Taiwanese apartment building not only has a scientifically-based design, but it also aims to offset its carbon footprint by absorbing it from the environment. Visually, the Tao Zhu Yin Yuan building in Taipei is inspired by the double helix structure of DNA and environmentally, by creating the maximum volume of open-air gardens in order to help fight the climate crisis. The building has planted about 23,000 trees, shrubs and plants on the ground floor garden, balconies and terraces of each household, which absorb about 130 tons of carbon annually.
Other features of the building conceived by Vincent Callebaut Architectures also focus on sustainability, such as rainwater recycling and solar and wind power. The design's twisting shape also maximized the sunlight for the plantings and views for the residents. Building materials used were also chosen for their environmental friendliness and respect of the circular economy.
Wedge-Shaped Balconies Spice Up Mediterranean Apartments
The protruding wedges that make up the balconies define the look of the Prado Concorde Apartments. Designed by Valode & Pistre, the cantilevered balconies give residents of this modern apartment building the opportunity to take full advantage of the mild Mediterranean climate in Castelnau-le-Lez, France.
In fact, a tree container is built into each high-performance prefabricated concrete balcony, with enough air circulation for each tree to grow. Functionally, the benefits of outdoor space are invaluable but from a design perspective, these forms are also priceless: they give the facade lightness and movement, evoking the feeling of birds taking flight.
Enormous Glass Portholes Dot This Australian Apartment Building
Cirqua Apartments were conceived as a design that incorporates new and obscure formal elements into an established neighborhood. Located in the Ivanhoe suburb of Melbourne, Australia, these stacked units sit on a steep slope that only highlights their large, unusual round windows. Designed by BKK Architects, the brick boxes are placed at various depths to create a spacious yard area in the front.
The six enormous glass rounds pepper the front and help flood the interiors with light. And, despite what looks like a taller profile, much of the building is below the sightline of the road in front. This particular design was crafted with a view to accessibility and passive environmental control, which is increasingly important.
New York Apartment Building Feature Punched Windows
The 98 Front Street apartment building might be all glass and concrete, but it is far from an ordinary modern design. This 10-story structure in the DUMBO neighborhood of Brooklyn was designed by ODA New York and features a special concrete construction. Made of cast-in-place concrete, the architectural facade features a system of punched windows for the 164 residential units in the building.
The main floor contains parking and a community space while the lower level has mechanical equipment, the residential lobby, an indoor swimming pool and recreation spaces. Private and public decks are incorporated on the roof level.
Most Expensive Apartment in NYC Towers Over Central Park
New York's most expensive apartment comes with a stunning price tag — and equally stunning views of Central Park. Located at 150 Central Park South in Hampton House, the penthouse apartment is three stories of complete luxury. The Billionaire's Row residence has five bedrooms and five bathrooms and features glass walls and plenty of big windows.
Despite being sky high, the 9,650-square-foot apartment also has four private terraces, which let residents enjoy the outdoors, be it sunrise or sunset, or any time in between. Or, just head downstairs and go out because it is located close to Fifth Avenue, Columbus Circle with its shops and restaurants, as well as Carnegie Hall.
NYC Has World's Most Expensive and Tallest Building
New York's new Central Park Tower is more than just a new building — it's superlative in every way. At 1,550 feet and 131 floors, it is the world's tallest — and most expensive — residential building. Its 170 apartments have unparalleled views, thanks to the site being at the bottom of Central Park. The innovative design incorporates elaborate cantilevers, aerodynamic openings, and a weighting system on the roof to help minimize swaying. A special high-speed elevator goes up the 131 floors in 90 seconds.
Chapireh Residential Build
A new design for a modern apartment building in Dezful, Iran is a fresh take on the traditional Iranian corner construction concept called Chapireh. Designed by Bio-Design Architects, it also pays homage to the heritage of the area, which is known as the city of bricks.
The lattice pattern of the bricks is used in a band around the entire building — constructed in the shape of a skull to provide privacy as well as cooling airflow to the residences inside.
Mexico City Modern Apartment Building Connected to Local Culture
Terreros Arquitectos elevated this basic Isabel 750 Building apartment complex in the Álamos neighborhood in south-central Mexico City into an artisan residence that is connected to the roots of the local culture. Designed as a micro-ecosystem, it has three apartment buildings: One parallel to the street that is a facade and two that run perpendicular behind it, with interior patios.
The central courtyard links the three sections and gives the 19 housing units a private retreat from the street. It also has four interior courtyards, two per building, providing better natural lighting for all the spaces. Best of all, although it is constructed of concrete, glass, brick, steel, and wood, it blends well with the surrounding community.
FAQ
What Is the Difference Between a Condo and an Apartment?
Maybe you've been using the terms condo and apartment interchangeably because there are a lot of similarities. But, there are also distinct differences between the two that will matter when you are looking for a place to live. The main difference is in the ownership of the property.
A condominium — or condo — is a private residence that is purchased or rented out. These are usually located in a building or larger community of buildings. Each unit is owned by a private individual. For rentals, the owner has control of who rents the unit. the owner is the landlord and take care of the inside of the property, while the condo association is typically responsible for the exterior parts of the property and a variety of utility services.
On the other hand, an apartment is a rental owned and managed by a property company. All of the units in an apartment building or community are of a similar type and tenants adhere to the rules and work with the property manager/leasing office, not an individual owner.
What is a Loft Apartment?
Basically, a loft apartment is an enormous open space, often no interior walls. While it might sound a lot like a studio apartment, which is also one big space, the size of a lot is far bigger — up to 2,000 square feet or more! Lofts also typically have high ceilings and lots of industrial elements like exposed pipes, original brick and other features left from their former life as a factory or a warehouse.
The above description fits most lofts that are classified as "hard" lofts. you can also find a "soft" loft, which is actually a newer space that was built to resemble the original warehouse-style lofts. These soft lofts are newer and generally have better amenities and upgraded finishes and more creature comforts.
What Is a Co-op Apartment?
A co-op is the shorter term for legal description "cooperative housing," which is completely different from either an apartment or a condominium. When you purchase an apartment in a co-op, you live your own unit but you own a share of the entire complex.
Co-ops are governed by a board of directors, and the board can decide whether a member can sell or rent a unit to a particular individual. Being approved by a co-op board can be an exhaustive process because of this kind of legal structure.
In fact, there are several types of co-op arrangements. The first is a market-rate co-op, where owners can sell their shares whenever they want, for as much as they want.
Next is a limited-equity co-op, which is an affordable housing type of arrangement because the amount of equity members can earn is capped. The last main type is a group-equity co-op, sometimes also called a zero-equity co-op. Under this arrangement, members don't build any equity in their residence, but they pay an amount off rent that is far below the market rate.
What is an Efficiency Apartment?
When you get an efficiency apartment, everything is all in one space. You might think that describes a studio apartment and in many respects the two are similar, but they also differ in a few major ways. Of course, both are a large open concept space with the only separate room being the bathroom.
First, although the size of a studio and an efficiency apartment are often similar — anywhere from 500 to 600 square feet — studios can be as much as 300 to 400 square feet larger. An efficiency also has a kitchenette instead of a real kitchen. It will likely have a miniature refrigerator and sink that's smaller than usual. Typically, an efficiency may have a microwave and/or small cooktop but no real oven. Counter space is also minimal.
How Much Are Utilities in an Apartment?
Calculating how much your monthly utilities will cost when you rent an apartment can vary greatly by the location and specific apartment complex. Some apartment communities include a number of utilities in the monthly rent, which might consequently be higher than some others.
In general, Energy.gov estimates that $150 to $200 for electricity, heating and air conditioning on a monthly basis. Those costs will vary depending on the climate and can be more or less depending on the water each month. In most cases, a renter's water, sewer and garbage disposal services are included in the rent. Except in special cases, renters should expect to pay for their own cable and WiFi services, along with any other specialty services,