19 Artist's Studios and Workspace Interior Design Ideas
As soon as you enter an artist's studio you can just tell that it's no ordinary space. it has something special that you can't actually define but that defines that space perfectly. It's that thing that makes an artist's studio or workspace easy to recognize and that gives it character. But what is that thing? Maybe we can find out if we analyze several examples.
Let's start with this one. It's actually quite the usual office. It has a simple interior décor with a framed picture on a wall, a desk, some shelves and some simple chairs. But the detail that makes it stand out are all those colorful post is that cover almost an entire wall. They create a rainbow of color and the idea is very creative.
This office/studio doesn't stand out much either. But wait till you find out who's it is. It's the workspace of Milton Glaser. He's one of the most renowned graphic designers in the US who had the distinction of one-man-shows at the Museum of Modern Art and the Georges Pompidou Center. All his outstanding work starts here, in this small but inspiring space.
This tiny space is the studio of cartoonist Adrian Tomine. It's very simple and not at all as one might imagine it. It's not filled with books, toys and artwork. It looks more like the office of an architect. However, as you can see, it's also very nicely organized and it's where the artist feel comfortable working.
This is an artist's studio from a contemporary family room. It's not a very large space but it's simple, clean and filled with natural light. The attic studio has skylights and large windows and this is the most important detail in any painter's work environment. After all, you don't need distractions. You just need inspiration, talent and good light.
Here's another similar example. It's a studio that's actually quite small but it has floor-to-ceiling windows and it's also opened to an outdoor terrace. It has views of the garden, a sink and a desk. The décor is very simple and white but this only leaves room for more creativity.
As we've mentioned, a huge window is crucial is any artist's studio or office. But if it also has an impressive design then it's even better. This space has a huge arched window with views of the surroundings. The high ceiling and that floating staircase also give character to the studio.
Depending on what a person does, the studio or office will always be different. For example, this is the studio of someone who creates jewelry and it's filled with grinding and polishing machines. He shares the space with a rescue dog. It's a small space in The Invisible Dog Art Centre, shared with numerous other artists.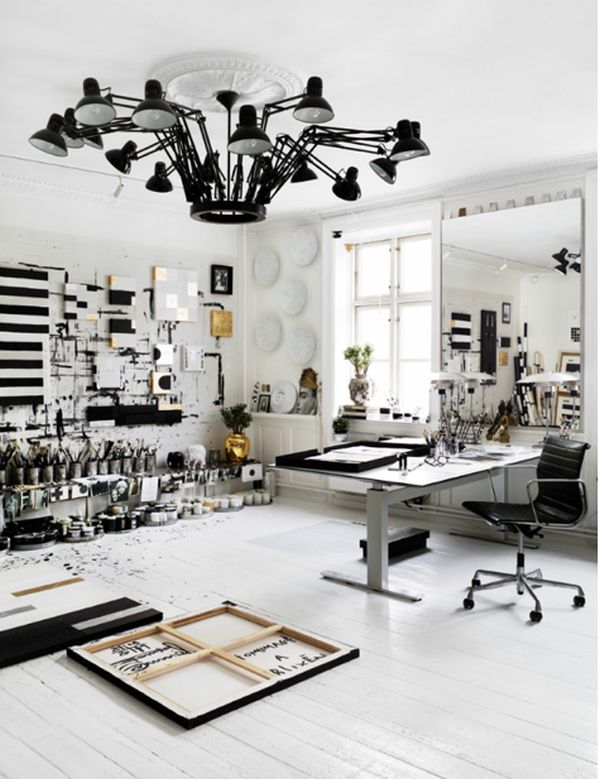 This is a typical painter's studio. It has everything you would expect it to have, except maybe color. There are tons of brushes all over the place and unfinished work everywhere. What's striking is that it's a black and white space but it suits the artist's work perfectly.
This is an attic home office/studio also belonging to an artist. The roof windows are not surprising here since light is crucial. It's a space that might seem messy to some people but that actually has a different kind of organization, one that only the owner understands.
This contemporary home office is also quite interesting. It has an eclectic interior décor. There's a rather traditional area rug on the floor, exposed beams in the ceiling and large windows. The roof windows are also present like in the case of most artist's studio we've seen so far.
This artist's studio is closer to what most people usually imagine these spaces. It's large, with high ceilings and with windows on every wall. It has bright walls and ceiling and lots of storage spaces. It's also quite the colorful space although color comes in small amounts here.
Here's a rather modest studio. As you can see, it doesn't have much furniture. Just a small table, a chair and some shelves. Notice how the space under the windows has been used for storage. It's a clever way of saving space somewhere else. The windows are large and the overall décor is somewhat traditional.
This is the studio of artist Ali McNabney-Stevens. Her style is characterized by intense color and abstract shapes. You can see this style also reflected in the way her studio was decorated. It has a simple and neutral overall décor but with bold touches of color and with interesting shapes everywhere you look.
We often say that artists are not organized. Their work spaces are always messy and with things all over the place. But here's an example that contradicts. This studio is very well organized. It has well defined storage compartments and spaces, a bright and clean interior and every little thing has its designated space. Of course, that is if you ignore the working table.
This space used to be a garage. It got transformed into an artist's studio. It's a quite large space but it seems to lack some natural light. you can see how the floor is almost covered in paint and all those canvases leaning on the walls and you instantly realize it's a typical artist's studio.
This is a studio with an eclectic interior décor. It's an artist's home office and it has an angled ceiling, grey walls and floor and not much furniture throughout. The focal point is the work in progress from the center of the room. To further make it stand out, an area rug was included in the décor.
This studio has been added to a modern home after a renovation. It has a large set of windows that give the room a spacious and airy feel and that also let in plenty of natural light. It's a quite simple space with plenty of room for storage and also with a sitting area where the artist maybe awaits for some inspiration.
This contemporary home office is also quite modest. It's a painter's studio but it's surprisingly clean. It doesn't have the floor covered in paint and it also seems to be nicely organized. It's not spacious but it's bright, filled with light and it seems to offer the artist a perfect environment since those landscape canvases are so beautiful.
This cottage home office also has a modern interior décor. Notice that storage system that runs the length of the room. It's a wonderful element that allows the artist to be organized. The rest of the furniture includes a work table, a desk and some chairs. It's everything a painter needs.
Picture sources: 1, 2, 3, 4, 5, 6, 7, 8, 9, 10, 11, 12, 13, 14, 15, 16, 17, 18 and 19.