13 Best Tips For Creating An Energy Efficient Home
There are many benefits to having an energy efficient home, from environmental benefits to financial benefits to safety benefits. Fortunately, no matter what motivates you, there are specific ways you can boost the eco-friendliness of your home and, over the long run, ultimately save you money. Here are 13 ways you can create a more energy efficient home:
1. Replace your old(er) appliances.
Give your energy-sucking refrigerator more than the side eye; buy an energy efficient model (energySTAR) to make the swap. Changing out your older model dishwashers and laundry dryers will help boost the efficiency of your home as well.
2. Install a programmable thermostat.
There's no need to heat your house during the day while you're at work; even at night-time while you sleep, you probably don't need it as warm as other times. By making strategic temperature choices (some thermostats allow you to program for each day of the week), you'll be able to save money and keep your home more eco-friendly.
3. Keep heat inside.
While this seems obvious, some homes provide too many opportunities for heat to escape. Check around your windows and doors; caulk or otherwise seal areas that have gaps. Install rubber or foam weather stripping around the inside of door frames and a door sweep at the bottom. (Did you know a ¼" gap under the door is the equivalent of 3"x3" hole in the wall? Imagine that much heat escaping all day, every day!)
4. Replace old leaky windows.
We all know the type – bent metal frames, single pane glass. Swap these energy sappers out with windows that have a low thermal emissivity (low-E) to reduce the transfer of heat. This is a great way to stay warmer in the winter and cooler in the summer. If you just can't seem to replace the windows this year, consider adding thick curtains to help perform some of the insulation duties.
5. Use energy-efficient light bulbs.
Compact fluorescent lights (CFLs) or light-emitting diodes (LEDs) are great options for replacing the incandescent bulbs in your home. If you don't like the lighting of fluorescents, consider choosing a soft/warm tone of LED light bulb. These lights not only have a longer life span than traditional light bulbs, but they can save you a bunch of money over the course of those long lives in electric bills. A great way to be more eco-friendly.
6. Replace your furnace's air filter regularly.
An air filter that is clogged and dirty requires a furnace to work harder (translation: use more energy) than a clean, new air filter. It's recommended that the air filter for your furnace is replaced every couple of months, not just once a year at the start of winter. It's not too late to cozy up your home efficiently!
7. Install low-flow showerheads and toilets.
While it may seem like a small thing, improving the water usage of your home will make it much more efficient (saving you money) and eco-friendly (saving the environment). Low-flow showerheads typically use only 1.5 gallons of water per minute, vs. 5 gallons/minute of conventional showerheads. Likewise, low-flow toilets can save thousands of gallons of water each year.
8. Insulate your walls and attic.
Heat is very adept at escaping areas where insulation doesn't force it to stay put. Consider having the professionals install blown-in foam insulation into your walls, as it is less structurally invasive than other methods. Make sure the depth of your attic insulation is up to snuff; check with your local home insulators for recommended coverage of fresh fiberglass insulation.
9. Use fans to cool and circulate the air.
While this tip is less pertinent during the winter months, when the weather warms up it certainly pays off. Ceiling fans and portable fans are much more energy efficient and cost effective to operate than the air conditioner. Keeping the air conditioner's temperature higher while still circulating air will save you a lot (7%-10% savings on cooling costs for every degree higher you set your AC).
10. Lower the temperature settings on your water heater.
Keeping your water heater set between 120 and 140 degrees is sufficient for your hot water needs. Hotter than that, and you're just wasting energy and money. Actually, most newer water heaters max out at 140 degrees because it's simply unnecessary to go hotter. The recommended setting is 120 degrees.
11. Install a water softener.
Water softeners help to minimize mineral deposits throughout your entire pipe system, thus prolonging the life of your water heater. Plus, it makes cleaning everything (windows, appliances, etc.) so much easier, without having to fight hard water spots all over the place.
12. Mount solar panels onto your sunlit roof.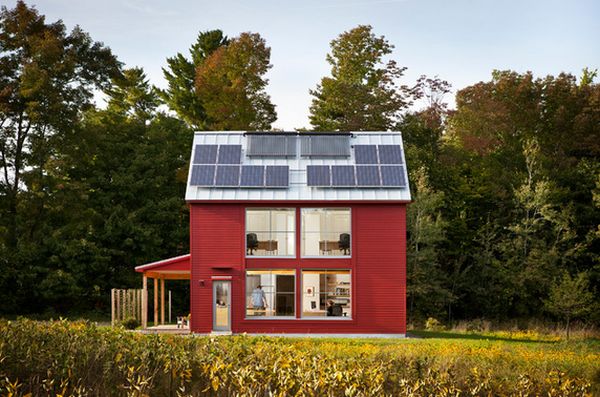 Depending on your geography and the amount of direct sunlight that reaches your roof, solar panels may be a very viable solution for increasing your home's energy efficiency. Because the electricity generated by your solar panels can be transferred into your home's usage or back onto "the electricity grid," solar panels can provide significant energy cost savings.
13. Plant a tree…or two.
Deciduous shade trees in your yard can provide a very tangible benefit to your home's energy efficiency in both summer and winter. Plant the tree(s) on the side of the house that gets the most intense sun exposure during the summer. The tree's leaves will shad your home during the hot summer months, and the bare branches will allow sunlight through to warm your home during the colder winter months.