10 Free Adirondack Chair Plans to Build Yourself
Adirondack chairs feature a slanted design, ideal for rough terrains and outdoor relaxation. Plastic options are abundant at the big box stores, but you can build a higher-quality wood version with these free Adirondack chair plans.
We've rounded up ten tutorials to meet numerous style preferences, skill levels, and design needs.
---
1. Easy to Build Adirondack Chairs
Basic Adirondack chairs have a classic style and are easy to build, requiring only eight boards. You can add stain or paint as the final step to customize the look.
Get these free Adirondack plans on Chisel and Fork. They've provided a material list, cut list, and step-by-step instructions.
---
2. Modern Adirondack Chair Plans
Put a modern spin on a classic chair with these free plans from Ana White. These chairs use mostly 2x4s and cost about $30 in lumber. They feature straight, clean lines fit for modern or contemporary outdoor spaces.
Ana provides everything you need, including a YouTube video, a material list, and a written tutorial.
---
3. Classic Adirondack Chair Plans Free
If you're into traditional design, try this free Adirondack chair plan. It sticks with a classic silhouette and uses cedar boards for a high-quality and long-lasting result.
There's also a tutorial at the bottom of this page for building a giant chair to complement your standard-size options.
---
4. Straight-Lined Adirondack Chair Build
Straight-line chairs lend to a modern look and are easier to build than those with curves and bevels. The Wood Shop Diaries provides a tutorial for this contemporary-style outdoor lounge chair, even suggesting the best wood species.
The dimensions are 29.5" x 30" x 34.5", and since the project is easy to assemble, it's suitable for those with beginner woodworking experience.
---
5. 2 x 4 Adirondack Chair Plan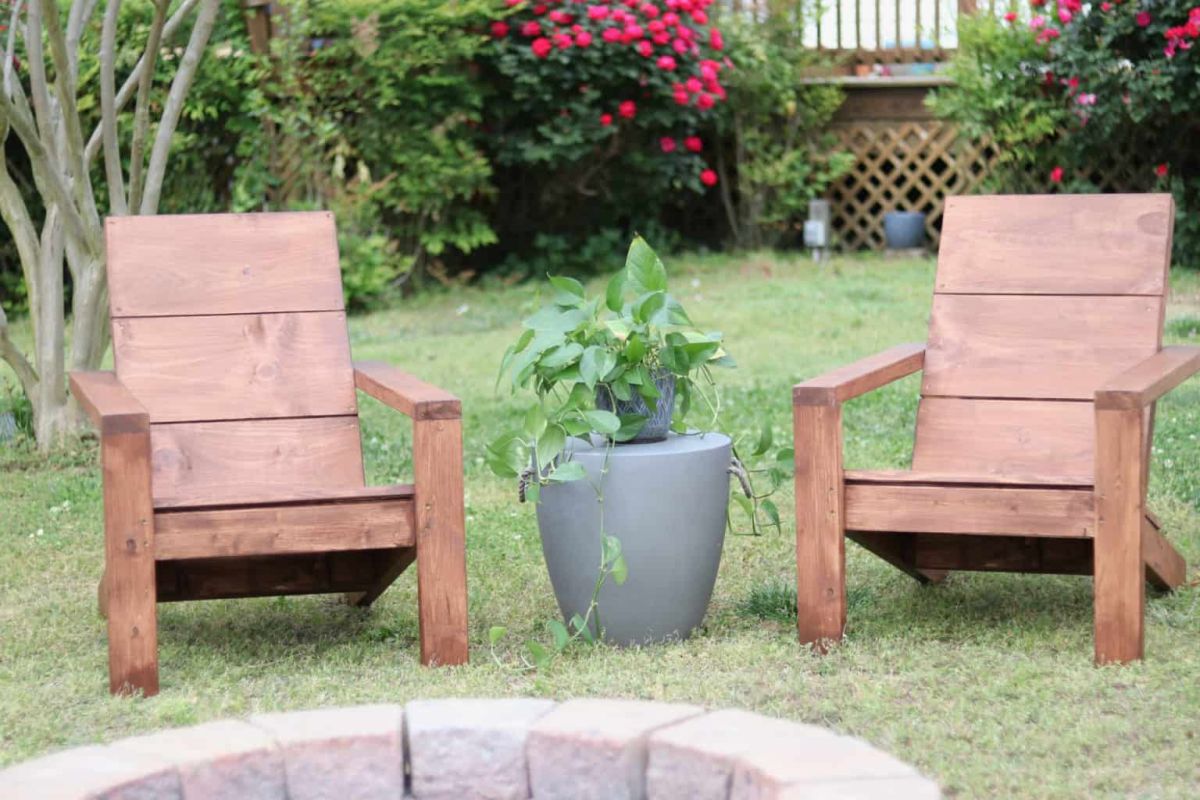 Using 2x4s to construct outdoor lounge chairs is a beginner-friendly method, and Raising Nobles walks you through steps to make the standard 2 x 4 plan even easier.
Use these chairs to replace your old plastic ones. You can paint them a bright color for a pop of fun or stain them for a modern or classic look.
---
6. Children's Adirondack Chair Blueprint
If you have chairs for yourself but would like one for a child, try this Adirondack plan from Rona. It provides everything you need, including a PDF file with the required tools, materials, and a complete construction plan.
The plan includes instructions to build a matching footrest for the chair, and select-grade pressure-treated pine is the suggested lumber choice.
---
7. Build a Foldable Adirondack Chair
Those that need a chair they can store when not in use will appreciate this folding Adirondack chair from WoodWorkers Journal. It collapses by loosening a couple of knobs on the lower seat, allowing users to carry it and store it in tight spaces.
WoodWorkers Journal provides a free video tutorial and basic notes for this build. You can buy a printable plan for an additional charge.
---
8. Adirondack Chair with Footrest Free Plans
If you like to lay back and prop your feet up, try this tutorial from Ana White. She provides the tool list, material list, and building instructions and even gives tips on the best ways to finish outdoor furniture.
These chairs are beginner-friendly, consisting of many 2x4s. If you like the chair but not the footrest, you can leave it out.
---
9. Adirondack Bench And Chair Plan
An easy way to provide more seating in the backyard is with a bench. Extreme How To provides a tutorial for a chair and Adirondack bench that seats two.
Both builds have a higher back than some of the options on this list, providing plenty of support. You can use pressure-treated wood or western red cedar if you want rot and insect-resistant lumber.
---
10. Rocking Adirondack Chair Plans
Sit on your porch and rock with this free Adirondack rocking chair plan from Instructables.
The plan designer, Plans in Wood, provides a free downloadable PDF and notes. If you prefer mailed templates, you can purchase those for a small fee.