What is the Difference Between a Porch, Balcony, Veranda, Patio and Deck?
Whether it's spring, summer, autumn or winter, it's also great to enjoy the outdoor, even if it's only from your balcony, porch, veranda, patio or deck. And speaking of that, what's the difference between all these spaces. They are certainly similar to a certain extent and we often use them interchangeably. Still, this doesn't make them synonyms. There are, in fact, clear differences between all of the areas described by these terms.
The porch.
A porch is a covered shelter projecting in front of the entrance of a house or building in general. The structure is external to the walls of the building but it may be enclosed in certain types of frames including walls, columns or screens, extending from the main structure.
The balcony.
A balcony is a platform on the outside of a building, enclosed by walls or balustrades, supported by columns or console brackets. The platform is projecting from the wall of a building, usually above the ground floor. Balconies are typically small and are not used as social spaces or for entertainment purposes.
The veranda.
This term has two forms, 'verandah' also being correct, although the version without an 'h' is usually preferred. A veranda is a roofed platform along the outside of a house. It's level with the ground floor and often extends across both the front and the sides of the structure. It can be partly enclosed by a railing.
The patio.
A patio is a paved outdoor area adjoining a house, generally used for dining or recreation. The term comes from Spanish where its meaning is different (inner courtyard). Common materials employed when building a patio include concrete, stone, bricks but also tiles or cobbles. Patios are often decorated with plants and outdoor furniture.
The deck.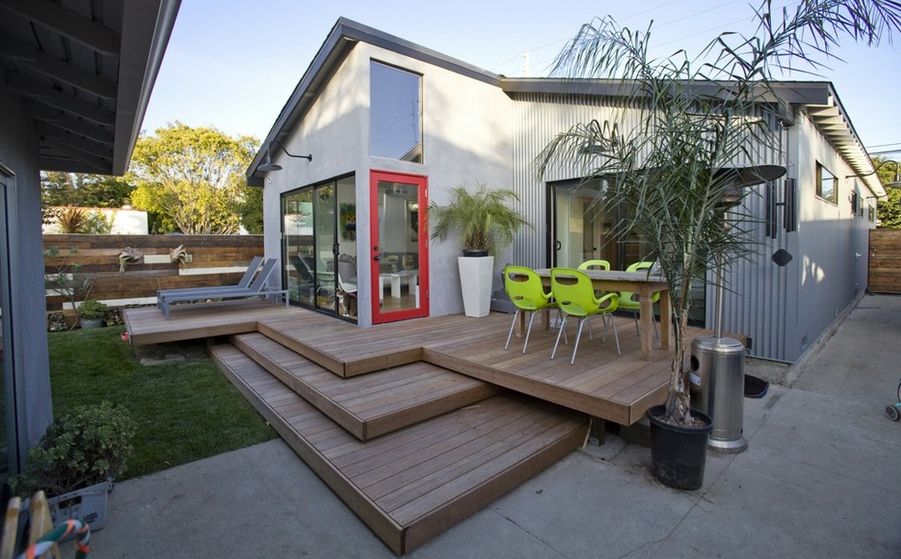 A deck is a flat, usually roofless platform adjoining a house. Decks are typically made of lumber and are elevated from the ground. It can include spaces for BBQing, dining as well as seating. Decks are generally enclosed by a railing. In some cases, decks can also be covered by a canopy or pergola.